How to Visit Wembley Stadium
Wembley Stadium has a lot to offer: history, sporting treasures, stunning architecture and much more. Here's everything you need to know to enjoy this footballing temple.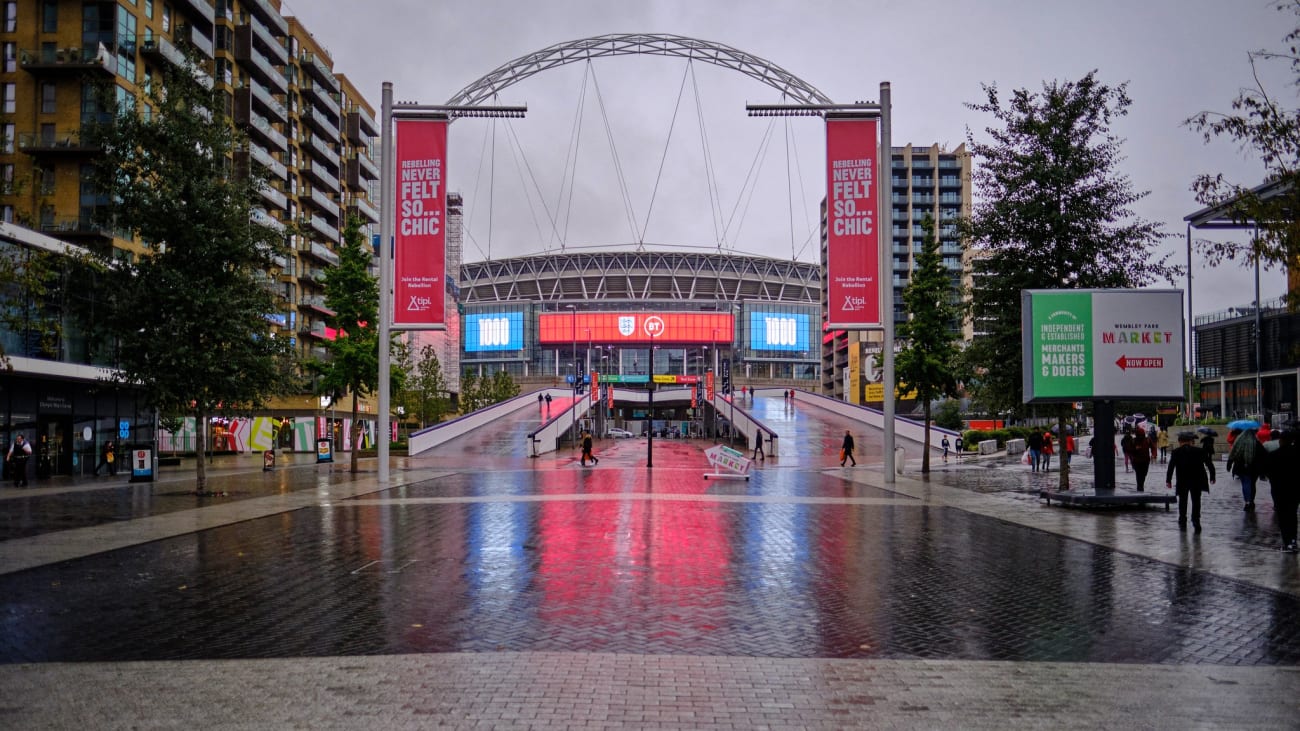 Wembley Stadium is a London sports venue built in 1923. Its facilities have been used to host important matches, not only football, but also rugby, boxing, American football, among other disciplines. In fact, since 1986 it has been the stage for musical legends such as Queen, Michael Jackson, Madonna, The Killers, among others.
If you don't know what to see and do in London during your stay in the city and you are a football enthusiast, then visiting Wembley Stadium is a great option. You can tour this iconic venue inside, to see the pitch, the museum exhibits, among other spaces; outside, and appreciate its façade and surroundings; and you could even attend a match of the FA Cup Final. Read on to find out more.
1. Get to know Wembley Stadium at its best by attending an FA Cup Final match
Wembley Stadium has been the venue for the FA Cup Final since 1923. This is a legendary annual English football competition, considered one of the longest running tournaments of its kind in the sporting world.
You can enjoy the eagerly awaited match if you travel to London in May (the last week) or if you are in the city of London in June (first week). The final usually takes place during these months after 14 knockout rounds.
During the FA Cup final match you will see a real battle of the titans on the pitch at Wembley Stadium. Two teams, eleven players each, will give their best to dominate the ball for 90 minutes and score as many goals as possible in the opposing goal.
Useful information
Price: The cost of a ticket to watch the FA Cup Final starts from €575 per person. Tickets can be purchased through the official Wembley Stadium website.
Duration: The match usually lasts approximately 1 hour and 30 minutes. Bear in mind that, although the playing time is 90 minutes divided into two halves of 45 minutes, the players have a break of 15 minutes. In addition, extra playing time and, why not, some exciting penalty kicks could be added to that time.
Advantages: Not only will you see Wembley Stadium vibrate with the legendary FA Cup Final. You'll also enjoy stunning panoramas of the stadium's interior from your seat as you soak up the lively atmosphere of celebration.
2. Take a tour to see the ins and outs of Wembley Stadium from the inside
Exploring the inside of Wembley Stadium is a must-do experience to incorporate into your itinerary of things to see and do in London in a day or more, especially if you're passionate about football. You can learn about the history of this important sporting venue, hear some anecdotes and be amazed by its splendour.
It is a guided tour that will allow you to discover all the nooks and crannies of the largest stadium in the UK. You'll also see a series of exhibits with some hidden treasures preserved over the years in what could be one of London's best football-themed museums.
Tour inside the stadium
Once you are at Wembley Stadium the stadium host will take you around the imposing pitch , with a wide view of the grandstand seating. You will have the opportunity to sit in one of the substitutes' chairs and walk through the players' tunnel. You will also visit the presidential box, the dressing room and the press room.
For a few minutes you will feel like a player or coach of a national team. This is an experience that both you and your little ones will enjoy, making it ideal if you are travelling to London with children.
Visit the museum area
This tour also gives you access to the museum area. There, you will see some exhibits with a number of football gems: the commemorative plaque from the '48 Olympics, trophies, the '66 World Cup crossbar, jerseys of the England national team and some of the city's teams. You will also see a photographic chronology and some objects describing the history of the stadium.
Useful information
Price: This tour of Wembley Stadium is available from £27 per person and tickets can be purchased from the official Wembley Stadium website.
Duration: The guided tour lasts approximately one and a half hours.
Advantages: You will be able to discover all that the inside of Wembley Stadium has to offer with the help of a professional guide.
Disadvantages: Cash is not accepted at the stadium, so you will have to take your precautions.
Take the Wembley Stadium tour for free with the London Pass
The Wembley Stadium tour is another highlight among the 31 destinations offered by London's best tourist card. This is a very convenient option during your stay in the city, which will allow you to save time and money (up to 35% of the total value of the ticket).
To purchase this tourist card, you must access the official website of London Pass, select the mode of your convenience between a pass of 3, 4, 5 or 7 attractions selected from a list of 31 destinations, among which stands out the Wembley Stadium. Then, you will have to make the payment electronically and you will immediately get a QR code.
When you arrive at Wembley Stadium, you just have to go directly to the ticket office area and scan the QR code. There is no need to queue or pay extra to enjoy a tour inside the stadium and a digital guide.
Price: the price of the day pass that includes the Wembley Stadium tour among its options starts at €84 (adults) and €54 (children under 15). There are also other passes for more than two days that you can check at the time of purchase.
Advantages: with the London Pass you not only save time and money, you also get a discount of up to 15% on the products you want to buy when you visit the stadium shop.
3. Tour the outside of Wembley Stadium and learn about its history with the London Contrasts Tour
During your stay you will have the opportunity to enjoy the best tours and excursions in London, one of them being the London Contrasts Tour. You will be able to discover a series of unmissable destinations in the company of a local guide, who will tell you the history of each of them.
This is a personalised walking experience, meaning that the itinerary is set by you. You will have the opportunity to decide which specific places you want to visit. Such is the case of the iconic Wembley Stadium with its amazing architecture and interesting sporting history, Borough Market, Westminster Abbey, Soho, London Eye, among others.
As far as Wembley Stadium is concerned, you will travel with the guide on board the underground, as it is a bit far from the city centre. On arrival, you will walk in front of its façade crowned by an enormous arch (134 metres high and seven metres in diameter). You will be able to take incredible photographs and learn a series of anecdotes about its construction and football history, which are definitely worth listening to.
Useful information
Price: the price of the personalised tour that will allow you to see the outside of Wembley Stadium and other relevant points of the city starts at 56€ per person.
Duration: The guided activity usually lasts between two and six hours.
Pros: You'll be amazed by the architectural beauty of Wembley Stadium and discover some interesting facts about its history.
Disadvantages: If you want to go inside Wembley Stadium or another visited destination, you will have to pay a separate entrance fee.
4. Bird's eye view of Wembley Stadium on a helicopter tour
A bird's eye view of Wembley Stadium is a unique experience, giving you a privileged panoramic view of this major sporting venue and London's finest landmarks. So, if you have the opportunity, don't hesitate to include this activity in your itinerary.
The adventure begins at the heliport in the London borough of Battersea, right on the banks of the River Thames. There, the pilot will teach you the basic safety rules for flying in a helicopter, and then you'll board to start flying over the city.
During the tour of the London skyline you'll catch a glimpse of the London Eye, Tower Bridge, the Houses of Parliament, among other destinations in the central area. Gradually you will approach Wembley Stadium, which stands out due to its monumental structure designed by Norman Foster.
You will be amazed by the view you get of the pitch , which blends in with the red seats in the stands. In addition, you can't miss the striking 134-metre high arch, which crowns this 105 x 68-metre sporting venue.
Useful information
Price: The cost of the helicopter sightseeing tour generally starts at 150€ per person.
Duration: The helicopter experience over the city of London lasts approximately 20 minutes.
Benefits: You will get a privileged view from high above the Wemberly Stadium and other London attractions.
5. Visit the outside by getting there on your own
If you're thinking of discovering London neighbourhood by neighbourhood on your own, then Wembley, in the north-east of the city, is a must-see. You can visit the outside of its historic stadium for free and explore the surrounding area.
Stadium exterior
Just outside Wembley Stadium in London HA9 0WS, UK, you'll find the iconic statue of England footballer Bobby Moore just outside the entrance. You will also be amazed by the façade and the monumental arch, which rises above the roof of the stadium.
In fact, this scene becomes even more enchanting after sunset, thanks to the coloured lighting system on the building. It is certainly an ideal place to incorporate into a scenic tour of London at night.
How to get to Wembley Stadium on your own
To get to the stadium you have several means of public transport available , as it is a bit far from the centre of London.
Underground: get on the Jubilee and Metropolitan lines from Wembley Park Station. A journey takes around 35 minutes and costs approximately €5.
Train: from King's Cross St Pancras station to Wembley Park Stadium station, a journey time of approximately 20 minutes for an average cost of €8.
Bus: Bus 18, 83, 92 and 224 from Paddington Station to Wembley Station. It takes approximately 46 minutes and costs €2.
Around the stadium
If you want to make the most of your time in London's Wembley district, you can also enjoy other places of interest. For example, some of them are:
Play Park, approximately six minutes away from the stadium. This is a lively children's playground with lots of games.
The London Designer Outlet Shopping Centre, where you can eat, drink and do some shopping. This is no more than an eight-minute walk in the direction of Pacific Crest.
Try the food and drink on offer at Wembley Stadium
During your visit to Wembley Stadium you won't have to worry if you're hungry, as there are a number of restaurants, bars and kiosks within the stadium grounds, all of which offer a wide range of food and drink. All with a wide range of food and drink on offer.
Once inside the stadium you have free access to Bar 1965 and Gold Bar West, which serve beer, cocktails and snacks. There are also the draught bars and Bottle Bars, which are express bars serving bottled beer, hot and cold drinks, soft drinks, artisan sweets and much more.
In terms of restaurants and food kiosks at Wembley Stadium, you can eat at Wicks Manor Sausages, a traditional venue since 2013, sample British burgers with chips and sides from Burger & Chips, among others. In fact, with so much choice, you could take a quick food tour of your own.
Practical information for visiting Wembley Stadium
Address and directions: The stadium is located in Wembley, HA9 0WS London, United Kingdom. To get there, you have several public transport options (train, underground and bus). You can also travel by taxi, Uber or private car.
Tourist bus access: unfortunately the route of the best tourist buses in London does not have any stops near Wembley Stadium.
Opening hours: The stadium is open daily from 9.30am to 6pm. However, you can only get in via a tour, which is open from 10am to 4pm, with the last entrance being approximately one hour before the tour closing time.
Ticket prices: Tickets for the stadium tour cost approximately €24 per adult, around €17 per child, around €65 for families and free for children under 5 years old.
How to buy tickets for the tour, matches and concerts: tickets can be purchased at the stadium ticket office or online on the stadium's website.