8 Best Things to Do in Stonehenge
The megalithic monument of Stonehenge is, without a doubt, one of the essential visits for all those who travel to England.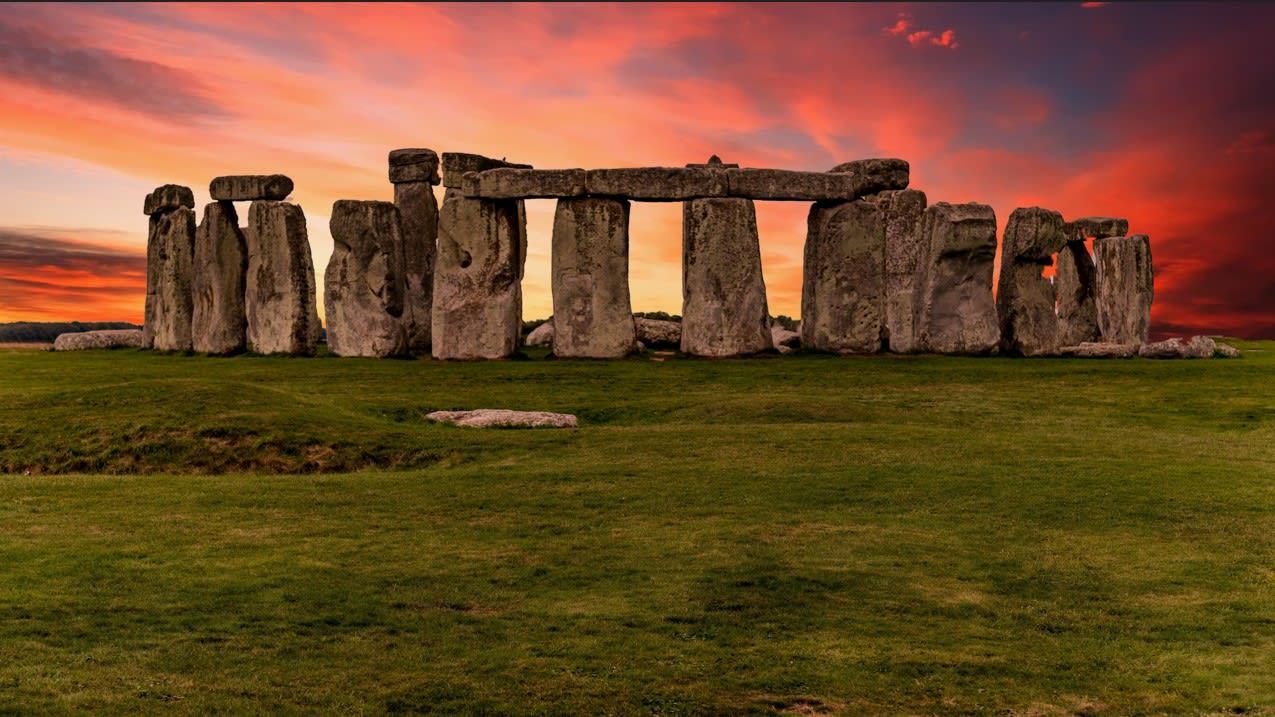 Stonehenge is one of the most iconic Stone Age monuments on the planet. Located just 140 kilometres from London, its origin has given rise to a multitude of theories, more or less eccentric. According to archaeologists, its oldest remains are over 4000 years old.
As well as the beauty of the monument itself, part of Stonehenge's charm lies in the myths about its purpose, so don't hesitate and add this monument to your list of things to see and do on a visit to London.
1. What is Stonehenge's main attraction?
The main attraction of Stonehenge is, obviously, its stone circles. Although experts have been studying them for decades, it is still not known exactly what they were built for and what function they served.
Equally unknown is how those ancient builders were able to carry the heavy stones that make them up from such a considerable distance.
Ultimately, these circles are a legacy of our ancestors shrouded in mystery and well worth a trip to Stonehenge from London to see them.
2. Experience the Stone Circles
As entry to the interior of the stone circles is not permitted for safety and conservation reasons, most visitors are only allowed to view them from behind ropes.
However, the English Heritage Society, which is responsible for the operation and care of Stonehenge, organises organised tours from Salisbury which allow access to the interior of the stones, the Stone Circle Experience.
Please note that advance booking is essential as there is a maximum capacity of 30 people and it is strictly forbidden to touch the stones. You may find it easier to book a guided tour to Stonehenge from London, as the above option does not include a guide.
3. Neolithic Houses
Also of interest within the grounds of the Stonehenge complex today are replicas of 5 houses from the Neolithic period. All of these were recreated from finds dating from the Neolithic period from excavations at Durrington.
A variety of artefacts have been placed in the houses so that visitors can try to understand what life was like some 4,500 years ago. To enhance this educational aspect, volunteers explain various aspects of life in this period of prehistory to visitors.
4. Special exhibition
If you've been left wanting to learn more about Stonehenge and its inhabitants, you can always pop into a special exhibition that opened in 2015.
This exhibition, called 'Wish You Were Here', shows the development of the Stonehenge monument over the years. It also presents the process by which the remains have become an icon around the world.
The exhibits in this exhibition are part of the personal collection of the famous British archaeologist and radio and television presenter Julian Richards, author of several books on Stonehenge. Other objects on loan from the museum in nearby Salisbury and the Wiltshire Museum are also on display.
5. Virtual experience
Although Stonehenge is all about man's life in prehistoric times, visitors to Stonehenge will also be able to use the latest technology to make their experience even more enjoyable.
The Stonehenge Visitor Centre offers an audio-visual experience that will amaze anyone. It is a real journey through time in which, using a 360º view, you will be able to experience the changing seasons from inside the monument and how the landscape around it changes as the winter and summer solstices approach.
6. Stonehenge and the summer solstice
Stonehenge has an important spiritual component for many visitors. This has meant that, for a long time, the area has been filled with people performing ceremonies of various kinds, especially related to the ancient Druids. All this spirituality is heightened at certain times of the year. The most important of these is the summer solstice at Stonehenge on 21 June, the longest day of the year.
Proof of the importance of this day has been the decision by English Heritage to digitally live-stream these celebrations. It's also a great time to enjoy one of the best day trips you can take from London, which can also be combined with other nearby attractions.
7. Around Stonehenge
Although Stonehenge is by far the best known monument in the area, there are many other attractions close to the Stonehenge monument that are well worth a visit. These range from more prehistoric remains to interesting churches.
Those interested in prehistory are in luck if they can visit the whole county. In fact, the area known as Salisbury Plain was declared a World Heritage Site because of the large number of Neolithic and Bronze Age remains.
In brief, here are the main attractions you can visit after Stonehenge:
Old Sarum: this is a hill with a spectacular history: a Neolithic hunting lodge, a farming settlement, a Roman fort and a Norman castle.
Amesbury History Centre: the town is listed in the Guinness Book of Records as the oldest settlement in England. Its museum is located at the entrance to Stonehenge and is well worth a stop.
Stonehenge Stone at Salisbury3: the esplanade is full of Neolithic remains with a similar chronology to Stonehenge. The finding of furniture and other similar items leads experts to claim that it may have been inhabited by upper-class people.
The Abbey Church of St Mary and St Melor: this church is located in Amesbury, quite close to Stonehenge.
Salisbury Museum: houses collections of many archaeological finds found in England, especially at Stonehenge. It has a part dedicated to children, so if you have gone to London with children, this can be a good visit for them.
Wiltshire Museum: also houses many remains found at Stonehenge, especially from the Bronze Age.
Bath is one of the most beautiful cities in the country and has been declared a World Heritage Site. You can book tours from London that combine a visit to Bath with a visit to Stonehenge.
8. Stonehenge Exhibition
If you want to learn a little more about Stonehenge and its possible builders, a visit to this exhibition is a must.
Here you can learn about all aspects of the monument, from its stones to the people who lived there at the time, the landscape and, of course, the possible significance of the remains.
All this information is presented through a combination of ancient artefacts and audiovisual presentations. In total, some 250 archaeological objects are on display, including pottery, tools, jewellery and some human remains.
Joaquín Travel Tip

Although it depends on your taste, my recommendation is not to miss the forensic reconstruction of a human face made from the bones found in the area. It is supposed to have belonged to a man who lived around 5500 years ago.
Where is Stonehenge and how to get there from London?
The Stonehenge complex is located in southwest England, about 140 kilometres from London. The monument is located in the county of Wiltshire, about 2 miles west of Amesbury.
As I tell you in the article How to get to Stonehenge from London, there are several possibilities depending on your tastes and the type of trip you want.
Use a private vehicle as long as you have no problem adapting to driving on the left. In this case, it will take you about an hour and a half to reach your destination.
Take public transport. You can choose between the National Express bus (3 hours journey time) from Victoria Station. Remember you will have to change at Salisbury.
The train also has to stop in Salisbury, but this is a more relaxed and comfortable option.
Recommendations for making the most of your visit to Stonehenge
Regardless of the type of transport you use, the first thing you should do when you arrive at Stonehenge is to visit its Visitor Centre. The Visitor Centre, a modern building but quite well integrated into the surrounding landscape, is located a kilometre and a half from the monument.
In this building you will find both the cafeteria and the souvenir shop, as well as a kind of interpretation centre.
Joaquín Travel Tip

To visit the monument with the necessary information to enjoy it, it is very convenient to stop at the aforementioned interpretation centre to find out details such as what the megalithic monuments are.
How long does it take to visit Stonehenge?
In case you've decided on a tour from London, the most popular choice among tourists as it's one of the best options you can do from the capital (especially if you're travelling to London for 6 days or more), the visit to Stonehenge usually takes about two hours.
Stonehenge opening times
Although it is always advisable to check for changes, Stonehenge's opening hours during the low season start at 9.30am and close at 5pm. During the summer, you can visit until 20:00 pm. Remember, if you are visiting on your own, it is essential to make a reservation in advance, including your arrival time.
When is the best time to visit Stonehenge?
Weather is a major concern for those wishing to visit Stonehenge, as the monument is located outdoors. Because of its geographical location, rain (or even snow) is quite common, so the best time to visit Stonehenge is usually in June, July or August.
Is Stonehenge a good monument to visit with children?
Children can greatly enjoy their visit to both London and Stonehenge. Although their interests and age should always be taken into account, the setting and the large stones are usually very appealing to them.