Handy guide to the London Underground
Are you sure you're going to take the London Underground to get around its streets? Don't miss this post to get the most out of the city's fastest transport.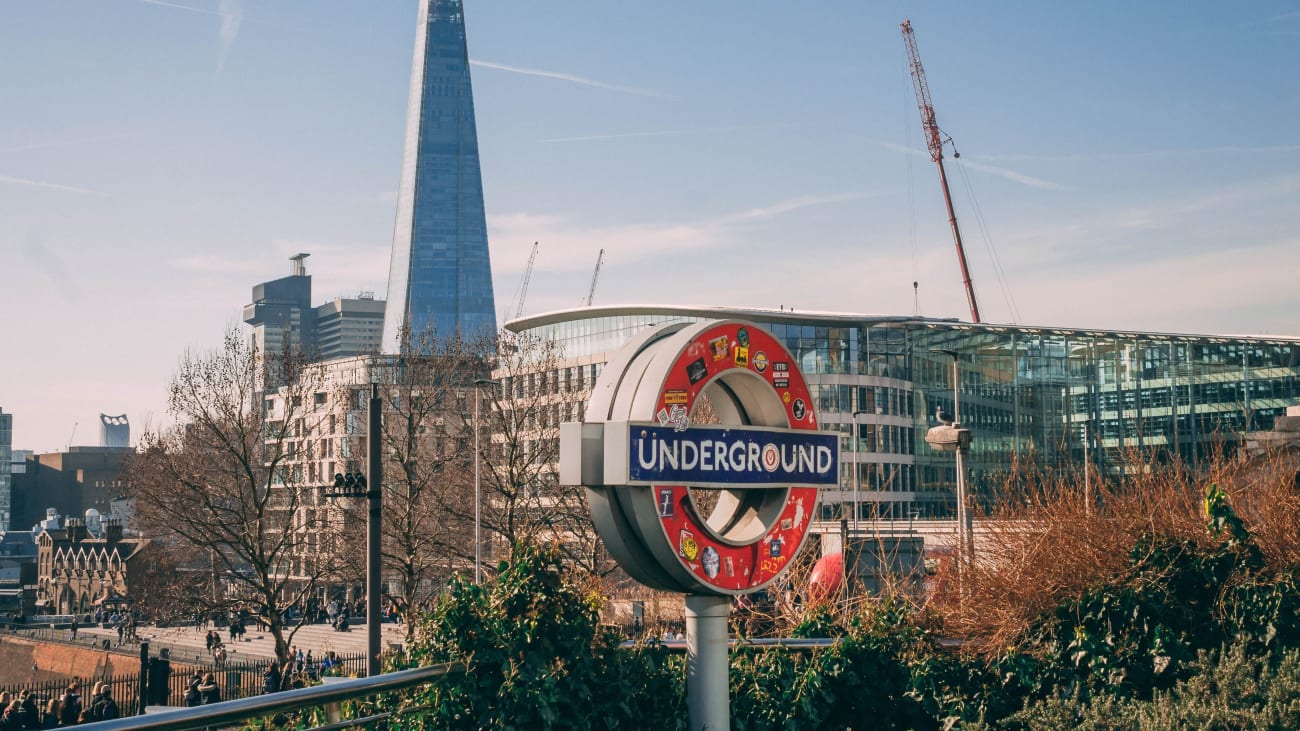 Travelling on the London Underground can seem a little complicated at first with so many lines and stops, but once you get to grips with it and get the hang of it, you'll see that using it is quite intuitive.
To make it easier to get around the London Underground, this guide tells you everything you need to know about how it works, its timetables, what tickets are available, how to buy them and more. You'll see how you'll end up getting around the British capital like a Londoner!
1. Get a London Underground map
As one of the largest in the world, the London Underground links the different parts of the British capital very well and connects to most of London' s tourist attractions, so you're bound to use it to get around at some point during your stay.
I recommend downloading a London Underground PDF map to your mobile phone, so you can always carry it in your pocket and glance at it whenever you need to. Even when you don't have access to the internet.
Another option I suggest is to download the official Transport for London app (available on iOS and Android), where in addition to the tube map you can also search for routes and directions in the city to plan your journeys, see the quietest times to travel, check live bus and train timetables and see the latest updates on the transport network.
Get to know the legends that roam the metro
If you'd like to find out more about the London Underground, all the ins and outs of the underground, how it was built and the legends that are told about it, you can check out the London Underground tours available.
2. How does the London Underground work and how much does a ticket cost?
The London Underground is divided into 9 radial areas starting in the historic centre and covering almost the entire city. Most of the UK capital's main tourist attractions are located in zones 1 and 2, which you are likely to be travelling through all the time unless you are staying far from the centre.
London Underground fares vary depending on where you are travelling from and where you are travelling to. In other words, the fare for a journey starting and finishing in Zone 1 will be different to a journey starting in Zone 1 and finishing in Zone 3.
The price of a single metro ticket is quite high. For example, the cost of a ticket from zone 1 to 3 is about £5.50 or from zone 1 to 4 is about £6.00 but to find out the exact cost of the journey before you go I recommend you visit the Transport for London website where you will find all the up to date fares.
From a financial point of view it is not very advisable to buy this type of ticket if you are going to spend several days in the city and plan to use the underground frequently because you will spend a lot of money. It is also not very time-efficient because you will have to stop at the ticket machines to buy it every time you want to use it.
Are there season tickets for using the London Underground?
Fortunately there are alternatives to the single ticket for use on the London Underground that will help you save money on your London Underground travel: the Oyster Card and Travelcard.
3. The Oyster Card
The Oyster Card is a rechargeable card with a credit on it that makes transport fares cheaper than buying a single ticket. As you use the card to travel on the London Underground, the balance is deducted from the card.
During peak hours the 'peak fare' applies Monday to Friday between 6:30am and 9:30am and 4pm and 7pm while the 'off peak' fare applies at all other times, weekends and bank holidays.
How to buy an Oyster Card?
You can buy your Oyster Card from vending machines at any underground station in the city.
The good thing about this system is that if you are not too fluent in English you can change the language of the machine to English and follow the steps it tells you to follow. This way there will be no confusion. You just choose the amount you want to put on the card, then the method of payment and that's it!
How do I use it?
To access the London Underground with an Oyster Card, you have to swipe it through the yellow sensor on the turnstile both at the entrance and exit. This last step is essential even if you find the turnstile doors open because the Oyster Card calculates the fare for the journey when you swipe your card to exit.
If you forget to do this, the card will detect the journey as incomplete and will not be able to calculate your journey, so you will be penalised on your balance.
How do I top up my Oyster Card?
It's very simple! It's done at the same machines where you buy your Oyster Card and can be topped up with a bank card or cash. No more hassle.
How do I get it back?
Until February 2020, to get an Oyster Card you had to deposit £5 as a deposit which on the last day of your journey was refunded along with the remaining balance (provided you had £10 or less left) at one of the vending machines where you bought it when you were no longer using the card.
Thereafter, the £5 deposit will be automatically refunded as a balance after one year when you take a journey on the card. After that time you can claim a refund within six months or you will not be eligible for a refund.
The refund process involves deactivating the card at the vending machine, which you can then keep as a souvenir of your trip as it will just be a piece of plastic.
However, if you plan to return to London in the near future, you will not need to hand in the card as it does not expire and you can always use it again at a later date by reloading it.
4. The Travelcard
The Travelcard is another alternative to the single ticket and Oyster Card for getting around the London Underground. It is a card that allows unlimited travel on London's public transport network for a set period of time.
Although there are monthly and annual Travelcards, these are intended for residents of the British capital, while 1-day and 7-day Travelcards are sold for tourists.
How to buy a Travelcard?
There are many ways to buy a Travelcard, as they are available at different points of sale. Depending on the location, the card will be issued in one format or another.
Railway stations: The card is issued at the National Rail counters as a printed cardboard ticket. To purchase a 7-day Travelcard here you will need to provide a passport photo. This is an interesting option as you can get 2 for 1 discounts at various attractions such as St Paul's Cathedral or Madame Tussauds Museum.
Underground stations: You can buy a 1-day Travelcard here. If you wish to purchase the 7-day Travelcard, you will receive it loaded onto an Oyster Card. Unlike the National Rail Travelcard, this is issued by London Underground and does not entitle you to 2 for 1 discounts at tourist attractions.
How do I use the Travelcard?
Whereas the Oyster Card is plastic and must be swiped through the yellow reader on the turnstile to gain access, the Travelcard is cardboard and must be swiped through the slots on the turnstile both on entry and exit.
5. Which card to choose: the Oyster Card or the Travelcard?
The million dollar question! Choosing between an Oyster Card or Travelcard will depend on the length of your stay in London and how often you will be using the Underground.
For example, if you plan to ride the tube two to four times a day for short periods of time such as four days in London or five days in London or you want to travel to the outskirts of London, it is best to opt for an Oyster Card with balance ("Pay as you go"), as you can benefit from the "daily cap".
This is a system that works for a period of 24 hours whereby there is a maximum spending limit per day depending on the zones. Every time you make a journey on the tube, credit is deducted from your Oyster Card until you reach that limit and from then on your journeys will be free as no more credit will be deducted from your Oyster Card.
If you plan to spend a week or more in London and you will be taking the tube to get around the central area continuously, then the most cost-effective option is to choose a 7-day Travelcard.
Can I share an Oyster Card or Travelcard with another person on the same journey?
No, you can't. If you are travelling to London with someone else you should each have your own Oyster Card or Travelcard but if you are travelling separately in the future you can lend or share them because if you buy them at tube stations neither card is linked to an ID card or name.
6. Do children pay for tickets on the London Underground?
Children under the age of 11 can travel free on London Transport if accompanied by an adult, who can enter with a maximum of 4 children.
Children aged 11-15 can travel free on trams and buses and get discounts on all other transport such as the Underground, London Overground, TfL Rail and DLR if they have a Zip Oyster 11-15 photocard.
Teenagers aged 16 and 17 can purchase a Zip Oyster +16 card for free travel or discounts on London transport. For example, a 50% discount on adult 'pay as you go' fares on the Underground, bus, TfL Rail, London Overground, DLR and most National Rail services in London.
7. What are the London Underground timetables?
The Underground is open from 5am to 12am, when the first and last train of each line departs. This means, for example, that if a train leaves at 12 AM it will run until it reaches the last stop on the line.
On weekends (Fridays and Saturdays) the London Underground opening hours are extended on some lines (Piccadilly, Central, Jubilee or Northern) and are open 24 hours a day.
As a curiosity, public transport in London closes on 25 December. On the evening of Christmas Eve, the service starts to be reduced and there are no night buses. It resumes operation on 26 December ("Boxing Day") but in a reduced way. Keep this in mind if you plan to spend Christmas in London.
How frequent is the London Underground?
Very high! Trains run every 2 to 3 minutes and there are usually no service delays, so the London Underground is one of the best ways to get around the city.
8. How many lines are there on the London Underground?
The London Underground consists of 11 lines and 274 stations covering over 1,500 square metres, almost the entire city.
In addition to the "official" lines, there are two other lines: the DLR (driverless light rail trains that run in the east and south-east of the British capital) and the London Overground (a line that runs above ground in the north and north-west of the city).
The London Underground lines are:
Bakerloo, brown line
Central, red line
Circle, yellow line
District, green line
Hammersmith & City, pink line
Jubilee, grey line
Metropolitan, purple line
Northern, black line
Piccadilly, dark blue line
Victoria, light blue line
Waterloo & City, blue-green line
9. Travel on the London Underground with the Visitor Oyster Card
One thing to bear in mind if you will be using the London Underground frequently to get around the city during your holiday is that if you purchase The London Pass + Travel package, the electronic Visitor Oyster Card will be charged for the duration of your London Pass (1 to 10 days), London's tourist card so you can visit London's top tourist attractions.
The Visitor Oyster Card is a similar card to the traditional Oyster Card but, unlike the Oyster Card, it has been designed specifically for tourists.
This package is a great way to get around the city using public transport as well as giving you access to over 80 tourist attractions - you'll get a lot out of it! You can get it from £84.
Taking into account London's public transport fares. The London Pass + Travel package is the cheapest way to get around the British capital as no matter which zone you travel through, no balance will be deducted from the card when you reach the daily limit.
10. Tips for travelling on the Underground
Haveyour ticket ready to get through the turnstiles quickly, especially if you are taking the tube at rush hour (before 9:30am or around 6pm) to ease the flow of commuters in and out of the station.
If you can, plan your off-peak London Underground transfers. It is usually crowded with commuters coming and going from all corners of the capital. This is especially true between 6:30 AM and 9:30 AM as well as between 5 PM and 7 PM. This way you'll be able to move around the underground with more peace of mind.
Check the London Underground app or website before you travel to see if there are any incidents on the lines you want to take or if any stations are closed for maintenance. It will give you up-to-date service information and even provide alternative routes.
Move around the platform to find more space. When you get to the platform, don't crowd at the entrance. If you see that there are a lot of people on a section of the platform, keep walking to where there are fewer people. You may even find a free seat if you want to sit down.
Let yourself out of the carriage before entering. You will be able to enter more easily and without being pushed by other passengers.
"Mind the gap". For safety, always stand behind the yellow strip on the floor when waiting on the platform and pay attention to the gap between the carriage and the platform when entering or leaving.
Keep aneye on your belongings on the metro. Watch out for pickpockets as you would in any other city and make sure you keep your valuables safe during your journey.
If you miss a station or get on the wrong line, don't worry, trains run frequently so just get off at the next station and check the map carefully to find the correct route.
London Underground trains run every 2-7 minutes, depending on the line, so simply get off at the next stop and look for an underground map on the platform to guide you.
Stand on the right-hand side of the escalators and leave the left-hand side free for those who want to walk up them more quickly.
If you are travelling with children or luggage you must use the appropriate access on the London Underground. At all stations there are turnstiles with a wider passageway and doors that take longer to close for easier access.
If you have any questions, don't hesitate to ask London Underground staff or any other London Underground user for help - they're sure to be able to give you a hand if you need it!