Dinner Cruises on the London Thames
Watching the banks of the Thames at sunset is a magical and romantic experience not to be missed. Take a look at the best dinner cruises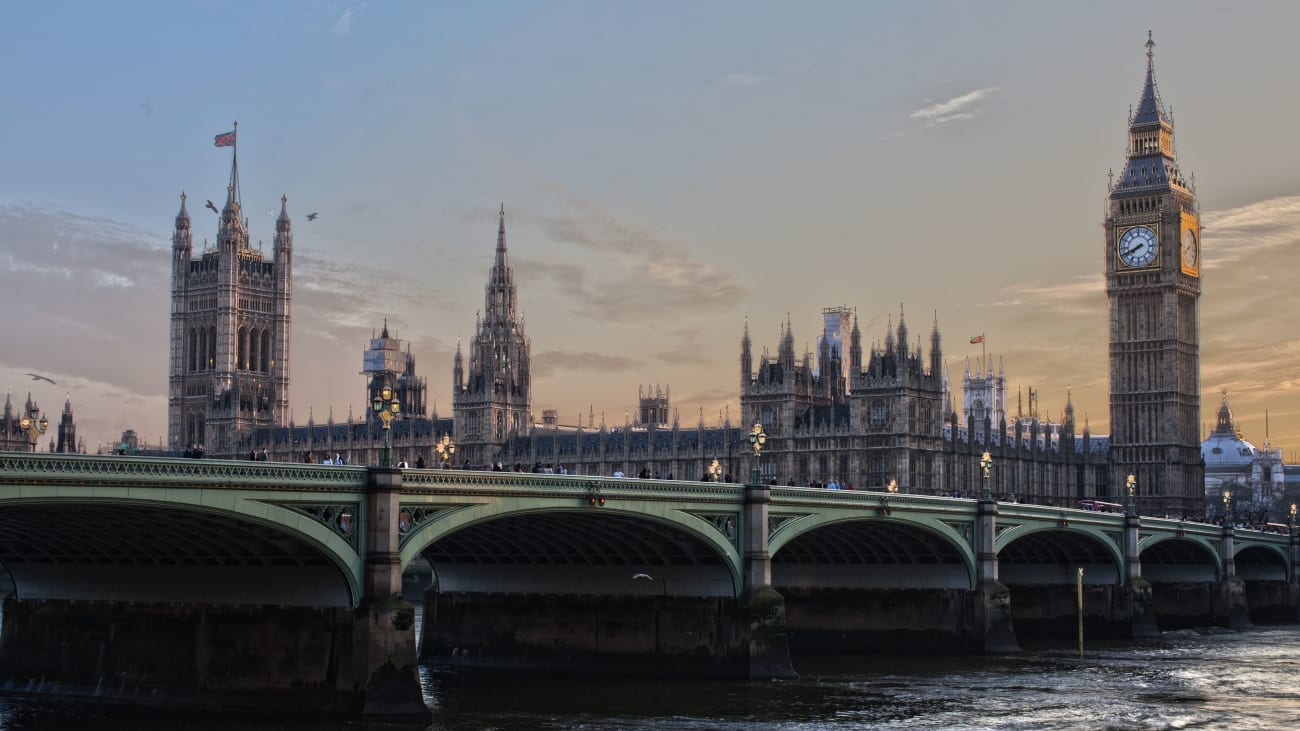 A dinner cruise on the Thames is a fantastic way to enjoy a different kind of evening in London. If you haven't yet cruised the city's most famous river, this activity is an excellent way to see its monuments from a different perspective and also at night, when they look beautifully illuminated.
If that appeals to you, in this post I'll tell you about the most fun dinner cruises on the Thames with which you can spend a very original night in the British capital and complete your list of things to see and do in London.
The most complete option
Experience a dream evening with this romantic gourmet dinner cruise.
If you're looking for a special plan, don't miss this cruise with dinner and live entertainment. A dream experience that you should not miss and with which you will enjoy wonderful views of the city.
On this dinner cruise on the Thames, which lasts approximately three hours, you'll enjoy a gourmet dinner that starts at the Thames River Wharf in Westminster. The tour departs at sunset, so you can enjoy the illumination of this wonderful city, and you will pass by iconic landmarks such as the Palace of Westminster, Big Ben, the London Eye and the Tower of London
. As for the exquisite dinner, it has between three and five courses depending on the menu and will be paired with wine. And, what's more fun, you can enjoy background music and a live show.
Recommended if... you want to treat yourself and a special someone.
Thames Dinner Cruises
A dinner cruise on the Thames is a plan not to be missed. And if it's at night, it's even better, as you'll be able to enjoy dreamy views while you savour an exquisite dinner to remember. For a moment you'll think you're in a period film as you listen to the music and enjoy a delicious contemporary European menu prepared with seasonal produce in the ship's own kitchens.
On this gourmet dinner cruise you'll be able to sample classic British cuisine alongside continental European dishes. The result is delicious!
Enjoy a gourmet dinner on a Thames dinner cruise
If you fancy a gourmet experience on a Thames dinner cruise, the Bateaux London dinner cruise is definitely the option you've been looking for. Sailing down the river, you'll have the chance to see the real magic of the Thames at sunset. From the boat's terrace there are unparalleled views of London old and new. From towering skyscrapers such as The Shard to ancient fortresses such as the Tower of London.
It's a fabulous plan to do in the city as a couple for a special occasion, such as an anniversary or Valentine's Day, but not so great for families as children under 12 are not allowed on the boat. In addition, to participate in the activity, casual-elegant etiquette is advised in the passengers' wardrobe.
Take an almost private dinner cruise on the River Thames
This dinner cruise on the Thames is the ideal option if you want to experience a romantic evening with your partner in London at sunset or if you simply want to treat yourself during the trip and want to see London' s monuments lit up in a relaxed way. There will be no more than 9 passengers per crossing so it is a very quiet experience and feels almost private.
During the cruise you will board the River Room, which has a beautiful lounge/dining area and a large terrace outside from where you will have magnificent panoramic views of the riverbank. Thanks to the layout of the lounge and the large windows, you'll enjoy the scenery from every angle, so you won't have to worry about where to place your table, just about having a good time.
On this 3-hour round trip from central London you'll see iconic landmarks such as the Tower of London, Big Ben and the Houses of Parliament, St Paul's Cathedral and many more along the way.
Dine and listen to live jazz on a cruise on the River Thames
One of the most memorable memories you'll make of your trip to London is enjoying a dinner cruise on the Thames aboard a luxurious boat as you gaze out over the illuminated city and listen to the best live jazz music. On arrival at the pier, you will be assigned your seat on the cruise and once on board you will be taken to your table in the dining room, where you will have a magnificent view.
You can start the evening with a drink while listening to music in the background and watching the lights of the buildings around the Thames, such as the Palace of Westminster and Big Ben, the London Eye and the Tower of London, slowly illuminate as the sun sets.
This cruise lasts approximately 3 hours and the dinner is a multi-course meal with an abundance of meats and cheeses. As with other evening cruises, the dress code for passengers is smart casual.
Take a classic afternoon tea cruise on the Thames
Although it may seem like a bit of a 'cool' plan at first, having a classic English afternoon tea during a boat cruise on the Thames is one of the most fun experiences you have to have in London. You'll board a boat to sail through the heart of the British capital on a 90-minute round trip from Tower Pier to Westminster.
Take a seat in the boat's cosy indoor lounge to enjoy the beautiful panoramic views on both sides of the river. Some of the most iconic London landmarks you'll see include the London Eye, Big Ben and the Houses of Parliament, Tower of London, London Bridge, The Shard, Shakespeare's Globe Theatre and more.
In between photos of the scenery you'll be able to sample a delicious English-style snack of traditional sandwiches, scones with jam and clotted cream, cakes and a range of teas and coffees. Who knows, you might become so fond of afternoon tea that you end up adopting this British tradition at home.
Other Thames cruises you might like
Dinner cruises on the Thames are a great plan to do as a couple or with friends during a trip to London.
However, if the schedule of these night cruises does not fit your travel plan or if you are visiting the city with your family and you are looking for a daytime cruise where children can also enjoy the experience, in that case I advise you to take a look at the post the best dinner cruises on the Thames, where you will find other options that are also very fun and with which you can make the most of your stay in the British capital.
Thames Dinner Cruise Tips
If you are going on a Thames dinner cruise, here are a few tips to bear in mind before you set off on your experience:
Don't forget to take warm clothes, as the wind chill on board the boat is lower than when you are walking in the city.
Bring a camera with a tripod to capture all the beauty in your snapshots.
Dress code is casual, so check your wardrobe and choose your outfit for this special occasion.
In the event that your booking is cancelled due to adverse weather conditions, don't worry! You will be offered a change of date or a full refund.
Why is a Thames dinner cruise worthwhile?
It's a wonderful experience you won't forget! It will allow you to enjoy another side of the city, perhaps lesser known and from a different perspective, giving you a much more complete, fun and magical view of London.
It's not just about seeing the city's main landmarks as you cruise along the River Thames, but also the fact that the city changes at sunset and takes on a colour that leaves no one indifferent to those who have the chance to see it in this light.
What are dinner cruises on the Thames like?
If you're wondering what a Thames dinner cruise is like, you should know that it's flexible, as you can choose the number of courses between 3 and 5. The menu will feature meat and cheese dishes, and will be paired with wine.
And most importantly, if you follow a special diet, have any intolerances or allergies, or are vegan you can indicate this on your booking and you will have a menu according to your requests and preferences.