10 things to do in London in summer
If you're planning a summer trip to London, check out these 10 things you can do on holiday to have a great time!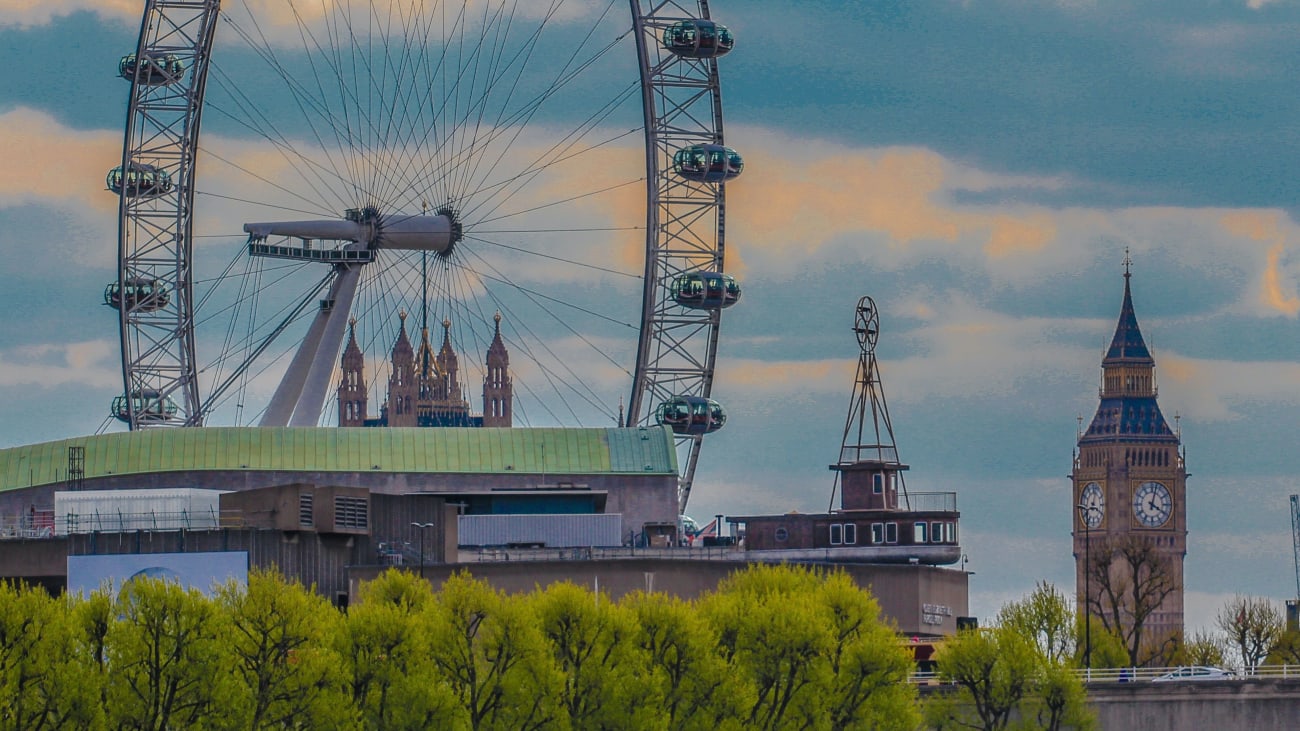 In a city like London in summer there are plenty of great things to do beyond the typical tourist attractions in the city.
Excursions, music, open-air cinema, dancing, boat trips... and this is just a small taste of what you can do in London, the rest I'll tell you about below!
1. Tour central London with a guided tour
Taking advantage of the good weather in London in summer, if you are one of those travellers who love to get lost in the streets of a city to explore it inch by inch, then I recommend you to take a guided tour through the centre to discover all the nooks and secrets hidden in the heart of this beautiful city.
During the tour you will be accompanied by a guide who will tell you lots of stories and anecdotes about the city that you might not know and you can choose between a walking, bus or bike tour (this option is always more fun!) to explore the centre of London and see monuments such as:
St. Paul's Cathedral
The Tower of London
Big Ben and the Palace of Westminster
Westminster Abbey
Buckingham Palace
St. James's Park 5 Trafalgar Square Buckingham Palace St. James's Park St. James's Park
Trafalgar Square
Covent Garden
Tower Bridge
And many more...
By the end of the guided tour of central London you will have learned a lot of new things, taken a lot of pictures for your social media and, above all, you will have had a great time.
2. Sail the Thames on a Dinner Cruise
London's summer nights are wonderful. For a romantic and different evening during your stay, I recommend going to the riverside to enjoy a dinner boat cruise on the Thames.
It will be one of the most beautiful memories of your trip! An occasion to go out for dinner a little more dressed up and in a very original setting such as an elegant boat to celebrate something special.
What's more, as you cruise along the Thames, you can watch the sunset from the deck and watch the coloured lights of the city slowly come on as you sip a glass of champagne.
The monuments along the river bed shine in a special way and look even more spectacular than they do during the day - it's a magical moment! Oh, and don't worry about how much a Thames cruise costs because many of them are affordable.
3. Discover the inside of Buckingham Palace
Most travellers who visit London usually have a photo with the façade of Buckingham Palace and the Queen's Guard in the background as a souvenir but every summer, when the palace gates open to the public, a lucky few can walk through them to see the inside once Queen Elizabeth II has gone on holiday.
In summer you can only see inside Buckingham Palace for a few weeks of the year (between late July and early September) so demand is extremely high and tickets sell out in the blink of an eye as there are so few opportunities.
If you'd love to walk the corridors of Buckingham Palace and don't want to miss out, my advice is to book your tickets online well in advance to get them.
What will you see?
During the tour you won't see the private chambers of the Royal Family but you will see the "State Rooms", the rooms where the Queen receives her guests at official events and where she holds her public audiences, and it is absolutely spectacular!
I suggest you set aside a day of your summer holidays in London to do something typically "British" like visiting Buckingham Palace, watching the Changing of the Guard and having afternoon tea. In the post How to see the Changing of the Guard and Buckingham Palace I tell you all about this experience in detail.
4. Enjoy the best outdoor cinema
When the weather is nice, Londoners take advantage of every moment to have fun doing outdoor activities. And summer nights are perfect for watching a movie under the stars and eating popcorn, don't you think?
The Luna Cinema (July and August): Hold cinema sessions at various locations around London and screen films to suit all tastes: romantic comedies, musicals, blokbusters and more.
Film4 Summer at Somerset House (August): The inner square of Somerset House becomes an "open-air cinema" showing first-run films and classics - sometimes there are special guests at the screenings!
More London Free Festival (September): At The Scoop open-air amphitheatre next to Tower Bridge you can enjoy the best classics and blockbusters of cinema for free.
5. Watch the Summer Solstice at Stonehenge
Make the most of your holiday in London by taking a trip to the outskirts of the city to see amazing sites such as Stonehenge, Europe's most famous prehistoric monument.
This time of year is the perfect time to visit, as during the summer solstice Stonehenge is visited by groups of Druids, along with a unique audience, to perform magical rituals celebrating the union of the Earth and the Sun. It's a most curious event!
Although you can visit this megalith on your own, considering how difficult it is to get there by public transport and how far it is from London (130 kilometres), the option I recommend the most is to take an organised guided bus tour to Stonehenge.
But make sure you book your tickets online and as far in advance as possible to secure your place, as for special occasions such as the summer solstice they sell out very quickly. In the post Excursions to Stonehenge from London I tell you in more detail all about this exciting adventure.
6. Watch the sunset on a rooftop in London
After an intense day of sightseeing, walking and sightseeing you're going to need to take a break and in summer that's extremely important when the heat is on.
London' s rooftops are little oases high above the city where you can escape the hustle and bustle of London's streets and take a breather and a refreshing drink while watching the sunset and the skyline of the British capital on the horizon. Sounds like a great plan, doesn't it?
Many of the city's rooftops are only open during the summer season, so before you head to one of them I recommend you check their websites to make sure they're not closed.
Some of the coolest rooftops in London are:
7. Experience the magic of West End musicals
As well as the cinema, one of the other shows you can enjoy in London in the summer is the West End musicals.
You may not be too keen on theatre, but I can assure you that the impressive staging and vibrant musical numbers will immerse you for a few hours in a jaw-dropping fantasy world.
Experiencing the magic of London' s West End musicals is definitely one of the must-do experiences you have to have during your stay in London. Especially if you're travelling with your family, the kids will have a blast with all the music, colours and lights on stage!
If you're planning to include a musical in your London plans, I advise you to buy your tickets online and as far in advance as possible before you travel, as there are performances with a very high demand, the West End theatres tend to fill up very quickly and the box offices hang the "Sold Out" sign right away.
8. Have a picnic in St. James's Park
Central, cosy and intimate. These are the adjectives that best define James's Park, the oldest of the city's Royal Parks and situated very close to Buckingham Palace.
It is a wonderful place to have a picnic on a sunny day in London because the vegetation is very well kept and the views by the artificial lake are beautiful. It's also not one of the capital's most popular parks, so there aren't usually large, bustling crowds to interrupt the bucolic, country atmosphere of James's Park.
You can lie on the soft grass and listen to the birds singing or read a book while you soak up the sun. And if you're travelling to London as a family, the kids will love having a bit of free time to play, run and jump.
9. Get your boots on at Taste Of London food festival
During the month of June, Regent's Park hosts the Taste Of London Festival, which brings together the city's most prestigious chefs to surprise food lovers with their culinary offerings.
The event is not free but paying the entrance fee is worth it as it will give you the opportunity to taste many of the dishes offered at the food stalls gathered there, which belong to very famous restaurants such as "Burger&Lobster", "Bao", "Lina Stores" or "Sagardi", among many others. In addition, you can see how they prepare the food, attend workshops, wine tastings and even buy some food products as souvenirs.
Attending the Taste Of London Festival during the summer holidays will be like going straight to paradise for a foodie! And if you're hungry for more when you leave, you can always take a food tour through the streets of London where you'll discover little culinary gems that will make your trip to the British capital even more enjoyable.
10. Dance at the Notting Hill Carnival
Caribbean rhythms take to the streets of the Notting Hill neighbourhood for a big carnival on the last weekend in August, reminiscent in some ways of the famous carnivals in Rio de Janeiro or Tenerife. If you're in the party mood... this is your time!
This festival celebrates Caribbean culture in style with an impressive parade of floats and dancers dressed in feathers and sequins dancing to the best Caribbean music.
Follow the floats as they make their way through Notting Hill while you groove to the exotic tunes of the parade, or linger somewhere for some Jamaican jerk chicken and a few beers - you'll have a great time and take some fabulous photos full of colour and good vibes!