10 things to do in London in spring
Spring is one of the best seasons to visit the city of London: the weather is very pleasant and various events are organised to welcome the most awaited time of the year.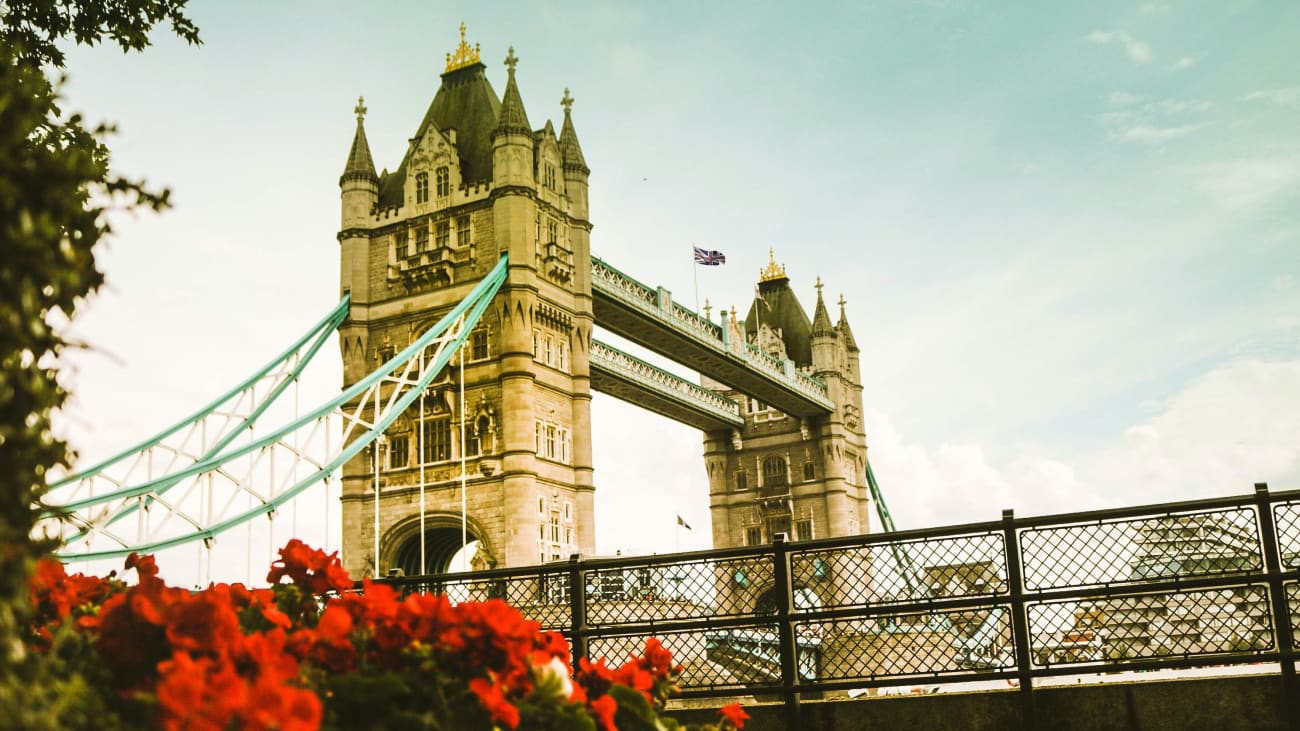 If you have the chance to go to London in spring, you are in luck as it is undoubtedly the best time for your trip. Temperatures start to get warmer and the days are longer and it gets dark from 18:30 in the evening. Also, although London is a tourist city all year round, it's not as busy as in summer. And if you go between the end of March and June, you'll have the chance to enjoy various events particular to this time of year, such as St George's Day, the Oxford-Cambridge Regatta, the Chelsea Flower Festival and the London Games Festival.
If you want to know more about other popular events, visit the post What to see and do in London.
1. Oxford-Cambridge Regatta
The Oxford-Cambridge Boat Race, one of the most historic sporting events in the UK, is usually held at the beginning of spring, between the end of March and the beginning of April. Rowing teams from Oxford and Cambridge Universities have been competing on the River Thames near London since the mid-19th century.
Specifically, the race is almost 7,000 metres long from Putney to Mortlake and, as you can imagine from its long history, is one of London's most popular spectacles, attracting 250,000 people every year.
When... Late March to early April.
2. Stroll around Chelsea at the Chelsea Flower Show
At the end of May, the Chelsea Flower Show takes place in Chelsea, a hugely popular landscape festival with over a century of history. It is held at the Royal Hospital in Chelsea, whose grounds cover more than four hectares, where a variety of beautiful floral displays are organised. Every year almost 200,000 thousand people visit this event in order to see the latest trends in landscaping and decoration.
In addition, the restaurants, cafés and shops in the Chelsea neighbourhood decorate their windows and façades with flowers and plants. So if your trip coincides with this show, don't hesitate to stroll around this neighbourhood and enjoy the magic of this show.
When... At the end of May.
3. Have fun without limits at London Games Festival
At the beginning of April, the London Games Festival takes place for ten days, a festival of video games and interactive entertainment that aims to turn the city of London into the gaming capital of the world. Hundreds of game and video game lovers come together to learn about the latest developments, exchange opinions and, above all, to play.
In addition, there are exhibitions, conferences, professional panels and networking days with the aim of putting creators in contact with funding rounds. The festival closes with a spectacular parade that is a real attraction for specialists and fans alike. Don't miss it!
When... First days of April.
4. Early May Bank Holiday
Coinciding with the first Monday in May is Early May Bank Holiday. Historically it was a holiday only for those working in the banking sector, but gradually it spread to other sectors and became a bank holiday, similar to our May Day, Labour Day.
It is common for friends and family to gather in parks, gardens and green spaces in order to spend a day outdoors in good company while celebrating the end of winter. You can also opt to take a cruise on the Thames. If your trip coincides with this day, bear in mind that shops and attractions have reduced opening hours.
When... First Monday in May.
5. Celebrate Spring Bank Holiday
Continuing with the bank holidays, the last Monday in May is Spring Bank Holiday, a celebration of spring celebrated in every corner of London with outdoor events and street parties. It's a festive day and Londoners take to the streets or even the beach to enjoy the spring bank holiday.
If your trip to London coincides with this day I recommend you to go to Trafalgar Square where several events take place. Also, bear in mind that some shops are closed as it is a public holiday and transport services have a reduced timetable.
When... Last Monday in May.
6. Easter in London
Obviously in London there is no Easter Week as we know it in Spain. But there are a number of special events coinciding with these dates. One of the most popular is the theatrical representation of the crucifixion of Christ that takes place in Trafalgar Square on Good Friday. There are two sessions on the day which are free of charge: at midday, around 12 noon, and in the afternoon, around 3pm.
But, without a doubt, the main activities related to these days have to do with Easter Eggs. There are Easter egg demonstrations, as well as decoration workshops in selected shops such as Fortnum & Mason on Piccadilly Street. In addition, during this week there are numerous activities especially for the youngest members of the family, such as Easter Egg hunts in the city's main parks. And, on the other hand, there are also special workshops in other places such as the Royal Botanic Gardens, the London Zoo...
7. Take a stroll through some of the city's main parks
With the arrival of spring, temperatures ease considerably and the parks become the main places to go with friends and family at this time of year. So I recommend that if you have the opportunity to go to London in springtime, don't miss one of the city's main parks to enjoy nature in the heart of the city. You have several options, but here are some of my favourites.
Hyde Park: Located in the centre of London, it covers an area of 140 hectares and is an ideal park for various activities such as cycling, sports or even the possibility of renting deckchairs.
Richmond Park: With almost a thousand hectares it is the largest park in London. It has been declared a Protected Area and Nature Reserve and European Special Area of Conservation and one of its peculiarities is that it is the habitat of hundreds of deer. Please note that you are not allowed to approach or feed them during your visit.
Regent's Park: Located in the northwest of London, it is an ideal park for sports. In fact, it has an artificial lake where you can practice rowing.
St. James's Park: Next to Buckingham Palace, it is the royal park with the longest history in the city, dating back to the 16th century.
I recommend you read the post 10 best parks in London to choose the one that best suits your tastes.
When... Throughout the spring.
8. Enjoy the best of the performing arts at the Greenwich & Docklands International Festival
If your trip coincides with late spring and early summer, you may be in luck and have the opportunity to catch a show at the Greenwich & Docklands International Festival, a popular outdoor theatre and performing arts festival. This is a highly acclaimed event and is in fact part of the Royal Greenwich Festivals. Most tickets are free of charge. Don't hesitate to check the website before your stay in London to see if it fits in with your dates.
When... Date to be determined depending on the year.
9. Visit one of the city's top museums
Of course, on your trip to London in spring you can't miss a tour of the city's different museums. A very economical plan, as most of them are free. Do you want to know the best options?British Museum: It was inaugurated in the middle of the 18th century and includes pieces from all cultures and periods of history.
The National Gallery: Located in Trafalgar Square, this art gallery has a collection of more than 2,000 paintings, including works by Van Gogh, Velázquez, Titian and Rembrand, among other artists.
Natural History Museum: This is one of the most visited museums in London, captivating both adults and children. It houses an important collection of entomology, botany, mineralogy, palaeontology and zoology.
Tate Modern: This museum has one of the most important collections of contemporary art with pieces by Andy Warhol, Edvard Munch, Pablo Picasso and Salvador Dalí.
Sherlock Holmes Museum: A must-see for any follower of Sir Arthur Conan Doyle, where visitors can see objects related to the detective's different cases, as well as a collection of Victorian-era furniture.
If you want to know more about other options, read the post The 10 best museums in London
10. Visit Royal Botanic Kew Gardens
One of the best places to visit in the spring season is Royal Botanic Kew Gardens, a botanic garden located about 30 minutes from central London with a total of 500 acres of woodland and over 50,000 living plants. It has five greenhouses and several points of interest:
The Bonsay House: Greenhouse housing an important collection of bonsai, some with more than a century and a half of history.
Princess of Wales Conservatory: Greenhouse with plants of tropical origin.
Palm House: Greenhouse housing palm trees and exotic plants.
Alpine House: Greenhouse housing alpine plants that only grow at high altitude.
Temperate House: Greenhouse housing plants typical of temperate climates.
Treetop Walkaway: An elevated walkway of approximately 200 metres offering the best views of the site.
The Hive: A 17 metre high reproduction of the workings and structure of a bee hive.
Kew Palace: Small palace dating from the second half of the 17th century and only open from March until September.
Climbers & Creepers: Children's playground with educational games, climbing frames and slides.
Don't hesitate to check the map before you visit.
London's spring temperatures
Spring temperatures in London start to become more pleasant and not as extreme as in previous months. In general, the city is known for its cool and dry weather. However, it' s not uncommon to be surprised by rain at any time, and the same day can be characterised by sunshine, cold and rain.
The average maximum temperature in March is around 11ºC and the average minimum is 4ºC, in April it's between 8 and 16ºC, in May it's between 11 and 19ºC and in June it's between 14 and 22ºC.
London's springtime tourist crowds
London's tourist numbers are always high, even in spring, but especially from May onwards and around certain dates such as Easter and Eastertide. Even so, it does not reach the peak season in terms of the number of visitors, as is the case in July and August. For this reason, and taking into account the number of tourists, I recommend you to visit during this season.
London prices in spring
Prices in London in spring are not as high as at other times of the year such as summer or Christmas, especially for flights and accommodation. Even so, I recommend that you book your flights and hotels as early as possible so that you can take advantage of the best discounts.
What to pack for a visit to London in Spring
If you're travelling to London in spring, bear in mind that temperatures won't be as cold as at other times of the year, but regardless of the month you visit (March, April, May or June), I recommend you pack a jumper or sweatshirt. In addition, it is essential that you take a mackintosh and waterproof footwear, as the rain can surprise you when you least expect it.
London's springtime party days
Coinciding with spring there are several public holidays in London. The first Monday in May is Early May Bank Holiday and the last Monday in May is Spring Bank Holiday. In addition, Good Friday and Easter Monday are public holidays throughout the country. So if your trip coincides with these days, be aware that museums, major attractions and transport services may have reduced opening hours.