London Thames Cruise Prices
Want to go boating on the Thames but don't know how much budget you need? Read on!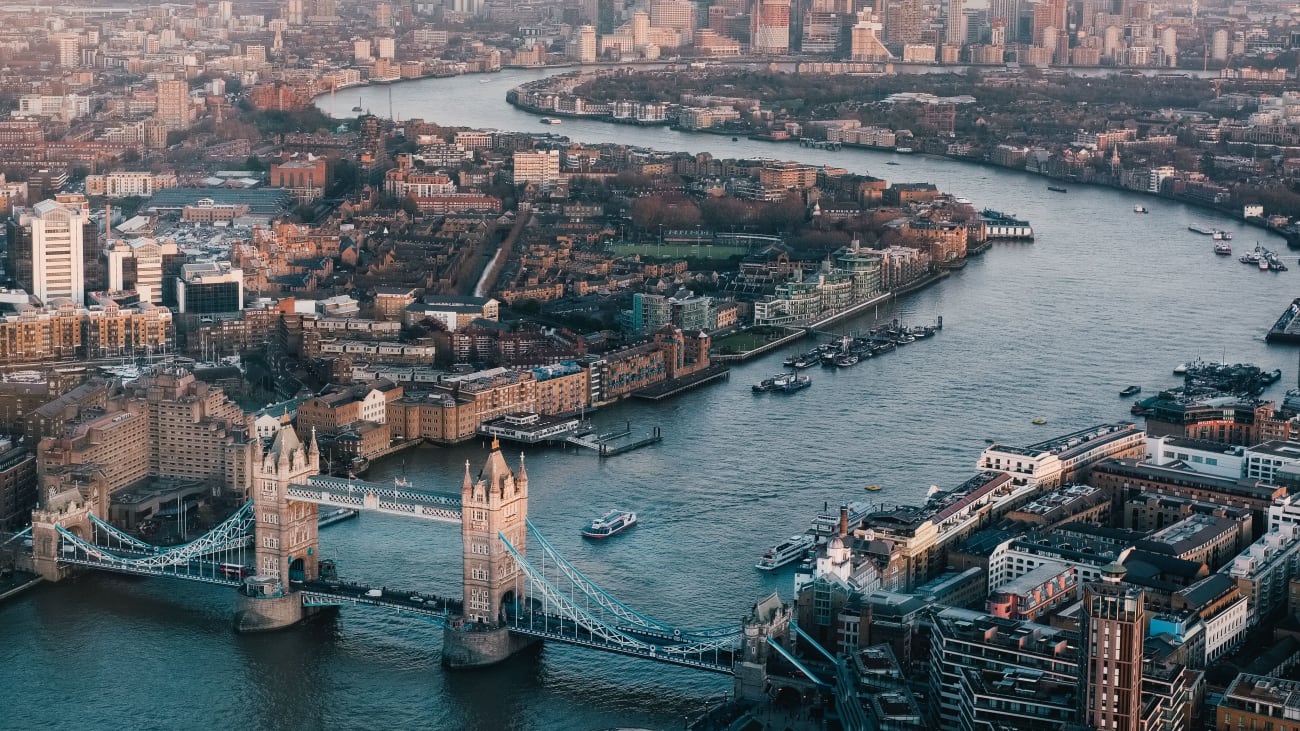 One of the most beautiful sights you'll see during your trip to London is the River Thames running through the heart of the city. On either side of its banks are several of the British capital's most famous landmarks, which have transformed its skyline into a tourist attraction in its own right.
If the idea of sailing the waters of the Thames like a sailor appeals to you, the first thing you'll need to know to plan your Thames cruise is how much Thames cruise tickets cost, where to buy them and if there's a way to save a little on the entrance fees. All this and more is explained below!
What budget do I need for a Thames cruise?
If you fancy a Thames cruise but are travelling to London on a tight budget or don't want to spend too much money on the activity, you can get a ticket for a boat ride on the river from £15.
It's the cheapest option and you'll take an hour-long enclosed tour of the Thames, taking in many of the sights scattered along the river:
However, if you want to do a cruise on the Thames but are looking for a little more flexibility in the activity, for a little more money**(from 23 €** in Hellotickets) you can do a river cruise with free stops to get on and off anywhere along the route as if it were one of the tourist buses in the city.
Price comparison table
How much budget do I need for the most premium Thames cruises?
Whether you want to treat yourself during your stay in London or if you are travelling with your partner and want to surprise her with a romantic plan, from 40 € you can get in Hellotickets a ticket for one of the premium Thames cruises that usually include the boat trip and a snack or dinner with entertainment on board.
Within the premium cruises on the Thames there are also different price ranges depending on the type of activities that are performed on the tour.
For example, afternoon tea cruises are cheaper than multi-course dinner cruises where there are also live music performances and smart-casual etiquette is required to attend.
Can I take a Thames cruise with a Tourist Card and how much does it cost?
That's right! For example from £74 you can get the London Pass at Hellotickets, which allows you to take a Thames river cruise with a 1 day River Roamer pass. That is, you can enjoy a cruise with free stops on the River Thames.
You can board at any of the piers available along the river to take the full river cruise or to move between the different tourist attractions in the surrounding area, hopping on and off at the stop of your choice so you can explore each site on your own.
In the case of the London Pass, you pay per day of use. It is an option that I recommend you to consider if you plan to see many different places during your getaway because these tourist cards will help you save time and money. If you are interested in this tourist card and you would like to buy it, in the post The best tourist card in London you have a detailed analysis so you can see everything you can do with it.
Can I buy tickets for the Thames river cruise at the ticket office? How much do they cost there?
Yes, it is possible to buy tickets for a Thames cruise at the ticket offices on the piers. However, I recommend you buy your tickets online to avoid the queues there and buy them well in advance, as it is one of the most popular activities for tourists to London and tickets can sell out quickly.
Prices vary depending on the cruise operator, the length of the route and whether or not it's a single ticket but you can find options from €13 for adults over 16. Children aged 5-15 pay less and tickets start from €8.
Can I do a free Thames cruise and how can I save?
No, it is not possible to take a free Thames cruise. However, there are ways to save money when buying your tickets to enjoy this experience.
With a Tourist Card
One way to save money is to buy a London Tourist Card, namely the London Pass**(from £74** at Hellotickets) which will allow you to visit over 80 attractions in the city as well as taking a river cruise.
With a combined ticket to several attractions
Another is to buy a combined ticket to two riverside attractions. The most popular option is the Thames River Cruise and London Eye.
From €15 you can book an adult ticket on the London Eye website but if you pay a little more, from €22, you can get a ticket with priority seating in the front row of the boat for unobstructed views of the river scenery.
If you want to know more about this option, I recommend you read the post London Eye and Thames cruise: the perfect combination for your trip to London before getting your tickets.
With the Oyster Card
If you've got an Oyster Card (a rechargeable wallet card that reduces the price of a single ticket) to get around London using public transport, you're in luck because you can use it to get on the River Bus, the boat operated by the company Uber Boat by Thames Clippers that allows you to get from one side of the city to the other by water instead of by road with the bus or underground with the tube.
If you want to take a little cruise on the Thames without spending a lot of money, just to treat yourself to a boat trip, using the Oyster Card is a great way to get your wish while saving a bit of money, as you won't need to buy a general admission ticket to get on board.
How much does it cost to get to the Thames cruise pier?
In my opinion, the tube is the fastest way to get between London's attractions as a tourist and you can buy a single ticket for as little as €6 depending on which part of the city you're travelling in.
Before you get on, I recommend checking the fare on the London Transport for London website by entering your departure station and destination so you can calculate the approximate cost of the ticket.
If you're getting on the Thames cruise at Westminster Pier or London Eye Pier you can get off at Westminster tube station, which is the closest station to both.
To save a bit of money when using public transport, which isn't exactly cheap, I recommend getting a ticket for the London Sightseeing Bus (which will allow you to get around the city while enjoying the sights of the cityscape) or getting one of the Travelcard or Oyster Card.