10 things to do in London in May
May is one of the most popular months for a trip to London. Temperatures are very pleasant and it is an ideal time for outdoor activities.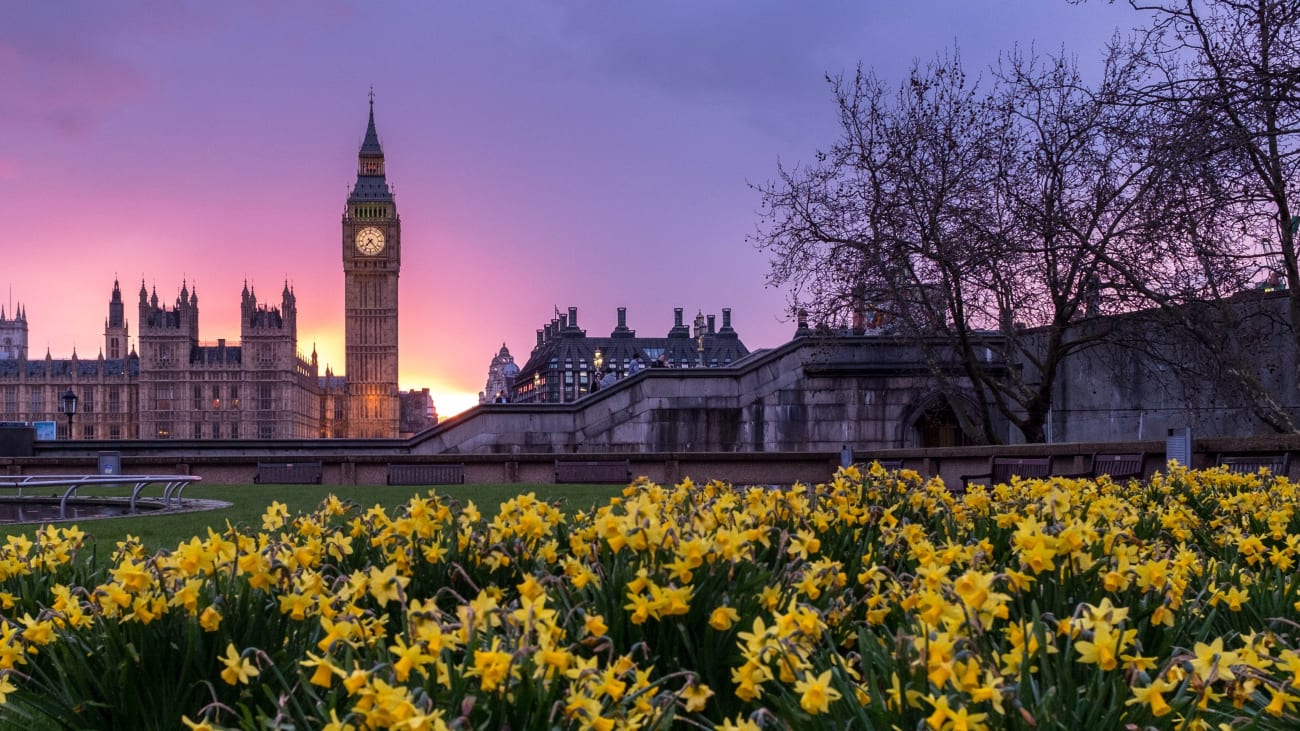 Whoever you ask, there is no doubt: May is one of the best months, if not the best, to travel to London. Temperatures are much more pleasant than in other months of the year, there's not as much tourism as in summer or on key dates in the calendar and you can enjoy a wide range of outdoor activities such as cycling, enjoying a cruise or visiting the city's main parks.
And if that's not enough, there are some special events like the Chelsea Flower Show or the IWA Canalway Cavalcade, so don't hesitate! If you can make your holidays coincide with the month of May, you won't regret it!
In the post What to see and do in London you'll find the best ideas for your trip, although if you're looking for specific information for the month of May, read on, and here are 10 unbeatable suggestions.
1. Experience the full splendour of spring at Chelsea Flower Show
The traditional Chelsea Flower Show takes place in late May. With more than a century of history, it welcomes more than 200,000 gardening and landscaping enthusiasts every year. The festival is held at the Royal Hospital in Chelsea, where a variety of displays and truly original floral works are organised. I recommend that if you want to attend, buy your tickets in advance because they tend to sell out.
And whether you get your ticket or not, I also recommend that you walk around Chelsea, as Chelsea in Bloom is celebrated and various restaurants, cafés and shops decorate their windows, façades and entrances with a wide variety of flowers and plants. There are also a variety of food menus themed around the exhibition and themed offerings at the 5 o'clock tea.
2. From London to Venice with IWA Canalway Cavalcade
At the beginning of May, coinciding with the first Monday in May, the Early May Bank Holiday, is the IWA Canalway Cavalcade, an annual event organised by the Inland Waterways Association which brings together more than a hundred boats in Little Venice. A festival where you'll find craft stalls, food and beer stands, live music and activities for the little ones along the canals and waterways. Fun is guaranteed!
When... First weekend in May.
3. Celebrate Spring on Spring Bank Holiday
The last Monday in May is Spring Bank Holiday, a day of outdoor events and parties. Like Early May Bank Holiday, the first Monday in May is a festive day when everyone gets outside and enjoys a spring day out with friends and family. The events held in Trafalgar Square are very popular. Be aware, however, that as it is a public holiday, transport services have reduced opening hours and some shops may be closed.
When... Last Monday in May.
4. Feel like a fan at the FA Cup in London
The Football Association Cup has been held in London since the 1871 - 1872 season, the longest running football competition in the world and a key date in the English sporting calendar. Today, hundreds of British clubs from the Premier League, Football League and youth teams take part in this knockout tournament, the final of which takes place at Wembley Stadium in May. Tickets are hard to come by, but if you love football you're in for a treat.
5. Take a cruise on the Thames
An ideal plan if you're travelling from May onwards is to enjoy a cruise on the Thames. From this month onwards, London registers more pleasant temperatures, perfect for this leisure proposal. There is a wide variety on offer, from the simplest tours to more special ones that include dinner and live shows. My favourite option is a one-day cruise with free stops.
This way, you can use your ticket flexibly and throughout the day, hopping on and off as often as you like. This cruise has a total of 12 stops. You will also be able to listen to audio commentary along the way, giving you information about the different points of interest along the way.
When... The whole month of May.
6. Immerse yourself in open-air theatre in Regent's Park
May is also a very special month as the Regent's Park Open Air Theatre season kicks off, one of London's most popular springtime activities. London's Regent's Park Open Air Theatre began in 1932 and since then has been offering a full programme of performances, welcoming thousands of spectators every year. There are some fixed titles that are repeated every year, such as the main Shakespeare plays.
Tickets are available online and the theatre is located south of Regent's Park Theatre.
When... From May onwards.
7. Enjoy culture with First Thursdays
If you want to enjoy art beyond the usual opening hours, you'll love this proposal. On the first Thursday of every month, more than a hundred galleries and museums are open until 9 p.m. offering talks and exhibitions beyond the usual opening hours with free admission. In addition, there are guided bus and walking tours organised by artists, exhibition curators, writers... Yes, just as you read! Join this plan on the first Thursday in May, a day when the weather will also be with you.
This initiative is sponsored by Whitechapel Gallery and you can find more details about the whole programme on their website.
When... First Thursday in May
8. Take the best pictures from the London Eye
Another original proposal, perfect for the pleasant weather in May, is to go up to the London Eye, the highest Ferris wheel in Europe. From this observatory, which offers a 360º panoramic view of the city, you can take some dream photos and see some of the city's most emblematic monuments such as St Paul's Cathedral, Westminster Abbey, Buckingham Palace and Big Ben, among others. Don't hesitate to read views from the London Eye and tickets for the London Eye for all the details.
If you want to go on the London Eye, keep in mind that the opening hours during the month of May are from 11am to 6pm. However, there are certain days from April that the attraction stays open until 8.30pm and you'll have the chance to enjoy the views of the illuminated London skyline. In the post London Eye at night you have all the details of this proposal.
In addition, you also have the possibility of enjoying a combined experience: London Eye and Thames cruise and London Eye and Madame Tussauds Museum, so that the day will be as complete as possible. And if you need to recharge your batteries after your visit, find out about the best places to eat near the London Eye.
9. Visit Royal Botanic Kew Gardens
One of the most spectacular places to visit in May is the Royal Botanic Kew Gardens. Located in southwest London, about 30 minutes from the city centre, this impressive botanic garden amazes everyone who visits it. It has 500 acres of woodland and more than 50,000 living plants.
Royal Botanic Kew Gardens has a total of five greenhouses:
Palm House: This space is home to palm trees, as well as exotic plants.
Princess of Wales Conservatory: It stands out for its tropical plants.
The Bonsai House: As its name suggests, it houses numerous bonsai, some of them with more than a century and a half of history.
Temperate House: It has an area of 5,000 square metres and houses plants from temperate climates. Among the various specimens is a 16-metre high Chilean palm.
Alpine House: It houses alpine plants that are characterised by the fact that they only grow at high altitudes.
But, in addition to these greenhouses, during your visit you cannot miss Treetop Walkaway, an elevated walkway of approximately 200 metres that offers unique views of the grounds over the treetops; The Hive, a 17-metre high reproduction of the operation and structure of a bee hive and, of course, Kew Palace, a small palace dating from the second half of the 17th century, which is only open from March to September.
And if you go with your little ones, they will love the visit, as Royal Botanic Kew Gardens has a playground of more than 1,000 square metres with educational games, climbing frames and slides. Feel free to check the map before your visit and you'll see all the attractions at Kew Gardens.
When... The whole month of May.
10. Feel the onset of spring with a picnic in one of London's finest parks.
And, without a doubt, the plan you can't miss on your trip to London in May is to have a picnic in one of the city's parks. And you have several options for this, as London has dozens of parks where you can disconnect, stroll, play sports, spend the day with friends and family and, of course, enjoy nature. Here are some suggestions:
St John's Lodge Gardens: Located in Regent's Park, they are known as the "Jewel in the Crown" and are open every day until sunset. It is one of the most tranquil green spaces in the city.
Hyde Park: Located in the heart of London, HydePark is a perfect choice if you are looking for outdoor activities such as cycling or yoga. You can also hire sun loungers.
Richmond Park: With almost a thousand hectares, it is the largest nature reserve in London. It also has inhabitants that do not go unnoticed by anyone who visits the park, the hundreds of deer.
St. James's Park: It is located next to Buckingham Palace and its origins date back to the 16th century, making it one of the most historic parks in the city.
Victoria Park: In the east of London is one of the most famous parks in the United Kingdom. It is ideal to visit with the youngest members of the family, as it has several play areas and swimming pools. It also hosts world-class music festivals.
If you're looking for other options, be sure to check out the top 10 parks in London.
London temperatures in May
London in May sees much warmer and more pleasant temperatures than at other times of the year, with the lowest temperature in May being 11ºC and the highest being 19ºC. However, bear in mind that rain can always surprise you in London, as the weather is totally unpredictable.
London's May tourist season
London's tourist flow in the month of May is high, but not as high as in other seasons, as it does not coincide with any official holiday dates such as summer, Christmas, Easter, Easter... Even so, London is a city where there is always tourism and, even more, in the month of May, as the weather is ideal for the visit. Therefore, it is always advisable to book hotels and flights in advance, in order to benefit from cheaper prices.
London prices in May
Prices in London in May are cheaper than at other times of the year, especially for flights and accommodation. Even so, I recommend that you book your flights and hotels as early as possible so that you can benefit from the best discounts, especially if they coincide with special dates such as the Chelsea Flower Show or the FA Cup in London.
What to pack if you are travelling to London in May
If your trip to London coincides with the month of May... you're in luck, as temperatures will be very pleasant and even warm. Even so, it's always advisable to pack a couple of jumpers and sweatshirts because except for the middle of the day, the weather is very cool. Also, don't forget to pack a mackintosh and don't leave behind a pair of waterproof shoes. Don't forget: it's always raining in London.
London's May Bank Holidays in May
There are two bank holidays in May: Early May Bank Holiday, which falls on the first Monday in May, and Spring Bank Holiday, which falls on the last Monday in May. Please note that on these two days, museums and the city's main attractions may have special opening hours. I recommend that you check their website before your visit so that you don't have any unforeseen problems. In addition, transport services may also have a reduced timetable.