10 things to do in London in January
If you want to enjoy London during its most wintry season and enjoy its attractions without so many tourists, January is the ideal month.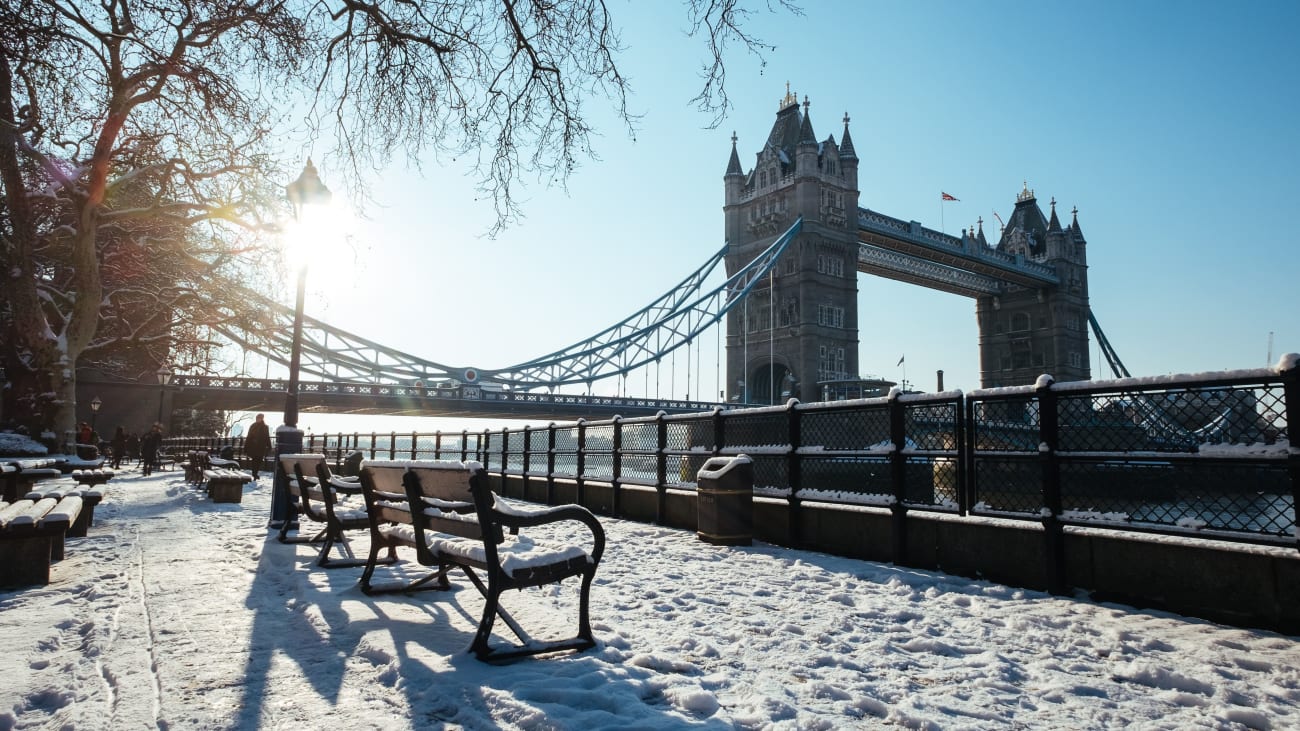 London is kicking off the year in style and there are plenty of things to see and do in London during the month of January. New Year's Day parades, winter lights, ice skating rinks and many more things to see and do in London await you during your next winter visit.
Whether you want to take advantage of the city's cutting-edge sales or see the Harry Potter sets in full snow, here's a list of everything you can do in London in January.
1. New Year's Day Parade
Every January 1st, central London celebrates the arrival of the new year with an all-out parade which is free to attend and enjoy the spectacle. Entertainers, bands, clowns and performers from all over the country come together to put on a festive parade.
The parade starts each year at Piccadilly Street in the centre of the city and ends on the banks of the Thames near Big Ben. This major Londoner's parade takes place every New Year's Eve evening and is a great event for adults and children alike, so if you're travelling with more people, I recommend arriving early to get a good spot to see it all.
2. Winter Lights at Canary Wharf
In winter, especially at the end of January, the days are very short and it tends to get dark very early in London. That's why, for years, an incredible light show has been organised in one of the most futuristic areas of the city: Canary Wharf.
What used to be a secluded office area has now become one of London's most modern districts and during the first days of the year a light show worth seeing is organised.
With more than 20 installations, this event aims not only to decorate the neighbourhood and give it a wintry look, but also to exhibit true works of art made with light that play with your senses. The event is completely free to enter and usually runs for a whole week each year, so keep an eye out for it and don't miss out.
3. Experience Burns Night in London
England and Scotland have always had a very close culture and that's why both countries experience a night full of celebration and festivities every 25th January to remember the important writer Robert Burns. Such is the fanaticism that has developed over the years, that in London this day has become one of the most awaited of the month of January.
The most famous and traditional pubs and restaurants in the city centre offer special menus and whisky tastings to celebrate the work of the writer, making it a bohemian festival full of the essence of the United Kingdom. If you are interested in getting a closer look at this experience, I recommend you take a look at London's most famous pubs and head to the one you like the most that night to toast, taste and celebrate in style. Cheers!
4. Visit the snowy Harry Potter sets
Since its release back in 2001, Harry Potter has become a phenomenon for millions of fans who have flocked to London in droves to walk around and see the sets of their favourite saga up close. Harry Potter Studios is a place where you will have the time of your life, as you can walk around the sets of the Wizarding School as if you were a student and discover all its curiosities.
However, visiting this place in January has an extra incentive, as, during the winter months, Warner Bros. studios completely change the sets and even dye the whole set white with the same artificial snow they used for the films.
Although this winter spectacle usually starts to be seen at the end of November, I recommend that you go in the first few weeks of January as there won't be as many tourists and you can enjoy Hogwarts in a much more personal way.
5. Chinese New Year
January is not only the month that welcomes in the Western New Year, but also the Chinese New Year and London hosts a week of events during the last few days of the month that are packed with music, tradition, food and entertainment. The city's Chinatown, during these days, offers you official dishes and, near the end of the week, a parade is held, attended by thousands of onlookers.
Just strolling through Chinatown and observing the festive atmosphere is something interesting to witness, but the highlight is undoubtedly the Chinese New Year Parade, a parade that starts in Charing Cross Road and in which all those present are invited to welcome the Chinese New Year with a show that includes dragon dancing, traditional costumes, colourful floats and, at the end, music and taekwondo shows.
Biggest Chinese New Year outside Asia
Don't be surprised if, when you arrive in Chinatown out of curiosity, you find the streets crowded with people. London has one of the largest Chinese communities in Europe and during this time in January up to 700,000 people gather in the city to welcome in the Chinese New Year, making it one of the biggest festivities outside of Asia.
6. Ice skating
During January, temperatures can get very cold in London, but if you've been meaning to visit the city at this time of year and enjoy the cold and winter, there's no better plan than to wrap up warm and go and enjoy some ice skating at some of the city's best ice rinks:
All of them usually start operating a few weeks before Christmas in London, but I recommend you to go during your stay in January as, by this time, there won't be so many people and you'll be able to be much quieter and enjoy a practically empty rink.
To gain access, you can buy your ticket as soon as you arrive, but you run the risk of not being able to find a place for that day, so I recommend you book in advance online at the official websites of each rink.
7. LSFF January Short Film Festival
London is one of the most cultural cities in Europe and if you're a film enthusiast, January could be one of your favourite months in the capital as the annual London Short Film Festival takes place. For 19 years now, for 10 days in January, the festival of English cinema has been held to reward the best short films that have been made.
The LSFF (London Short Film Festival) platform organises several authorised cinemas throughout London which, during these days, screen short films of all kinds of genres. If you are interested in this alternative experience, just book online on the official website the films in each category and let yourself be carried away by the newest cinema in the city.
8. London Art Fair
Although London is full of great museums that are a must-see at any time of the year, there is one fair that takes place during the month of January and attracts thousands of contemporary art lovers: the London Art Fair. If you like to keep up to date with new artistic trends and rub shoulders with the avant-garde, this fair is ideal for you.
The fair is usually held at the Business Design Centre and each year it features more than 100 galleries with the most cutting-edge artists from up to 14 international countries. Just walking around and seeing art in its purest form is an experience you will enjoy if you like visiting museums, but if you can afford it, you can even buy a work that you particularly like at this fair.
9. Have fun with the Pantless Day
It may seem the most surreal thing in the world, but in London there is a day in January when you can find a lot of people on the tube without trousers. Don't worry, it's not a joke, it's Pants Off Day, a celebration that has been going on since 2002, on the second or third Sunday in January, and consists of taking the tube in your pants.
The origin of this strange tradition originated in New York and was intended to put a friendly face on the annoying "January slope". Today, it's an organised event.
If you're in London in January and want to take part, just meet up outside the National Gallery in Trafalgar Square with the group organising the event and get on the train together with your trousers off and look serious and normal. After a few stops, you'll arrive in the Soho area where you can continue the party in one of the local bars.
10. January sales
For years, London has been one of the European capitals where fashion has been the most modern and avant-garde. Big brands have wanted to launch their collections in the British capital with daring and innovative clothes. If you are in the city during the month of January and you are passionate about fashion, you have a great advantage for your pocket with the arrival of the sales.
Throughout the month, the big shops in the city centre have incredible discounts of up to 75%. And it's not just clothes and footwear you can buy, there are also sales on technology products, household goods, books and all kinds of other products. If you've been thinking about renewing your wardrobe for a while and you have time in January, I recommend you take a trip to the capital to take advantage of these bargains.
London temperatures in January
January is one of the coldest months of the year in London. With highs rarely rising above 9 degrees Celsius, the city experiences weeks characterised by very short days and very low temperatures. In addition, as is usual throughout the country, rain is the order of the day, so it is always advisable to carry an umbrella.
However, if you are well wrapped up and prepared for the low temperatures, January is a perfect month to get to know the city as you can enjoy London in the off-season without so many tourists and with less crowded activities.
Alternative ways to stay warm in London
London in winter has plenty of activities to do to enjoy the winter and the cold weather, such as ice skating, seeing the winter lights or enjoying outdoor festivities. However, if you're uncomfortable with the cold temperatures when you arrive and want to have something to keep you warm and sheltered too, here are some of the most popular activities.
Enjoy the musicals
London is one of the world's best-known cities for its major West-End musicals. Every year it offers a wide range of the city's most dazzling shows.
If you want to have a great time and experience the full London showbiz experience, I recommend you book your tickets for some of the most popular shows such as Mamma Mia or Mary Poppins.
Visit the London Aquarium
If you want an experience surrounded by nature and marine life, and be well sheltered from the rain or cold, one of the most popular plans is to visit the famous :::link|text=Sea Life London=pa-2238:::, London's aquarium. Priced at around £30, this is a great place to do with kids.
You can wander through the underwater tunnels and see all kinds of fish and shark species right in the heart of the city centre while you stay warm.
Visit the major museums
One of the must-do things to do in London, whatever the time of year, is to visit its many museums. But if you also want to escape the cold, it will become one of your favourite activities.
On the one hand, you can take a guided tour of the British Museum, one of the most important museums in the world, which covers all kinds of relics and the history of civilisation. Or you can visit the Natural History Museum, with a huge collection of fossils and nature specimens.
However, if you want to visit a more dynamic and modern museum, I recommend you spend an afternoon visiting the famous Madame Tussauds wax museum, considered one of the best wax museums in the world, where you can find the doubles of all international celebrities.
London is a city that never leaves you indifferent. Whatever the time of year, it's packed with sights and things to do. However, if you've chosen January as the month to get to know the British capital, you'll be able to enjoy both the basic activities of interest all year round, as well as specific events during the month that brings together tradition, festivities, winter landscapes and lots of culture.
Don't think twice and soak up British culture without so much tourism and with the city all to yourself.