10 things to do in London in December
December is one of the best months to visit London. Christmas is all-encompassing but there are other things to do too - let's check it out!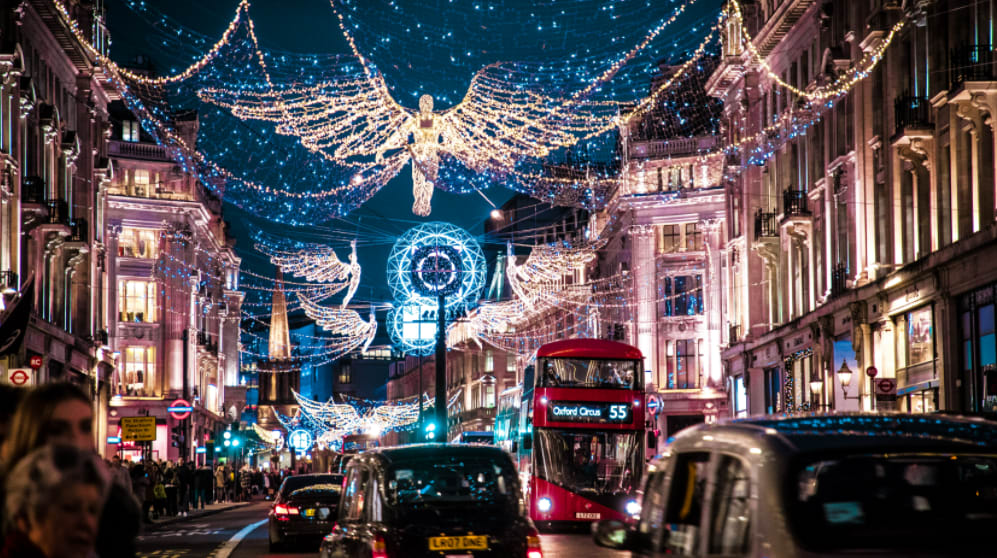 The British capital is a fantastic place to see at any time of the year but London in December has a special charm as the Christmas spirit pervades from November to early January and this is the month when the city shines in all its glory.
Want to know what you can do on a trip to London in December? Check out these 10 fabulous things to do to have a great time.
1. Ride the sightseeing bus to see the lighting
London is one of the most beautiful cities in the world when winter arrives. Especially at Christmas time when the streets are decorated with all kinds of lights, garlands, luminous figures and Christmas trees.
In the city centre is where you can see the most beautiful Christmas lights, either by taking a long walk or by taking a ticket on the London sightseeing bus, which also takes you around the most important areas and you can take advantage of the opportunity to see both the winter decorations and the most popular monuments of the British capital.
Some of the most beautiful areas not to be missed for some spectacular photos are:
Regent Street and Oxford Street (in the latter, the part between Marble Arch and Oxford Circus is usually the most spectacular).
Carnaby Street in SoHo. The Christmas decorations have a different theme each year.
Covent Garden, one of the most beautiful squares in the city, which is even more impressive at Christmas. It has live music and a giant Christmas tree.
Trafalgar Square, with the biggest Christmas tree in London all the way from Norway.
2. See musicals in the West End
A fantastic thing to do on a rainy day in London in December is to go and enjoy the West End musicals. London in winter is the season for musicals and you can feel it in the air.
Their shows have nothing to envy to those of the famous Broadway. The musical numbers are marvellous and the staging is impressive. Even if you don't speak English, don't be afraid because many of the West End musicals have been made into films.
During the Christmas season, many people choose to go to the theatre for an enjoyable evening out and to escape the cold, so tickets to London musicals are in high demand.
If you don't want to queue endlessly at the box office and end up with no tickets available, I advise you to get your tickets online in advance of your trip- you'll travel with peace of mind knowing you've got them in your suitcase!
3. Get on the London Eye and stay for the fireworks display
The city's skyline is stunning at any time of the year, but the atmosphere in London in December is extra special, with all the decorations and Christmas lights decorating the streets and squares.
If you want to enjoy spectacular panoramic views of the British capital, you have to climb the London Eye, Europe's tallest Ferris wheel.
What makes it different from other observatories such as The Shard is that it is constantly moving, allowing you to see the city from different points and perspectives. You can also take some great photos of the surrounding monuments such as Big Ben and the Palace of Westminster, St Paul's Cathedral, Tower Bridge, Buckingham Palace, Westminster Abbey and the River Thames, among others.
If you fancy a ride on the world's most famous Ferris wheel, the London Eye's opening hours on New Year's Eve are different from the rest of the calendar as it closes much earlier, around 3 p.m. Keep this in mind if you decide to buy tickets for the London Eye on that date!
On that day I recommend you don't stray too far from the area because at midnight there is an impressive fireworks display that will leave you speechless. Go to the banks of the Thames or to one of the bridges that cross the Thames to enjoy the event close by.
4. Experience the magic of Harry Potter Studios Park
London is a magical city in itself, but if you visit in December, Harry Potter Studios Park is one of the places you can't miss - imagine seeing Hogwarts at the most magical time of the year!
At Christmas time, Warner Bros. studios have a special charm. Everything is decorated with typical Christmas motifs for this special occasion.
For example, the Great Dining Hall is decorated with Christmas trees, garlands and wreaths, as is the Gryffindor Common Room. Other spaces such as the Forbidden Forest, Diagon Alley, Hagrid's hut and the Hogwarts Castle model also look very wintry as they are covered with several layers of cinematic snow to suit the seasonal atmosphere.
All in all, Harry Potter Studios Park looks beautiful in London but if it is already difficult to buy tickets for Harry Potter Warner Studios under normal circumstances due to the high demand from Muggles, at Christmas this task becomes even more complicated.
In the post Harry Potter Studios London Park Tickets: where and how to buy tickets for the park you can find information on how to get them. And if in the end even with a spell you can't get them, in the post Harry Potter London venues you can see some alternatives to enjoy the Potter universe in London.
5. Visit the Winter Wonderland fair in Hyde Park
Christmas in London wouldn't be the same without Winter Wonderland, the city's largest Christmas fair. A little Christmas paradise located in Hyde Park, London's most popular park.
Inside there are plenty of places to visit and things to do. For example, a large flea market where you can buy various souvenirs or gifts for your loved ones. There are also fun attractions such as an ice rink, a circus, a merry-go-round, a roller coaster or a Ferris wheel from which you will have stunning panoramic views of Hyde Park. There is even a children's area called Santa Land for younger children.
It is open from mid-November to the beginning of January and to access it you need to get a ticket on the Winter Wonderland website.
I recommend going around midday and staying inside the park until dark as you'll be able to see the whole festival of coloured lights that adorns the fair.
6. Ice skate in London's rinks
One of my favourite things to do in London in December is to go skating on one of the ice rinks that are set up in the British capital with the arrival of the cold weather.
There are plenty to choose from and they're always located at key points around the city, so while you're skating you can enjoy beautiful views of the surrounding countryside and landmarks. Plus, you'll get some great pictures!
Here are some of London's ice rinks to visit:
Somerset House: Many tourists don't know it, but during the winter there is a giant ice rink in Somerset House Square. The skating environment is beautiful, with the neoclassical building behind it, the market that surrounds it and the Christmas tree that presides over it - a marvel!
Winter Wonderland: Located inside this Christmas fair in Hyde Park you can find this great skating rink. You can go at midday or at dusk when the lights of the fair begin to be switched on.
Natural History Museum: This is another one of the most beautiful places to ice skate in London in December, as the rink is located in front of the beautiful Natural History Museum. There is also a beautiful Christmas tree in the centre around which you can spin.
7. Bargain hunting on Boxing Day
If you're spending Christmas in London, make a note in your diary for Boxing Day, a holiday that kicks off the sales and discounts in many of the city's shops.
And what a bargain! There are places where you can find bargains at 50% off on Boxing Day. Boxing Day is an excellent opportunity to buy some souvenirs and also a few gifts for your loved ones.
Here are some of the best places in London to go shopping:
Oxford Street
Regent's Street
Camden High Street
Soho
Covent Garden
Portobello Road
King's Road
So grab a map of the city, open your eyes wide and get your card ready... because it'll end up smoking!
8. Listen to carols in Trafalgar Square
Trafalgar Square is one of London's most famous squares. Although it is usually a lively and busy place at any time of the year, it is even busier in winter.
Londoners and tourists gather there to take pictures with the giant Christmas tree in front of the National Gallery, enjoy the Christmas lights and also the Christmas carols sung every evening in December by different choirs next to the tree.
The show is free! So, if you want to feel the Christmas atmosphere in the English way, I recommend you to go for a walk in Trafalgar Square in London in December.
9. Wander through Southbank Winter Market, a fairytale flea market
One of the most beautiful Christmas markets you can visit in London in December is the Southbank Winter Market, which you'll find next to the London Eye on the Southbank, the promenade on the south bank of the River Thames.
What makes the Southbank market special is that it's inspired by the typical German wooden markets decorated with garlands and lights of all kinds - it's totally fairytale-like!
I recommend dropping in for an afternoon and having a good time. As well as wandering around each stall looking for souvenirs or gifts to take home, you can also take the opportunity to feast at the market's gastronomic stalls.
When you're tired, take a break and sit back to enjoy the atmosphere. The Southbank Winter Market usually also hosts live music and art performances for the general public, and there is no charge.
10. Taste mulled wine, the taste of Christmas in London
When you're in London in December, take the opportunity to reconcile yourself with British cuisine. It's true that it doesn't have a very good reputation in the world, but they have little things that are very tasty and will change your mind.
This is the case of mulled wine, a hot drink that is especially popular at Christmas when it's freezing cold. It is made with red wine, to which bits of fruit, cinnamon and other spices are added to achieve that characteristic sweet taste.
You'll see how it helps you get your body back in shape on chilly days! You can find it at many of the Christmas markets around the city. And don't forget to try it with a mince pie, a very typical fruit cake at this time of year - you'll be hard pressed to try just one!