London borough by boroughs
There is much more to London's geography than its monuments. Discover with me the most outstanding neighbourhoods of this iconic city!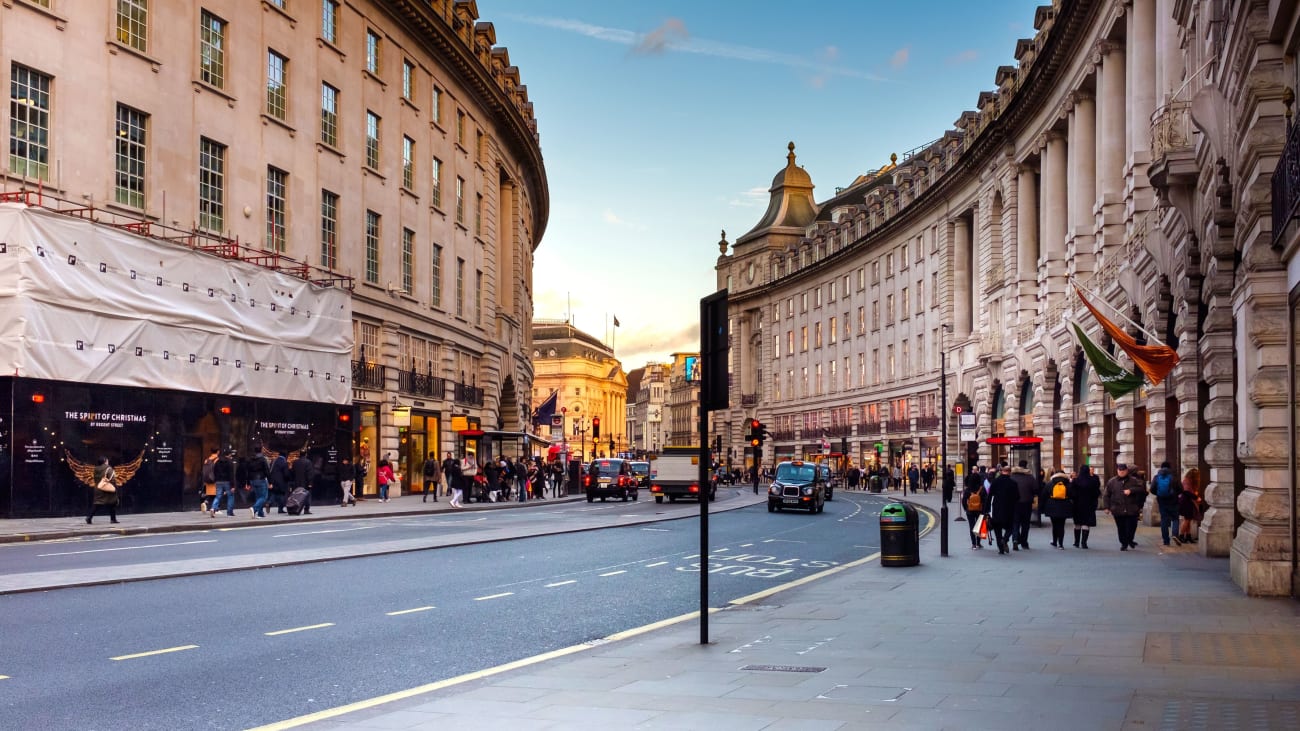 London as we know it would be nothing if it weren't for its neighbourhoods, the nuggets that bring the city to life. To be able to appreciate how each of London's neighbourhoods is a world of its own, with its highlights and main attractions is indescribable.
In this guide you will learn about some of the city 's most emblematic neighbourhoods and what you can do in each of them. That's how you will get to know the real London!
1. Marylebone
Marylebone is one of those strange neighbourhoods that still manages to give you the feeling that you've just stumbled upon one of London's secret spots.
It's a more discreet neighbourhood than its bustling neighbour Oxford Circus. The neighbourhood meanders through quiet, elegant streets and intriguing corridors, offering a very cosy feel.
Strolling through Marylebone you can reach Daunt Books (one of the most considerable bookshops in the City of London and the whole of the UK) and, above all, you can appreciate a distinctly Australian atmosphere, especially when you reach Daisy Green.
2. Camden
Once upon a time there was a small town known as Camden on the outskirts of central London. Then came the trains, canals and warehouses, followed by psychedelic kids, punks and a brilliant young singer called Amy Winehouse (the lioness of Camden). And, Viola, the borough became one of the most iconic and famous in the City of London.
Today Camden is in the midst of evolution once again. New businesses are flooding this part of north-west London, and more and more cafés and restaurants are opening their doors.
If you have time and are travelling to London for 7 days or more, I suggest you stop by this iconic neighbourhood, the atmosphere of the place is curiously different and you can even take a picture with Amy's statue!
3. Battersea
After an intensive facelift that earned the area its own tube station and saw hundreds of young and not-so-young couples move into the new Battersea Power Station housing development, Battersea's parade of riverside restaurants and boutiques managed to boost the neighbourhood's popularity once again.
However, the neighbourhood is not only limited to the above, but shines even brighter thanks to the Archlight Cinema now housed in the old railway arches and Battersea Park which stretches along the river and creates a beautiful green microclimate.
4. Shoreditch
The years seem to have no effect on Shoreditch, the energy you feel on these streets seems to have no end and no expiry date.
During the day, offbeat restaurants serve up pastries to their customers, and at night the bars and nightclubs, some of the best in the world, come alive until the early hours of the morning.
What's more, Shoreditch is without doubt one of London's most vibrant nightlife districts. So, if partying is your thing, don't hesitate to include it in your London nightlife tour.
5. Hackney Central
While Hackney Central is not one of those London neighbourhoods that gets the limelight it deserves, times are changing and the area is becoming one of London's most visited areas, especially in summer in London.
We're talking about a space with an underground nightlife, dining options and a vibrant weekend market where pubs and restaurants spill out onto the streets creating an intimate neighbourhood feel with a community mentality. From Moth House to Mare Street there is plenty to see.
6. Camberwell
For many Londoners this is one of the city's most attractive and eye-catching neighbourhoods, and the residents of Camberwell take great pride in their self-contained village within a huge city.
Camberwell has quirky cafes, boutiques of all kinds and restaurants with plenty to offer. What's more, it's one of the best places to eat, and I'm sure you'll find it on one of London's best food tours.
It's also a neighbourhood with a jovial atmosphere, which is directly fed by the presence of Camberwell College of Art. However, one of the most significant aspects of the neighbourhood is its musical talent. If you go to London in autumn, you'll see jazz flourish among the bars and pubs at night, and if you decide to go to London in the summer, you'll seethe sound of Caribbean music.
7. Covent Garden
If we are looking for popular neighbourhoods, we cannot omit Covent Garden, perhaps one of the most interesting and that you should definitely include in your London tour. It's true that seeing London' s most important monuments is a must, but let's not forget the feeling of walking the cobblestones of the city's most famous neighbourhoods, a purely London feeling.
The neighbourhood's cobblestone streets wind through the central market. Street artists born and bred in the neighbourhood often call these tours 'walking home', a cosy feeling you'll notice as soon as you enter Covent Garden.
Some of the most famous spots include Sushi Samba, a trendy Japanese restaurant, and the Red Farm, one of the best-loved pubs.
8. Soho
Soho is that part of London that never stops changing and evolving, it's like a butterfly in a constant process of change. What's more, even if you're only in London for a day, unless you're stuck in your hotel, you're likely to end up passing through Soho.
Soho is one of London's most iconic neighbourhoods, bordered by Oxford Street, Regent Street, Leicester Square and Charing Cross Road.
Soho's energetic streets in the West End offer a mix of restaurants, nightlife and shopping.
On the one hand, Dean Street, Frith Street, Beak Street and Old Compton Street are the epicentre of daytime and night-time activity, with Ronnie Scott's jazz club as the pinnacle of entertainment. On the other hand, if you're a theatre buff, I recommend Shaftesbury Avenue - pure stage art!
And finally, if you're one of those who can't leave without picking up a souvenir, I recommend you follow the streets of: Carnaby Street, Oxford Street and Regent Street, you're sure to end up buying something!
9. Dalston
There are many good things to find in Dalston beyond its abundance of Turkish restaurants.
In fact, there's a lot more to this part of East London than meets the eye. From basement dive bars to bakeries with the royal seal of approval and one of the best independent cinemas in the city,
Dalston is certainly a place that brings together all sorts of activities; indeed, you can live a lifetime in this neighbourhood and not miss a thing.
10. South Bank
South Bank is home to one of London's best markets, but this place on the south bank of the Thames offers much more than the famous food stalls of Borough Market. It's also a vibrant neighbourhood and the heart of London's cultural scene.
This famous neighbourhood is home to Shakespeare's original Globe Theatre, the National Gallery of British Art (Tate) and the wonderful Wobbly Bridge (also known as Millennium Bridge), a must-see if you opt for a Harry Potter tour.
Plus, thanks to its incredible location, you can get great views of the river (including Thames river cruises) and some of London's most important landmarks.
11. Notting Hill
Although the borough has areas of social deprivation in the northern area and is sometimes not seen as a decent neighbourhood, it is actually one of London's best known and has several areas of note, such as Portobello Market, which has become a major tourist attraction.
Also, if you're in London in August, you can't miss the Nothing Hill Carnival, considered by many to be the biggest carnival in Europe. Not only that, but its presence in film is also to be commended. The acclaimed Nothing Hill movie was filmed entirely in the borough.
12. Brixton
Brixton is a humble, lively and multicultural neighbourhood. It has its own food court, Brixton Market, where you can buy street food and vintage goods. You'll find that farm produce is very much on sale, reflecting the neighbourhood's Caribbean roots.
There is also an area known as Brixton Village which is full of restaurants and entertainment venues.
The contrast of generations, ethnicities and lifestyles is one of the most famous features of this much-loved neighbourhood.
13. Hampstead
Hampstead, similar to a village, has long been seen as one of the most luxurious and desirable neighbourhoods in the capital.
Hampstead is famous for its leafy open spaces, so I recommend spending the day walking around the Heath(one of London's best parks), visiting the historic bookshops and browsing the local pottery shops.