Best Leeds Castles Tours from London
Visiting the English capital is extremely fun because of the fact that entertainment can be found in the countryside as well as in the city. Excursions to Leeds Castle from London are among the things you can't skip if you're interested in experiencing the beauty of the English countryside.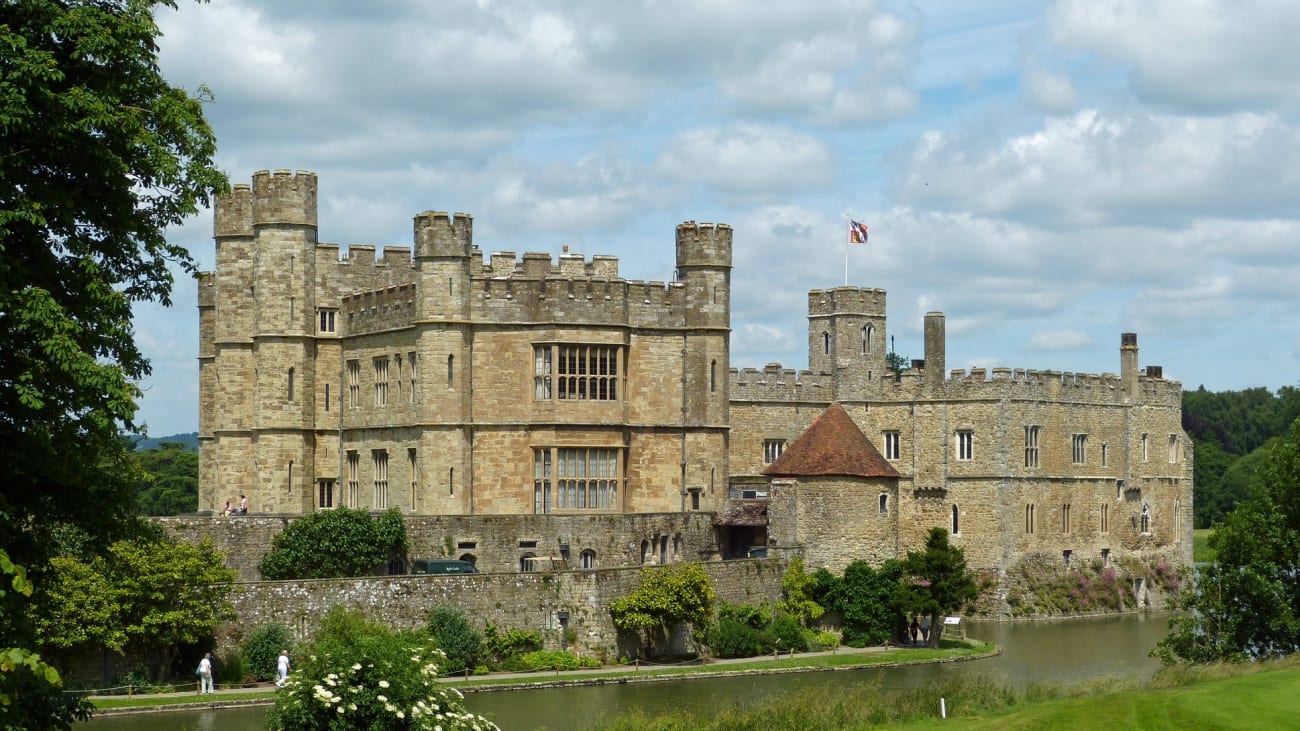 Taking one of the Leeds Castle tours is a great plan if you're looking for things to see and do in London outside of the typical city tour. In fact, it is ranked as one of the best tours in the UK for the diversity of landscapes that can be covered in a single short trip.
I invite you to continue reading this compilation of options that I have prepared for you, if you wish, so that you can book a package tour based on your own interests.
1. Excursions to Leeds Castle by Canterbury and Dover
Just outside Maidstone, in the county of Kent south of London, is Leeds Castle. For many specialists it is one of the most iconic castles in the English countryside; although its fame is not so much due to its architectural majesty, but to the fact that Lord Conway, a famous 17th century soldier and statesman, once described it as the most beautiful castle in the world.
Tours that take you to this castle, built on 20 hectares of gardens on two heart-shaped islands, also tend to include two other must-see stops in this section of southern England.
Canterbury is a medieval city, with an architectural identity that makes it look as if it has been frozen in time and is internationally renowned for the majesty of its cathedral. At this stop on the tour there is usually a break for a typical English meal such as Fish and Chips or delicious white beans.
Touring the historic town centre of Canterbury is another part of this stop, which ends before continuing on to the Cliffs of Dover, the iconic white limestone formations that since time immemorial have been an honoured entrance to the south of England and have formed part of the visual imagery of what you would expect when you think of a beautiful British beach.
The sequence of this tour gives you a deeper and more privileged perspective on the beauty that characterises the countryside to the south of the London metropolitan area.
Details of interest
-Price**:** You can get a tour like this with tickets costing around 108 euros per adult and discounts of 5 and 10% apply to seniors and children between 3 and 16 years of age. Babies are included in the tour free of charge.
Duration: These tours usually depart from a central London location, such as Tower Bridge, in the morning and then return to the starting point in the late afternoon. So a tour to Leeds Castle that includes this and other stops on its itinerary takes approximately 10 hours.
Conditions: the transfer all the way along this road trip is in a bus that has nothing to envy to the best London sightseeing buses. The visit to Leeds Castle is usually a private tour for the whole group travelling in that vehicle. Regarding the language, there are some packages in English, but the most frequent ones with daily departures are in English. Meals are not included, but passengers are not restricted to bringing their own snacks.
Advantages: Many companies offer a free cancellation of your booking as long as you cancel well in advance. The guides are usually noted for their commitment to familiarising themselves with the tourists, and the minimum number of participants for a tour of this type is usually not exaggerated. The minimum number of tickets per booking is almost always no more than 6.
2. Excursion to Dover with guided walks at Leeds Castle
When you're visiting London, it's only natural that you'd be interested in getting out to the outskirts of the city to see for yourself how rural life in the English countryside works. In this context, Dover is a favourite destination for the beauty of its cliffs and the mysticism of its people.
In turn, getting to and from Dover by luxury coach to the iconic sites of this part of Kent is an excellent way to optimise your time and save money by seeing several attractions at the same time.
Canterbury Cathedral, the Cliffs of Dover from a closer perspective, a tour of the town of Dover and a guided tour of Leeds Castle and the grounds on which it stands are some of the activities offered in this type of package.
This is an appropriate plan when thinking about what to do and see in London with children. For Dover is a tranquil, entertainment-filled destination that gives the whole family the opportunity to enjoy the countryside, while being away from the urban bustle that characterises a city as big as London. Best of all, Leeds Castle remains a major feature of the tour planning.
Interesting details
Duration: Similar to a typical tour that leaves London and then returns the same day, this alternative usually lasts a full day, taking into account the time it can take at each stop. That is, departure is almost always scheduled for the morning hours, such as 9am, and arrival in London is estimated to be after 4 or 5pm.
Conditions: Some alternatives often offer you the option of reserving a seat on the bus for a certain amount of time without paying immediately. It is not necessary to book a minimum number of people per group, as the bus is large enough to carry up to 50 people. It is almost always necessary to book 24 hours in advance and such a tour usually costs more than 100 euros per person.
Advantages: The bus on such a tour is so comfortable that in some ways it is a good way to get to know the outskirts of South London, while recharging your batteries for other, more demanding activities. For example, taking part in London's best bike tours can be a good idea after a break like this.
3. Guided tours to Leeds Castle with boat trips on the River Thames
A boat ride is a fun plan, isn't it? Well, for your convenience, many guided tours to Leeds Castle departing from London often include them in their planning. This is to give a much more entertaining twist to an experience that is primarily geared towards historical learning and cultural enrichment.
In short, they are usually a transfer in a comfortable and luxurious bus, which makes its respective stop at Leeds Castle, with private guides and all that that implies.
As with most excursions to this destination, a transfer to Canterbury to see the magnificent Unesco World Heritage-listed cathedral is also included. This is almost always followed by a visit to the viewpoints of the Cliffs of Dover, giving visitors one of the most special glimpses of the true beauty of the British Isles.
The big difference in this alternative begins on the return leg to the city. Instead of heading back to the starting point in the historic heart of London, the bus takes a detour to Greenwich Harbour, a couple of kilometres east on the River Thames.
There, at the famous Greenwich waterfront, you board the boat that takes you to the height of Tower Bridge, allowing you to see from the river's perspective many of the historic buildings on London's east bank.
Details of interest
Duration: A tour that includes a boat ride back to the city centre tends to take a little longer than those with only land transfers. So the tour can take approximately 11 hours, taking into account the time it would take you to transfer from the bus to the boat.
Conditions: a package with these characteristics usually includes a guide who will explain to the passengers the historical details of all the places visited. It may also include entrance to the cathedral and a guided tour of Leeds Castle. Most often, they do not require a minimum number of people to approve the booking. Regarding the boat, you can be confident that it can compare with the best Thames cruises for comfort and safety.
180 per person taking into consideration that two different modes of transport are combined
Advantages: Leeds Castle tours from London that include a return trip to the city on a boat on the Thames are an economical combination of several fun activities in one package. It's also one of the best things to do in London in August, as it's a safe escape from the heat and allows you to enjoy the river at the one time of year when it's not too cold.
4. Private luxury car transfers from London to Leeds Castle and Dover Castle
Wanting a more intimate and exclusive experience is also a viable option when you're interested in booking a trip to Leeds Castle from your London hotel. This is available with private transfers that take you to Leeds Castle and Dover Castle in a luxury car exclusively for you and your companions and then return you to your accommodation in the city.
Indeed, it's only fitting that luxury is a defining feature of the experience when you consider that the historic site you'll be visiting was once the private residence of a pair of medieval queens, before becoming a veritable haven for England's rich and powerful.
The start of the trip always begins with a pick-up from your hotel door and depending on the proximity of your hotel to somewhere like Buckingham Palace, the driver is likely to make a stop so you can have your photo taken at your leisure.
The transfer to the castle is notable for its nature of comfort and convenience in the style of the rich and famous. The vehicles are usually at least a Mercedes with air-conditioning in the seats and wifi in the cabin of the car.
The cost of a private guide who will explain the historical details of the castle is included in the transfer fee, as is the cost of another guide who may help you walk a section of the walking tra ils on the cliffs of Dover.
As a matter of flexibility, it is usually left to the client to decide which other Kent town to visit on the trip. The truth is that it is a very diverse area in which it is not essential to visit Canterbury Cathedral, knowing that there are other places such as the town of Maidstone, which is much closer to the castle on the itinerary.
This is a good plan to see or do in London during a seven-day visit in that it can function as a luxurious day-long entertainment while also getting to know much more of the southern English landscape.
Details of interest
Duration: A private luxury car tour of the county of Kent under the circumstances offered by tour agencies usually lasts 10 to 12 hours. Bear in mind that as this is a private service, for two or four people, everything is usually much more tailored to your requirements and needs. At least when compared to planning with 50 other people on a tour bus.
Prices: the rates for this type of private and luxurious transfers may seem exorbitant, but you have to take into account the fact that the 500 or 600 euros are an amount per transfer and not per person. That is to say, if you distribute what you are paying between 3 or 4 passengers, it ends up being only a little more expensive than what you can spend on a bus tour.
Advantages: As the route adjusts to suit you, you can enjoy a lot more of the nature that characterises the county of Kent. If you're left wanting to see more trees and wildlife, there's always the opportunity to visit some of London's best parks the following day.
Why is it better to book a tour than to go on your own to Leeds Castle from London?
The main convenience of a tour, such as the ones I have compiled for you in this list, is the fact that the structure of the whole tour is preconceived, knowing how long each place will take so that the times are right and you won't be late at any destination.
Financial savings is another decisive factor, as it is believed that public transport can be a better alternative to get to all these destinations on your own financial terms. However, the reality is that it is impossible to get to so many places in a single day if you only use bus routes, as these have schedules that will not necessarily suit your needs.
Add to that the fact that access to sites such as the castle is already included in the transfer fee, not to mention the private guide for the group, both on the bus and at the sites you visit. Which you would have to pay for separately if you decide to complete the tour on your own.
Therefore, private or shared tours to Leeds Castle are often ranked by many specialists among the best excursions from London as a matter of economic convenience. As well as the excellent time-planning that goes into these package tours.
When is the best time of year to take a trip to Leeds Castle from London?
There is no particular time of year to visit Leeds Castle, as it is a tourist attraction that receives visitors all year round.
If you look at it from another point of view, what can affect your enjoyment of this tour is the number of tourists and the weather at the time you choose to visit.
If you enjoy the heat, it is preferable to go in late spring, as at that time there are not so many visitors due to the high summer season. The same applies to the cold, as mid-autumn is a low tourist season compared to early winter, which is full of Christmas festivities.
You should also bear in mind that the south of England is characterised by cloudy and rainy weather for most of the year. It is therefore advisable to bring waterproofs and boots to ensure you are comfortable on the countryside walking sections of the tour.