10 things to do in London in autumn
Autumn is the perfect season to visit the British capital: its parks are tinged with ochre and orange tones, prices are relatively low and it's not too cold. Find out the best plans for your trip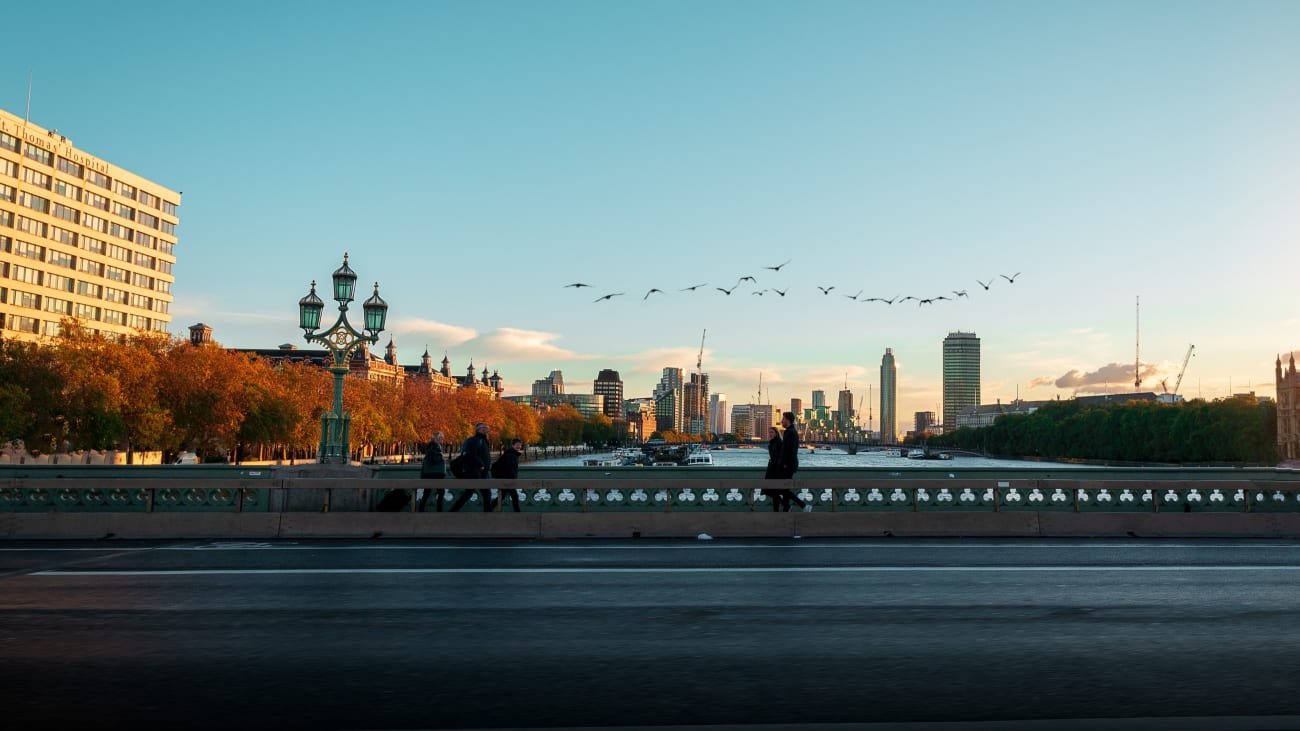 The autumn season is an ideal time to travel to London. On the one hand, the city has a special colour and its parks and gardens take on an ochre-orange hue. On the other hand, the thermometer does not register excessively low temperatures.
Also, prices are not as high as at other times of the year when there is a higher tourist influx and, in addition, there are certain important dates in the calendar such as Halloween or Guy Fawkes Night. Here are all the things you can't miss during your trip to the British capital between September and December.
And if you are looking for more options, in the post What to see and do in London you can find out about other very interesting plans.
1. Immerse yourself in the life of the Thames at Thames Festival Trust
Since 1997, the Thames Festival Trust has been held in the city of London, an event in which the River Thames takes centre stage. It takes place on the Southbank and organises a full programme of artistic, educational and heritage activities such as regatta or swimming competitions, live music shows, digital exhibitions, workshops... throughout the month of September.
If your trip coincides with this month, don't hesitate to visit the website and sign up for some of the activities. You can also take advantage of being on the South Bank to go up to the London Eye and see the activities from above. Read the articles London Eye views and London Eye tickets for all the information you need.
When... Throughout the month of September
2. Enjoy the seventh art at the BFI London Film Festival
With over 60 years of history, the London Film Festival is a world-class film event that takes place every year for over ten days in October, so if you're a lover of the seventh art and your trip coincides with the weeks when it takes place, I recommend you come along as you'll have the chance to enjoy some of the best and most renowned films and series in the world. In addition, there are also premiere galas, special presentations and immersive art experiences, among other proposals.
When... First half of October
3. Taste the best food at London Restaurant Festival
And if you are a foodie and your trip coincides with the month of October, you are in luck, as for more than a decade the London Restaurant Festival has been held, a festival during which the city's most popular restaurants design and offer different tasting menus. It's the perfect opportunity to sample dishes from all over the world. You can also enjoy wine and beer tastings, masterclasses led by famous chefs, gastronomic events of all kinds and culinary experiences- a delight for all the senses!
If you are looking for other gastronomic recommendations, I recommend you to read the posts 10 places to eat near London Eye, the best places to eat near The Shard and places to eat near the Tower of London.
4. Participate in Santa Run London
At the beginning of December is the Santa Run London, a charity run where runners dress up as Father Christmas. It is an ideal plan to go with the youngest members of the family, as all participants are given a Father Christmas and there is a symbolic race for children under the age of eight. Adults and children from that age can take part in two races, one of 5 kilometres and the other of 10 kilometres. And after the kilometres run, they can recover with a snack while listening to Christmas carols.
5. Delve into contemporary art Frieze London
October also sees Frieze London, an international fair of carefully selected contemporary art galleries in Regent's Park. In addition, talks and different activities are organised throughout the five days of the event. This international fair is also organised in New York and Los Angeles.
6. Experience autumn in one of the city's premier parks
The number one plan for your trip to London during the autumn season, especially from late September to early November, is to stroll through one of the city's major parks or landscaped areas and the options are numerous, as London has the same proportion of green space as it does of urban space. In fact, it is said that if every one of the millions of Londoners living in the city wanted to hug a tree, there would be one tree for every one of them. Are you up for finding your tree? So that you don't have any doubts about where to find it, here are some suggestions for your trip:
St John's Lodge Gardens: Located in Regent's Park, where Frieze London is held in October, it is one of the most peaceful green spaces in the city and an ideal place to escape from the hustle and bustle.
Hyde Park: Right in the centre of London is Hyde Park, one of the favourite parks for both locals and visitors to the city. You can also enjoy a variety of outdoor activities in this park.
Richmond Park: This is one of my favourite options. It is the largest nature reserve in London and is home to a variety of deer living in the wild.
St. James's Park: Located next to Buckingham Palace, this is one of the most historic parks in the city. In fact, its origins date back to the 16th century.
Victoria Park: This is one of the most popular parks in the UK and is located in the east of the city. It is a perfect option if you go with children, because it has different play areas and swimming pools. It is also a meeting point for many young people as it hosts important music festivals.
Chiswick Gardens: Dating back to the early 18th century, this park has served as inspiration for many other parks in Europe and is noted for its classical temples, monuments and lakes. And if you get caught in the rain, which is typical in autumn in London, you can take shelter in the park's conservatory, which houses an important collection of camellias.
Royal Botanic Kew Gardens: This is not a park in the strict sense of the word, but a botanical garden where you will have to pay to enter, but it is a visit that is really worthwhile. It is located about 30 minutes southwest of the city centre and has more than half a thousand acres of forest and 50,000 plants. It's ideal if you're going with the little ones, as it has a children's playground with climbing frames, slides and educational games.
If you want to know more about other options, read the article 10 best parks in London.
When... The whole autumn season.
7. Get a head start to Christmas on your trip to London
From mid-November and early December you can experience and feel Christmas in London. This is when the first Christmas markets open, you can see the lightsbeing switched on, enjoy the Christmas decorations and Christmas trees, listen to Christmas carols and, most fun of all, skate on one of the ice skating rinks, such as Winter Wonderland in Hyde Park.
When... From mid-November to the end of December.
8. Visit Harry Potter Studios Park
A fun option for both children and adults is a visit to the Harry Potter Studios Park, where you can immerse yourself in the original sets from the blockbuster films: the Hogwarts Great Dining Hall, Platform 9¾, the teacher's office, Diagon Alley and the Forbidden Forest, among others.
Find out all the information about where and how to buy tickets for this experience in the articles Harry Potter Studios London Park tickets and ticket prices. Also, find out all the details on how to get to Harry Potter Studios in the following post.
9. Spend a spooky day at London Dungeon
London Dungeon is another great attraction for your autumn trip to London. A tour of 17 interactive shows with terrifying sets, special effects and commentary by various interpreters that bring visitors closer to some of the darkest events in London's history, such as the Great Fire of London in 1666, the Gunpowder Plot and the Black Death plague. You will also learn in detail about the history of Guy Fawkes, Sweeney Todd and Jack the Ripper.
10. See the city from the London Eye
Another ideal plan in autumn is to go on the London Eye. Having the chance to see London at this time of year when the city is tinged with ochre and orange colours as if it were a postcard is incomparable, and what better place to do it than from the highest Ferris wheel in Europe.
From the London Eye you'll have a 360º panoramic view and you'll be able to take some fantastic photographs. Read the post Views from the London Eye and you'll have an idea of what you can see from this attraction. Also, in the following article you can find out all the details about the tickets for the London Eye.
On the other hand, you can also enjoy a combined experience to the London Eye and a cruise on the Thames or to the London Eye and the Madame Tussauds Museum. And after your visit, read the post the best places to eat near the London Eye.
London temperatures in autumn
If your trip to London coincides with the autumn season, bear in mind that temperatures start to drop gradually and considerably from the end of September, averaging 16ºC in September, 13ºC in October, 9ºC in November and an average low of 5ºC in December. It is also a very rainy season. In fact, October and November are the months with the highest rainfall.
London's tourist crowds in Autumn
The number of tourists in London in autumn is very low compared to other times of the year, such as summer, Christmas, Easter... Therefore, I recommend that if you have the opportunity to travel from September to December, do not hesitate to do so, as you will have a greater choice of flights and hotels. In addition, the attractions will not be as crowded as at other times of the year. Even so, you have to keep in mind that there is always tourism in London, it's just that there are times when it's a little lower.
London prices in autumn
Prices in London in the autumn months are relatively cheap compared to other times of the year, especially in October and November. However, there are key dates when prices are higher, such as Halloween and December, when Christmas is in full swing.
What to pack for London in autumn
Whatever month you go in autumn, it is advisable to dress warmly with jumpers and sweatshirts. It is also advisable to bring a mackintosh to protect you from the rain, as well as waterproof footwear. Also, from November onwards, temperatures start to drop considerably, averaging between 5 and 9ºC, so it's essential that you take a coat with you.