How to Visit Chelsea Stadium
Stamford Bridge Stadium, home of Chelsea FC, is one of London's great cultural attractions. Discover the history of this sporting venue and the most successful team of the 21st century.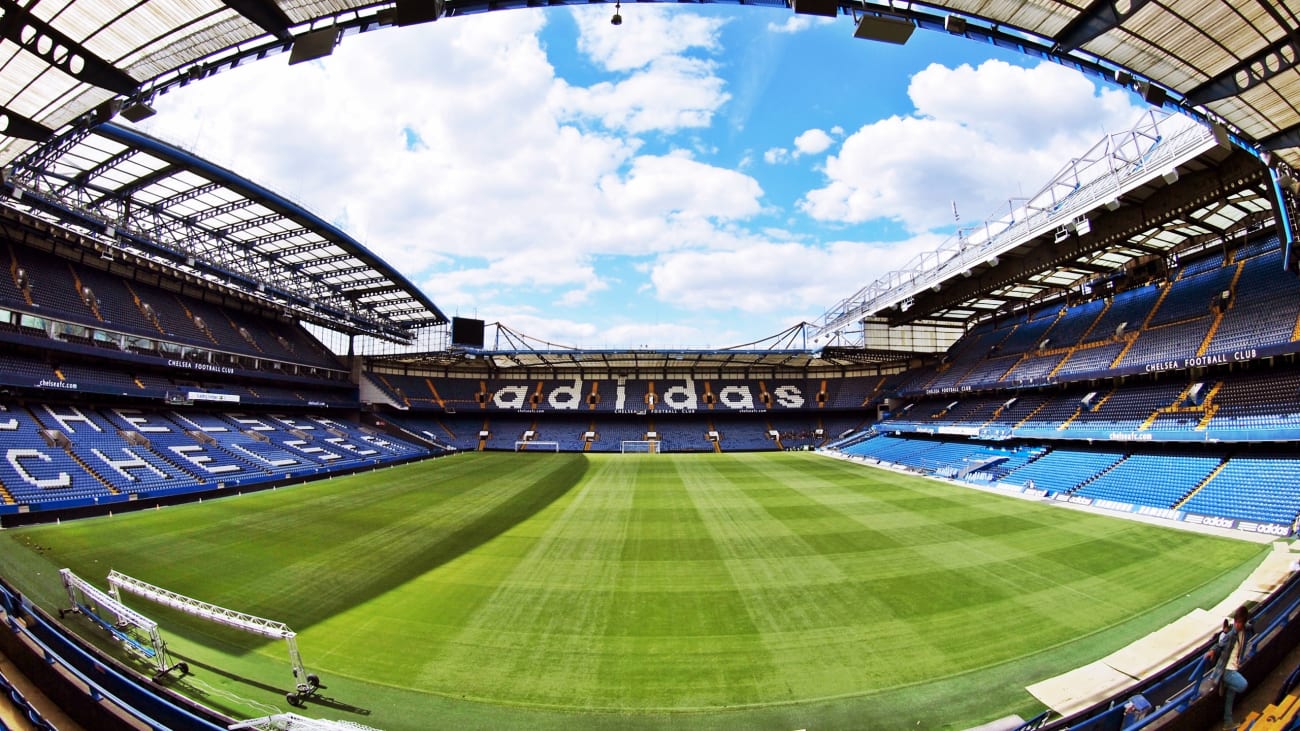 The so-called beautiful game has an important place at the Chelsea Stadium in the city of London. The home matches of England's professional football club, Chelsea, are played on the pitch of this stadium. It is also a place that promotes the elimination of social barriers, thanks to the connection created by people sharing their love of sport.
For all these reasons and more, a visit to Chelsea Stadium is an unmissable activity during your stay in the city. Stop wondering what to see and do in London and get to know this iconic venue and its history, architecture, nooks and crannies, relics, and more, both inside and out. I'll explain all the options below.
1. See Chelsea's stadium in all its glory as you watch a London derby match
Chelsea (Blues) and Arsenal (Gunners) are two English teams with a long football history. Their rivalry, spanning over 100 years, began with their first meeting in 1935 at Stamford Bridge, home of the Blue Lions or Chelsea FC.
Every year, these two footballing titans meet at the Chelsea Stadium during the London derby. You will see the 11 players from each team battle it out for 90 minutes, trying to score as many goals and defend their own goal.
London derby
The London derby is a series of head-to-head matches between London's top teams, taking place over 10 months. This time corresponds to 38 matchdays with a total of 266 matches.
The fixtures usually vary annually, starting from the first day of August in London until the end of May the following year. So, if you want to see Chelsea Stadium at its best by watching the classic Chelsea FC and Arsenal match, you will have to check the current season's calendar for the exact date.
Useful information
Price: Tickets for the classic Chelsea vs Arsenal match start at £500 per person. Tickets can be purchased on the stadium's official website or at the ticket office.
Duration: matches usually last a maximum of two hours (90 minutes of play divided into two halves of 45 minutes each, 15 minutes of half-time, and around 5 minutes for the restart).
2. Take a tour to see the ins and outs of Chelsea Stadium from the inside
If you are a Chelsea fan and still don't know what to see and do in London in a day or more, then you can't miss the opportunity to see the Stamford Bridge Stadium, home of this important English football club. Just join a guided tour through all the nooks and crannies of the stadium.
During this experience you will visit the exclusive parts of the stadium, which only the players can access. Some of them are:
The changing rooms, where you can take a seat for a moment.
The press room, which will make you feel like a coach of the national team.
The players' tunnel, where great personalities of the sport such as John Terry, among others, have walked.
The imposing pitch, from where you will be able to see a different perspective of the stands and benches.
After this tour, the stadium guide or host will take you to visit the Chelsea FC Museum. There, you will watch an explanatory video of about 30 minutes, through which you will learn about the history of this sports club, which dates back more than 100 years.
You will also walk through an exhibition room where you will see the trophies and titles won by the league over the years. You will see a collection of clothing, shoes and items belonging to the team. For example, the shirts of world football legends such as Drogba, Lampard, among others.
Information of interest
Price: this tour inside Chelsea's stadium is priced at approximately 45€ per person and tickets can be purchased through their official website.
Duration: the average duration of this activity is 1 hour and 30 minutes.
Benefits: You will be able to explore all the nooks and crannies inside Chelsea Stadium, while discovering its history and hidden treasures.
Take the Chelsea Stadium tour for free with London Pass
With the London Pass, you can visit the inside of Chelsea Stadium, saving you time and money. You'll enjoy a guided tour of this legendary football temple and learn about its history.
After purchasing your pass on the official London Pass website, you can say goodbye to queues. Just head straight to the stadium ticket office and scan the QR code on your mobile phone screen. It's a quick and easy way to redeem your ticket without paying anything.
Once inside the stadium, a host will take you through the changing rooms, the pitch, the players' tunnel and the press room. Afterwards, you will walk through the Chelsea FC Museum, discovering on your own an interesting collection of the team's relics such as trophies, shirts, photos, awards, etc.
Moreover, thanks to the London Tourist Card, you will have access to a digital guide available in 12 languages, which you can download on your mobile phone. This will enhance your experience with images and a 360º film of the stadium's history.
Useful information
Price: The price of the day pass which includes the Chelsea Stadium tour starts at €84 (adults) and €54 (children under 15). Other passes are also available for more days.
Advantages: The London Pass saves you up to 35% off the original cost of the Chelsea Stadium guided tour. Plus, you'll get a free Chelsea FC lanyard.
3. See it from the outside and learn about its history with the London Contrasts Tour
Whether you plan to be in London for one to seven days or even longer, you'll want to take a contrasts tour to discover the city. You will be able to visit the highlights, including the legendary Chelsea Stadium. All this in the company of a local guide.
This walking tour, considered part of the top 10 best London tours and excursions, generally includes tourist destinations such as Westminster Abbey, St Paul's Cathedral, Soho, Borough Market, among others. However, you can customise the itinerary according to your tastes, in this case sporting, including a walk outside Chelsea Stadium.
In the specific case of this football stadium built in 1877, the guide will take you outside to admire its façade which, unlike other stadiums, could pass as just another building in the Chelsea neighbourhood. Meanwhile, he will tell you about the history, cultural importance and anecdotes of this place.
Also, at the gates of Temple Blue, as the stadium is known, you will see a life-size sculpture dedicated to one of Chelsea FC's legends, Peter Osgood. There, you will be able to take amazing photographs to remember.
Useful information
Price: the price of this guided activity starts at 56€ per person.
Duration: This guided tour usually lasts two to six hours.
Benefits: You will get a glimpse of the outside of Chelsea's stadium and discover some of its football history.
4. A bird's eye view of Chelsea Stadium on a helicopter tour.
Another way to visit Chelsea Stadium is from above on a helicopter tour. This is a truly worthwhile experience, as it will give you a privileged view of Temple Blue and a number of other destinations of interest.
For this bird's eye view tour you will board a helicopter at the London Heliport in Battersea. Beforehand, the pilot will give you some tips and safety advice to make the experience a success.
As you soar through the London sky, you'll see the city as if it were a small model, and you'll be able to identify some of London's best landmarks. Such is the case of the London Eye, the Tower of London, Tower Bridge, Westminster Abbey, the River Thames, among others.
You will also fly over Chelsea Stadium and be amazed by its monumental architecture, inspired by the Gothic and Victorian style. You will see this historic building of 103×67 metres and 35 metres high, which stands out for its polygonal shape surrounded by 264 brick pillars.
Useful information
Price: The helicopter experience usually costs approximately €150 per person.
Duration: This helicopter tour lasts around 20 minutes.
Benefits: You will enjoy a privileged bird's eye view of Chelsea Stadium and other London attractions.
5. Visit it from the outside by getting there on your own
With a history spanning over 100 years, Stamford Bridge Stadium has become a must-see destination, whether you're a football fan or not. So if you're visiting London neighbourhood by neighbourhood during your stay, you'll want to take a stroll through the Hammersmith & Fulham district and visit the home of Chelsea FC from the outside.
You can stop in front of the front of the stadium to take some pictures next to the monumental façade of the Blue Temple. You will see the large club crest outside and the statue of former England footballer, Peter Osgood. All this, free of charge.
Similarly, you can take the opportunity to take a tour of the surrounding area to check out some of London's best museums. For example:
How to get to Chelsea Stadium on your own
The stadium is located right next to the Chelsea Quarter, which is an easily accessible residential area. You can get there by the following means of transport:
Underground: you will depart from Hammersmith station on the N72 Roehampton route to Fulham Broadway station, which happens to be the closest station to the stadium. You can also consult a practical guide to the London Underground.
Train: For train travel there are Imperial Wharf and West Brompton stations. Both options will take you approximately 15 minutes walking distance from the stadium.
Bus: Take the N72 from Roehampton to Fulham Road (Stop FO). Walk approximately 1 minute to Fulham Palace Road station (Stop FP) and get on the 14 Russell Square line, which will drop you off at Chelsea Village (Stop U), a couple of minutes from the stadium.
Boat: There are daily cruises on the River Thames. You will need to select a boat that stops at Chelsea Harbour, which is a 15 minute walk from the stadium.
6. Have a fabulous drink and meal at Frankie's Bar and Grill at Chelsea Stadium.
One of London' s secret spots to discover during your visit to Chelsea Stadium is Frankie's Sports Bar & Grill. This is the only bar-restaurant in the stadium with fabulous food and drinks.
From three-course meals to pizzas, burgers and hot dogs, it's an ideal place to incorporate into the best food tour destinations in the city. Also, with the entrance to the guided tour of the stadium you will enjoy a special offerfor a two-course meal.
And, if you just want to sit down and recharge your batteries, while enjoying a delicious hot or cold drink (tea, coffee, among others) accompanied by a delicious dessert, then The Tea Bar is a good option. It is about 42 metres walking distance from Frankie's Bar and Grill.
Useful information
Price: Entrance to the restaurant and The Tea Bar is free of charge, and you will need to pay for everything you consume. And, if you have purchased a ticket to tour the stadium, you will enjoy a special price on the restaurant's two-course menu (approximately €15 per adult and around €9 for children).
Opening hours: The restaurant is open every day (12:00 to 23:00). The Tea Bar is open Monday to Friday (8am to 4pm).
Practical information for visiting Chelsea Stadium
Address and directions: Stamford Bridge Stadium, home of Chelsea FC is located in the Fulham Road district of London, SW6 1HS, United Kingdom. You can easily access this destination by train, tube, bus, bicycle, boat or private car, as it is located in a residential area next to the Chelsea neighbourhood.
Tourist bus access: unfortunately, the route of the best tourist buses in London does not include this destination among its stops.
Opening hours: Both the stadium and the museum area are open every day except on match days. Tours run from 10:00 to 15:00 and there are usually two every hour. Also, you should know that on December 24th and 31st the tour schedule is from 11:00 to 14:00 hours, while the museum is from 9:30 to 17:00 hours.
Ticket prices: The Stamford & Bridge tour has a general price of approximately €24 for over 16s, students and over 65s pay around €16, children under 5 to 15 pay around €15 and children under five are free. Admission to the museum only is around €12 for adults, children aged 5-15 around €10 and children under 5 free.
How to buy tickets for the tour: tickets can be purchased at the stadium ticket office or online at the stadium's website.