British Museum Tickets: prices, hours, etc.
Spending an afternoon at the British Museum is a must. Here's how to get tickets, prices and opening times so you can plan your visit.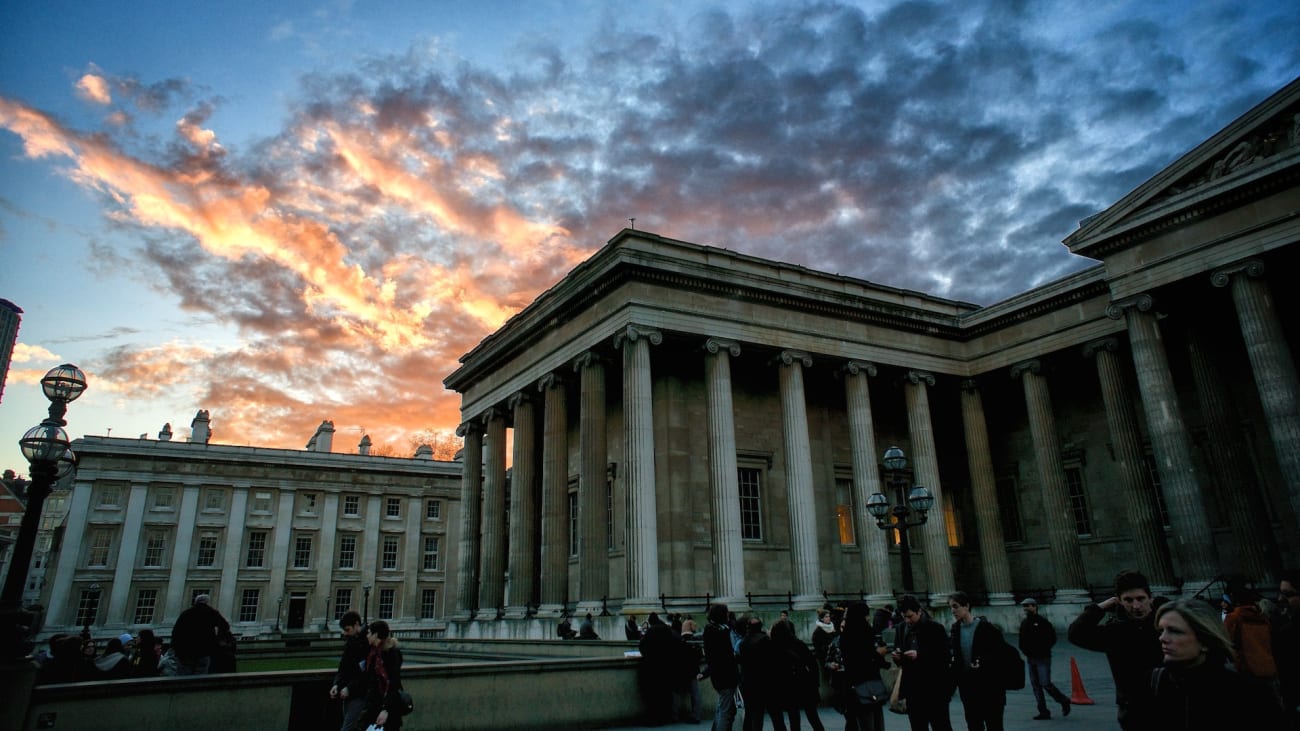 Visiting the British Museum is one of the best things to see and do in London at any time of the year. It is one of the most visited museums in the world and has an incredible collection of pieces of history, ethnography, archaeology and art. What's more, it's a low-cost plan because admission is completely free.
Read on for all the details on how you can buy your tickets and avoid the queues, and the main opening hours so you can make the most of your visit. Will you join us?
The most complete option
Visiting the British Museum
Take a trip around the world through its history by visiting the impressive British Museum, in the heart of the City of London, England.
With this private or semi-private tour of the British Museum you have exclusive access to a detailed account of the historical background of all the most important pieces in the vast collection of one of the most important museums in the western hemisphere.
With 2.5 hours of personalised lectures and explanations, you will enjoy a historical learning and cultural entertainment experience like nowhere else.
Recommended if... you like to discover all the details of a museum and if you enjoy a personal and exclusive treatment with guides who speak in your language.
How much do tickets to the British Museum cost?
Admission to the British Museum is completely free for all ages. So it's an ideal way to entertain everyone in your group, from the youngest to the oldest, without spending a penny.
This saving is very useful for you to invest in paying a private guide who will explain in detail the history of the main exhibits.
Is it advisable to take a guided tour of the British Museum?
Without a doubt, the answer is yes, it is one of the best things to see and do in London at any time of the year. With a private tour of about 2 and a half hours with a specialised guide, you will learn all the details of the pieces housed in the third most visited museum in the world after the Metropolitan Museum in New York and the Louvre in Paris.
Your private guide will delve into the history of the most important objects in the museum, including the Mummy of Katebet, Lewis Chessmen and Rosetta Stone, and if you have any questions you will be able to answer them immediately. The best way to make the most of your visit. Are you up for it?
How do I get tickets for the British Museum at the ticket office?
As tickets to the British Museum are free, there is no need to purchase them. However, it is advisable to book your free admission ticket on the British Museum website in advance. This will save you from waiting in the unnecessarily long queues that characterise one of London's top 10 museums.
If you are paying for a privately guided tour, they will usually arrange the booking of your admission ticket.
Are tickets to the British Museum included in any of the city's sightseeing passes?
Most often, the best London sightseeing passes do not include the British Museum among the activities included in their daily or weekly packages. Simply for the reason that access is free and it wouldn't be fair to advertise it as an activity where you supposedly save money on an entrance fee that would never be charged outside of the tourist pass.
Anyway, what I can assure you is that tourist passes to visit several iconic London sites under the same rate is one of the best investments you can make to balance your pocket. A fixed rate is usually between €50 and €180 and gives you access to a long list of paid attractions, with no queues and discounts that add up to 35-40% less than what you would pay buying individual tickets.
These passes cost different amounts of money depending on the days you buy them for and can be valid for up to a whole week. So it's best not to buy them on the same day as your visit to the British Museum, as you'll be wasting money on the time it takes you to tour this gigantic museum.
Are there free guided tours of the British Museum and how do they differ from private tours?
With your free tickets to the British Museum you can book a guided tour with museum staff at specific times. However, as we have already mentioned, you also have the alternative of booking a guided tour in Spanish of most of the permanent exhibitions with a private agency, which is an even more convenient option, as these are specialists who are there to answer your questions exclusively, in your language and on your terms.
Note that free tours usually require a minimum number of participants, while paid tours with private guides are subject to the conditions proposed by the company you choose to hire.
Details of interest
Price: prices for a guided tour of the British Museum are usually around €115 per group, but this varies depending on the language chosen and the type of private or semi-private tour you are interested in.
Duration: the best private tours of the British Museum in English usually last around 2.5 hours.
Conditions: what are known as semi-private tours are those that involve other clients, although groups do not usually exceed 8 people. The language chosen also influences the price, as a tour in English is always cheaper than one dictated in Spanish.
How to get to the British Museum by public transport?
London is a city characterised by the quality of its public transport and the ease with which its citizens can get from one place to another relatively quickly. Therefore, there are several ways to get to the British Museum.
The museum is located in Great Russell St, London WC1B 3DG and the nearest London Underground stations are Holborn, Russell Square and Tottenham Court Road. They are all within a couple of blocks of this notorious and eye-catching building. If you're not familiar with the London Underground, though, you may want to check out a handy guide to how the London Underground works.
There are also other ways to get to the British Museum Street, with bus routes 8, 9, 19, 25, 10, 14 and 15 other different routes in the city's public bus system all dropping you off within the museum's immediate perimeter.
Also, if you choose to cycle, you can park your bike right in front of the entrance on Great Russell Street. If you rent a bike from the city's public system, you'll need to drop it off at one of the corners and then pick it up again when you've finished your tour and want to return to your hotel.
Top exhibitions not to be missed at the British Museum
The inventory of historical items held at the British Museum is impressively varied and extensive. These are distributed over the 5 levels available to visitors, which in turn are arranged over a site that covers 13.5 hectares.
On the Lower Floor's basement levels, you will find rooms with exhibitions that are dedicated to African culture, Ancient Greece and the history of the Roman Empire, as well as its dismantling and subsequent restructuring.
On the Ground Floor, equivalent to what we know as the ground floor, you will find exhibitions that are also dedicated to the foundations of Western society. These are complemented by several sections focusing on the Middle East and the birth of the Islamic universe, along with others on the American continent.
Exhibitions focusing on Korean culture and the world of Chinese ceramics are some of the other permanent installations you can expect to find at the British Museum. However, the real highlight of the British Museum is the permanent exhibition of ancient Egyptian artefacts. In fact, it is the largest collection of historical items from this period of Egyptian civilisation on public display outside the city of Cairo.
The sum of all these rooms can keep you entertained for a good chunk of your day, making it a great way to escape the heat if you're looking for things to do in London during the summer.
How much time do you need to get around the British Museum?
How long you can take to tour the British Museum depends on many factors. The first would be whether you visit on your own or follow a guide's tour. With the detailed explanations of the works combined with your own research and the guided tour it can take up to 3 or 4 hours.
When you visit independently the picture changes significantly, as you will most likely decide to take time for the objects that interest you, but skip others that don't catch your attention. In such scenarios the tour can be reduced by up to 2 hours, and even 1.5 hours if you don't have any breaks and don't stop in detail.
However, knowing that it is a free activity, you can take advantage of it to entertain yourself as much as possible if you are staying for a couple of weeks. On the other hand, if this is one of your plans to see and do in London during a 7-day trip, then it is preferable that you set aside an afternoon to ensure that your tour is a leisurely one.
British Museum opening hours
The British Museum is open to the public on most days of the year. In fact, 24 and 25 December and 1 January are the only fixed dates when it is closed.
If you decide to visit in the morning, you should arrive at least at 10:00 am, as it opens at that time every day of the week. Closing time is 5:30 pm every day, unless there is a special event announced by the museum's official media. Therefore, from 6:00 pm onwards you can spend the rest of your sightseeing day discovering some of London' s best secret spots in iconic corners such as Soho and London Chinatown, both less than a kilometre away.
And if you want to have as much time as possible for your visit, it closes at 8:30 pm on Fridays, but bear in mind that the door will only receive visitors until 7:00 pm.
Tips for visiting the British Museum in high season
Like any other hotspot in London's tourist scene, the British Museum tends to be packed with visitors during peak seasons. That is, December for the Christmas and New Year holidays, as well as the whole summer. If you want to avoid the crowds of tourists, it's best to opt for an early bird visit, which means you should be at the museum gates by 10 o'clock so that you can finish your tour around 2pm, just as the rooms start to fill up with visitors.
Please note that there is a daily limit to the number of visitors for security reasons. It is therefore also advisable to book your visit on the museum's official website for the time you wish to go on the specific date you have made time for in your planning.
Where to eat near the British Museum?
Bloomsbury, the neighbourhood in which the museum is located, has all kinds of restaurants ranging from pubs, very traditional in the English nightlife and gastronomic scene, to a very good range of culinary entertainment with Asian or Mediterranean-style venues.
A couple of streets away you will also find Soho, one of the epicentres of the most eclectic and artistic nightlife and cultural scene in London since the second half of the last century. This is also where you'll find London's Chinatown, which, while not as architecturally allegorical as other Western cities, does have a strong presence of Asian restaurants and bars. If you go a little further towards the River Thames you 'll be in the Westminster area and there are plenty of restaurants to suit all tastes.
Any of London' s best tour buses could give you a tour of these areas when you've finished your meal. This can be a very good idea considering how exhausted you may be after walking for hours through the corridors of the British Museum.
What else is there to do near the British Museum?
The cultural diversity of the area is complemented by other iconic sites within walking distance of the British Museum. For example, Russel Square is directly opposite the museum and is a great place to marvel at the Georgian architecture that still persists in many parts of the city.
King's Cross Station and St Pancras Station are other places to visit in the area near the British Museum. You'll probably recognise both places, as King's Cross is where the platform from which Harry Potter begins his journey to Hogwarts is located and St Pancras Station is the location used for his exteriors. Check out the best Harry Potter tours in London and enjoy a magical experience.
Taking part in some of London' s night tours is another great way to round off your day after leaving the British Museum. Especially since Soho and Westminster get very busy after sunset.