10 Best museums in London
One of the great attractions of the British capital is its cultural offer. Whatever your taste, you are sure to find something to interest you. Proof of this is the variety of themes in London's best museums.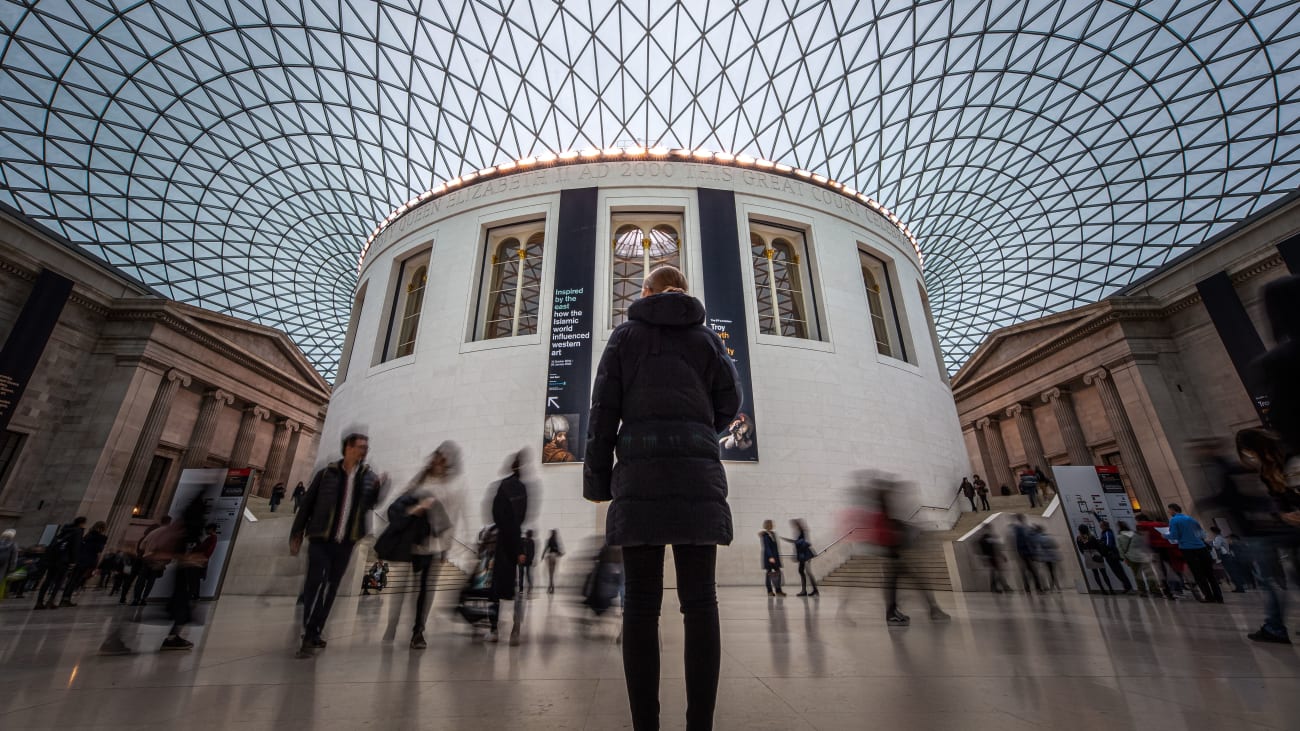 Visiting London 's best museums should always be on your list of things to see and do in London. Given the breadth of what's on offer, no one will be able to say they haven't found one that interests them, including those travelling with children.
The British capital offers visitors everything from historical museums with artefacts from around the world to museums dedicated to fictional characters such as the famous Sherlock Holmes. Those who prefer the natural sciences, the history of warfare or modern art, among other disciplines, will also enjoy museums dedicated to these subjects.
1. British Museum
If there's one must-see when travelling to London, it's the British Museum. Not surprisingly, statistics claim that it is the most visited tourist attraction in the whole city.
This museum was inaugurated in 1753 and today, it houses more than eight million objects exhibited in 94 different galleries. Its collection covers the entire history of mankind and all its cultures: Ancient Egypt and Sudan; the Middle East; Ancient Greece and Rome; Britain, Europe and Prehistory; Asia; Africa, Oceania and the Americas and the collection of prints and drawings.
Although it is estimated that only about 1% of all the material is on display in its rooms, when you visit you will realise that it is practically impossible to see it all. Unless you want to visit for several days in a row, my advice is to select in advance what you want to see depending on your interests.
Information and tips for the visit:
Audio guide: in order to enjoy the visit in a more complete way, it is essential to rent an audio guide. With it you will receive information in Spanish on more than 260 objects housed in 61 different galleries.
British Museum opening hours: it opens its doors every day at 10am and closes at 5pm. Last admission is at 15:30. On the other hand, some rooms remain open on Fridays until 20:30.
Admission to the British Museum: The museum does not charge admission to visitors.
Address and directions: The museum is on Great Russell Street. The best way to get there is the London Underground, with several stops (Tottenham Court Road and Holborn) just 50 metres away. Alternatively, bus routes 1, 7, 8, 8, 19, 25, 25, 38, 55, 98 and 242 stop on New Oxford Street, as well as bus routes 10, 14, 24, 29, 73 and 390 on Tottenham Court Road.
Private guided tour
An ideal way to get an in-depth look at the British Museum is to opt for a private guided tour. On this two-and-a-half hour tour, you'll learn all you need to know about ancient civilisations, see numerous prehistoric and medieval antiquities and understand how Egyptian hieroglyphs could have been translated.
A collection of 6,000 years of history in which the Katebet Mummy, Lewis Chessmen and the Rosetta Stone stand out. Without a doubt, it is the best and most complete option to discover one of the most important and visited museums in the world.
2. The National Gallery
If you prefer paintings, the National Gallery is the best place to see works by some of history's greatest painters. This art gallery, located in the central Trafalgar Square, is smaller than other famous galleries such as the Louvre, but its collection will leave no one indifferent.
The origins of this museum lie in the purchase by the British government of a private collection of just 38 paintings, including works by Rembrandt, Titian and Rubens. After the acquisition, which took place in 1824, the government undertook the construction of a building to house them with the intention of increasing their number.
The museum opened in 1838 in a neoclassical building on the north side of Trafalgar Square.
Today, the National Gallery houses paintings by European artists from 1250 onwards. More than 2,300 paintings make up its permanent collection, including works by Velázquez, Van Gogh, Titian and Rembrand.
Information and tips for your visit:
Audioguide: although they have to be paid for, they are an essential resource for enjoying the museum.
Opening hours: The National Gallery is open from Saturday to Thursday between 10am and 6pm. On Fridays, opening hours are extended until 21:00.
Tickets to the National Gallery: Admission to the permanent exhibition is free. Temporary exhibitions are payable, but each has a different price. In addition to the general guided tour, there are also exclusive guided tours for children.
Address and directions: To get there you can use Charing Cross, Embankment, Piccadilly Circus and Leicester Square underground stations, as well as bus lines 3, 6, 9, 12, 13, 15, 23, 24, 24, 29, 53, 87, 88, 91, 139, 159, 176 and 453.
3. Madame Tussauds
If I have to be honest, most wax museums around the world offer more disappointment than joy. The exception can certainly be Madame Tussauds in London, where you can see several hundred figures representing historical, fictional or famous characters with great realism, as you can see in this article about the main wax figures at Madame Tussauds.
The museum opened its doors in 1835, when the sculptor Madame Tussauds inaugurated her first exhibition of wax figures. At the time, admission was only 6 pence, but its success meant that the exhibition had to find a new venue and prices were increased.
Today, the museum is one of the least expensive in the city, but it is also one of the most visited. As this is a must-see, I recommend that you buy your tickets for Madame Tussaud's well in advance and try to arrive early in the morning or at lunchtime. Note that there are also combined tickets for the London Eye and Madame Tussauds which can save you money on your trip to the English capital.
Information and tips for your visit:
Opening times: daily between 9am-10am and 4pm-6pm (times vary depending on dates).
Tickets: Admission for adults costs around £35, while children between the ages of 3 and 15 pay around £30. For children under the age of 3, admission is free.
Address and directions: Madame Tussauds is located on Marylebone Road, on the corner of Allsop Place. The nearest tube stop is Baker Street and you can get there on the Jubilee, Bakerloo, Metropolitan, Hammersmith and City and Circle lines.
4. Natural History Museum
Opened in 1880, London' s Natural History Museum was originally intended to house skeletons, plants and fossils that had previously been housed in the British Museum. The collection grew over the next few years and in 1986 it absorbed the nearby Geological Museum. One of the most spectacular museums in London is the Natural History Museum.
More than 5 million visitors come every year to see all the exhibits, although its main attraction is certainly the dinosaur fossils and stuffed specimens of species that are now extinct. At the very least, you should calculate that the visit will take you about 2 or 3 hours, although it can easily take much longer.
If you go with children, bear in mind that the room most visited by them is the dinosaur room. In one of them there is an impressive life-size reconstruction of a T-Rex with movement and sound. In addition, the whole tour is punctuated with games for the little ones to enjoy the visit.
Information and tips for the visit:
Audio guide: This museum does not have an audio guide.
Opening hours: Every day from 10:00 to 17:30, with the exception of 24 to 26 December, when it is closed.
Tickets for the Natural History Museum: Free admission for the general public.
Address and directions: The museum is located on Cromwell Road in Kensington. You can get there on the District, Circle and Piccadilly underground lines, which stop at South Kensington station. By bus you can choose from 14, 49, 70, 74, 345, 360, 414, 430 and C1.
5. Victoria and Albert Museum
The Victoria and Albert Museum, better known by the acronym, **V&**A, is perfect for all design and art lovers. Its permanent collection houses almost 2.5 million objects created by humans over the last 5,000 years.
This great display of human creativity is represented by fashion, textiles, jewellery, sculpture, architecture, furniture, ceramics, glass and books, among other subjects. The collection is currently divided into five categories to facilitate the visit: Asia, Europe, materials and techniques, modern objects and exhibitions.
The sheer size of this museum makes it impossible to see it in a single day. For this reason, I advise you to get a map of the museum and focus on the parts that are of most interest to you.
Information and tips for your visit:
Audio guide: This museum does not have an audio guide.
Opening hours: The museum is open daily (with the exception of 24, 25 and 26 December) between 10:00 and 17:45. On Fridays the opening hours are extended to 22:00.
Admission: Like other major museums in the city, the V&A is free, although some exhibitions are fee-paying.
Address and directions: The V&A is located on Cromwell Road in Kensington. The Circle Line, District Line or Piccadilly Line underground lines to South Kensington are the easiest way to get there.
6. Tate Britain
Although less well known than other London museums, art lovers should not miss a visit to Tate Britain. This gallery houses the largest collection of British art and is part of the Tate network in Britain.
Founded in 1897, its rooms contain examples of over 500 years of British art. The collection is divided into three sections:
Historical art: works from the period from 1500 to 1900 can be seen. Among the best known works are those by William Blake.
Modern British Art: this section houses works produced between 1900 and 1960, including works by Henry Moore and Stanley Spencer.
Contemporary British Art: works produced from 1960 onwards can be seen. Some of the artists represented are Francis Bacon, Peter Blake and Damien Hirst.
Information and tips for your visit:
Opening hours: every day from 10:00 to 18:00 (except 24, 25 and 26 December).
Tickets: Although some exhibitions are pay-per-view, general admission is free.
Address and directions: located in Millbank, Westminster SW1P. The most pleasant way to get there is by the Tate Boat, which runs from Tate Modern to Tate Britain and leaves every 40 minutes. Alternatively, you can also take the underground to Pimlico, Vauxhall (Victoria line) or Westminster (Jubilee, District and Circle lines).
7. Imperial War Museum
Although not your typical art museum, the Imperial War Museum is one of the most impressive visits in London for history buffs. The building houses some 800,000 objects relating to the history of modern warfare.
This military museum opened its doors in 1920, after the end of World War I. After being housed in two different locations, the Imperial War Museum is now the largest museum in London. After being located in two different sites, it moved to its current location in the Southwark district in 1936.
Despite its military character, the museum is focused on showing the ravages of war among the population. Inside you can see more than 15,000 paintings, posters and drawings, some 30,000 sculptures and a large number of uniforms, medals and even a warship and a fighter plane. Other sections of the museum include the Holocaust and the Gulf War. There is also a World War II Operation Jericho flight simulator.
Information and tips for your visit:
Audio guide: the museum offers a paid audio guide to enhance the visit.
Opening hours: daily 10am-6pm (last admission 5.30pm). Closed 24-26 December.
Admission: Although some exhibitions are fee-paying, general admission is free.
Address and directions: The Imperial War Museum is located on Lambeth Road, the same name as the nearest tube stop. Waterloo and Southwark are also within easy reach.
8. Tate Modern
If you're in London and you're a fan of modern art, you're in luck. The Tate Modern has been an absolute must-see since it opened in 2000. Not only does it contain an impressive collection, but the building itself (the former Bankside power station) is worth a visit.
Its permanent collection is considered to be one of the most complete in the world in this type of art. The works include some of the most important artists of the last century, from Andy Warhol to Edvard Munch, as well as Salvador Dalí and Pablo Picasso.
Information and tips for your visit:
Audio guide: you can hire an audio guide for a fee, although if you have the London Pass it is free.
Opening hours: Sunday to Thursday from 10am to 6pm. Fridays and Saturdays, meanwhile, the closing time is delayed until 10pm.
Tickets: Although some exhibitions have to be paid for, general admission is free.
Address and directions: It is located on Bankside, very close to Shakespeare's Globe Theatre. The nearest tube stop is Southwark (Jubilee Line). Finally, you can take the Tate Boat, a boat that connects this museum with the Tate Britain every 40 minutes.
Joaquín's Traveller Tip

don't leave the museum without going up to the tenth floor, where there is an observation deck. The views of London from there are truly breathtaking.
9. Sir John Sonae's Museum
Like all cities, there are secret corners of London that few tourists know about. One of them could well be this museum, housed in the house of Sir John Soane, a 19th century architect. Its interior is a veritable time capsule containing the legacy of one of the most important collectors of his time.
Soane accumulated during his lifetime a large number of antiques of all kinds, paintings by artists such as Turner and Canaletto, furniture and sculptures.
One of the rooms not to be missed is the impressive burial chamber with the alabaster sarcophagus of the Egyptian Pharaoh Seti.
Information and tips for your visit:
Audio guide: the Bloomberg Connects app offers a multimedia tour with which you will have information about what you are seeing.
Opening hours:Open Tuesday to Saturday from 10am to 5pm. Closed on Sundays, Mondays and public holidays.
Tickets: Admission is free.
Address and directions: the museum is located at 13 Lincoln's Inn Fields. You can get there on the Central and Piccadilly Underground lines. The nearest stop is Holborn
10. Sherlock Holmes Museum
The Sherlock Holmes books, created by Sir Arthur Conan Doyle, are, according to the experts, the most made into films in history. It is no wonder that there is no one who does not know the character and that his fans number in the millions. If you are one of them, you can't miss a visit to the museum dedicated to the famous detective.
If you have read some of his stories, you won't be surprised to know that the museum is located at 221B Baker Street, the place where Conan Doyle located Sherlock Holmes' home between 1881 and 1904. In each of its rooms you will be able to immerse yourself in the spirit of the character and get a good idea of his life and the stories he starred in. In addition to objects related to the cases the detective solved, the house also offers a good display of furniture and other items typical of the Victorian era.
At the door of this Georgian-style house you will be greeted by a London Bobby dressed in his traditional uniform. All the guides in each room are also dressed in costumes from the period in which the books are set.
Information and tips for the visit:
Audio guide: there is no audio guide, but a small guidebook written in several languages is handed out at the entrance.
Opening hours: Every day from 9.30am to 6pm.
Admission: Adults pay around £15, while the price for children is around £10.
Direction and directions: The best option is the Bakerloo, Circle, Jubilee, Metropolitan or Hammersmith & City underground lines, stopping at Baker Street itself. Baker Street is also on the route of some of London's tourist buses.
Other visits that may interest you
Although it is not a museum as such, there is another art centre that you can visit and that is really interesting for a cultural getaway to London. I'm talking about the Old Royal Naval College in London, an architectural complex considered a World Heritage Site located on the banks of the Thames in Greenwich.
It is a complex of two buildings with more than 500 years of history that has two great domes, the work of the masters Sir Christopher Wren and Nicholas Hawkswoor. Inside, it houses the Painted Hall, a real artistic gem and one of the most visited places by art lovers. You can book tickets for the Painted Hall at the Old Royal Naval College to discover what has been called the "Sistine Chapel of London".
London's offer is endless, so I leave you with a post of things to see and do in London so you can plan your trip 100%.