Phuket Airport Transfers
After a long journey, you'll probably want to get straight to rest. A transfer to or from the airport offers you comfort, peace of mind and security.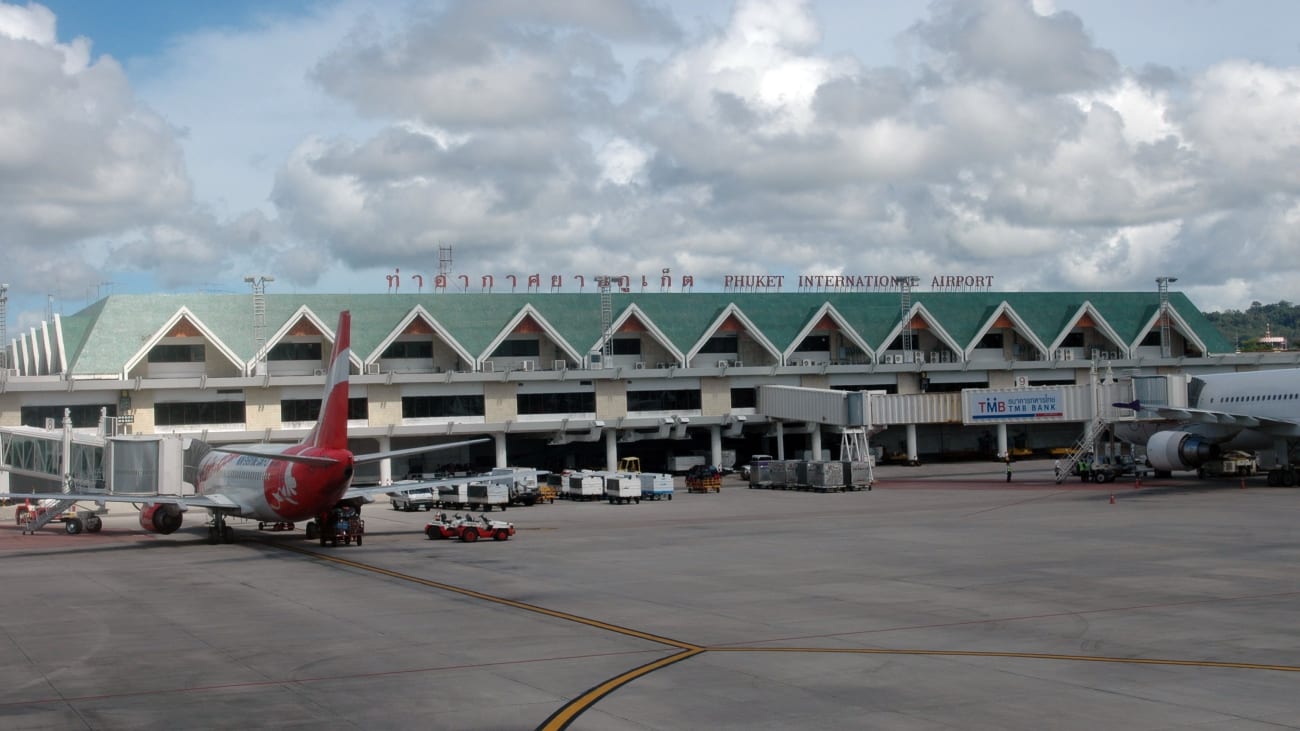 There is only one airport in Phuket Town, known as Phuket International Airport. It's usually bustling, welcoming hundreds of tourists attracted by the island's tropical offerings.
If you're travelling at night, it's important to secure airport transfers. The island is fairly safe, but some areas can be dangerous at night. So, to make the most of the best things to do in Phuket, make sure you plan every detail of your trip.
1. Private transfer to/from Phuket airport, the fastest and most detour-free option
When travelling to an unfamiliar city, it is important to secure your transfer. Airports are often far from the city centre, and HKT is no exception. It is located thirty minutes from the heart of the island, so it is essential to keep the most accessible methods of transport in mind.
This type of transfer usually offers a clean, private vehicle, which may be air-conditioned. It's a more comfortable option and the main advantage is that you won't have to wait for other travellers, as there are no stops or detours.
It's worth it, as comfort should be a priority when travelling. In addition, family trips require comfortable transfers, as children tend to get tired more easily. It is ideal if you can plan activities to do in Phuket with children during your stay.
How does it work?
You can choose a return trip, or just one way. When you arrive at the airport, you will probably be exhausted from your flight. You will be comforted to find an expert driver waiting for you.
This saves you the headache of searching for taxi drivers in the area. It is also safer, as taking a random taxi in an unfamiliar city is a risk.
Arrival option: a person will be waiting for you in the arrival hall of Phuket International Airport, you will be able to recognise him/her because he/she will be holding a sign with your name on it. He will then guide you to the driver, who will wait for you at the terminal.
Departure option: When it is time to return home, the driver will be waiting for you in the hotel lobby at the scheduled time. Remember to schedule the pick-up time with your driver, so that you arrive at the airport in advance.
In addition, each traveller is allowed one suitcase, extra or oversized luggage must be notified.
Details of interest
Journeytime: approximately thirty minutes, depending on traffic.
Price: from €20 per group trip. If you decide to book the pick-up and return transfer, the final price is around €40.
Advantages of using this method: Child seats are available.
How to book this transport: it is advisable to book online in advance. Please note that you must provide information about your flight number, arrival time and hotel address.
Recommended if... you are travelling as a family or in a group.
2. Shared transfer, a convenient and economical option
A shared transfer between Phuket and the airport is the most economical and recommended option if you are travelling alone. However, it will take more time, which can be tiring.
Don't be discouraged! A group transfer can have many advantages, especially if it is your first time in Phuket. You will usually be able to tour the airport with a driver guide, who will provide you with basic information and contact details in case of emergency.
If you are planning to visit Phuket for 5 days, I recommend that you leave the planning of transfers between Phuket and the airport in the hands of professionals. This way, you will have a stress-free and hassle-free trip.
Additionally, booking your airport transfer to Phuket in advance is the best way to travel in comfort. It allows you to save time and money while enjoying the best views of the city from a fully equipped transfer.
Regardless of whether it is a shared or private transfer, it will always be an option with more advantages than finding a taxi on your own. If you want to plan things to do in Phuket in December, I recommend getting a head start on this process. During the Christmas season, the airport tends to be busier for tourists.
How does it work?
You will meet a driver at the departure gate, who will take your luggage to a minibus, minicar or air-conditioned car. Please note that you will be sharing this experience with a maximum of six people. In addition, during the tour you may have to wait around three stops to pick up or drop off passengers.
There may be delays due to immigration or customs procedures, so it is important that you keep in touch with your driver. For the same reason, you may have to wait for other passengers, the maximum waiting time is one hour.
When you return home, a driver will pick you up and wait for you in the hotel lobby. It is ideal for family groups of up to fifteen people. There is an extra charge for excess luggage.
If you are travelling alone, you can share the transfer with other travellers and save a few euros.
Interesting details
Duration of the trip: approximately two hours.
Price: from €15 per person.
Advantages of using this method: you will have local support and 24-hour service.
How to book this transport: you can book online by submitting your flight details.
Recommended if... you want to spend an unforgettable holiday in Phuket without worrying about anything.
How to book a transfer?
To enjoy some of the best tours in Phuket, I recommend you to book your transfers in advance. This way, you will arrive at your hotel and have enough time to rest.
After making the payment, you will receive a confirmation email with all the details and steps to follow. The most important thing is to send your flight details.
In case you do not provide the required information, your reservation may be cancelled without refund. These details are essential for the driver to know your itinerary in real time.
How to book step by step
Step 1: Book online in advance.
Step 2: Receive a booking confirmation, along with pick-up information indicating where and how you will meet the driver.
Step 3: send your flight details, so that the driver can pick you up at the stipulated times.
What do you need to know about shared transfers to Phuket city centre?
Each passenger is allowed one suitcase and one carry-on bag, so it is important to respect the baggage allowance. If you are planning to visit Phuket in 7 days, you can opt for magic suitcases to help you maximise space.
The reason for asking for flight details is so that the driver can be aware of landing delays.
Generally, shared transfers make a maximum of three stops.
Some transfers do not go to certain areas of Phuket, please check at the time of booking.
Advantages of a private transfer over a shared transfer
If you are travelling in a group or family, it is more economical to book your private airport transfer. In a shared minicab, you will have to pay the price per person. The private option, on the other hand, offers a flat-rate price.
The driver will wait only for you or your group, offering a direct transfer to your hotel. It's a journey with no waiting and no delays.
You won't have to share luggage space with other travellers, so you can carry your bags comfortably. The driver will tell you the luggage capacity limit.
With no time restrictions, shared transfers and public transport generally run until midnight. Private transfers, on the other hand, offer a customisable experience.
In addition, by booking a transfer you will avoid the metro queues and the hustle and bustle of finding a taxi on your own.
What happens if my flight is delayed?
If your transfer is private, the driver will have your flight itinerary on hand to track your location. This way, he will know the exact time you arrive at the airport and will be able to wait for you. In the case of shared transfers, there are other travellers, so the driver will wait for up to an hour. Generally, in case you miss your transfer, there is a 24-hour customer service system that can offer you other options.
In case other travellers are delayed, you should wait the suggested time. The driver will probably provide you with relevant information or show you places to go for formalities, currency exchange or places to eat. You may also receive an itinerary with some of the best things to do in Phuket.
Are the prices final?
Generally, prices offered by certified travel agencies offer a fixed amount at the time of booking. In other words, you will not have any hidden extra charges and the price will not change due to kilometres or traffic. In any case, when you purchase the service you will be informed if you have to pay a tipping fee or extra luggage charge.
Other options for getting between Phuket Town and Phuket Airport
Bus
The Phuket bus is a great option, especially if you're on a budget or want to venture out and see the city. There is an hourly bus service from the airport to the city centre and back.
This means of transport makes several stops at hotels and central locations, and the route takes about an hour. In addition, night buses run until 10 p.m. The cost of the trip is approximately per person. The approximate price of the trip per person is 3 €.
Taxi
In case you have forgotten to book your transfer, you can opt for a taxi. However, be aware that this is the most expensive option. Each trip can cost as little as 25 €, usually this fare does not include tolls.
I do not recommend leaving the airport and taking a taxi at random, it is preferable to opt for the authorised lines. Some of the taxi lines that connect Phuket with the airport are:
Phuket Taxi Meter 24 Hours: this is a 24-hour service, so it is ideal if you arrive on the island in the early hours of the morning.
Phuket Taxi Meter: they offer personalised service via WhatsApp around the clock, their taxis have a maximum capacity of three people and the minimum fare is approximately €15, but can vary depending on the destination.
Grab Taxi: Grab Taxi is a company that transports you by taxi, coach or private car. They also do the market for you and offer a delivery system.
Car hire
If you plan to visit Phuket for 7 days, I recommend renting a car on the island. For longer stays, it is a more cost-effective option. You can travel comfortably with your family or friends, while exploring at your own pace.
Pure Car Rent: is a company that has been operating in Phuket since 1974, so it is reliable. You can rent cars and motorbikes, the rental cost starts from €40.
Drive Car Rental works from early morning until midnight, they offer promotions on family cars.
Town Car or Tuk-Tuk
A Tuk-Tuk is a means of urban transport, which offers public and private transfers. Some of Phuket's best tours take you around the island in this vehicle. But that's not all, the more adventurous tourists choose to take the transfers between the airport and the centre in this particular car.
The Tuk-Tuk of Phuket are very different from those of Bangkok. They are not motorbikes, but very comfortable cars, with room for up to five people and their luggage. Prices start at €25 per person, but there are transfers that charge the same rate per group.
Useful tips for your arrival at Phuket Airport
Keep track of time: if you are connecting at the airport, or if you have a return trip, I do not recommend arriving on time. You run the risk of missing your flight, as it is the third busiest airport in Thailand, with very high demand.
Locate the terminal: at Phuket airport, you're unlikely to get lost. Terminal 1 handles international flights, while Terminal 2 is for domestic flights. There is also Terminal 3 for charter flights - don't worry, they are all within easy reach.
Plan your trip: if you plan to visit Phuket in 3 days, organise an itinerary and make sure you take into account the arrival and departure times of your flights.
Avoid peak season: If you're not a fan of busy airports, I recommend you avoid travelling between December and April. Instead, you can take advantage of things to do in Phuket in January, as it's a month with less tourism.
Sign up for the airport and airlinenewsletters - they often have newsletters with special offers and information on delays.
Be prepared for rush hour: if your landing coincides with the busiest times, be prepared for queues at check-in areas and security checkpoints.
Respect traditions: from the moment you set foot in the airport, you'll need to adapt to Thai culture for a warm welcome. Thais don't like you to sit with your feet pointing at people or monuments, as it is considered rude. They also consider whistling at night to be a bad omen.
Services Available at Phuket International Airport
WiFi: While you are waiting for your transfer or connection, you will have free WiFi at your disposal. This way, you can call the driver or the owner of the accommodation.
VIP lounges: travellers with first class tickets can access a more comfortable lounge while waiting for their transfer or connection.
Round-the-clock service: the airport receives passengers at different times, so if your trip arrives in Phuket at night, I recommend hiring a private transfer.
Parking: You can take advantage of free parking for fifteen minutes.
Escort service: children between the ages of eight and eleven travelling alone can receive special assistance, if notified in advance.
Wheelchair lifts: the airport is equipped with toilets, telephones and lifts for disabled people.