8 Tips for Whale Watching with Kids in Tenerife
Travelling with the family to Tenerife is a great plan, but every trip with children has its trick. Check out these tips to make your whale watching trip a success.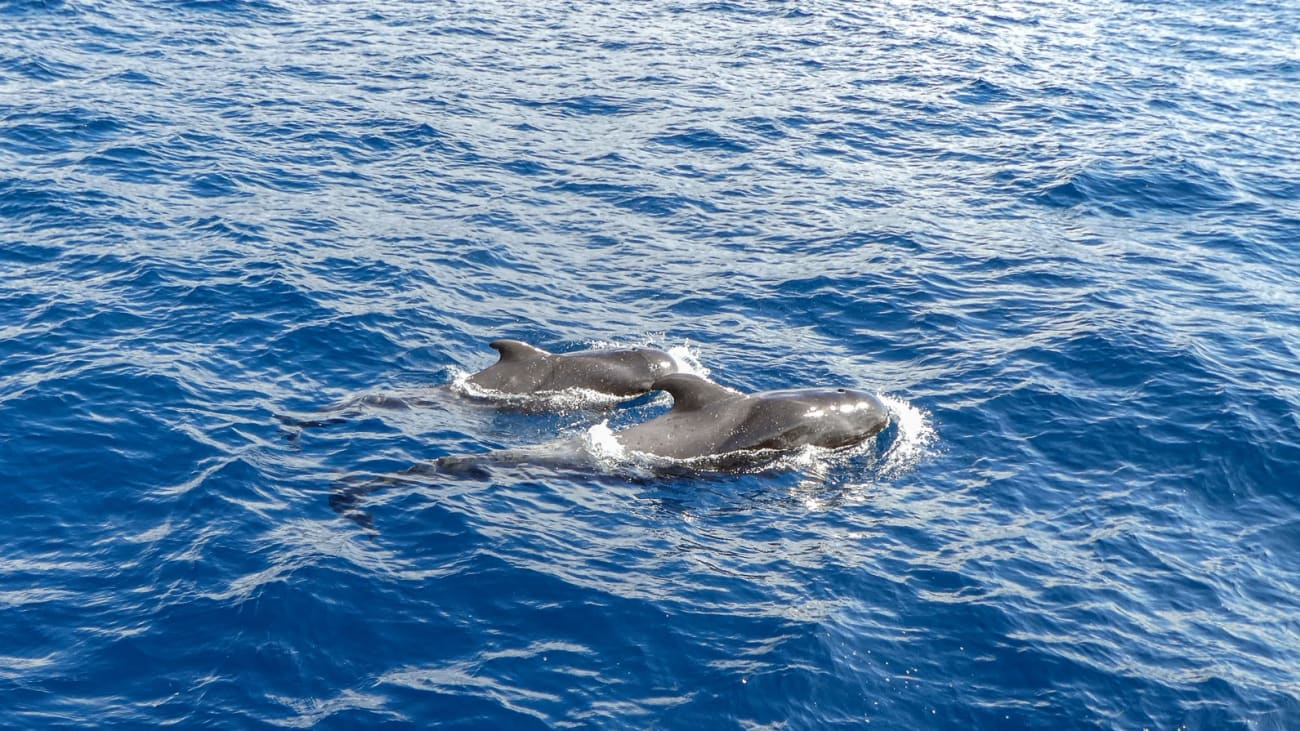 If you're travelling to Tenerife with children, one of the coolest activities you can do for family fun is a whale and dolphin watching tour. It will be a unique opportunity for the kids to get close to nature and see marine animals in their own habitat. They will also have a great time riding on a boat and sailing the sea.
But, like all excursions with children, this one also has its trick. To make sure everything goes smoothly on the day of the tour, take note of these little tips.
1. Tell them a little bit about what they will see on the excursion
Children are very curious and love to ask questions. This occasion will be no exception. If you decide to go on a whale watching cruise with your family, I recommend that you prepare a little for the visit so that you can give them a better idea of what they will see. Especially if they have never seen such creatures before.
In addition, going over the fauna you will see during the excursion before setting off will also help you to get to know them and identify them better on the water. That way the kids' questions won't catch you off guard!
In Tenerife there are resident populations of bottlenose dolphins and pilot whales, but many other species also migrate to the island from time to time. In the post "What types of cetaceans can I see in Tenerife?" you will find more information about the marine creatures that you can observe during a boat trip in the waters of the island. Don't miss it!
2. Take the opportunity to teach them about the importance of caring for the oceans
Whale and dolphin watching tours in Tenerife are activities that also have a very interesting educational side for children. With this type of excursion, children will discover the importance of caring for the oceans, which are home to many species and produce a large part of the oxygen that we humans breathe.
It is always a good idea to instil good values in them from an early age, and if this is done while they are having fun, all the better! Moreover, as during the boat trip you will be accompanied by guides or marine biologists, this can be a good opportunity to awaken their curiosity about the environment and get them to ask them any questions they may have.
3. Better to sail in the morning
Kids always wake up full of energy in the morning, so if you are thinking about the best time to go whale watching with them, my advice is to get up early and go early. The children will be more awake for the excursion and will pay more attention to the marine animals they see on the route.
Also, if your holidays in Tenerife coincide with the summer, you should bear in mind that the island is quite hot at that time of the year. So I recommend that you set sail early in the morning when it's still cool, and then you'll have the rest of the day to do other activities together!
4. Protect them from the sun and the cold on the boat
During the summer the sun shines brightly on the island and temperatures rise quite high, so the heat can be sweltering at certain times of the day. As this activity takes place completely outdoors for several hours, I advise the whole family to be well prepared and protect themselves from the heat by wearing light clothing, a hat, sunglasses and applying sunscreen to their skin*.
The rest of the year temperatures are usually mild in Tenerife but if the day of the excursion is cool or rainy, it's best to pack the kids some waterproof warm clothes.
In the post "Best time for whale watching in Tenerife" I tell you about the weather on the island in the different seasons so you can take it into account when planning your trip and packing your children's suitcase.
5. Pack some snacks in your backpack
It's also important for children to stay well hydrated, so don't forget to pack a fresh bottle of water in your backpack. And as they can get hungry at any time, it's always a good idea to pack a snack to kill the munchies and distract them for a while during the journey to avoid a tantrum on the boat.
However, some of the whale watching cruises in Tenerife include lunch during the excursion (sandwiches, sandwiches, soft drinks, water, snacks...), which is fantastic because it will allow you to better organise the kids' meals and you won't have to look for a free table in a restaurant near the port after the tour at the last minute.
On the other hand, kids are usually very generous when it comes to sharing their food with the animals, but on this type of excursion you are not allowed to throw food to the cetaceans from the boat.
Why not feed the whales?
Firstly, because getting close to the side of the boat is a serious danger for the children- they could fall into the water, so don't let them out of your sight for a second!
Secondly, because whales and dolphins don't eat children's favourite snacks (chocolate bars, snacks, sweets...) but mainly fish and squid. They don't have a sweet tooth!
And last but not least, because they are wild animals whose behaviour is unpredictable. During the excursion you should not do anything to disturb them, but simply observe them from a distance. In this way you will avoid any unpleasant encounters with these sea creatures.
6. Go to the toilet before the tour starts
Children are often surprised by the call of nature at the most unexpected moment. Depending on the size and type of boat on which you are going to go on the sea trip, it may or may not have toilets.
In order not to risk being in a hurry during the whole activity, in the event that there are no toilets on board the boat, it is advisable that before embarking you make a brief visit to the toilets.
7. Book it in advance so that they don't set sail without you
My advice is to book your place on a whale watching boat in Tenerife online in advance, as it is a very popular activity on the island. Otherwise, you may be left at the port without boarding on the day you had booked on your holiday to do this plan.
Children love animals and riding on a boat will be a very exciting adventure that they will always remember, so it would be a huge disappointment for them if the tickets are sold out. Don't you think?
Also, by buying your tickets online to see whales on a boat in Tenerife you will be able to compare prices, timetables, availability of tours, types of route and duration, among other things, which will make it easier for you to choose the one that best suits your family.
Which cruise to choose depending on the age of the kids?
If the children are young: so that they don't get too tired, you might want a short boat trip of about 2 hours rather than a longer one, where you go to the point to see cetaceans so that the children can be amazed by the animals.
If the children are older: they will surely love to spend as much time as possible on the high seas sailing like real sailors. I recommend a longer excursion of about 3 hours with a snorkelling stop to surprise them and to let them take a dip in the water. It will be an experience they won't forget!
Before getting your tickets I recommend you to read the article "Whale and dolphin watching in Tenerife" where you will find proposals that will help you to choose the best excursion for you.
8. Take advantage of reduced prices for children
When travelling as a family, an important factor in calculating the budget for activities during a trip is the price of excursions. When it comes to children's tickets, there are usually very interesting reduced rates that compensate and you can take advantage to save some money.
For example, when you go to book your tickets for a whale watching cruise in Tenerife, in Hellotickets you will have the option to choose the age of the children, so that the reduced price you will have to pay for each of them will be calculated automatically. It's that easy!