10 Reasons to do Whale Watching in Tenerife
Whales have a reputation for being fierce animals, but seeing them in the wild is magical - check out these 5 reasons why whale watching in Tenerife is worthwhile!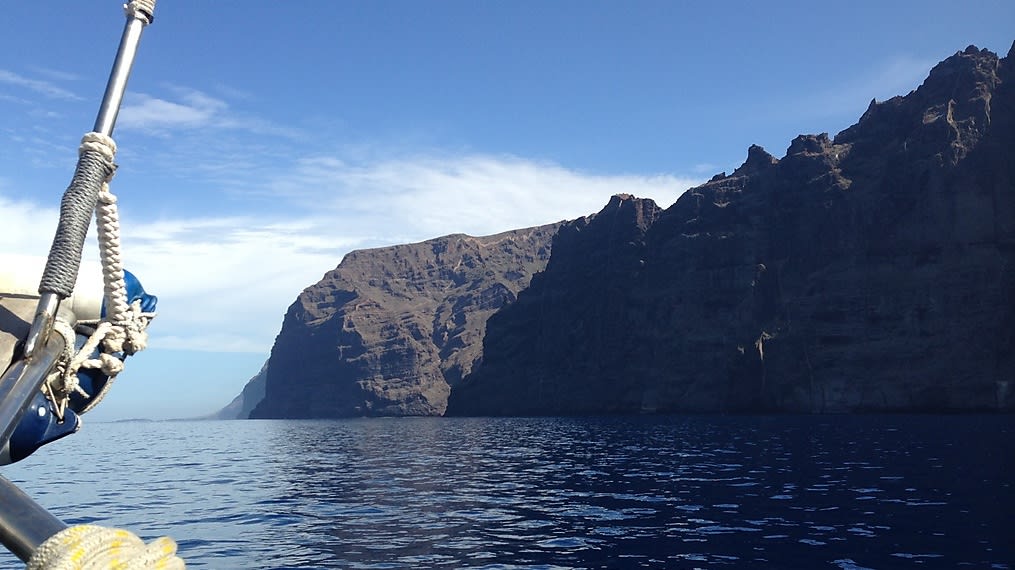 Would you like to live a unique experience in the Atlantic during your trip to Tenerife? Everyone who has had the opportunity to go whale watching in the ocean says it is an amazing and unforgettable experience. Join a whale watching cruise in Tenerife and find out for yourself!
1. Tenerife is home to Europe's first whale sanctuary
The World Cetacean Alliance established Europe's first marine sanctuary for whales in Tenerife, where they enjoy the highest environmental protection (the third on the planet after The Bluff in South Africa and Hervey Bay in Australia).
The waters around Tenerife are a world reference for seeing dolphins and migratory whales, especially at certain times of the year such as spring and winter. It is therefore relatively easy to observe them in their environment and in particular in the south of the island, in the area that separates La Gomera from Tenerife. More than enough reasons to take a whale-watching cruise on this Canary Island.
So don't think twice and if seeing marine animals in the wild has always been one of your dreams, I recommend you read the post Whale and dolphin watching in Tenerife where you will find several ideas to make it come true. It will be an unforgettable memory!
2. You will see whales in the wild and in freedom
The fascinating thing about these whale watching cruises in Tenerife is that unlike zoo aquariums, you will see wild dolphins and whales living in total freedom.
It's not the typical organised show where the whales and dolphins jump around and do funny things for the public to have fun following the instructions of the keepers, but the beauty and authenticity of this experience is that you will set sail on a boat to meet them offshore and see them in their own habitat behaving as these creatures normally do in their day to day lives.
Even if you're not a big fan of going on excursions to see the local wildlife during your getaways, I'm sure that this Tenerife whale watching excursion in the Atlantic combined with the beautiful scenery you'll find along the way is exciting enough to make it one of your best travel memories.
3. It is a fun and educational experience
This type of activity promises to give you a sensational time and is also a unique opportunity to dispel old myths about cetaceans, such as for example that they are fierce and merciless animals. This is an educational activity where you will be able to see several wild whales and dolphins like never before.
At all times you will be accompanied by a guide or marine biologists who will teach you all about their fascinating behaviour and lifestyle and you can even use a hydrophone to listen to them communicate. It's amazing!
Everyone will be amazed but I'm sure it will be the children who will be the most amazed by the experience. I would like to take this opportunity to suggest that if you go whale watching with the kids don't miss the post Tips for whale and dolphin watching with children in Tenerife.
What will you discover about cetaceans?
During the whale watching cruise, you will learn many things you may not have known about these amazing sea creatures. To whet your appetite for what awaits you during the excursion, here are a few surprising tidbits:
In Tenerife there are resident populations of pilot whales and bottlenose dolphins, as well as other migrant species.

After the blue whale, the size of the fin whale makes it the second largest whale on the planet.

One of the fastest cetaceans is the common dolphin, swimming at almost 45 km/hour!

Rough-toothed dolphins often come out to breathe in a synchronised group.

Pilot whales are excellent divers and it is easy to see them resting in the water during the day.

In Europe, the largest breeding area for bottlenose dolphins is southwest of Tenerife.
What about the bottom of the Tenerife sea?
A whale watching cruise in Tenerife is also a great opportunity to enjoy the landscapes of the island, sunbathe on deck and do some snorkelling to discover the underwater treasures it holds. There is so much to see underwater: turtles, manta rays, fish... and so much more!
So if you have a little more free time, I recommend you invest it in one of these excursions with a more recreational side because you'll have twice as much fun and it's well worth it.
4. See beautiful land and sea scenery
To see cetaceans in the wild in Tenerife you have to take a boat trip, which is a fantastic opportunity to go out into the Atlantic and connect with nature, seeing the beautiful marine landscape as if you were just another creature in the ocean. The silence, broken only by the waves, conveys a sense of calm that is difficult to describe in words. You have to experience it!
Most of the whale watching cruises in Tenerife set sail from the Port of Los Cristianos, Puerto Colón or from the Los Gigantes Marina, but if in addition to watching the wildlife you want to enjoy beautiful views of the island, I advise you to choose a cruise that departs from Los Gigantes, as you will have a much better chance of seeing these sea creatures and stunning views of the cliffs from the water during the route.
One of Tenerife's most popular tourist attractions, the cliffs of Los Gigantes are over 600 metres high at some points - a natural gem worth seeing!
5. You will get some spectacular pictures
If you like photography and nature, a whale watching cruise on the island is a fantastic idea to combine both passions, to spend a different day and to get some spectacular photographs, both of the Tenerife coast and of the impressive fauna that inhabits the Atlantic.
Whale and dolphin watching boat trips set sail several times during the day, so whatever time you set sail you'll have the same chances of spotting these marine creatures. However, if you want to get a good report of your Tenerife getaway, for the best result I recommend using the morning light to make the photos clearer.
And if you choose to take advantage of the excursion to do a bit of snorkelling, don't forget to use a waterproof case on your mobile phone to take some great underwater photos of the fish, turtles or manta rays swimming around you.