What Kind of Whales You Can See in Tenerife
Do you want to know what species of cetaceans you can see if you go on a cruise in the waters of Tenerife? Read on!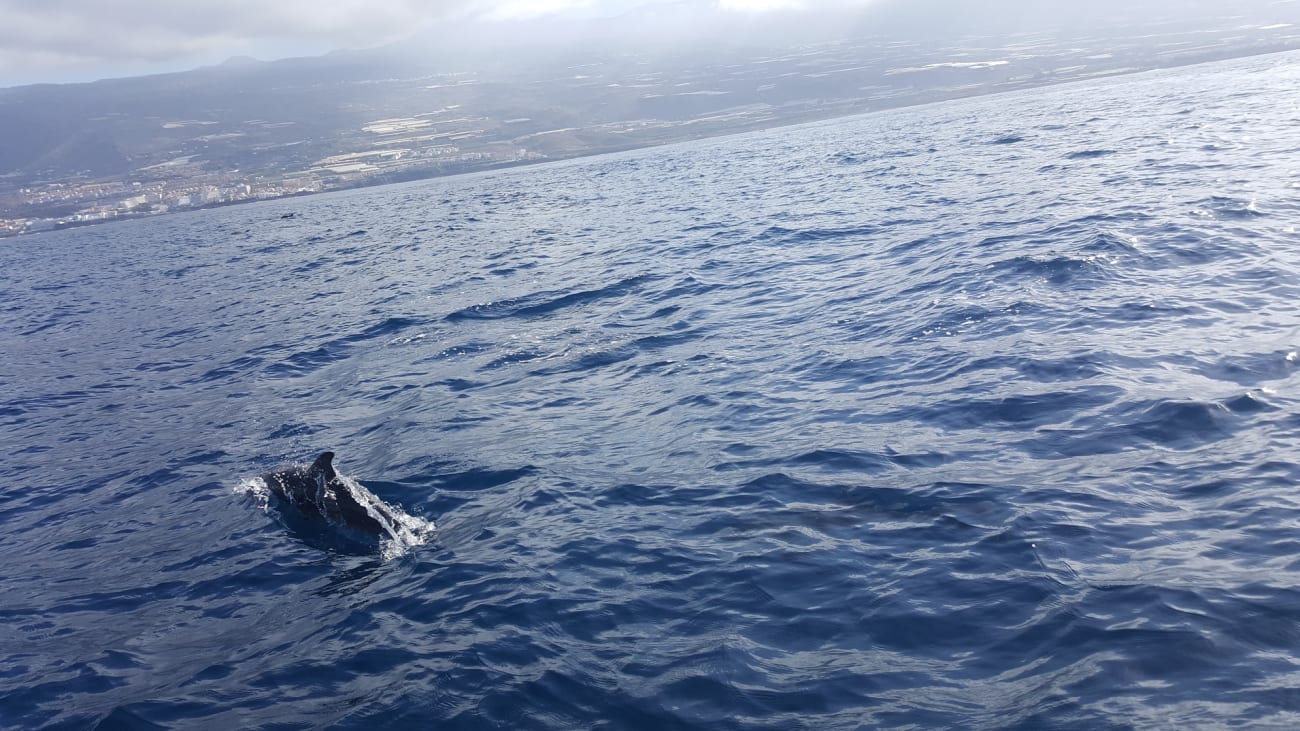 Thanks to the mild climate that the Canary Islands enjoy all year round and Tenerife's fantastic location in the Atlantic Ocean, this island is a magnificent and world-renowned site for whale and dolphin watching. It is best to embark on a whale and dolphin watching excursion in Tenerife to make the most of the day.
Tenerife is home to around twenty different species of cetaceans that share the Canary waters with fish, turtles and other marine creatures.
In this post we review some of the species that you can spot during a boat trip so that you can easily identify them and get to know them a little better before setting sail.
1. Bottlenose dolphin
Of all the dolphin species, the bottlenose dolphin is the best known. They are highly intelligent and sociable, and you will recognise them because they are dark grey in colour and often surf the wake left by boats.
They are considered a resident species that can live for up to 30 years in groups of more than a dozen individuals. They can weigh between 150 and 500 kg and measure between 2.5 and 3 metres in length.
Bottlenose dolphins collaborate with other herd mates to hunt their prey, which they capture with their teeth by swallowing it without chewing.
2. Pilot whale
Also known as pilot whale, this animal belongs to the dolphin family but because of its large size it is considered a whale. After the killer whale, they are the largest oceanic dolphins and can reach up to 5 metres and weigh up to 2 tonnes.
They are another resident species in the Canary Islands and are very easy to see in the water. Their colour is almost black and their head has a convex shape with a small beak. They feed especially on squid, although they also eat fish.
Pilot whales are very social cetaceans and normally live in groups of up to thirty individuals.
3. Sperm whale
This impressive mammal can be seen sporadically in Tenerife. It is easily identified by its striated skin and its large head, which contains the largest brain in the world. They can exceed 18 metres in length and weigh 50 tonnes.
It is the largest toothed predator in existence and feeds mainly on squid and fish, diving to a depth of up to three kilometres.
Sperm whales are social animals that live in small groups and are currently listed as a vulnerable species by the IUCN following intensive hunting from the 17th to the 20th century.
4. Killer whales
Being a migratory species, it is difficult but not impossible to see this animal in Tenerife, so you may be lucky. You will easily identify it by its black and white colours.
Killer whales can reach up to 9 metres and weigh up to 5,500 kg, being a very versatile predator that combines cunning with speed and strength. Their diet is very varied and they can feed on fish, squid, seals and even white sharks, which earned them the nickname of killer whales.
They live in groups of less than forty individuals and some individuals can reach 100 years of age. That's nothing!
5. False killer whale
This cetacean is a common sight in Tenerife. It is a sociable animal that usually lives in groups of more than ten individuals and can weigh 1,500 kg and reach up to 6 metres.
It is called a false killer whale because it shares some characteristics with the orca. On the one hand, at first glance both species are similar in shape. Also in terms of its diet and behaviour, as this creature eats squid and fish and hunts other cetaceans.
6. Spotted dolphin
This is the smallest dolphin seen in Canarian waters and a common species in the Atlantic, characterised by the black and white spots on its skin. However, the calves and youngest specimens lack them, which is a distinctive sign of maturity.
It is also known as the painted dolphin and was first discovered almost two centuries ago.
The animal's character is curious and sociable. In fact, it can often be seen swimming and performing acrobatic tricks near boats, so keep your camera handy in case this dolphin surprises you with a funny trick during your cruise.
7. Rough-toothed dolphin
This animal is a little known species in general, although in the Canary Islands they can be seen occasionally when they come to these waters to breed and feed without a defined seasonality.
It is also called the narrow-snouted dolphin and its grey body is similar to that of other dolphins, although they can be distinguished by the pink and white tones of their snout, belly and throat.
The rough-toothed dolphin is characterised by being a fast and agile diver that can dive for fifteen minutes to hunt fish and squid on which they feed. They usually live in pods of 10 to 30 individuals.
8. Humpback whale
Another rare but possible species to see in Tenerife. It is a friendly animal that socialises with other species of whales and dolphins. It also likes to perform acrobatics and often propels itself to break through the surface of the water and then falls down hitting it. It is an amazing spectacle!
The humpback whale can measure up to 19 metres and weigh 36,000 kg and like other large cetaceans was hunted and suffered a great persecution that caused its population to be reduced by 90%. Fortunately, measures were taken to protect the species and it is now estimated to number around 80,000.
9. Other species of cetaceans to see in Tenerife
If you're lucky during your boat trip around Tenerife you might even see rarer species such as Fraser dolphins, pygmy sperm whales or beaked whales, among others, so keep your eyes peeled!
10. What other species can I see if I snorkel in Tenerife?
If you are going to take advantage of the whale and dolphin watching cruise in Tenerife to do some snorkelling, pay attention in the water because you can swim with turtles, fish, octopus, crabs, jellyfish, manta rays, sea urchins and starfish. It's a great experience.
---
What to bear in mind to enjoy the greatest number of marine species in Tenerife
The chances of seeing whales and dolphins during a boat trip in Tenerife are quite high and you have nothing to worry about as Tenerife has resident populations of bottlenose dolphins and pilot whales that join other migratory species depending on the season. You will always see some of them jumping, surfing or looking curiously at the tourists!
It is best to go by boat
If you are a nature lover, a very tempting plan that you will want to experience in Tenerife during your holidays is to go on a whale watching cruise in the middle of the ocean. You can't leave the Canary Islands without doing this activity!
There are many boat tours around Tenerife that go out into the Atlantic Ocean so that tourists can observe these fascinating animals up close in their own habitat and enjoy a unique and unforgettable experience.
The boats are usually run by experts in the field and they will know how to take you exactly to the area where the greatest number of marine species live, always preserving their habitat and without interrupting their routine.
Consider the best time of the year for whale watching
Given Tenerife's privileged location, the whale and dolphin watching season extends throughout the year, although spring and winter are the best times to see whales and dolphins on the island. Especially in the area between La Gomera and Tenerife.
As for the rest of the seasons, it is worth mentioning that summer is the breeding season, so you are likely to see the offspring of these species. Autumn is the best time to set sail, although sightings are less constant.
For more information on this subject, I advise you to read the post Best time for whale and dolphin watching in Tenerife.
The season to see cetaceans on the island extends throughout the year but as they are wild animals that live in the wild, their behaviour is unpredictable and depends on factors such as the time of year, the time of day, the food available or the state of the sea.
Where is the highest concentration of marine species in Tenerife?
In the south. Normally, most whale-watching cruises in Tenerife depart from Puerto de los Cristianos, Puerto Colón (in Costa Adeje, one of the most touristic areas of the island) or from Puerto Deportivo de Los Gigantes (Santiago del Teide).
I recommend the latter option as the chances of seeing cetaceans from Los Gigantes are higher and you will also have magnificent views of the cliffs along the way.
Why whale watching in Tenerife?
Tenerife's excellent location makes the island a wonderful place of world reference for whale and dolphin watching. In fact, the region that separates Tenerife from La Gomera is classified as the first whale sanctuary in Europe.
There are several reasons why the Canary archipelago attracts a large number of different cetaceans.
On the one hand, the deep ocean floor of up to 3,000 metres resulting from the volcanic origin of these islands offers these animals a respite from the strong currents of the Atlantic. On the other hand, the Canaries are in a sense a neutral ground for the migration of species, marking the northern limit for tropical waters and the southern limit for cold waters.
It is therefore relatively easy to see migrating whales and dolphins in the area, especially at certain times of the year.