Best Day Trips to La Gomera from Tenerife
La Gomera is an island of breathtaking wild and natural beauty: here's how to visit it from Tenerife and discover its idyllic charm.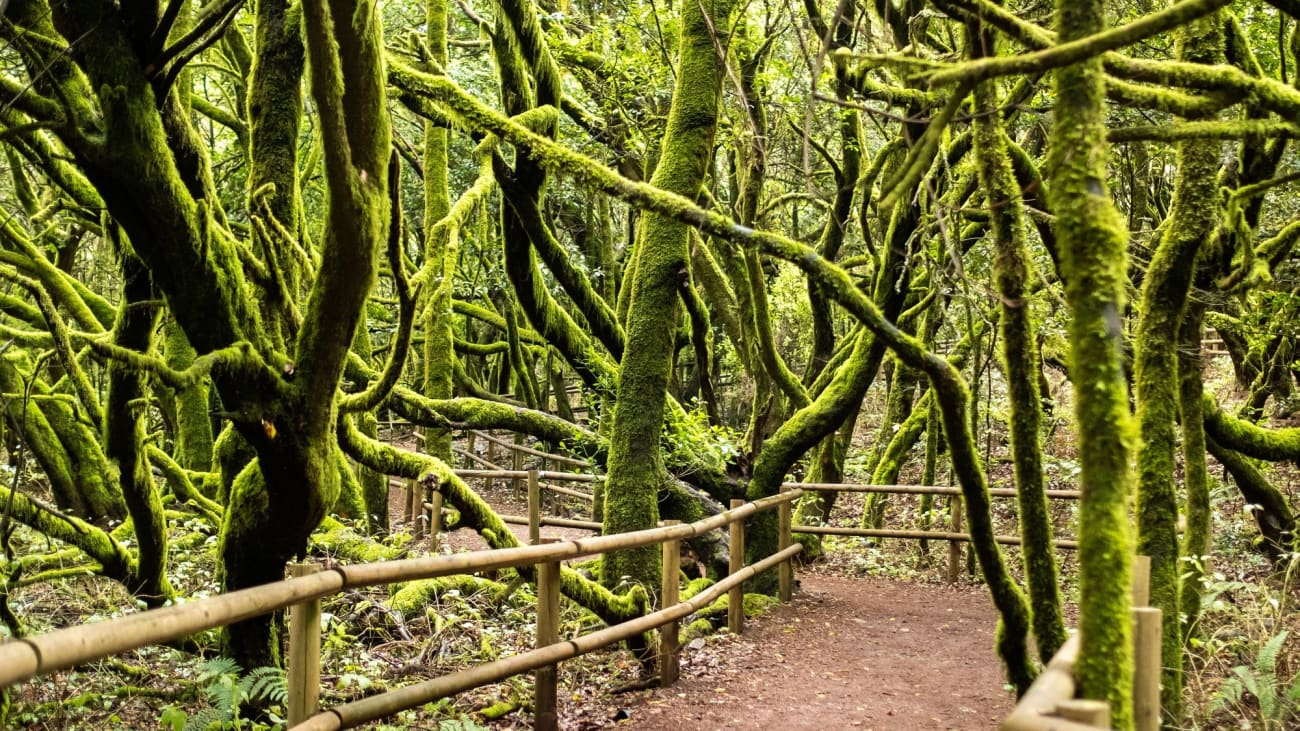 La Gomera is an island with landscapes that seem to be from another time and another place: wild vegetation, valleys covered with jungle and cliffs, and views of an infinite sea.
On your trip to Tenerife, you can do a day trip to La Gomera to marvel at its incredible beauty and discover a unique ecosystem in the world in the island's own World Heritage Site, the Canary laurel forest of the Garajonay National Park.
My favorite
From Tenerife: Day trip to La Gomera
The best value for money day trip to La Gomera
The best option to enjoy the day to the fullest. You will visit the most charming villages of the island and its national park, the Garajonay, by bus. It also includes lunch and transfers to and from your hotel
Duration: 10 hours 30 minutes
From £66 at Hellotickets
On this day trip, you will discover the most impressive natural landscapes of the island with a local guide, in an air-conditioned bus, and with a typical lunch included. You will depart by boat from the south coast of Tenerife (after being picked up at your hotel) and head to San Sebastian de La Gomera.
Once you arrive there, you will start the ascent to the Garajonay National Park. Declared a World Heritage Site, inside you will discover the ancient laurel forest. Another of the treasures of the National Park is the viewpoint of Degollada de Peraza, which offers stunning views of the Barranco de la Laja and Chejelipes dams.
You will continue the route through la Palmita until you reach the villages of Las Rosas and Agulo, on the northern side of the island. There, you will enjoy a typical Canarian meal while watching a live demonstration of the silbo gomero, an ancient method of communication created by the aboriginal Canary Islanders and adapted to Spanish over time.
On the way back, you will pass by some historical places of Christopher Columbus' life such as Torre del Conde or Casa de Colón, and you will see the villages of Chipude and El Cercado.
Why I like this tour: This bus tour is the most complete. It offers you a full-day, all-inclusive experience in which to discover the Garajonay and the most charming villages of the island for a really good price.
Recommended if... you want to visit the most essential places of La Gomera in an organized tour and you don't mind sharing the day with a large group of tourists who will travel with you on the bus.
---
The most authentic experience
From Tenerife: Jeep Safari to La Gomera
Premium tour of La Gomera in small groups
Have a less touristy and much more authentic experience in La Gomera. You will traverse the island in a Jeep, crossing less explored roads, and do a one-hour trekking experience through the Garajonay
Duration: 8 to 9 hours
From £83 at Hellotickets
Another option that I loved was this Jeep excursion. You will discover the less touristic corners of the island (which, most of them, happen to be the favorite of locals) and by going in smaller groups, you will be able to have a closer connection with your guide and feel the essence of La Gomera.
After picking you up at your hotel in Tenerife, you will depart to La Gomera and get by boat and Jeep to the Garajonay National Park. You will cross the laurel forest and trek a small walking route for about one hour, before heading to the Hermigua Valley.
You will walk through the valley and its rural environment of small houses along the road and terraced crops, passing through banana and aloe vera plantations, and stop on numerous occasions to enjoy the breathtaking panoramic views offered by the natural viewpoints scattered around the island.
Before returning to San Sebastian de La Gomera, you will enjoy a lunch of typical Canarian food at a local restaurant overlooking the Teide while being taught how to communicate in silbo gomero.
Why I like this tour: This tour is much more special and personalized. Only 6 people can go at a time in the Jeep, so you get to enjoy a day trip in a very small, almost private group. It also includes a walking tour through the Garajonay.
Recommended if... you want to get out of the typical tourist circuits and you are attracted by the idea of touring an island in a Jeep to experience something different, discovering less explored roads and places that normally only locals visit.
---
Why it is worth visiting La Gomera with an organized tour from Tenerife?
You will save time
If you are traveling to Tenerife for a vacation full of sun, beach days, and relaxing experiences, dedicating a full day to La Gomera is the perfect plan to round out your trip. If you tried to do it on your own, it would be practically impossible to do everything in one day, plus organizing the day and driving from one place to the other is everything but relaxing.
Best of all, with the convenience of an organized tour, the local guide will make sure you don't miss the most spectacular spots.
You will save money
Budget is a quite important part of organizing a trip: if you are thinking of visiting La Gomera on your own in one day, keep in mind that, in addition to the ferry costs, you will have to rent a car on the island to be able to move around, which may not be worth it for one day.
You will have a local guide at your service
If you only have one day to visit La Gomera, time is money and a local guide will make sure you make the most of yours, showing you the places you should not miss on this island. Listen to their recommendations, take the opportunity to ask them any of your questions, etc. If you also decide to take the Jeep tour, you will get to see the island in its purest and wildest, in an almost private group.
Practical tips to keep in mind
Don't forget your ID or passport, as it will be necessary to board the ferry that will take you to La Gomera.
In the case of the Jeep excursion, La Gomera port fees are not included in the price (€ 10,50 per person).
If the weather is bad, the excursion will be postponed or canceled, and your money will be refunded. Speaking of which, if for any reason you want to cancel the excursion, remember to do it at least 24 hours in advance to get a full refund.
What to see in La Gomera
The excursions I have told you about above are the best options to do a day trip to La Gomera from Tenerife, but if you are thinking of visiting the island on your own I recommend you to take the ferry from Los Cristianos beach, with a price per ticket of about € 9.
Here are my favorite places on the island, listed so you can make a nice alternative itinerary for a day trip (you will need a car or other means of transport and prepare the route properly):
San Sebastián de la Gomera
Taking the ferry from Tenerife you will reach San Sebastián de La Gomera in about 50 minutes. You can visit some of its points of interest, such as the Museo Casa de Colón (in this small town, Columbus made its last stop before setting sail for the Americas) and the beautiful Church of Nuestra Señora de la Asunción, with a certain rural charm that is the trademark of La Gomera.
Either on arrival or before taking the ferry back to Tenerife, I recommend you take a short walk through its streets and visit its squares and stores and stop by the Torre del Conde, the most prominent monument of San Sebastian de La Gomera.
Alojera
Alojera is a beautiful village off the beaten tourist track, and to reach it you will have to cross roads along cliffs where you can stop to enjoy the views. The local product is palm syrup, a delicacy that you can taste and even buy as a souvenir.
On the wonderful beach of Alojera, you can swim with spectacular views of the Atlantic Ocean in a natural paradise of palm trees and golden sand.
Garajonay National Park
The Garajonay National Park is a nature reserve in the center of La Gomera, full of trails to walk and viewpoints with breathtaking sights. If you love to hike, I recommend you to backpack it all the way to the top where the beauty is almost indescribable. With the right preparation, and packing food, water, and a map or GPS, you should make it a fairly simple route.
Gran Rey Valley
Lastly, you shouldn't miss the viewpoints on the way to the Gran Rey Valley: the mirador de la Ermita del Santo offers spectacular views from a huge cliff where you can see, on a clear day, the islands of El Hierro and La Palma, and from the mirador de César Manrique you can see the valley in all its splendor.
Here I recommend eating at El Mirador Restaurant, an unpretentious, local place with beautiful views from its terrace, and it also has a small cactus garden that you can visit.
Alex's Traveller Tip

There are lovely things to take with you from La Gomera: a bottle of palm syrup, traditional pottery from El Cercado, or a jar of almogrote or mojo make up for perfect souvenirs of your trip.
What other things can I see and do in Tenerife?
Tenerife is an island full of contrasts and corners to discover so you won't have a lot of spare time during your trip! If you feel like enjoying a boat trip on Atlantic waters, check out this whale and dolphin watching experience, since Tenerife is one of the best places in the world to watch sea mammals in their natural habitat.
You can also do a kayak and snorkel experience with turtles and of course, climb the Teide, the jewel of the island.