Sailing in Tenerife
A perfect climate all year round, crystal clear waters and impressive marine fauna: discover the charms of Tenerife by spending the afternoon sailing on a catamaran.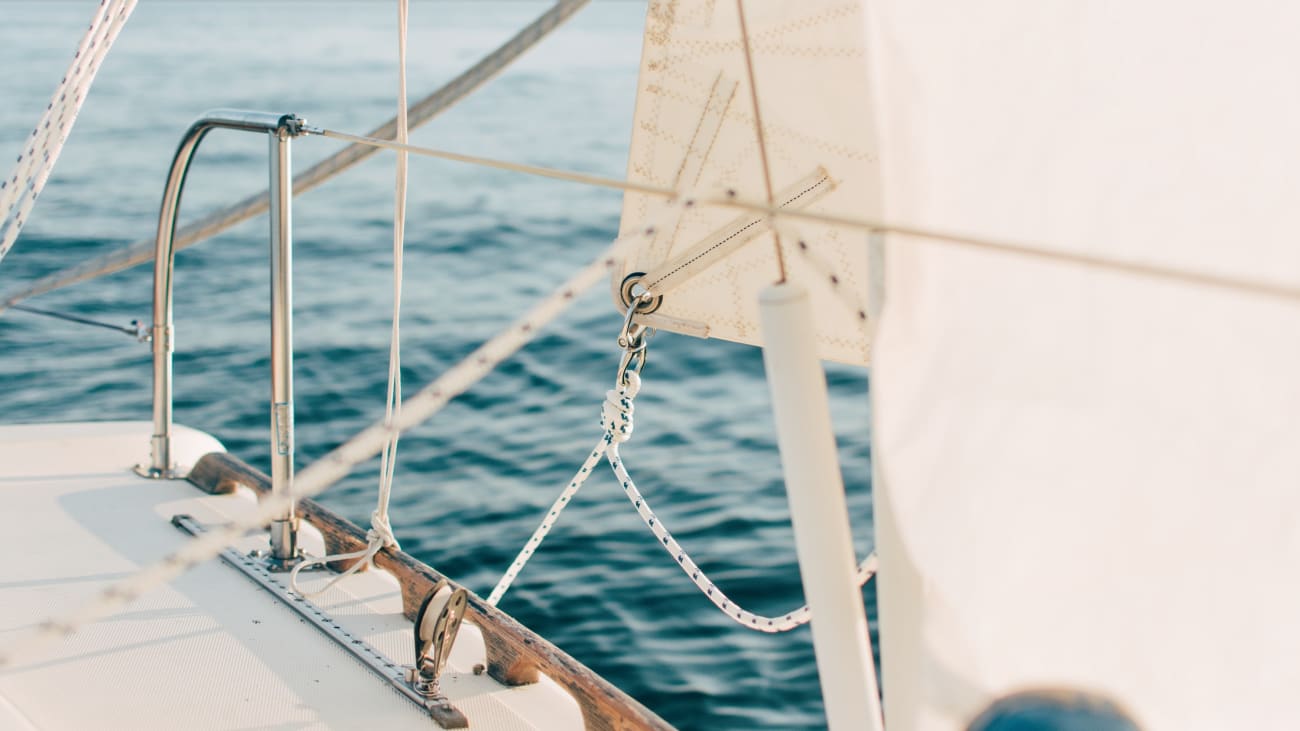 Costa Adeje, in the south of Tenerife, is one of the most impressive places to get a glimpse of the natural habitat of whales and dolphins in the Canary Islands and listen to the mesmerising song of the cetaceans in the sea.
Even better if you take a catamaran excursion in Costa Adeje to watch whales and dolphins, the most genuine way to enjoy the sea and sail with only the wind and the waves as your guide. An adventure not to be missed on your trip to Tenerife: read on and I'll tell you how unforgettable this excursion is.
1. Catamaran trip around Costa Adeje with whale watching
This catamaran trip around Costa Adeje is a great way to enjoy a beautiful morning or afternoon on the Atlantic Ocean watching whales and dolphins.
What is included in this experience
You will be picked up from your hotel and taken to Puerto Colón, on La Pinta beach, where the catamaran will be waiting to take you on an adventure.
For three hours you will cruise the waters of the south of Tenerife, from where you can see La Gomera on the horizon, while enjoying the sun on a sun lounger, with soft drinks and other beverages and sandwiches as snacks.
As you approach the marine animal spot, the captain will slowly approach the whales and dolphins resting on the surface and you will be able to see them up close, as they are usually very welcoming to visitors and play around the boat.
The boat is equipped with a hydrophone so you can listen to the whales communicate live under the sea, one of the most beautiful and special experiences you can have on your trip.
It is also possible to see other marine species such as turtles, jellyfish, fish and fishermen, giving you the impression of visiting a natural aquarium in the middle of the sea. The disadvantage of this experience compared to other boat trips is that it doesn't include snorkelling, so you won't see Tenerife's real marine fauna in all its exuberance.
You will, however, be able to swim in the sea so take a towel and swimwear to experience the freedom of swimming in the water amongst all kinds of marine animals.
At the end of the experience you will return to Puerto Colon and transport will be waiting to take you back to your hotel if you prefer.
Why I recommend this experience
This catamaran trip around Costa Adeje is very well priced, especially if you take into account that it is an excursion that includes transfer to and from your hotel and a snack with drinks.
This, added to the fact that sailing on a catamaran is a more special and genuine experience than on a conventional boat, makes it one of the top activities on any trip to Tenerife, whether it's a short break or a week-long holiday.
The other reason is that you are almost guaranteed to see marine animals and you won't have to fight with other people to see something from the side of the boat, as it is a non-massive experience.
More information about Tenerife
What's included: Transfer from your hotel and back, catamaran ride, drinks (soft drinks, beer or wine) and sandwich.
What's not included: Sun loungers (payable separately and booked on a first come first served basis), extra drinks.
Group size: Maximum 50 people
2. Before you book
The weather must be fine for catamaran sailing, so if the wind is too strong or it rains, the experience will be postponed or cancelled and you will receive your money back. You can also cancel the activity if, for any reason, you decide not to do it, but you will only receive a 100% refund if you cancel at least 24 hours in advance.
My advice is to bring sunglasses, a towel, a bottle of water and sun cream. Even if you don't pay for a sun lounger, you can sit elsewhere on the boat and enjoy the sun.
When you go to book the catamaran tour, you will need to choose the date and size of your group. You will then be asked for some personal details and your email address. Important: enter one that you normally use, as this is where you will receive the confirmation email that you will need to show to the captain before you get on the boat (or to the driver who will pick you up from your hotel).
By the way, for this experience you also have the option of choosing the time: either in the morning or in the afternoon, which is quite an advantage because you have no excuse not to include it in your plans. If you are especially interested in taking pictures of the whales and dolphins, I recommend you to choose the morning time.
Alex's Traveller Tip

The great advantage of a catamaran sea trip is that it is less crowded than on larger boats and the experience is more genuine, making it the perfect option if you are avoiding large groups of tourists.
3. Why is Tenerife famous for its whale watching experiences?
Tenerife has a great climate all year round, which makes its waters the perfect temperature for whales, dolphins and other marine life. Another reason for the huge concentration of marine life on this island is its deep sea beds, where the animals can hunt the fish and squid that come in with the strong Atlantic currents.
What species can you see on this excursion? Pilot whales, bottlenose dolphins, spotted dolphins, loggerhead turtles, jellyfish, mackerel, anchovies and even small sharks.
For this and other reasons, Tenerife is one of the most important destinations in the world to see cetaceans in their natural habitat. If, beyond enjoying a catamaran ride, you are especially interested in this amazing and unforgettable experience, I recommend you to read our complete guide in this link, with all the available options and extended information: Whale and Dolphin Watching in Tenerife.
4. Make your trip to Tenerife unforgettable with these other activities
Tenerife's waters are a delight to sail, but maybe getting on a boat and letting yourself go doesn't give you the thrills you're looking for. In that case, put on your wetsuit, grab your paddle and go kayaking to discover the sea caves in the island's cliffs and see with your own eyes the underwater world hidden beneath the surface. Read all about these activities here: Kayaking and Snorkeling With Turtles in Tenerife.
Another adrenaline-filled experience I recommend you do in Tenerife is paragliding. Why in Tenerife? For the spectacular views of the island and Mount Teide and the thrill of landing on the beach. In this guide I have selected the safest and best value for money experiences for an activity that is worth doing at least once in your life: Paragliding flights in Tenerife.