Tenerife in 5 Days: everything you need to know
Do you have 5 days to visit Tenerife and you don't know where to start or what to see? If the answer is yes, read on and take note, I'll tell you all about it in this article.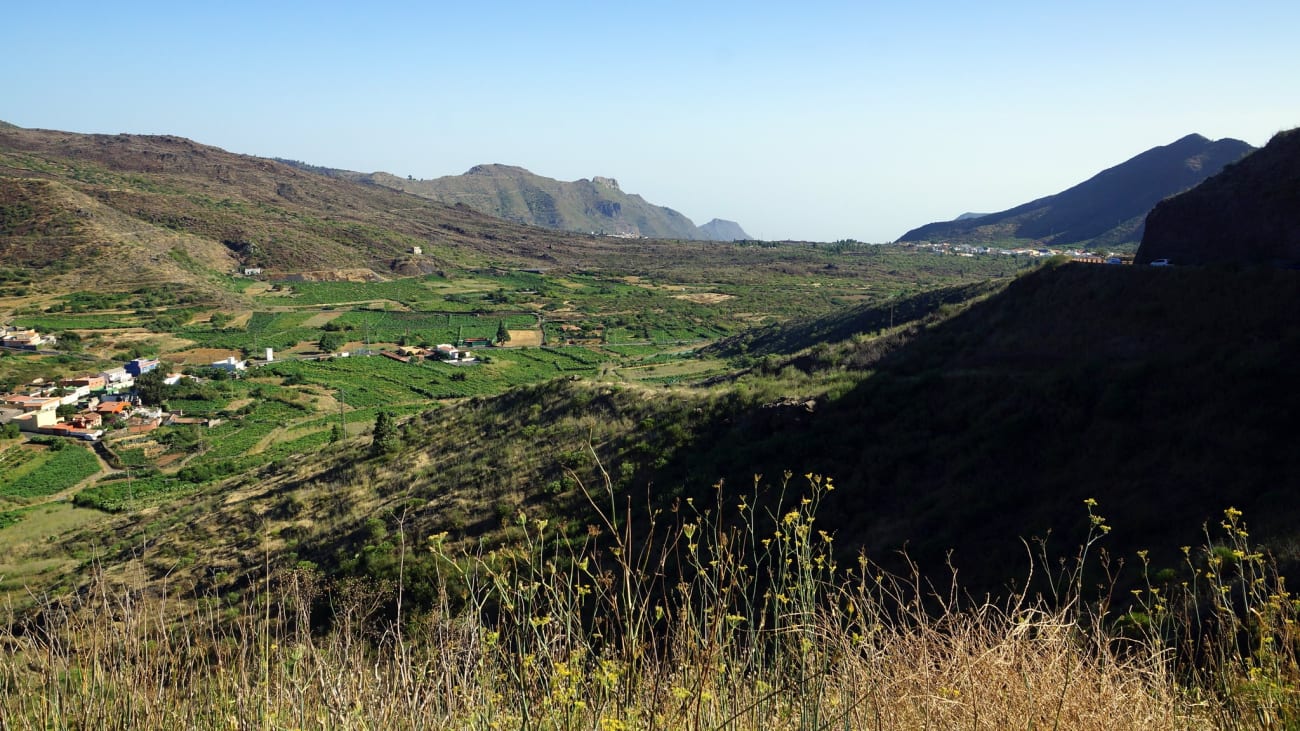 Tenerife is the largest of the Canary Islands and the most populated in Spain. That's why you'll have a wide variety of things to see and do, and you'll need several days to get to know all the main sites. But don't worry, if you organise yourself well, in 5 days you will be able to see all the most popular places and enjoy it to the full.
If when you think of Tenerife, only the sea, sand and paradisiacal beaches come to mind, let me debunk the first myth: on the island you can find that and much, much more. Tenerife's cultural and historical heritage is as amazing as all its natural landscapes. Below I will tell you what to see and do in 5 days in Tenerife. Take note of this itinerary and organise your trip so that you don't miss anything at all.
Day 1: San Cristóbal de la Laguna and Anaga Rural Park
The first day of your trip will begin by discovering part of Tenerife's stunning northwest, which is home to popular and unmissable natural beauties that you should definitely include in your itinerary, such as San Cristobal de la Laguna and Parque de Anaga.
San Cristobal de la Laguna
The first stop on your 5-day trip to Tenerife will be the oldest city on the island: San Cristóbal de la Laguna. It is the second most populated city in Tenerife, and was declared a World Heritage Site by Unesco in 1999 for being the only colonial city without walls.
Walking through its picturesque and ancient streets you will breathe part of the island's history, as it is home to unique monuments, such as the Casa Lercaro, which houses the Museum of History and Anthropology of Tenerife, the Convent of Santa Catalina de Siena, and the Matriz de Nuestra Señora de la Concepción Parish Church.
You will also find in the heart of the city the emblematic Plaza del Adelantado, which is the most central and important square, named after the island's conqueror, the Adelantado Alonso Fernández de Lugo. It should be noted that this square gained its importance between the 16th and 20th centuries as it was the main venue for important public events, as it was surrounded by the city's main buildings.
The Anaga Rural Park
About 13 kilometres from San Cristóbal de la Laguna, and about 20 minutes along the TF-12 road, you will find your second destination for the day: the Anaga Rural Park. This site is home to an imposing natural beauty, which is why it was declared a Biosphere Reserve in 2015 and has been preserved in an exceptional way over the years.
Let me tell you that this is one of the most popular destinations in Tenerife and that is why it is included in the top 10 activities to do on the island. Without a doubt, the mountainous landscape will dazzle you, although you can also walk along its numerous trails until you reach one of the breathtaking black sand coves.
If I may give you a tip, a good way to explore this amazing park is with a guided tour where you will learn a lot from an expert guide, without having to worry about anything.
Day 2: Santa Cruz de Tenerife and La Candelaria
The second day on the island will include two of its most classic and unmissable places and each of them with a particular importance, one for being its capital city and the other because it could be defined as its spiritual capital. I am talking about Santa Cruz de Tenerife and La Candelaria.
Santa Cruz de Tenerife
There is nothing like starting your second day on this particular island with the city that has been its capital since the 17th century, Santa Cruz de Tenerife. In this city you will find unique tourist attractions that you can visit on foot or, if you prefer, you can rent a bicycle to make your trip more dynamic. It's your choice!
Among its main attractions, you can find:
Santa Cruz de Tenerife is also a great place to stop for a bite to eat and take the opportunity to rest and recharge your batteries for the rest of the day.
La Candelaria
About 19 kilometres from Santa Cruz de Tenerife, you will find the small town of La Candelaria, where you will spend the second part of the day. A stroll through its historic streets is a perfect plan that should not be missing from your itinerary, as it involves reliving the legacy of the Guanches, the aborigines of Tenerife.
Among the most important sites you'll find in this city, I'll tell you which ones are not to be missed:
The Camino Viejo de Candelaria, which is the road you will take on your way from Santa Cruz de Tenerife to La Candelaria, and which still preserves some of its original sections, built centuries ago.
The famous Basilica of Nuestra Señora de Candelaria, which is the largest and most imposing church in the city, was declared an Asset of Cultural Interestand occupies the entire square of the same name. Also, in this square, you can find 9 bronze statues in honour of the 9 kings of the Guanche people.
Ermita de San Blas, which is the natural cave where the Guanches found the image of the Virgin, which today houses a replica.
La Casa Cabildo, the site of the former town hall.
Pottery Centre called "La Casa de las Miquelas", which is an old house where pottery is exhibited.
Day 3: Teide National Park and the Cliffs of Los Gigantes
The third day on the island is pure adventure. In the Teide National Park you can climb to the highest point and, on the other hand, enjoy the imposing cliffs known as Los Gigantes, which can be appreciated much more when sailing the waters of the Atlantic. I'll tell you more about it below.
Teide National Park
The Teide National Park was declared a National Park in 1954 and is one of the most visited in Spain. It is one of the main places to visit in Tenerife and my recommendation is that to enjoy it to the full, you should plan to visit it on a guided tour of Teide.
There, you can climb to the highest point in Spain on the volcano of El Teide and enjoy other places of interest within the National Park, such as:
Los Roques de García, which are ideal for hiking.
Visit the telescopes of the Astronomical Observatory.
Visit the Telesforo Bravo Visitor Centre and El Portillo.
Visit the Juan Évora Ethnographic Museum.
Los Gigantes Cliffs
Within the municipality of Santiago del Teide you will find one of the most impressive natural wonders of Tenerife, Los Gigantes. You can get there along the TF-38 road from El Teide National Park, which is approximately 30 kilometres away.
Let me tell you that the best way to appreciate the enormous volcanic walls, up to 600 metres high, is on board a boat, sailing across the waters of the Atlantic. This unique and unrepeatable experience will also allow you to enjoy the enormous variety of dolphins and whales that appear in the area, it is well worth it!
Although if you prefer not to take a boat trip, I recommend you go up to the Archipenque lookout point, which has one of the best views of the sunset you'll ever see.
Day 4: Route through the north of Tenerife including Puerto de la Cruz, La Orotava, Icod de los Vinos and Garachico
On your fourth day, you will simply fall head over heels in love with Tenerife, if you haven't already. The landscapes of the north have a particular charm and in one day you will be able to visit the main dream spots.
Puerto de la Cruz
The fourth day's tour of Tenerife begins in one of the most popular tourist spots in the north of the island, Puerto de la Cruz. It is also one of the most popular places for many tourists to stay on their trip to Tenerife, as it is one of the liveliest and busiest cities.
Here you will have many places of tourist interest to visit and you will be able to do it perfectly on foot, since everything is relatively close. So that you can get the most out of this small city, let me tell you which are the main places of interest that you cannot miss on your trip:
The Castle of San Felipe: this is an ancient and imposing fortress of the city.
El Muelle de Puerto de la Cruz, one of the most popular on the island.
The Botanical Garden
The graffiti of Puerto Street Art, a well-known art gallery.
I have a recommendation for you, if you want to get to know Puerto de la Cruz in a different way and add a bit of adrenaline to your walk around the city, here you have the option of paragliding, a unique experience!
La Orotava Village
The second stop on the fourth day takes place in Villa de la Orotava. There is no doubt in my mind that a tour of the old town should be included in your travel itinerary. It is only about 8 kilometres from Puerto de la Cruz and I recommend that you take your time to explore it in peace and quiet, as it is not very big but it is amazing.
In this small town you will find some essential tourist sites to visit, I will tell you which are the most popular so that you don't miss them:
Icod de los Vinos
Some 21 kilometres along the TF-5 road, you will reach the third stop on your fourth day in Tenerife, in Icod de los Vinos, a small village that is known for being the home of the famous and popular Drago Milenario or Drago Park, whose name comes from the enormous specimen of the Drago tree that was declared a National Monument in 1917 and is recognised for being the oldest in the Canary Islands.
Undoubtedly, the most unique and unforgettable experience you can have in Icod de los Vinos is to enter the volcanic tube of the mythical Cueva del Viento.
But that's not all, as in Icod de los Vinos you can also walk through the picturesque streets of its historic quarter, visit and discover the most renowned museums in the city, such as the Guanche Museum and the Casa del Plátano, and even end your walk by cooling off on the Playa de San Marcos beach, which is not the biggest beach you will see, but has a very particular charm that makes it unique.
Garachico
A little more than 6 kilometres from Icod de los Vinos, along the TF-42 road, you will reach the next and last destination of the fourth day in Tenerife, Garachico. The most amazing peculiarity of this village is that it was almost completely devastated after the eruption of the Trevejo volcano in 1706, and it was completely rebuilt, being even more charming than before, as if it was taken out of a fairy tale.
Let me tell you that this small village has several emblematic and iconic places to visit, although without a doubt its main tourist attraction is the Natural Pools of El Caletón. These pools were created naturally by the volcanic lava that devastated the old port of Garachico and I recommend that you take advantage of them to relax at the end of the walk and the day, to cool off with a refreshing swim.
But before that, there are some important sites that I would like to recommend so that you can make the most of Garachico:
The Castillo de San Miguel, is the ancient defensive tower that is housed in this village.
The Parque de la Puerta de la Tierra, whose peculiarity is that it still preserves the arch of the entrance gate to the old port in the 16th century.
El Roque de Garachico, a popular coastal rock in the town that forms part of its landscape with a height of 77 metres and a surface area of 5 hectares. It is separated from the land by 300 metres due to marine erosion, and is home to various species of birds.
The El Emigrante viewpoint from where you will get the best panoramic views of the city.
If you prefer, you can visit Icod and Garachico on a guided tour, without having to worry about organisation and optimising the time you have to visit Tenerife.
Day 5: The best park in the whole world, Siam Park
For your last day in Tenerife, I bring you a classic and very entertaining plan that will make you want to come back to the island to visit it again. A unique experience!
Siam Park is a water park, but not just any water park, the best, not only in Tenerife but in the world. This is how it has been recognised year after year and I assure you that this is no exaggeration, you just have to get to know it to understand why. It is also included in the list of the 10 best parks in Tenerife.
Although it is a plan for the whole family, there is no age limit to enjoy it and it goes without saying that it is the perfect plan if you plan to visit the island with children. This fantastic and popular park is located in the upper part of Playa de las Americas and is absolutely inspired by Thailand.
If you are a lover of adrenaline, speed, heights and adventure in general, you will really enjoy this plan and you will thank me for the recommendation. So that you can imagine and prepare yourself, I'll tell you that in Siam Park you'll find slides where you'll reach 80 kilometres per hour! In addition, you'll also have other types of games and adventures.
Another fundamental fact is that this park does not close its doors any day of the year, and you can get your tickets online on the official website. Keep in mind that it will cost you approximately 28 euros.
Now that you have a complete itinerary, you will be able to organise your 5-day trip to Tenerife in the best way possible and design a unique, tailor-made experience that you can enjoy so much that these days will be enough for you and you will want to come back for more. Now, if you've come this far and you don't think that 5 days will be enough for you, I leave you with this itinerary of things to see and do in Tenerife in 7 days, so that you can compare them and not miss out on anything.