Best River Cruises in Seville
Seville is a city to be enjoyed in its entirety. While walking through its streets is magical, don't miss the chance to discover it from another perspective: a boat trip.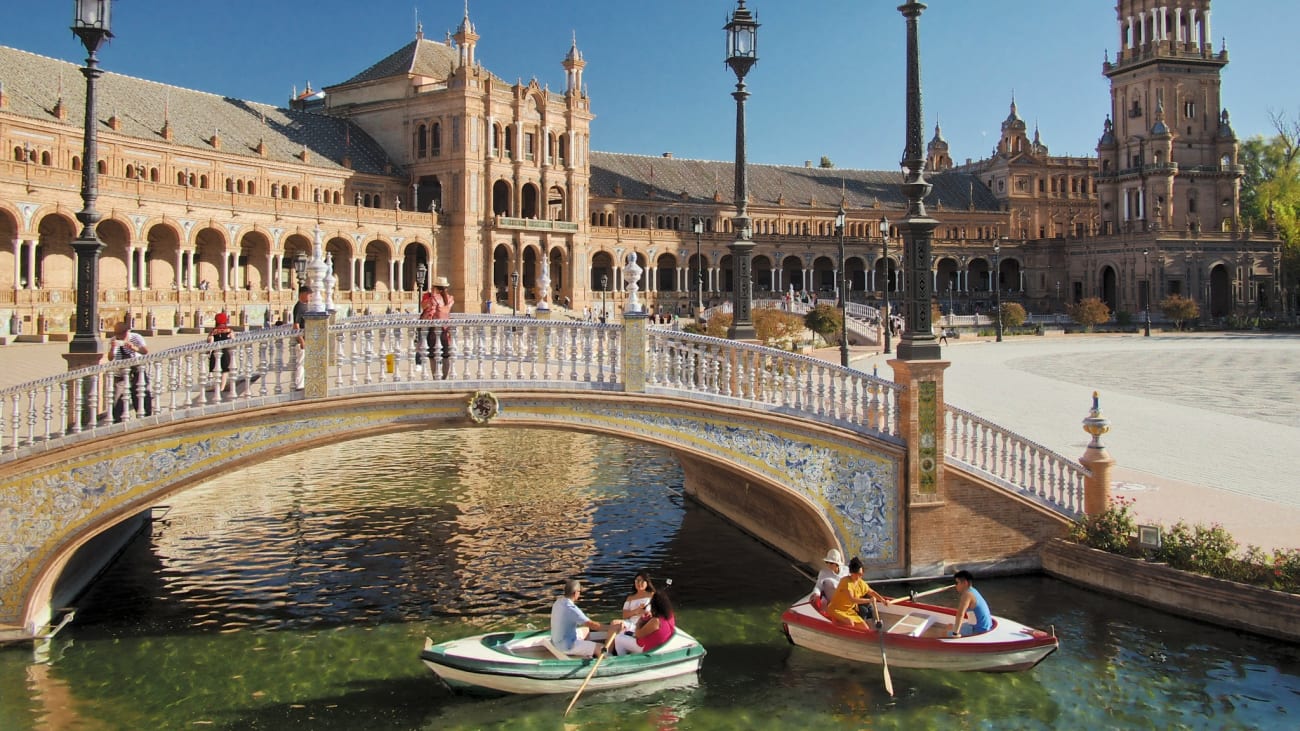 Seville is a vibrant city, which has plenty of activities and attractions to visit. But its great popularity is due to its wealth of heritage and well-preserved historic buildings, which blend with modern architecture in every street.
If you are lucky and have enough time to spend in the city, a boat trip on its famous river, the Guadalquivir, is a must-do activity among all the things to do and see in Seville. This tour will allow you to get to know this city in a different way and explore a bit of its nature.
1. Tourist boat tour
A boat tour of Seville is a good option if you want to appreciate the beauty of Seville from the river but you are not willing to invest so much money or time in this activity.
The tour consists of a tour on board of a 100% ecological boat where you can see the main attractions of this wonderful city of Andalusia from the water.
The capacity of this type of boat is 11 people, so the privacy and tranquillity of a small group is respected. The 1 hour tour will allow you to see great monuments while you stroll along the famous river of Seville.
The tour starts at the Torre del Oro, one of the undisputed stars of the city. By day and by night, the Torre de Oro takes centre stage on Seville's riverfront and draws the gaze of all the tourists in the area.
The adventure continues over the emblematic Triana Bridge, which welcomes us to theTriana neighbourhood. You will be able to enjoy the view from the water of different picturesque buildings and the daily life of the city from outside.
You will also identify the Plaza de Toros de la Maestranza, the other beautiful bridges that cross the Guadalquivir, and of course, the Giralda, the symbol of Seville.
You will also see the Museum of the Castle of San Jorge, an important medieval fortification built on the right bank of the river, which has great historical importance for having been the seat of the Holy Inquisition.
The sightseeing boat ride is equipped with all the comforts to make your trip a pleasant one and allow you to concentrate solely on enjoying the views. Prices start at €15 per person and do not include transfers to your accommodation or drinks on board.
Details of interest
Price: from €15
Duration: 1 hour
Means of transport: tourist boat
Advantages of this option: price and duration.
2. Cruise tour
In this case, the boat in which you will do the tour is a cruise. With this type of tour, you will be able to enjoy privileged views of the most beautiful and emblematic places in Seville on board a beautiful boat.
This tour along the millenary Guadalquivir River will allow you to explore from the water emblematic places of Seville such as the Bullring, the magnificent old bridges and the mythical Triana neighbourhood, as well as the characteristic towers of the Plaza de España and numerous buildings on the banks of the river, which were originally built in search of a strategic location in the city.
This tour lasts 1 hour, during which you will walk along part of this popular Andalusian river. Relax on the modern deck of the cruise while listening to the commentary of the audio guide available. This way, you can not only enjoy the view but also learn about what you're seeing on the Seville skyline.
This unique tour on the Guadalquivir River is priced from €25. Please note that this type of tour also does not include transfers, so remember to arrive at the Muelle Marqués de Contadero, near the Torre del Oro, a few minutes in advance.
Interesting details
Price: from €25
Duration: 1 hour
Means of transport: cruise
Advantages of this option: the comforts of a modern boat and the audio guide on board.
3. Yacht trip
If you want to enjoy a magical perspective from the deck of a luxury boat, I present you this kind of tour of the Guadalquivir river by yacht with skipper and sailor.
Getting to know this enchanting city with this kind of tour is an unforgettable experience in your holidays in Seville, where you will be delighted with unique views.
The tour begins with a welcome on board, where the hostess of this luxury yacht will provide you with 3D glasses so you can live an experience like few others: watch a 3-minute video with aerial images made with drones of the city of Seville in 3 dimensions.
This exclusive trip will take you on a tour of fascinating places such as the Triana neighbourhood and the San Telmo Bridge, while you listen to background music to get you into the mood.
As you sail under Seville's beautiful bridges, you will see the Isla de la Cartuja, the tips of the towers of the spectacular Plaza de España, the Plaza de Toros de Sevilla and the Parque de María Luisa, a green space that is a must-see when touring the city.
During this luxury yacht tour of Seville, you can enjoy a tasting of Iberian delicacies, such as ham, pork loin, chorizo, among others. And to drink, you'll be able to savour a tasty rebujito, a local drink that you must try on your trip to Seville.
This 1 hour and a half trip on a luxury yacht is done in groups of a maximum of 12 people, so it's a tour that takes place in an intimate way, and prices start at €40.
Get on board and have your camera at hand, as you'll have plenty of moments to take the best pictures from the water as a souvenir.
Interesting details
Price: from €40
Duration: 1 hour and a half
Means of transport: luxury yacht
Advantages of this option: the comfort of the boat and the tasting of local delicacies.
4. Boat tour with lunch or dinner
A boat trip on the river in Seville can be a good opportunity not only to enjoy the views, but also to take advantage of a unique date with friends, family or partner. This type of tour consists of a relaxing ride on a 20-metre high boat, where you can enjoy a delicious dinner or lunch while sailing on the calm Guadalquivir River.
This type of tour usually starts at the Muelle de Nueva York, just a few metres from the centre of Seville.
You will start this experience with a video with 3D virtual glasses, where you will enjoy images of the city and its monuments as you have never seen them before.
On this tour you will be able to marvel at the views from the water of the Plaza de Toros de la Real Maestranza, the Triana Bridge or the Torre del Oro while you enjoy a delicious meal on a beautiful yacht, perfectly equipped for your comfort.
The yacht has both heating and air conditioning, a wonderful terrace on the upper deck, a bar on the deck and an interior part for those who prefer it.
.
The menu options include cold dishes, such as an assortment of Iberian cold meats, cheese board and crusty bread toasts, among others; hot dishes, with a choice of 3 options of meat, fish or pasta; dessert and a glass of cava.
The tour with dinner or lunch lasts 2 hours and takes place in a group of a maximum of 12 people. The price of this type of tour starts at 75€.
Details of interest
Price: from €75
Duration: 2 hours
Means of transport: luxury yacht
Advantages of this option: the comfort of the boat, its duration and its varied and high quality menu.
5. Private boat tour
With this option I present you this ideal alternative for romantic dates, wedding anniversaries or any type of celebration that you consider requires intimacy. This type of tour is for those who wish to contemplate the charm of Seville from the water, but with a private boat with skipper.
This fantastic and relaxing trip will allow you to enjoy fascinating places such as Betis Street, Triana Bridge, the Torre del Oro, the Giralda, the Triana neighbourhood and much more, as you can choose the places you fancy the most.
The boat can be booked for different lengths of time, the most common being 1, 2 or 3 hours, and you can share this trip with a maximum of 11 passengers.
The boat is top quality, with heating and air conditioning as you need it, music systems and different tables on board for you to use freely.
You have menu options on board if you wish, with a choice of cold snacks or Japanese cuisine. Menu prices start from €40 and all include drinks. But if you prefer, you can also bring your own food and drinks on board to enjoy the ride as you wish.
Boat hire starts at €125 and the cost will depend on the length of the trip you choose, as well as the company. But whatever the details you decide, the experience of having a boat for you and your loved ones is simply something incomparable that you can't miss during your time in Seville.
Interesting details
Price: from 125€ + option of lunch or dinner
Duration: your choice
Means of transport: boat
Advantages of this option: freedom in the itinerary, privacy, the comfort of the boat and the menu options on board.
How to book a boat trip in Seville
Reservations for boat trips in Seville, whatever type of tour you have chosen, can be made online or in person at the different docks of the Guadalquivir River.
If you are looking for a luxury or private tour, I recommend you make your reservations in advance, as the food options and the availability of these types of boats sometimes need time to prepare in advance.
If, on the other hand, you are thinking of doing the sightseeing tour or a 1 hour boat ride, you can book the same day as there are several daily departure times, although if you are already sure, don't hesitate to book ahead of time.
Why is it advisable to take a boat tour of Seville?
Strolling through the city of Seville is to discover the atmosphere of this charming city, to discover its architecture and its customs. A boat trip on the Guadalquivir River will allow you to discover its essence from another equally marvellous perspective, which is worth exploring on your way through the city.
It is also a perfect activity to do in Seville with children. The little ones really enjoy this type of activity, although it is also an ideal plan for friends, couples or families.
A boat trip is something to do in summer in Seville. Seville can be a very hot city in the months of June and July and these types of excursions are a great way to escape the high temperatures and make the most of the day in this magnificent city.