Seville Hop on Hop off Bus Tours
To cross the city quickly and comfortably while still enjoying the sights, hop on one of the city's sightseeing buses.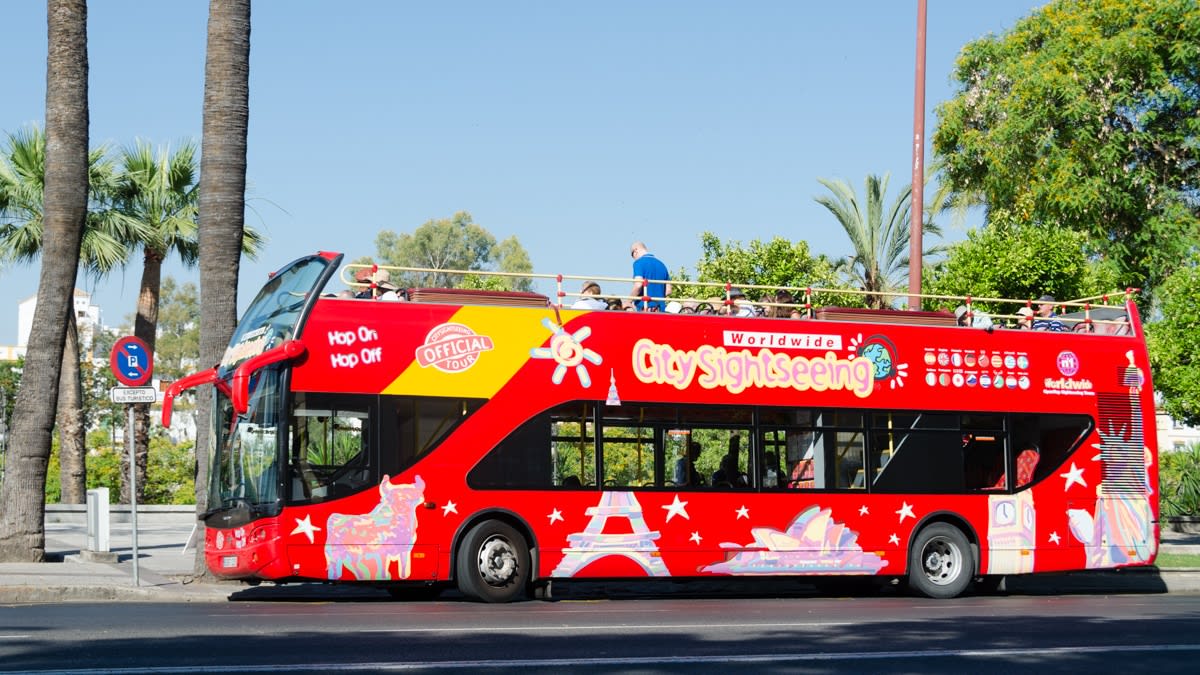 Walking through the streets of Seville is a real pleasure for the traveller, but the high temperatures, especially in summer, can be a nuisance. The tourist bus is an ideal option for touring the city and enjoying its sights without the cold or the heat.
1. The best tourist bus in Seville
The best sightseeing bus in Seville with panoramic views and free stops is from the City Sightseeing company and it's hard not to come across one on any tour of the Andalusian capital. You can get a ticket for this bus From £19
How it works
The Seville sightseeing bus pass is based on the Hop On Hop Off concept. This means that, once you buy a ticket for these buses you can use it in two ways: either by doing the whole route or by using it as a regular means of transport, getting on and off at the stops you want and as many times as you want.
In terms of prices, you can choose between a 24-hour or 48-hour pass; you pay a flat rate of 22 or 31 euros and there is no limit to how much you can use the bus during that time. All tour buses have air conditioning on board and are wheelchair friendly.
How to book it
Once you have purchased your sightseeing bus ticket, you will receive your ticket automatically and you can print it out or present it on your mobile phone when you board the bus. An email will also be sent to you when you make your booking with all the information available.
How to activate it
When you book your 24 or 48-hour pass, you must choose a specific day on the calendar to use it, but you can activate it up to three months after that date. It is activated with the first use and from then on the time starts to count down. In other words, if you activate a 24-hour pass at 12 noon on a Friday, you will be able to use the city's tourist buses until 12 noon on Saturday morning.
Advantages of the tourist bus
Panoramic views with an open-air top deck
Audio commentary in 16 languages
Stops at the city's main tourist attractions
Free entrance to various monuments in the city
Guided walking tours of selected areas included in the 48-hour ticket price
Discounts on selected services
Ana's Traveller Tip

Passes for Seville's tourist buses are counted in hours since first use and not in calendar days.
2. The tourist bus route
To have the timetables, stops and even monitor where the tourist buses are at any given moment, there is a free mobile app available: "City Sightseeing Spain". You can also request a map by email or at any of the points of sale.
Although the historic city centre can be reached on foot, to get to important neighbourhoods such as Triana or Macarena you'll have to use public transport, a problem that is solved by the tourist bus route.
Itinerary
Paseo de Cristobal Colón
Plaza de España
Aquarium of Seville
Plaza América
Plaza de Cuba
San Jacinto Street
Calle Castilla
Expo 92 Avenue
Isla Mágica
Alameda de Hércules
Plaza del Duque
Plaza de Armas bus station
3. What is included in the tourist bus pass
Although they sometimes go unnoticed, all tourist bus passes include a series of additional benefits to those that come with their use. In the case of Seville, these benefits are even more notable than in other cities and my recommendation is that you review them in depth when planning your trip. Some of them may be of interest to you.
Entrance fees and guided tours included
Free entrance to the Navigation Pavilion
Free admission to the Hospital Los Venerables
Free admission to the House of Science
Free admission to the Church of Santa Ana
Free admission to the Carriage Museum
Free admission to the Hospital de la Caridad
Free admission to the Church of Divino Salvador
Discounted admission to the Torre de los Perdigones (Tower of the Buckshot)
Discounted admission to the Plaza de Toros de la Maestranza bullring
Free walking tour of the Santa Cruz neighbourhood and the historic centre of Seville
Free walking tour of the Plaza de España
Free walking tour of Magellan's Seville
The 48 hour pass, in addition to all of the above, includes:
Free entrance to the Flamenco Dance Museum
Free entrance to the Aquarium of Seville
Guided visit to the Museum of Fine Arts
Discounted entrance to the Aire de Sevilla Baths
30 minutes bike rental
Free walking tour of Triana
Free tour "Betis Experience
Ana's Traveller Tip

Don't hesitate and take the free walking tours included with your sightseeing bus pass; you'll more than pay for the cost of the ticket.
4. What to see in Seville
If this is your first time visiting Seville, you may not be familiar with these names, but you will certainly be familiar with some of the points of interest you will encounter during the tour. I recommend you make use of the audio commentary to enjoy the sights, as well as to put them in context and know what you are seeing.
Main attractions
Seville Cathedral
Santa Cruz quarter
Royal Alcazar of Seville
Gold Tower
Maria Luisa Park
General Archive of the Indies
Fine Arts Museum
Macarena Basilica
Alamillo Bridge
Church of Santa Ana
Flamenco Dance Museum
Triana Market
New Square
Seville Mushrooms
Navigation Pavilion
Mudejar Museum
Los Perdigones Tower
Carriage Museum
Plaza Mayor
Ana's Traveller Tip

On at least one occasion, I recommend you relax by doing the full city tour while listening to the audio commentary.
5. If you are interested in taking a tourist bus tour around Seville, you will also be interested in
You have seen that the 48-hour ticket for the sightseeing bus also includes several walking tours that you can do for free. If you have done any of them and liked them, I recommend you take a look at this article about Best Tours and Day Trips from Seville.
The experience of visiting a place with an expert guide has nothing to do with the experience of doing it alone. Alone you can get to know a city, but with the guidance of a local you can discover its history and customs. When you return from your trip you will not only be able to say that you have seen Seville, but that you "know" Seville.
If you also feel like getting to know its main attractions in depth, you can take guided tours of the Alcazar and the Cathedral. Here are my practical guides with everything you need to organise them: Seville Alcázar Tickets and Tours and Seville Cathedral Tickets.