Cala Mitjana in Menorca
This small unspoilt cove with turquoise waters will steal your heart as soon as you set foot on its white sand. I'll tell you how to organise your visit to Cala Mitjana and its little sister, Cala Mitjaneta, to get the most out of them.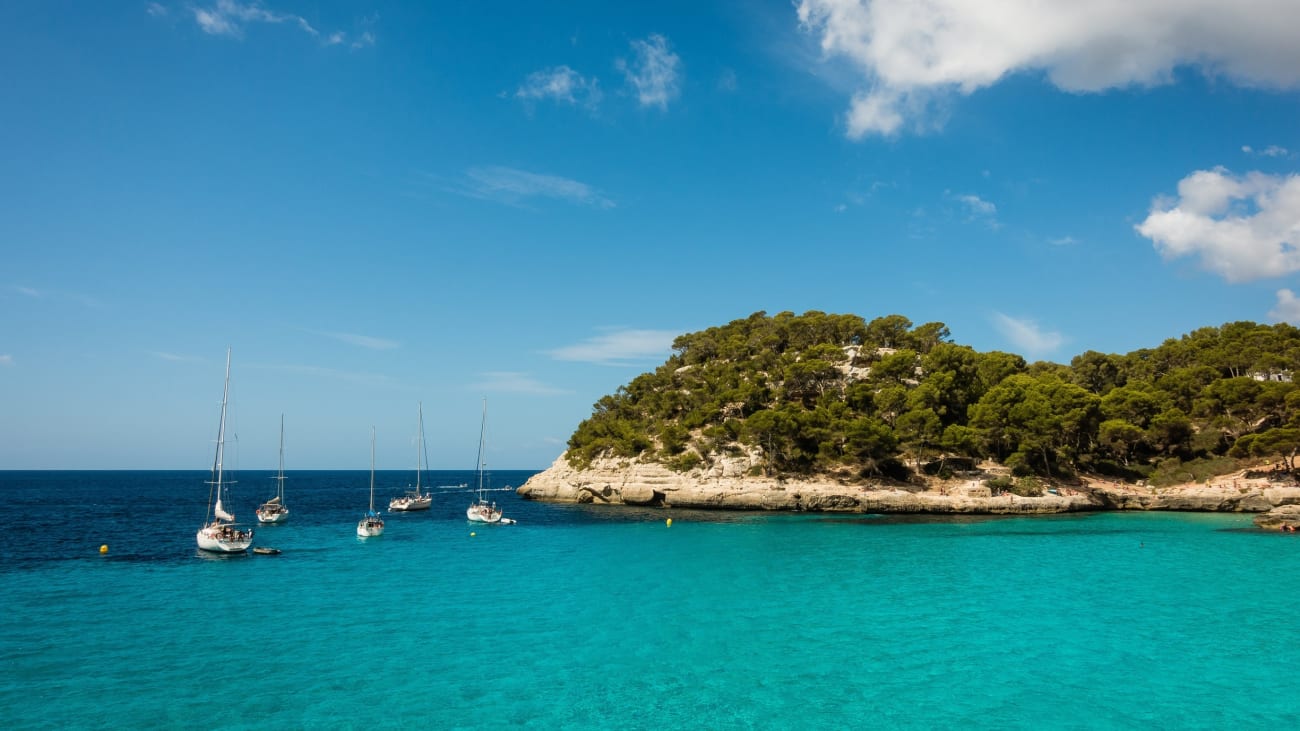 Located in the heart of the south coast of the island of Menorca, Cala Mitjana is one of those paradisiacal beaches that catches the eye (and the flashes) of those who visit Menorca time and time again.
It's easy to reach by car, by bus, on foot or with a boat trip. Take note because here's all you need to know about this jewel of nature:
How to get to Cala Mitjana
Cala Mitjana is in the heart of the south coast of Menorca and is very well communicated with Ciudadela and other coves in the surrounding area - see in Google Maps
By car
Despite its paradisiacal appearance, Cala Mitjana is easily accessible by car. To give you an idea, it is about 20 minutes drive from Ciudadela and although it is surrounded by rock cliffs, a huge ravine and a lush pine forest, you can park in the car park of Cala Galdana, which is very close and walk for 20 minutes to get there.
The car park of Cala Mitjana
The Cala Mitjana car park is actually the Cala Galdana car park. It is very well signposted from the main road and once you park, follow the signs to Cala Mitjana and Mitjaneta. You will have to pass through a beautiful pine forest before reaching the turquoise waters that can be seen through the trees.
How to get to Cala Mitjana on foot (from Cala Galdana)
Fortunately, Cala Mitjana is not one of those that require a long walk to reach. It is easily accessible from Cala Galdana by following a stretch of the famous Camí de Cavalls for about one kilometre. It starts from the Mirador de Sa Punta viewpoint.
The walk is not long at all, there are sections adapted with a wooden walkway and it is not very steep. However, if you decide to do it in the middle of the day, don't forget a cap or hat and a bottle of fresh water.
How to get to Cala Mitjana by bus
Thanks to its connection with Cala Galdana through a stretch of the Camí de Cavalls, you can get to Cala Mitjana with any bus that stops in Cala Galdana. The lines, timetables and frequency may change in high season compared to the rest of the year, so do not hesitate to consult the official website of public transport in Menorca.
Visit Cala Mitjana on a boat excursion
If you prefer to go directly to the most comfortable option to visit Cala Mitjana, I recommend that you join one of the boat trips that depart daily along the coves of the south coast of Menorca.
With all mod cons, food on board and plenty of time for a dip and snorkelling, holidays take on a much more premium feel as you cruise the coves from the turquoise waters of the Mediterranean. Cala Mitjana, being one of the most popular coves on the island, is included in all boat trips in the south of Menorca.
What to do in Cala Mitjana
Enjoy the beach, its waters and white sand. You won't be able to dance or have a drink in any bar or beach bar. There is no promenade either: Cala Mitjana and Cala Mitjaneta are completely unspoilt. They invite you to swim, snorkel and enjoy the underwater life, so don't forget your sun cream and umbrella if you plan to spend several hours there!
The best time to visit Cala Mitjana
To get the most out of its turquoise waters, it's best to spend at least a morning there. Of course, hundreds of other visitors to the island will have the same idea as you, so if you want to avoid crowds and find a parking space in the Cala Galdana car park, you can go first thing in the morning, around 9:00.
If you don't like to get up early on holiday (I understand you perfectly well), it's best to arrive around 13:00 or 14:00, when some bathers start to leave for lunch and leave free spaces.
Another option is to arrive late in the afternoon to enjoy the colours of the sunset. You may not enjoy the bathing as much, but the tranquillity and calm at that time of day will give it a special atmosphere.
What services Cala Mitjana has
As an unspoilt beach, there are no beach bars, restaurants, showers or resorts. Be prepared and carry everything you need in a backpack because you won't be able to buy drinks or food on this beach.
What can you eat in Cala Mitjana?
Only what you have brought with you in a backpack or cooler. You won't find any restaurants or beach bars, not even street vendors. My advice is to carry some food in your backpack and make the most of your time on the beach. If you prefer to go out to eat, Cala Galdana is a 20 minute walk away and there you will find all kinds of supermarkets, bars and restaurants.
Visit Cala Mitjaneta
One of the great attractions of Cala Mitjana is its little sister, Cala Mitjaneta, with which it forms a group of white beaches and turquoise waters that looks like something out of a Caribbean postcard. Cala Mitjaneta, as its name suggests, is smaller than Cala Mitjana and there are usually fewer people bathing or sunbathing there, but it is still worth a visit.
It is on the right hand side of Cala Mitjana and is only a short walk away, so get your camera ready!