Boat tours in Menorca
You haven't been to Menorca if you haven't discovered its secret coves by boat, enjoying its crystal clear waters and away from the crowds: don't miss this essential experience.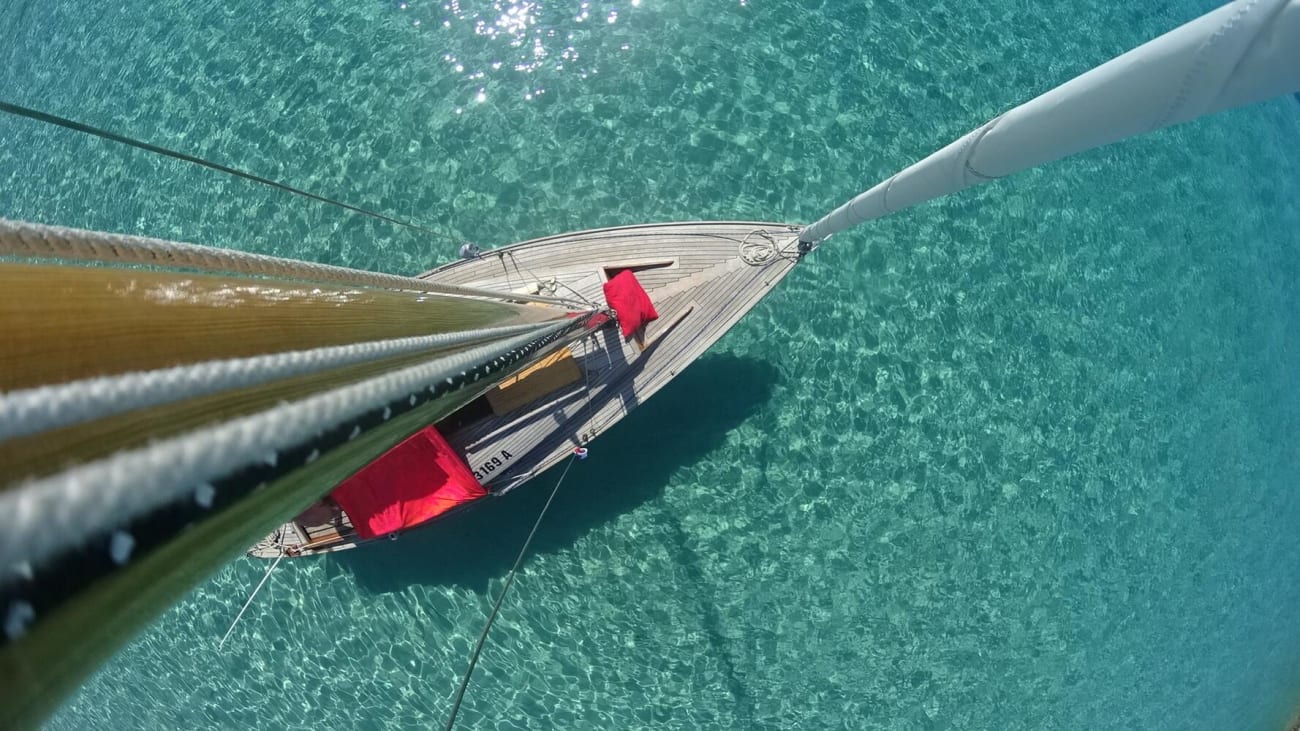 Menorca is one of the jewels of the Mediterranean Sea: its beautiful beaches will bring you peace, and touring its towns and villages will give you a certain joy that can only be found on holiday.
But this holiday will not be complete without enjoying the most beautiful and unique view of Menorca. Seeing the island from a boat in the middle of the sea is a marvel, and while you're at it, take a stroll around it and discover its coves and swim among the fish. Do you want to know how to go on a boat trip in Menorca? Read on!
Our favourite
While taking a boat trip on your trip to Minorca seems to me to be an essential experience to discover the best kept secrets of this beautiful island, spending a whole day at sea is a luxury that I encourage you to indulge in if you have enough time.
This excursion lasts about seven hours and will take you to discover the most famous coves. You will set off from Ciudadela at around 10 am and head for the southern beaches. You will pass by Cala Macarelleta, Son Saura, Es Talaier and Cala'n Turqueta, among others.
You will have enough time to make several stops in the middle of the sea and some of the coves, where you can swim among fish and see the seabed. It also includes lunch, a typical dish of paella and drinks so that you don't have to worry about anything but enjoying your holiday.
Why I like this option: As I said, it seems to me to be the best value for money option. It's the longest tour, it includes food and drinks and you'll stop to swim and snorkel at the best spots along the coast.
Recommended if... you have enough time and feel like spending a whole day at sea without breaking your travel budget. If you're travelling with children, it's also a great option, as you'll be sailing on a medium-sized, fairly stable boat.
---
The cheapest
This boat trip along the south coast of Menorca departs from Cala'n Bosch and takes you to see spectacular coves that are only accessible on foot or from the sea, such as Cala Turqueta, Cala Macarella, Cala Mitjana and Cala Trebaluger.
Also, as part of the experience, the boat will dock at one of the coves for you to swim on the beach, snorkel or observe the marine life through the glass floor. You can also order a drink from the boat's bar or sit and listen to an audio guide telling you all the details about the coves. The boat has slides, which will make the swim stop even more fun.
The timetable for this activity is quite flexible, as you can choose to do it in the morning at 10:00 or in the afternoon, leaving at 14:00 (if you choose the afternoon option, there is an extra stop in Cala Galdana for some passengers to embark and disembark, which makes the excursion take about thirty minutes longer). In any case, you will enjoy a calm and uncrowded sea, since, as I mentioned, these coves are inaccessible by car.
Why I like this option: this half-day trip will take you to discover the best coves on the island, which are inaccessible by car. During the day, you can swim, snorkel and even enjoy drinks on the deck of the boat. And all this at the lowest price on the island.
Recommended if... you are short of time and can only dedicate half a day to this activity or if you simply want to discover the best coves and then spend more time in your favourites during your trip.
---
For groups
Half Day Boat Rental in Menorca
A private boat with skipper for you and your companions for half a day.
If you are travelling to Menorca in a group, it is very likely that it is worth booking this private option: the boat can accommodate up to 12 people, which would cost €50 per person. You will be able to customise the itinerary and the stops for swimming.
Duration: 3 hours 30 minutes
From £510 at Hellotickets
Perfect for groups, this boat trip lets you and your friends, or family, or partner decide the route and places to visit by boat. With drinks and snacks included, and the chance to use a paddle surf board to explore the waters of Menorca at your leisure, plus a snorkelling experience included, this customisable Menorca boat trip is the best if you're looking for a private tour to spend the day as you choose.
The boat departs from Cala Galdana and from there, you choose the itinerary. The captain has a suggested route, but you can ask him to take you wherever you want, making as many stops as you want for the year. In addition, the boat has the necessary equipment for you to snorkel and paddle surf in the sea. There is also a bathroom on board and you will have drinks and snacks during the day.
Why I like this option: Although it may seem overpriced, large groups often end up paying more if they decide to join a large group that is already organised. If you can make ends meet, this tour is much more premium, private and customisable. You'll spend a day aboard a luxury vessel sailing at your leisure.
Recommended if... you are travelling in a group and prefer to enjoy a private experience with your companions.
---
We compare the 3 excursions
Half Day Boat Rental in Menorca
Half day private excursion on a boat with skipper for you and your companions
If you travel to Menorca with friends, pay attention to this private option: the boat can accommodate up to 12 people, which would mean a cost per person of 50€. You will be able to customise the itinerary and the stops for swimming.
Duration: 3 hours 30 minutes
From £510 at Hellotickets
---
How much does a boat trip around Menorca cost: prices and what they usually include
A boat trip in Menorca can cost between 30 and 150 € per person per day. It all depends on the type of boat, the duration of the excursion and how many people are on board. Some excursions include food, drinks and equipment for kayaking or snorkelling and these extras will add to the price of the excursion.
Fortunately, the range of boat trips on the island of Menorca is quite varied: you will find options for all tastes (and all budgets!). In general, the first thing you'll have to choose between is whether to go on a private boat trip or join an organised tour with other travellers.
Another variable will be the length of the trip. Obviously, a private boat is going to be more expensive and you can rent it with or without a skipper. For example, the Hellotickets private boat trip is priced at €600 but up to 12 passengers can travel, so the price per person is €50.
The price will also depend on the size of the boat. For example, spending the day on a catamaran in a small group (with only 10 people) can cost around 110 € per person (including snorkelling equipment, paddle surfing and food and drinks included). The same option but only for half a day costs 66 €.
How to book a boat trip in Menorca
It is best to book online and in advance, especially if you plan to travel in high season (mid-June to mid-September). Choose the number of passengers on board, the time and departure point and book your tour. You will need to pay at the time of booking to secure your place.
Bear in mind that places on the boat trips are quite tight (Menorca tries to avoid overcrowded tourism) so as soon as you book your flight or ferry to get there, make sure you get a place on the boat trip of your choice.
There is also the possibility of booking the boat trip once you arrive on the island (you can always go to a yacht club or pier and ask the professionals there) but I don't recommend it if you're travelling in the middle of summer: not only do they not offer last-minute deals, but you run the risk of not being able to get a place on the time or route you want.
Another tip when booking your boat trip is to try to book it during the first few days of your trip. Firstly, because it will help you to find your way around and discover several coves on one excursion, which you can then return to on your own at your leisure, but also because if the weather is bad - which is quite unlikely in summer, but you never know - you will have more opportunities to postpone the excursion so you don't have to miss it.
Going on a boat trip in Menorca with children
Practically all the companies that organise boat trips in Minorca are adapted to welcome the little ones: they will be able to swim, have fun on board and eat on the boat with the whole family. On the larger boats there is space to store their pushchairs and the calm waters of Menorca make it practically impossible for them to suffer from seasickness. In addition, there are often reduced fares for children and teenagers and babies travel free. Be sure to check before you book.
So, are you still wondering if encouraging the whole family to join the boat trip on holiday is a good idea? Of course it is! Children enjoy being on board almost more than grown-ups. In case they need it, you can provide them with a life jacket or you can bring them some sleeves. In some cases, for example on the half-day boat trip, the boat has slides that make it even more fun.
All the boats have toilets, which also makes the day on board easier for the little ones. There are shaded areas on all of them, where they can rest without having to be in the sun all day. For one day, you won't have to walk in the heat to the most inaccessible coves, so they're sure to appreciate it. Don't forget your hat and sunscreen... and enjoy with the whole family!
How to rent a boat without a licence in Menorca
If instead of joining a tour or booking a private, crewed excursion you prefer to rent a boat that you drive yourself, this is also possible. These are usually small boats with fairly small engines so that you can drive them without risk. You will find them from around 200 € and as the size of the boat increases, the price will go up. Rentals are usually paid by the hour.
For example, at Nautal you can book online and on the day of the excursion the person in charge will give you the instructions you need to know how to drive it. Make sure you know how many passengers can fit on the boat (they are usually quite small) before renting it and plan a little bit which coves you want to visit, as it will be more practical to rent the boat in one port or another to access the area you are interested in more quickly.
What to visit by boat in Menorca
In Menorca there are mainly two areas that attract the interest of all visitors: the coves in the south and the coves in the north. The southern coves tend to be better known for their fine white sand and crystal clear waters. The northern beaches tend to be more rugged, but you won't find hardly anyone, which makes the sailing very special.
The coves of the south
The best known are Macarella (and its little sister Macarelleta), Turqueta, Son Saura...etc. The truth is that it is impossible to choose just one, which is why the boat trips that pass by the southern beaches usually cover them all and depending on the wind of the day or the number of visitors, the skipper will choose the best place for you to stop and snorkel. Some of these beaches are flanked by caves and rocks where a lot of marine life accumulates. Take the opportunity to dive in with your goggles (snorkelling equipment is included on almost every boat trip) and marvel at the colourful fish - no one will be able to tell you're not swimming in the Caribbean!
The coves of the north
On the other hand, there are the unspoilt beaches of the north: here you won't find any beach bars or crowds of tourists. Most beaches are completely inaccessible on foot, so visiting them by boat is a great idea. Cala Tortuga, Cala Pilar, Cala Pregonda or Fornells are spectacular. Here the sand is not as fine, but the water is just as clean, transparent and turquoise as in the coves in the south, but you will be practically alone. Sounds good, doesn't it?
Take a sunset boat trip in Minorca
During your trip you will watch the sunset from incredible places on the island: its lighthouses, headlands and hidden corners make every sunset magical. But if you're looking for something really unique, you can watch the sunset from the middle of the sea, having taken a dip in the last rays of daylight and enjoying an aperitif on board.
At around 7 p.m. in the summer some boats enter the waters of Menorca for the enjoyment of those looking for a unique experience. On the way back, you will sail back to the harbour late at night, which completes the day with a bit of adventure.
However, if sunset is your favourite time of day, here's a guide to where to enjoy the last light of day in Menorca: Best sunset spots in Menorca.
Boat trips from Fornells
Boat trips departing from Fornells usually take in the northern beaches. The bay of Fornells is particularly beautiful and not very frequented by visitors to the island, so parking there to embark on the excursion will be quite easy.
For example, this sailing excursion will take you to the rhythm of the wind to discover the northern beaches. You'll stop to swim and snorkel along the way and although the itinerary may vary depending on the wind direction, the skipper will make sure you get the most out of the sailing. In Fornells you can also take a kayaking excursion that will add a bit of adventure to your visit to the north of the island.
Excursions by boat from Cala Galdana
Cala Galdana is one of the busiest beaches in the south of Menorca. Two of the largest hotels on the island are located here and many of the boat trips to the south depart from Cala Galdana. There are sunbeds, umbrellas, etc. on the beach itself, so it is not particularly charming for sailing, but it will be very useful to have it as a reference point if you are staying there or in the surrounding area to embark on an excursion.
Macarella, Macarelleta or Turqueta are quite close, so paradise is just a few metres away. For example, this half-day boat trip to the southern coves has a special stop in the afternoon to pick up and drop off passengers. However, if you decide to embark or disembark here and you have to travel by car, be patient to park and expect it to take a while - you don't want to be late for your date with the boat!
Boat trips from Ciudadela
Ciudadela is probably one of the most beautiful places on the island and perfectly combines the beach holiday you are dreaming of with the charm of a beautiful town full of atmosphere at all hours of the day. Because it is one of the most popular points of interest among tourists, there are many options for joining a boat trip from Ciudadela.
In fact, the most popular boat trip on the island, this boat tour of the southern coves starts from the Passeig del Mol in Ciudadela and returns to the same starting point. On the way back from the boat trip, take the opportunity to stroll around the little craft stalls in the port area, its little bars and terraces and its cobbled streets.
Boat trips from Mahón
Mahón is a must on your trip to Menorca. When you seem to have lost your way, you'll find a street leading out to sea with spectacular views, and its port is probably one of the most beautiful in Spain. So there's no more reason to make the most of your visit by taking a boat trip from Mahón.
The great advantage of a boat trip from Mahón is that its central location allows you to decide whether you prefer to visit the coves in the north or the south, as both are a similar distance from the city.
Sailing excursions in Menorca
Travelling by sailboat around Menorca has a romantic touch that is difficult to compare with other boats. Letting yourself be carried away by the rhythm of the wind and the direction of the waves gives a touch of authenticity to the excursion that other boats do not achieve. In addition, the small size of the sailboat (compared to other boats) means that the groups are always smaller, so you can connect better with nature and the landscape: at the end of the day you will have the feeling of having spent a relaxing day enjoying the Mediterranean.
However, you should bear in mind that, for better or worse, the speed of the sailboat is not excessive, so if you are looking for an all-terrain excursion where you can see as much as possible, this is not for you. In any case, don't worry because the skipper will make sure you get the most out of the route depending on the weather conditions.
Catamaran excursions in Menorca
It's hard not to be attracted by the luxury of joining a catamaran ride around Menorca. The boat is very stable, most of the time it uses the momentum of the wind to sail under sail and has plenty of space for sunbathing on board in total comfort.
On board a catamaran there is usually room for 10 to 12 people at most, so privacy is guaranteed, so get your camera ready because you're going to be the envy of all your friends!
Can I get seasick during a boat trip in Menorca?
It is highly unlikely. For starters, the waters around the island are very calm and there are rarely any waves, even if it's windy. Even so, if you tend to get a bit seasick when you get on a boat, I recommend avoiding sailboats (sailing boats tend to get carried away more by the rhythm of the waves) and looking for an excursion that takes place on a large boat. Catamarans, llauts and large ferry boats are very stable and you won't notice anything at all.
What else you should know about boat trips around Menorca
All the activities I have told you about only take place in good weather. If it is very cloudy, rainy or snowy, the boat trip will be cancelled and you will be offered to reschedule the experience or receive a full refund.
Bring swimwear, sunglasses, a towel, a bottle of water and sun cream - all experiences have a beach stop and you'll enjoy lying in the sun by the sea.
If you are looking for a more intimate experience, I recommend the catamaran ride or the private tour as the other experiences sometimes have larger groups.
When you confirm your booking, you will receive an email with all the details you have provided. Check that everything is correct and keep it to show to the boat captain on the day of the experience.
Other experiences that may interest you
Besides taking a boat trip around Menorca, there are many more things to do on the island to enjoy an unforgettable trip. If you want to read what else you can't miss on your holiday, keep reading here: What to do in Menorca.
And if after the boat trip you're left wanting more maritime adventure, don't worry, Menorca has plenty more to do. Why not take a kayak race? Read how here: Kayak activities in Menorca.
Frequently asked questions
Is it worth taking a boat trip in Menorca?

Yes, without a doubt. Only from the sea will you get to know some of its best coves and avoid overcrowding. If you don't want to worry about anything, the best thing to do is to join an organised tour, as this will ensure that you visit the best beaches and you will be shown the best spots for swimming.

Which is better, the boat trip to the northern or southern coves of Menorca?

The southern coves are the best known: Macarella, Macarelleta, Turqueta, Mitjana or Pregonda are paradise on earth. Always with calm sea and crystal clear waters, they are also the best place to swim.

Can I rent a boat without a licence in Menorca?

It will depend on the size of the boat and its engine. There are currently boats available for hire without a skipper, but joining a guided tour is the easiest option.

Which boat trip is more worthwhile if I go alone or as a couple?

There are very economical options where you only pay for each passenger, which makes them perfect if you are travelling alone or as a couple. If you're travelling in a group, a private excursion is usually worth it to have the boat just for you and your party (only the skipper will accompany you).