10 Things to Do in Binibeca, Menorca
Visiting Menorca and not visiting Binibeca is unforgivable. That's why here are ten things to see if you're passing through this unique village.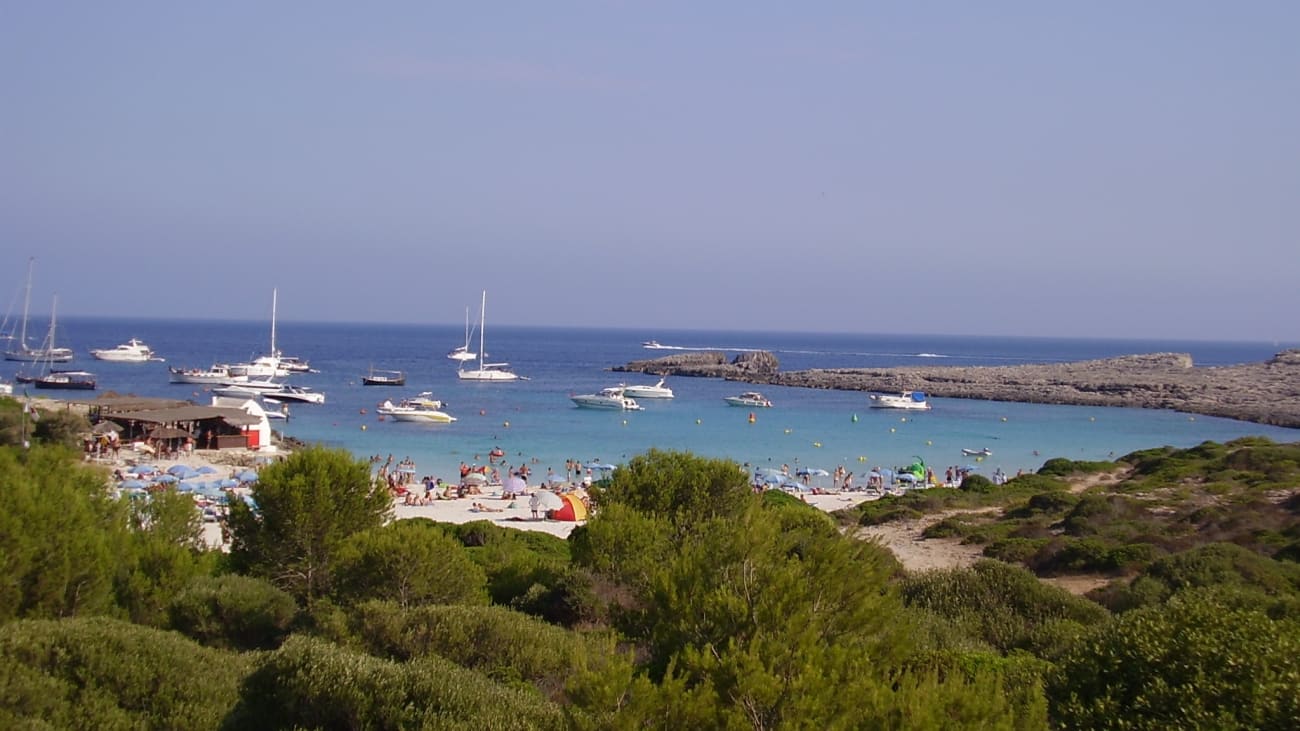 Binibeca is a fishing village that visionary entrepreneurs built a few decades ago to give the island of Menorca a major tourist boost, and boy did they succeed! Its peculiar construction attracts the attention of tourists from all over the world every summer, who include this village in their list of things to do in Menorca.
The initial intention of these entrepreneurs was to attract intellectuals and artists for inspiration. Today it has become the centre of attraction for professional photographers. Now you know, if you go to Menorca, Binibeca is a must-see that you can't afford to miss.
1. Walk through its narrow streets and alleyways
Of course, to start your visit in Binibeca, the most basic thing to do is to lose yourself for a while in its narrow streets. It's very easy to start wandering around the place, the hard part is deciding when to leave. Despite the uniformity of the white walls and houses, Binibeca is a colourful and welcoming village.
You will be impressed and inspired by the way the wooden structures contrast with the clean walls. Windows, doors and balconies are made of wood to give the village a more authentic feel. Although it is not an authentic fishing village, it is a tourist attraction worth visiting, visiting and above all, falling in love with.
Another feature that will catch your attention on this tour is the delicacy with which its streets were made. The cobbled passages that run through the whole town give it a much more classical air, reminiscent of the Greek islands with the same details. All these characteristics will make you love every space you walk through in Binibeca, without forgetting the beautiful views of the sea that can be seen from the staircases and corridors.
It is important to bear in mind that, as well as being a tourist attraction, this is also a housing complex where people live, so it is best to keep quiet during your visit. People live inside each house, in fact it is estimated that the population of the sector is approximately 200 inhabitants. In many places you will find silence signs.
Traveller Tip

Wear comfortable shoes and visit the village in the morning, so you will be less tired and enjoy the views.
2. Visit its most emblematic places
Of course, being such a popular village, it is not only about intertwined streets and alleys. This very peculiar urbanism also has many interesting places to visit and get to know. Some of the places to see on your visit are the main square, the church and the promenade.
Main Square
It is part of the initial complex of the village and is located in the centre of the residential complex, being one of the widest areas among so many narrow streets and alleys. It is a quiet place where you can sit down for a while before continuing your journey through the village on foot.
Binibeca Church
It was one of the first buildings to be erected in the area, so its structure is quite traditional, trying to maintain the air of the original fishing village. This church towers above all the other houses in the area, being one of the tallest buildings and one of the easiest to see from a distance.
Seafront promenade
Located on the shores of this magical and idyllic village, the promenade of Binibeca will make you feel like you are in a real postcard, as if it wasn't enough to have visited every part of the village. Its cobbled streets and lively atmosphere, especially at night, are outstanding.
Candi House
If you don't want to miss any of the emblematic places in the town, then I recommend that you take the time to look for Casa Candi. This was the first housing construction to be built in the entire sector, so its walls tell more than just history.
3. Snorkel in Cala Torret
Cala Torret is a pretty cove located very close to Binibeca. You can reach it by public transport, but if you go by car, it is also an effective way to visit it. On the other hand, the cove is clean and tidy enough to make you want to spend some time there.
Another attraction of this cove is that there are many privately owned boats on its quay, but also others available for rent. A good activity to do here is to take a guided kayak tour or snorkel here.
Snorkelling is one of the activities I recommend the most because you will be able to see interesting species of marine animals, as well as enjoy the clear, turquoise waters. It's a cove with rocky surroundings but it's still comfortable to visit and a great place to swim in.
4. Enter the quiet beach of Binibeca
Once you have visited the village of Binibeca, another excellent option to continue your tour is to take a stroll along the beach of Binibeca. It is a small beach located in the middle of fine white sand and a dense pine forest. The latter adds even more tranquillity and splendour to the natural design of this beach.
Also known as Cala Binibeca, you will love this spot if you visit this town thanks to how solitary it can be at certain times of the year. It has a small capacity of tourists on it, which is why it is a special place if you want to have a quiet, relaxed and comfortable visit.
Its shallow waters make it an ideal destination to go with children, so they will be able to have fun and swim without running high risks. Let's say it is a beach shared between Binibeca Vell and Binibeca Nou. If you go by car you don't even have to worry about parking because you can park on the beach without any problem.
You have the opportunity to choose whether to bring your own food from home or eat at a convenient chiringuito (beach bar) right on the seashore. This is a perfect beach for snorkelling, so you can find many offers of this kind. It is one of the places I would definitely recommend if you want to go snorkelling.
5. Admire the boats in the Cala de Biniancolla cove
Cala Biniancolla is a quiet place with a hotel at its feet. Despite this, it seems to be a refuge reserved for fishermen and curious onlookers who come to appreciate the solitude of the landscape and above all to contemplate the turquoise blue that can be seen in the surroundings of this cove. It is definitely a good place to come and watch the fishermen.
Around this cove there are many houses that form part of Binibeca Vell. It is surrounded by rocks that complete its unspoilt cove landscape and is a good destination for those who are looking to be away from the large amount of people inside a cove or a popular beach in Menorca.
If you are looking for a good place to watch the sunset in Menorca, this is definitely a good place to appreciate it, photograph it and paint it if you are artistically inclined. It's a place for inspiration, I think that's the perfect reference for this magical and dreamy place that offers every visitor a good place to rest.
It is easy to access, to get there you can take public transport if you are not in a private vehicle. In case you want to accompany your stay in the place with some tapas or a drink, near the cove you can find a restaurant whose menu of snacks and dishes you will love.
6. Enjoy the scenery in Binissafúller
Binisafuller is an urban cove located at the foot of a busy area. This is not a very busy beach considering its location. It is more of a solitary cove that is usually visited by the inhabitants of the surrounding areas. On the other hand, this cove is interesting to visit because of its easy parking and nearby food shops.
If you are visiting Binibeca it is worth taking a short walk around this cove, enjoy the sun, the scenery and the good food that can be found on its shores. It is worth enjoying the solitude of the beach in the middle of an urban environment as marked as this spot.
To get to Binisafuller beach you can take the Camí de Cavalls which passes just behind this cove and leaves you with a good route of landscapes and beautiful places to look at. This path is especially pleasant to walk along if you want to go on foot, given its proximity to the Binibeca area.
Binisafuller is a beach you can visit even if you have no plans to visit Binibeca Vell. Given its proximity to the Camí de Cavalls, it can be a good option if you want to go hiking along this route. Walking along the Camí de Cavalls and stopping at each of the coves and beaches that you will find around is a very entertaining and above all healthy activity.
7. Go back to modernity in Binibeca Nou
Binibeca Nou is the opposite of Binibeca Vell. Here you will find all the modernism and modernity that you don't see in Binibeca Vell. It also has a paradisiacal beach right next to Cala Torret. Its beach is surrounded by rocks of medium and low heights, which makes it safe enough to swim here with the little ones.
It has an idyllic landscape with an unmissable view that says a lot about how enchanting a visit to this place can be. On the shore of the beach it is possible to find multiple beach bars that make your stay on the beach a much more pleasant experience. To get to Binibeca Nou you can use public transport or a private vehicle.
In case you choose to get to this beach using your vehicle, you won't have any parking problems, since there is a good place where you can park more than 100 vehicles. However, you must take into account that this car park is not guarded.
The turquoise blue water and fine sand make it a good destination for a pleasant time at the beach if you travel to Binibeca. In the surrounding area there are many food options so that you can taste the most exquisite and special flavours of Mediterranean gastronomy.
Traveller Tip

When swimming you should beware of the presence of jellyfish, although the locals assure you that this is a species that is not dangerous for humans.
8. Visit the Splash Sur water park
If you're visiting Binibeca with the kids, you can take a whole day to visit a great water park in the area. This is Splash Sur, which has a large number of water attractions that the kids will love, and you're sure to enjoy it too.
To go to this water park I recommend that you take plenty of time. Inside the enclosure you will be able to find different options to eat or eat tapas. You also have the opportunity to take advantage of ticket prices for children under the age of 12. Even children under 2 years old can enter for free.
Within this place there are special areas to go with children in Menorca, swimming pools with a water level according to the youngest and above all it is a safe space for the whole family, where there is security at all times. It is a good option if you go to Binibeca given its proximity to the most popular towns.
This is a club that has the possibility to receive members, in case you are not a member you can also enjoy a pleasant and comfortable stay in the place. If you are looking for a bit more adventure and adrenaline, then this park will also meet all your entertainment expectations.
9. Taste Mediterranean food from a terrace
One activity you definitely can't miss out on is lingering on one of the town's terraces sipping a drink or enjoying tapas or Mediterranean dishes. Throughout the town there are several places for this: bars and restaurants whose menus offer typical local food and of course, are located in privileged places of the town.
This activity can be done both during the day and at sunset and dusk, and you will enjoy it very much either alone, with family, friends or with your partner. The views from these terraces are some of the best on the island, especially at sunset. This landscape becomes a kind of oil painting and serves as inspiration for artistic minds.
Bambú is one of the island' s gastronomic offerings. This restaurant is special because far from offering Mediterranean food, it offers its customers a Japanese menu, with typical Asian dishes and a wide range of exotic combinations that will blow your mind just by tasting them. Before you arrive and intend to eat at Bambú, you have to take into account that it is a very busy restaurant, so you must have a reservation to eat there.
If you are looking for a delicious main course to eat in the middle of the day, you have several options in the village, among them El Pescadito or Sa Musclera, nor can you miss the exquisite food and good taste of Sa Cuina de Binibeca & Bar Mar Blau. For afternoon snacks, you can go to Pastelería Gilda or Cafetería Binibeca Vell. In case you are looking for a good place to enjoy a good cocktail, I recommend you to visit the B.B Cocktail Bar.
Traveller Tip

If you go to Binibeca in summer, make sure you book everything: hotel, restaurant, attractions, don't let the season take you by surprise!
10. Stop by the jetty at the end of the day
To finish with a quiet visit to the village of Binibeca, I recommend you to go to the wharf area. In this area you will be able to see how the small and medium-sized boats are kept moored at the quay. It is a real spectacle to be there at sunset or at night because it is a space that gives you peace and tranquillity.
Sitting on the edge of the quay and watching the boats being rocked by the gently blowing wind is one of the most relaxing activities you can have in Binibeca, even in the whole of Menorca. It is a sight definitely worth admiring. Again, if all of the above has inspired you to photograph or paint, I can assure you that this spectacle will also do the trick.
One of the most striking things about this place is that it is very small, giving the impression that it is straight out of a fairy tale. The streets of the village end at the pier, so it's an ideal way to finish falling in love with the area just before you head back.