Ikono Madrid Tickets: how to buy and what to see
The most Instagrammable museum in the world is in Madrid and it's called Ikono Madrid. If you want to make sure you get a place in this oasis of fantasy, illusions and colours, I'll tell you everything you need to know to visit it and get tickets.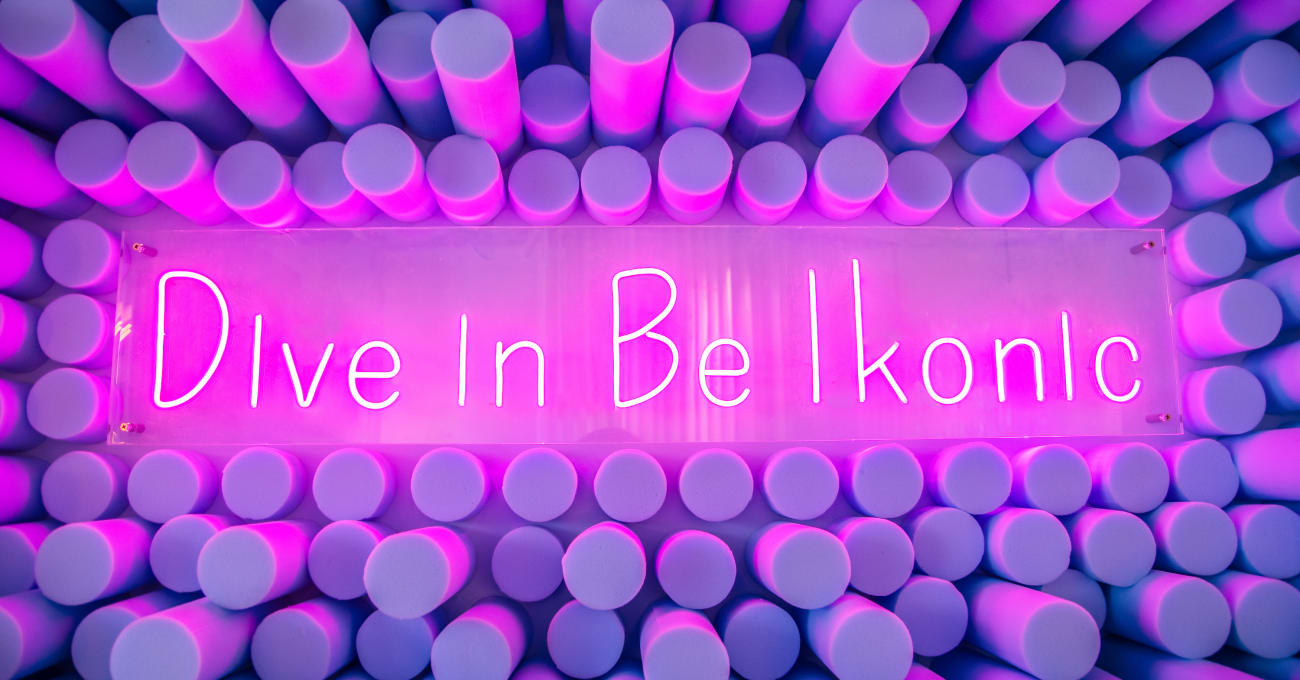 Museum, art gallery, creative space or simply the best place to let your imagination run wild. Ikono Madrid opened its doors in August 2020 to make us all dream, children and adults alike, and to make us spend some fantasy time.
How could it be otherwise, this newborn museum is designed by and for today's generations: along the tour you can enjoy immersive sensory experiences, change scenery from one place to another and take pictures, lots of pictures.
Did you know that in addition to the countless selfies you'll be taking, the museum has a professional photographer to capture the best moments of your visit? You'll definitely be the envy of Instagram! But let's take it step by step: the first thing you have to do to open the gates of (photographic) heaven is to get your ticket for Ikono Madrid.
Buy your ticket
Advance tickets for Ikono Madrid, at the best price!
If you want to visit the 'instgrameable' paradise of lights, colours and shapes, buy these tickets online in advance to avoid queues and secure your place in Madrid's fashion museum.
If you're planning your visit to Madrid, you should know that there's a new museum that, after only a few months open to the public, has become a favourite experience for young, old and young at heart, locals and tourists alike. On a tour of its different rooms you can teleport yourself from a lush Japanese bamboo forest to a room full of neon lights or a ball pool.
The important thing is that you disconnect from the outside world, let your imagination fly and immerse yourself in this world of fantasy, textures, colours and smells that is triumphing in Madrid. And although this museum is much more than just a place to take photos, it is clear that photography plays an important role. You'll be able to wear various outfits to change your clothes, you'll enjoy taking colourful photographs and you'll have a photographer at the museum who will take professional photos of visitors.
Why I like this option: Madrid is a city that invites you to wander through its streets and soak up its culture. But whether you're travelling in a group, with your family or even on your own, you could do with this dose of excitement and disconnection that's making a big splash in the city. With a concept that has just arrived from the United States, Ikono Madrid is unique in Europe, which makes it the perfect place to visit during your trip.
Recommended if... you've already decided to immerse yourself in the parallel universe of Ikono and want to make sure you have a place at the time and on the day you want.
---
What you will see in Ikono Madrid
Honestly, I don't want to give you too much away because the place is worth discovering and savouring room by room for yourself. Throughout its three floors and fifteen rooms you will be able to travel around the world, discover smells you didn't know or be transported to a night illuminated by millions of coloured lights.
This is not a conventional museum: you don't need to plan your route, have context about the works or plan which galleries to visit. You go to Ikono Madrid to let yourself go, to immerse yourself in its immersive experiences and to lose track of time and space.
Can I go with children to Ikono Madrid?
It's not that you can, it's that you should! Ikono Madrid is open to children and adults -I can't guarantee who will enjoy the visit more. However, children under the age of 13 must be accompanied by an adult to participate in the experience.
If you're worried about whether the kids will get the most out of the visit, here's a list of reasons why they'll have a great time:
By visiting Ikono Madrid, the little ones can enjoy some time for themselves after having walked for long hours around the city and having visited other more "serious" museums such as El Prado, the Thyssen or the Reina Sofía.
You will be able to live a family experience where you will enjoy together, young and old, and I assure you that it will be one of the moments you will remember most from your trip.
The younger ones will learn that museums don't have to be boring and that learning can be fun.
You will awaken their curiosity and surely, their desire to travel. Some of the rooms will leave them fascinated at certain times and this will awaken their desire to continue learning more and more about the world.
They will discover smells and textures that they are not yet familiar with, so you will be stimulating their senses.
The visit is short, which makes it even more convenient for younger children, as it is impossible for them to get tired.
Where is Ikono Madrid and how to get there?
Ikono Madrid is located in the heart of Madrid, in the Lavapiés district, on Calle de Sánchez Bustillo.
You can get there on foot if you are visiting the city centre or by metro (using line 1 and getting off at the Estación del Arte stop). You can also walk there from Atocha train station (origin and destination of hundreds of suburban trains), so there is no excuse to miss this fantastic "immersive art gallery".
Opening hours of Ikono Madrid
Ikono Madrid is open every day of the week at the following times:
Monday - Friday: from 16:00 to 22:00h
Saturdays and Sundays: from 10:00 to 14:00 h and from 16:00 to 22:00 h
How long does the visit last?
You can complete the museum tour in an hour, although you can stop a little longer to get even more out of it. This makes it the perfect break from your visit to the city to immerse yourself for a while in a completely different universe where the most important thing is to enjoy yourself.
What should I bring to Ikono Madrid?
To enter the museum you only need your ID and your ticket, but if you feel like taking photos and making great memories of your visit, I recommend you bring some extravagant or flashy clothes to change into or play with the accessories. Again, you'll have to let your imagination run wild to decide which outfits suit you best. Otherwise, you can always get inspiration from Ikono Madrid's official Instagram account.
Also remember to bring your phone or camera with you, as you won't want to miss a single snapshot in this place.
What to see around Ikono Madrid
While you're in the heart of the city, it's a good time to explore the streets of Lavapiés, a traditional neighbourhood full of contrasts, cobbled streets and colourful buildings. Some of the best tapas and snacks in Madrid are prepared here, so if your visit to Ikono has made you hungry (or thirsty), you're sure to find a terrace where you can get your strength back.
You can also walk along the nearby Paseo del Prado, one of the largest boulevards in Madrid, which will take you in a straight line to the famous fountains of Neptuno and Cibeles. You can do all this on your own or join one of Madrid's guided tours to walk along with an expert guide.
Another area that I recommend visiting and which is not far from Ikono Madrid is the well-known Barrio de las Letras. The most traditional part of Madrid has small streets that seem to be taken from a picturesque village. They are mostly pedestrian, which invites you to let yourself go and get lost in its corners. The great geniuses of Spanish literature chose it as an area where they lived and took inspiration for their works (hence the name of the neighbourhood!).
The famous Puerta del Sol is not far from Ikono Madrid either, just a 15 minute walk away. If you haven't yet set foot on Kilometre 0, the point from which all the roads in Spain start, or if you haven't visited this famous square where thousands of Madrilenians congregate every New Year's Eve, now might be a good time to do so.
Other interesting museums near Ikono Madrid
But if there is something that distinguishes the area where Ikono Madrid is located, it is the concentration of museums. Did you know that they recently changed the name of their metro station to "Estación del Arte"? Near Ikono you have the Reina Sofía Museum, the Thyssen and a little further on, the Prado Museum.
Frequently asked questions
How long does the visit to Ikono Madrid last?

You can do the whole tour in about an hour.

How big is the Ikono Madrid museum?

The museum is divided into three floors and has 15 different rooms, each with a different atmosphere.

Can I visit Ikono Madrid with children?

The little ones will enjoy this experience to the full: colours, smells, senses, lights and an infinite number of details will awaken their curiosity.

Where is Ikono Madrid?

In the central Madrid neighbourhood of Lavapiés, in Calle de Sánchez Bustillo.