How to Get to Nerja from Granada
If you are in the city of Granada and you are planning to visit Nerja, the first thing you should take into account are all the available options to get to this charming town in Malaga. Below I will tell you what they are and give you some tips for your trip.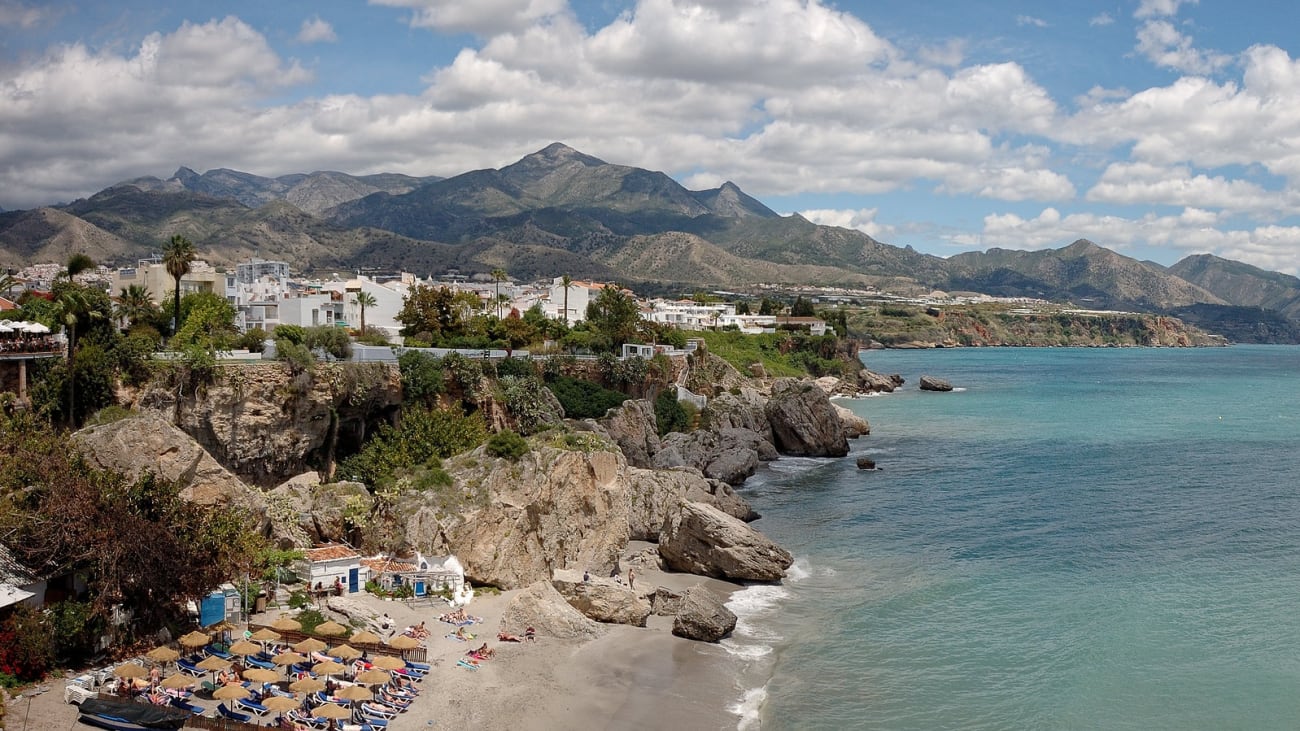 Situated in the east of the Costa del Sol, Nerja is a town that conquers with its characteristic fine sandy beaches. Thanks to its privileged climate it is one of the most popular destinations for tourists, especially for those looking to relax and enjoy the countless activities that this coastal town has to offer.
From El Balcón de Europa you can enjoy some of the best scenery on the Costa del Sol, with the cliffs and beaches of Nerja bathed in sunshine. Its proximity to the city of the Alhambra, only 93 kilometres away, makes this town one of the best excursions to complete your planning of things to see and do in Granada....
1. Nerja with an organised excursion from Granada - The most interesting option
An organised excursion is always an excellent option when planning a trip to any town. There is a wide range of excursions available from Granada, as well as many ways to enjoy Nerja.
Hiring a tour has many advantages. For example, you don't have to worry about coordinating the schedules of the different means of transport, but you can just enjoy yourself, as everything is pre-planned and arranged by the organiser.
In addition, you will always be accompanied by an expert guide who will give you all the information you need to make the most of your visit to the city so that you don't miss anything.
The excursion to the Costa Tropical and the famous Nerja Caves from Granada for the day is a very good option if you don't have too much time in your general itinerary and want to treat yourself to Nerja, its beautiful beaches, its harbour and of course its picturesque caves.
Nerja is a place like no other, with its mix of history and leisure it is an excellent destination to visit with the family. In the middle of the last century, in its famous caves were discovered the first paintings made by man.
Since then, guided tours have been organised to visit this important "time capsule". You can feel as if you are breathing the same air as those first people thousands of years ago, it is a truly fascinating adventure.
Price: Tours are available from Granada from 69 Euros.
Duration: Approximately 8 hours (full day).
Advantages: You will get to know the area in much more detail.
Disadvantages: Not the cheapest option
2. How to travel from Granada to Nerja by car - the option that offers the most freedom
To get to Nerja by car (either your own or a hire car), you will need to access the GR-30 motorway which is the one that runs around the city of Granada to the west.
Then continue along the A-44 motorway (the Sierra Nevada-Costa Tropical motorway) and the A-7 (the Mediterranean motorway), and finally take the N-340 road to Almería, in the direction of the town of Nerja.
The total distance is about 93 kilometres, almost all of which are on the motorway, which makes the journey extremely easy, agile and safe. The total journey time is approximately one hour, given that the roads are in very good condition and the trip can be completed without any problems.
Of all of them, this is one of the most practical and comfortable options, since, driving yourself, you can choose your own departure and arrival times, without any kind of limitations. In addition, you can stop as often as you like along the way to enjoy the scenery.
Remember that a large section of this route borders the stunning Sierra Nevada, which means you'll be surrounded by natural landscapes of great beauty. And if you want more, don't miss the chance to visit the Sierra Nevada from Granada, it's an experience you won't regret.
That's why having a car during your visit is the option that gives you more freedom, you can also reach the beaches further away from Nerja, the less central ones, such as La Caleta de Maro, the Alberquillas beach or the beautiful Cala del Pino, with its crystal clear waters, is ideal for diving and snorkelling.
Price: You can rent a car from 60 or 70 Euros per day.
Duration of the tour: 1 hour
Advantages: You can take your time and stop as often as you like to enjoy the scenery.
Disadvantages: The visit is on your own, the details of Nerja you will have to find on your own.
How to travel from Granada to Nerja by car sharing - The increasingly popular choice for young people
If you want to enjoy the scenery and the comforts of travelling by car but you're on a tight budget, you can choose to do this route between Granada and Nerja by car sharing. A very good option to save a few Euros and meet new people.
Car sharing has become a very popular option, especially among young people. If you are up for it, it can be a very good alternative to do this stretch between Granada and the city of Nerja.
Price: The service costs between 7 and 10 Euros.
Duration of the trip: about 1 hour
Advantages: You meet other people and get to your destination very quickly.
Disadvantages: You might be a bit wary of getting into a stranger's car.
3. How to travel by taxi from Granada to Nerja - The most comfortable option
Travelling from Granada to Nerja by taxi is an excellent way to make the whole journey in just 1 hour, enjoy the trip, and travel comfortably and safely. You can also decide and manage the departure and return times as you wish, without having to adapt to the times of other people.
Although such a trip can be obtained from 110 Euros (one way) if you travel directly, the good thing about travelling by taxi is that you can choose the route yourself and take as many detours as you like to visit the places in between.
To return to Granada you will have to hire another taxi, so the total would be 220 Euros. This is not so expensive if you think that up to 4 people can travel in an average sized taxi.
It is a very good option, full of possibilities, to organise a tailor-made trip. If you are just passing through Granada, you can directly book your taxi ride from Granada airport to Nerja, so you won't waste a single second.
Price: The service costs about 220 Euros round trip.
Journey time: Approximately 1 hour
Advantages: You get to your destination quickly and don't have to deal with other passengers.
Disadvantages: It is not a very economical option.
How to travel from Granada to Nerja by bus - The cheapest option
If you are looking for a practical and economical option to get to Nerja from Granada, this is without doubt the bus. Tickets cost between 10 and 15 Euros (one way). Much less than a taxi and a rental car.
Per day there are a total of seven bus departures from Granada to Nerja, the first being at 7 am and the last at 7 pm. Depending on the route taken by the bus and the number of stops it makes, the journey can take between two and three hours.
Although it takes much longer than by car, this option gives you the peace of mind of not being the one driving and you can simply enjoy the journey, read a book or do whatever you like.
The buses have Wifi and air conditioning on board, so you can enjoy the comfort of your trip.
Always remember to check the timetables and routes of buses from Granada to Nerja, to avoid any confusion, or to find out about any last minute changes to the itinerary (which are not common, but can happen).
As you can see, bus travel is definitely the cheapest alternative to visit Nerja from the city of Granada, and therefore one of the most chosen, so if you decide to take the bus, make your reservation early.
However, bear in mind that it takes between 2 and 3 hours to get there and the same on the way back, meaning that you'll be missing out on a good 4 to 6 hours of enjoying yourself in Nerja.
Price: The service costs between 20 and 30 Euros (Return trip).
Duration of the tour: Between 2 and 3 hours
Advantages: You can relax and enjoy the ride.
Disadvantages: Takes much longer than a taxi or rental car.
If you are still wondering which is the best option, don't worry, here I compare all of them so you can choose the one that best suits you
Excursion with a specialised guide
Cost: From around 69 €.
Duration: More than 8 hours
Advantages: Allows you to get to know a little more about the region and not have to worry about anything else.
By own or rented car
Cost: Car rental (about 50 € per day) + petrol
Duration: 1 hour
Advantages: Allows you to manage your own time and enjoy the journey.
By shared car
Cost: Between 7 and 10 € each way approximately
Duration: 1 hour
Advantages: Allows you to manage your time and meet people
By bus
Cost: Between 20 and 30 euros round trip
Duration: Approximately 2 to 3 hours
Advantages: Allows you to relax and enjoy the scenery
By taxi
Cost: More than 100 € per trip
Duration: Approximately 1 hour
Advantages: Allows you to relax and enjoy the scenery
Tips for the journey between Granada and Nerja
Here are some tips to keep in mind for this trip.
Do some research on the different attractions Nerja has to offer, the must-see details, the best beaches, its history. There is nothing worse than leaving a place without getting to know it, or missing out on treasures because you haven't done your research.
If you are not in a hurry to return in a day, I recommend you to find out what are the best options to stay in Nerja. Spending the night in this picturesque town can be a great plan.
Although it's a short drive, don't forget to bring some snacks and drinks for the road.
Travel in comfortable clothes: Whether you opt for the car, bus or taxi, always choose comfortable clothes that are appropriate for the temperature outside.
Use sunscreen. Bear in mind that a journey of one or several hours in the sun can cause annoying sunburns that will not allow you to enjoy your walk in Nerja.
Once you have arrived, I recommend that you book a table at La Fuente da Paolo, one of the best restaurants in Nerja.