How to Get to Cordoba from Granada
If you are planning a visit to Cordoba from Granada, let me tell you that it is an excellent decision, but the first step is to know how to get there.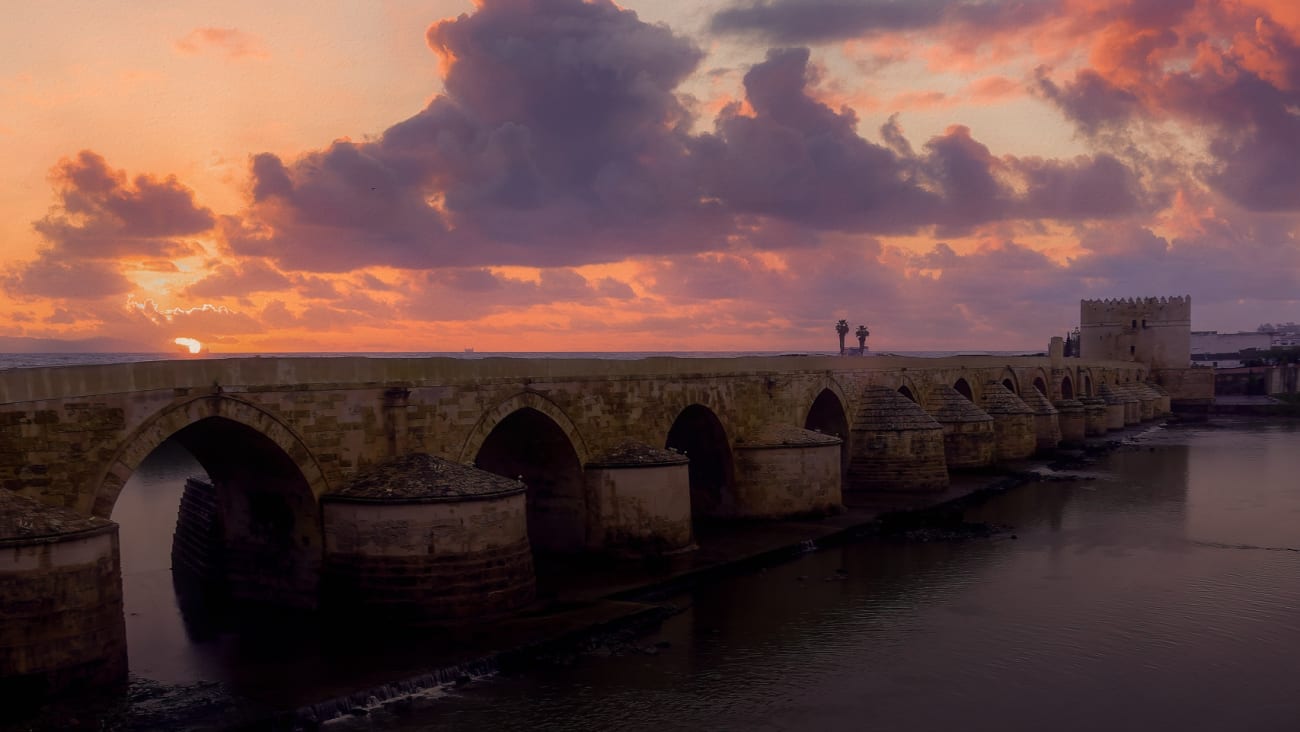 Granada is a city full of surprises and with many monuments and activities to see and do in it, but it is also very well connected with other cities, such as Cordoba, so taking a day to get to know it is a great plan. It is about 130 kilometres away from Granada and its history can be felt in every corner.
All you need to do is stroll through its narrow streets to appreciate its Roman origins and discover its iconic buildings such as the Mosque-Cathedral, the Alcázar of the Christian Monarchs and the Synagogue, to discover the perfect coexistence of Islamic, Christian and Jewish cultures.
The best option for getting to Cordoba tends to be guided tours, because they will make it easier for you to organise them. You won't have to worry about how to get there and you'll be accompanied by an expert guide who will show you the main sights of the city. However, you will also have other means of transport such as bus, train, car or taxi.
1. The best option: an organised excursion to Cordoba from Granada
If you want to get to know Cordoba without having to worry about anything, I recommend you to book an organised excursion to Cordoba from Granada.
This way, you will have a comfortable and fast means of transport to get to your destination in just two hours and, in addition, you will enjoy a more personalised visit to get to know the city in depth, as all these tours have a specialised guide who will accompany you at all times.
With this alternative, everything related to the organisation of the trip will be in good hands and you will only have to worry about getting to know all that Cordoba has to offer, which is a lot!
Normally, you won't have to worry about getting tickets for the most popular attractions or wasting time waiting in long queues to get in, as everything is usually included. With a guided tour, you'll enjoy Cordoba at your own pace.
You can marvel at the Mosque-Cathedral of Cordoba, one of the most recognisable and beautiful monuments in the world, and one of the most visited in Europe, which was declared a World Heritage Site.
You will also be able to visit the Jewish quarter and the Alcázar de los Reyes Cristianos, the imposing military building built by King Alfonso XI of Castile.
But it's not just about historical monuments; in Cordoba you'll also find a festive atmosphere, colourful flowers, picturesque fountains, squares and fairytale streets.
Interesting details
Price: from 121 €.
Duration: this type of excursion usually lasts approximately 8 hours, including the 2-hour journey from one city to another.
Advantages: You won't have to worry about anything and unlike other options, it usually includes entrance fees to the main sites and the company of an expert guide.
Disadvantages: If you're the type of traveller who enjoys doing things at your own pace, this option is not for you. It's also a bit more expensive compared to other alternatives that take you from Granada to Cordoba, but I can assure you that for its advantages, it's worth it.
2. How to get to Cordoba by train from Granada
Granada is perfectly connected to Cordoba by train and, if you don't have in mind to take a guided excursion to move between the two cities, I would say that this is a good option for you to consider, as it is cheap and you will get there quickly.
You will have two alternatives to choose the one that best suits your plans, I'll tell you all about it below.
Long distance train
This high-speed train will get you to your destination in approximately 1 hour and 20 minutes.
Of course, you will have to organise yourself well, as it departs 4 times a day from Granada train station, although the frequency varies depending on the season.
Medium distance train
They are also trains that cover the route in a short time and are designed to cover shorter distances or what is known as medium distance.
It will take you between 1 hour 35 and 1 hour 45 minutes to travel the route between Granada and Cordoba train stations. Please note that they have a frequency from 3 times a day, which can also vary depending on the season.
As for the price of train tickets, they start at around 20 euros, but they tend to gradually increase in value until the day of the journey. So to save money I recommend you book them as far in advance as possible, from 90 days before your travel date you can get them.
You can find out the timetables and buy your tickets on the official Renfe website, but bear in mind that the price will vary depending on the date you plan to travel and the flexibility you have.
Interesting details
Price: for both options prices vary between 20 and 55 euros.
How to buy tickets: at the station, online or by telephone.
Journey time: just over 1 hour and 30 minutes, approximately.
Advantages: it is a good alternative, cheap, fast and the most comfortable way to travel.
Disadvantages: you will have to take into account the journeys you will have to make to and from the respective stations.
How to get to Granada train station
The centre, taking as a reference the Cathedral of Granada, and the train station, better known as Estación de Andaluces, are 1 kilometre away and are very well connected.
This route will take you between 10 and 20 minutes, depending on the means of transport you choose. You have several options to get there by city bus, such as lines 21, 33 and 9, or by taking a taxi, which, although more expensive, is also more comfortable and quicker, as it will take you less than 10 minutes to get there.
How to get to Cordoba train station
Cordoba train station is about 2 kilometres from the city centre. To give you an idea, it is about 25 minutes walking distance from the Mosque. There are also bus lines that connect the station with the city centre, such as the 3 and 5.
Traveller Tip

There are a couple of trains between Granada and Cordoba which are not direct and require you to change trains. My advice is to be careful not to choose one of them.
3. How to get to Cordoba by bus from Granada
This is a cheaper option than the previous ones, as you will find buses from 15 euros, but it is also one of the least recommended.
There are several bus alternatives connecting Cordoba and Granada, departing from Granada Bus Station. Their approximate frequency is every three hours, with the first one leaving at 8.30am and the last one at 8pm, but it will depend on the type of transport and the season.
By bus the journey is a little slower and the duration is much longer, at least you should calculate 2 hours and 30 minutes or 3 hours, although it will depend on the stops that each bus has established. This is something very important to take into account when choosing the most convenient option for you.
How to get to Granada bus station
These buses leave for Cordoba from the Granada Bus Station, which is located at Calle Minerva 4, about 3 kilometres from the centre.
The good thing is that it is perfectly connected to the city centre by public transport. By bus or taxi, you will be there in about 20 minutes, depending on traffic.
How to get to Cordoba bus station
When you arrive in Cordoba, you will see that the bus station is located exactly opposite the train station, about 25 minutes from the Mosque. Bus lines 3 and 5 will get you to the centre.
Interesting details
Price: from €15 (one way)
How to buy tickets: at the station, online or by phone.
Journey time: no less than 2 hours and 30 minutes and up to 3 hours.
Advantages: it is an economical option compared to other means of transport.
Disadvantages: the length of the journey means that you will lose a lot of time travelling.
4. How to get to Cordoba by car from Granada
If you rented a car to drive around Granada and you want to visit Cordoba, this is a great idea! It will also allow you to visit other towns in Granada that you will love.
The journey to Cordoba is quite simple and in terms of time it will take you just over 2 hours to get there via the A-92 and A-45 motorways. In this sense, this alternative is better than the bus, but not as good as the train.
Now I will tell you a little about the prices, renting a car in Granada can cost you approximately 41 euros per day. Also, you should keep in mind that you can only rent a car if you are at least 21 years old and have a driving license for at least 1 year.
In case your licence was not issued within the European Union, please note that you will have to apply for an international driving licence.
Useful details
Price: from 41 euros per day.
Journey time: just over 2 hours.
Advantages: comfort, the car will allow you to travel the route at your own pace, making as many stops as you like.
Disadvantages: it is one of the most expensive options.
5. How to get to Cordoba by taxi from Granada
It is by no means the cheapest option, nor is it the one I personally recommend the most. But it can be a good option if you are travelling in a group or with children. Make sure you choose an official taxi of the city of Granada, they are white with a green stripe and the green or red light on the top of the taxi indicates whether it is free or busy.
In this case, you must use an intercity taxi to leave Granada and the price for a return trip to Cordoba will vary between 180 and 210 euros. As for the duration of the journey, it will be the same as if you go by car, approximately 2 hours.
If you plan to travel from Granada to Cordoba with children, the taxi can also be a great option, as they will surely be able to travel more comfortably and calmly. In addition, you will avoid having to go to the stations because the taxi will be able to pick you up and drop you off wherever you indicate.
Useful information
Price: 180 and 210 euros for a return trip.
Journey time: just over 2 hours.
Advantages: if you are travelling with children or in a group, this is one of the best options.
Disadvantages: It is one of the most expensive alternatives.
We compare all the options to get from Granada to Cordoba
Organised tour
Price: from 121 €.
Duration: about 8 hours
Advantage: organisation and comfort
Disadvantage: if you are a free traveller, it will not be the ideal option for you.
Train
Price: from €20
Duration: about 1 hour and 20 minutes
Advantage: one of the fastest and most direct alternatives.
Disadvantages: You will have to travel to and from the respective train stations.
By bus
Price: from €15
Duration: between 2 hours and 30 minutes and 3 hours
Advantage: the cheapest option
Disadvantages: It will take a long time to get there.
Rent a car
Price: from 41 € per day
Duration: just over 2 hours
Advantage: Convenience
Disadvantages: not very economical and not very cost-effective
Taxi
Price: 180 - 210 €.
Duration: just over 2 hours
Advantage: good option if you go with children and you can choose the pick-up and drop-off point.
Disadvantages: Price too high
Now you know all about how to get to Cordoba from Granada, you have the first step solved! All you have to do is choose the option that best suits your plans.
Finally, I want to tell you that to get the most out of Granada, you can combine your visit to Cordoba with fun excursions and guided tours of the city and even get to know one of its essential jewels with a visit to the Alhambra.