10 Things to Do in Granada in Fall
Are you going to Granada in autumn? You couldn't have chosen a better season to enjoy the good weather, art and history of this city.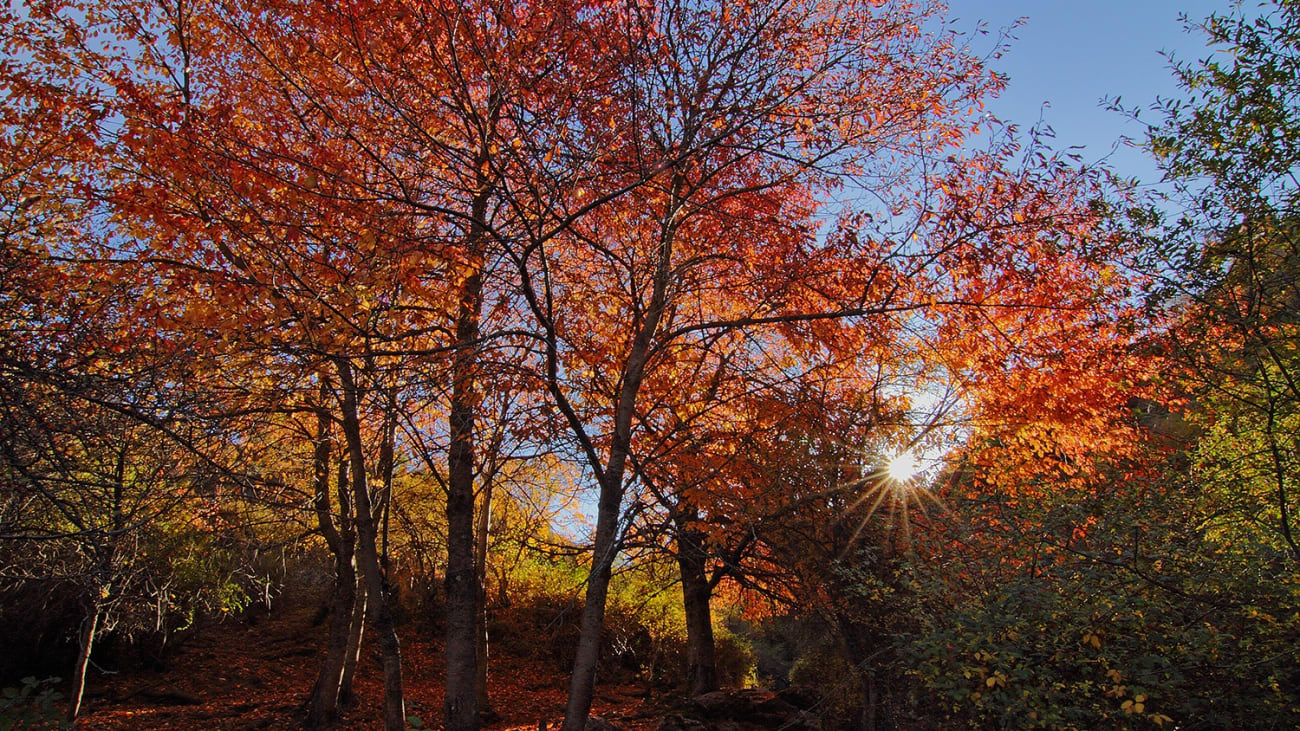 I'm sure you can't wait to start your trip and discover all there is to see and do in Granada- no wonder! The Nasrid city is full of culture and in autumn it also enjoys an enviable climate, which makes it even more appealing to stroll through its streets, participate in the festivals of its most famous neighbourhoods or taste the typical fruits of these months.
With the golden colour of the leaves on the trees, autumnal landscapes arrive in Granada, which I encourage you to discover. The best thing is that this time of the year is like an intermediate step between summer and winter, so you can either go down to the coast or up to the snowy mountains. How much do you want to go to Granada now? Take a pen and paper and write down all my recommendations.
1. Join Granada's most popular autumn festivities
There are many ways to welcome autumn, but if you are in Granada you have to do it through the popular festivals of some of its most important and traditional neighbourhoods, such as the Albaicín.
September is the month in which these festivities take place, ushering in the new season and bidding farewell to summer with music, dancing and lots of visitors. Are you going to miss them?
The Albaicín festivities
There is nothing like visiting the Albaicín neighbourhood in Granada at the end of September, specifically on the 29th, when the pilgrimage of San Miguel is celebrated. This is one of the city's original neighbourhoods (it's right next to the Alhambra), so when you stroll through it you'll see how Christian culture blends with the city's Moorish past.
What is the pilgrimage of San Miguel? In the old days the origin of the fiesta was in the Cerro del Aceituno; the local people would climb this hill and there they would organise craft markets and the young girls would wait with their mothers to be courted by the boys. Nowadays, part of the tradition is maintained, although the festivities have been opened up to the whole neighbourhood and even to the whole city of Granada.
The Zaidín festivities
Another place where they enjoy the arrival of autumn is in Granada's Zaidín neighbourhood, although its history is more recent, as it began to be built in the 1950s.
Originally, the character of its festivities was more community-based, but nowadays it has a more vindictive objective: it aims to give visibility to the needs and projects that are being developed in the neighbourhood, such as dance groups.
As well as a lot of flamenco, there is also a lot of rock, as Zaidín organises a festival dedicated to this style of music. The concerts are outdoors, taking advantage of those last days of summer and first days of autumn that allow you to be (and dance) outside. The best thing?
Admission is free and it's an opportunity to discover new national and international bands.
Interesting facts
When: during the month of September.
Where: Albaicín and Zaidín neighbourhoods.
Price: free.
Recommended if: you want to join the locals in their celebrations.
2. Enjoy the best flamenco during the Autumn Festival in Granada
Granada is a very artistic city, something you will notice as soon as you arrive and see the number of tablaos flamencos, theatres and museums. In late autumn in particular, there is an event that highlights this: the Granada Autumn Festival.
Every year different shows are organised in various locations around the city, such as the Isabel la Católica Theatre. Tickets cost approximately 30€-40€ per event.
The Granada Autumn Festival is organised with the aim of showcasing the prestige and identity of the city through music, dance and the performing arts. As you can imagine, flamenco is the main protagonist, although there is also room for ballet and music of other styles.
If you fancy attending a concert by some of the great flamenco singers, don't miss the chance. Of course, you can also go to one of the best flamenco tablaos in Granada.
Interesting facts
When: late November and early December.
Where: Isabel la Católica Theatre and other venues in Granada.
Price: approximately 30€-40€.
Recommended if: you like flamenco and the performing arts.
3. Go to see the offering of flowers in the Basilica of Las Angustias
Are you planning a visit to the Basílica de las Angustias in Granada? If you go in autumn you will be lucky enough to see it as never before: full of flowers. Why? Because throughout the autumn months (especially in September) several floral offerings are organised to the Virgen de las Angustias, patron saint of the city. In total, thousands of flowers are placed there, giving a special light and colour to this 17th century temple.
The good thing is that you will have several opportunities to see how the façade looks even more cheerful than usual. In addition, so many flowers that the surrounding area also has a good atmosphere, with stalls selling handicrafts and the famous Torta de la Virgen, a traditional sweet made from flour and usually filled with angel hair.
When you go to see the flowers in the Basílica de las Angustias, take the opportunity to visit it. Its interior was made by the best artists of the Castilian Baroque, so be prepared to see a lot of ornamentation and a large altarpiece presiding over the room.
Interesting facts
When: Throughout the month of September.
Where: Basílica de las Angustias.
Price: free.
Recommended if: you plan to visit the Basilica and want to make it even more special.
4. Taste the best products of Granada at the "autumn fruits" market
In Granada autumn smells and tastes of chestnuts, medlars, quinces, pomegranates... Where can you try them? In the area of Puerta Real and the Fuente de las Batallas, which are located in the Realejo neighbourhood (near the Cathedral) there are several stalls where local producers sell these delicacies that are only available during the autumn months.
Granada's autumn fruit fair is a unique opportunity to savour typical products of the city. I recommend you take advantage and buy some not only to try on the spot, but also to take home as souvenirs. My favourites are the acerolas, a fruit that grows in Central America but also in Granada. They look like cherries, although they are more acidic and have segments inside.
As you can see, in this market you can find fruits that are not available in other parts of the country or even the world. In addition to the flavours, I am sure you will be surprised by the smells, which you may not have known before.
Interesting facts
When: from September.
Where: Realejo neighbourhood (around the Puerta Real and Fuente de las Batallas areas).
Price: free admission.
Recommended if: you like trying new things, especially fruit and nuts.
5. Go to the concerts in the Generalife
In autumn Granada hosts one of its most special musical events: September in the Generalife. This month-long series of concerts brings together national singers and groups and takes place in the Generalife, the summer palace of the Alhambra. Tickets cost approximately €60.
My advice is to buy a ticket for this festival and, after a guided tour of the Alhambra and a visit to the Generalife and its gardens, stay for one of the concerts.
It's an opportunity not only to listen to good music, but also to have the backdrop of the palace complex's woods, which in autumn look even more stunningly golden.
The September message in the Generalife is also very special. Since its foundation, the Alhambra has been linked to art and many musicians have performed there over the years. This festival aims to continue blending tradition and the avant-garde in this unique and historic setting.
Interesting facts
When: during the month of September
Where: The Generalife of the Alhambra.
Price: approximately €60.
Recommended if: you like music and want to make the most of your visit to the Alhambra.
6. Feel the emotion of poetry in the Autumn in Verse festival
Do you like poetry? It could be said that Granada is a very poetic city; on the walls of the Alhambra, for example, there are beautiful verses written. Perhaps this is one of the reasons why the Autumn in Verse festival is held in autumn.
It is organised in the middle of autumn (between October and November) and consists of poetry readings and cultural events by young people from Granada. Admission is free.
Although at first glance the poetry reminds us of something "old", the Otoño en Verso festival in Granada gives it a modern twist. In fact, there are cockfights between rappers and there is also space for other artistic compositions, such as circus, magic or dances.
The venues are spread over theatres and cultural centres in Granada and nearby towns, such as Vegas de Gentil or Cúllar Vega, which are about an hour's drive from the capital.
Interesting facts
When: October and November.
Where: various theatres and cultural centres in Granada and nearby towns.
Price: free admission.
Recommended if: you like to keep up to date with new artistic proposals.
7. Dance and have fun at the Granada Sound festival
Who says that music festivals can only be in summer? In Granada they know better, and that's why every autumn (one weekend in mid-September) they organise the Granada Sound. This festival brings the best indie music in Spain.
Tickets cost around €50 and, although it's held on the Paseo del Cortijo del Conde (on the outskirts of the city), it includes a shuttle bus to get there.
Granada Sound was born several years ago and since then it has become a must for lovers of modern music. In addition, this event aims to give visibility not only to well-known groups, but also to emerging ones, making it an opportunity to get to know new rhythms.
The best thing is that, in order to promote tourism within the city of Granada, other concerts are organised within the city and they are free! You can also join routes through those places in Granada that are important in the world of music.
Interesting facts
When: mid-September.
Where: the main event is at Paseo del Cortijo del Conde, but there are secondary locations around the city of Granada.
Price: approximately €55.
Recommended if: even on your travels you can't get enough of discovering new music.
8. Get to know the Alpujarra with a hiking route in the autumn
I would venture to say that autumn is the best season for hiking in the Alpujarra; when you try it, I'm sure you'll agree. The Alpujarra is a region of Andalusia very close to Granada; there are traditional villages and also a great number of itineraries for all levels. It's quite easy to get there (less than two hours) and the scenery is well worth the effort.
A trip from Granada to the Alpujarra is a great way to enjoy your autumn trip without being too hot or too cold. During the tour you can combine a guided tour through traditional villages with a hike in the mountains. There are plenty to choose from, but I would like to recommend some of my favourites:
Barranco de Poqueira: perhaps not the easiest (it has a drop of more than 600 metres), but it goes through the three most famous white villages in the area (such as Pampaneira, Capileira and Bubión), where you can taste Arabic gastronomy and learn about the art of carpet weaving.
Sendero de las Acequias: this is a more accessible route, as it runs through the shade. It also passes through places of great beauty (especially in autumn when the fruit comes out of the trees) and of great historical value.
Sendero de las Encinas: it is only 5 kilometres long, so I recommend it if you don't have much time or if you don't usually go hiking. The most notable feature is that it runs along the Camino Real, which used to link Granada with Almería.
Useful information
When: throughout the autumn.
Where: the Alpujarra.
Price: free.
Recommended if: you like hiking and want to get to know the villages of Granada.
9. Walk through the historic centre of Granada while eating roasted chestnuts, typical of autumn
One of the best tours of Granada is through its historic centre. The good thing is that in autumn the chestnut stalls, which have been harvested directly from the Alpujarra, start to appear on the streets. You'll find that the smell of this fruit permeates every corner, so you'll find it hard to resist tasting them.
From the end of October onwards (although sometimes earlier) the centre of Granada fills up with chestnut stalls. As there are many chestnut trees in the Alpujarra area, this fruit has become a staple of the local cuisine. In fact, it is possible that some of the city's restaurants will serve a special dish, such as chestnut stew.
In any case, I recommend buying a cone (it costs about 2€ for half a dozen) and eating the chestnuts as you stroll through the old quarter of Granada. They will warm your hands (and your stomach) while you discover emblematic places such as the Cathedral of Granada, the Royal Chapel or the narrow streets of the Alcaicería.
Interesting facts
When: throughout the autumn.
Where: historic centre of Granada.
Price: approximately €2.
Recommended if: you want to make your walk through the old town of Granada more special and tasty.
10. Make the most of the last days on the beach in the Costa Tropical
Who says you can't go to the beach in autumn? Especially during the month of September (and even at the beginning of October) you can take advantage of the last days of sunshine to take a day trip to the Costa Tropical.
There you will find towns like Salobreña or Almuñécar which, about 1 hour from Granada, stretch out the summer so that you can bathe on their turquoise beaches.
In fact, it could even be said that in autumn they are much more enjoyable, as there are fewer people, but the Mediterranean Sea still creates a perfect climate for a day of sunbathing and a dip in water that is warmer than in early summer.
The reason for this is that all these villages are protected from the wind by the mountains and are close to North Africa.
As well as going to the beach, you can take the opportunity to get to know these places. For example in Salobreña, a town that you can reach by car on the A-44 in just 45 minutes or by bus, there is a famous medieval castle. Almuñécar, although its beaches are made of stone, is also very close and in autumn there is also a jazz festival.
Interesting facts
When: throughout the autumn.
Where: Costa Tropical.
Price: free.
Recommended if: you like to go to the beach and extend your summer.
Granada's temperatures in autumn
The best thing about going to Granada in autumn is that you can enjoy great weather, with temperatures between 25ºC and 10ºC (although they drop to a minimum of 5ºC in November), without the oppressive heat of summer in Granada.
Rainfall is more likely, especially at the end of the season, although if it does rain it is usually light.
What you should bear in mind when packing your suitcase is that daytime temperatures are at their highest (over 20ºC), but it will cool down at night, so a jacket will come in handy.
Tourism in Granada in autumn
Although the temperatures in autumn in Granada, especially at the beginning, are somewhat reminiscent of late summer, the tourist crowds do drop. Generally, there are not many fewer visitors during these months, so you can take advantage of the low season to find cheaper hotels.
Be aware that even if the Alhambra is less crowded, there is always a lot of interest, so it is always advisable to book your tickets in advance. This ensures that you can go on the day you want and at the time you want.
Are you all set to travel to Granada in autumn? I hope these plans will help you to enjoy your visit even more.