Sintra and Cascais Day Trips from Lisbon
To complete your trip to Lisbon with an excursion to the surrounding area, Sintra and Cascais are probably the best option.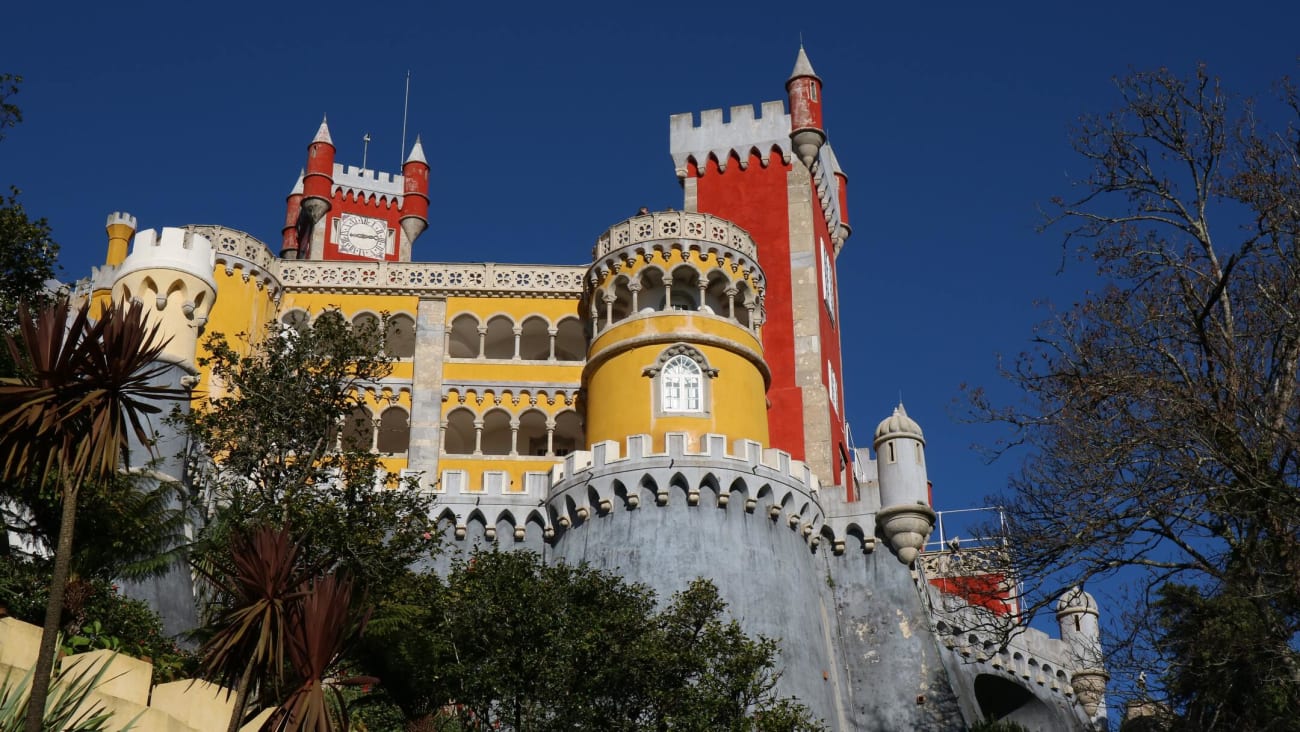 A trip to Sintra is a must. Only half an hour's drive from Lisbon, this town is dominated by the Pena Palace, one of the most important centres of European Romantic architecture.
There are different ways to get to Sintra. Choosing one or the other will depend on what you want to see or how much time you have. Here are the best options:
Best value for money
The most popular and complete tour, at the best price.
If you want to enjoy the charm of Sintra, Cascais, and Cabo da Roca and also visit the Pena Palace, this is the most complete option at the best price.
Duration: 8 hours
A visit to Sintra during our trip to Lisbon will allow us to get to know a little more of the neighbouring country and when we leave the Portuguese capital, we will be able to enjoy landscapes with a unique charm. But since we have decided to leave Lisbon for a few hours, the best thing to do is to make the most of the visit and make the most of our stay in Portugal.
To begin with, in the area surrounding Sintra there are tourist sites that are well worth a visit. This is the case of the town of Cascais or the impressive Cabo da Roca, from where you can enjoy wonderful views of the Atlantic Ocean. This day trip to Sintra, Cabo da Roca, Cascais and Estoril is designed to enjoy the contrasts of the Portuguese landscape.
And of course, high in the Sintra mountain range is the spectacular Pena Palace, built in the 19th century by a German architect for Ferdinand of Saxe-Coburg-Gotha. This is one of the most romantic palaces in Europe and therefore the main attraction of this small town. On this Sintra excursion tour you will be accompanied by an expert guide who will tell you all about its history and guide you through all the rooms. On the way back you will also pass through Estoril.
Meals and drinks are not included in this tour, but you will have free time to eat at one of the places recommended by the guide. You can also take some food with you, but I recommend that you go for the local food.
Why I like this option: The best thing about the tour is that it is the most complete tour I could find at the most affordable price. It also includes pick up and drop off at your hotel, so it couldn't be more convenient!
Recommended if... you are looking for an economical and quality option to spend a different day during your trip to Lisbon, getting to know the highlights of the region.
---
Private option
Tour Sintra, Cascais and Cabo de Roca with an expert guide just for you
If you don't like to join organised group tours but don't want to give up the comfort and explanations of taking a guide, this option allows you and your group to go on your own.
Duration: 9 hours
By now you must be convinced that Sintra is a must-see during your trip to Lisbon, so you just have to choose the option that best suits you. If you are one of those who do not enjoy organised tours with too many tourists around you, the best option is this private option, which allows you to do the same route as other guided tours, but with the difference that here you and your companions will be alone.
You will start the day in Sintra, where, in addition to visiting the historic centre, you will visit the Town Hall (also known as Queluz Palace) and stop at Casa Piriquita, a legendary pastry shop where you can taste the typical sweets of the area, the Travesseiros and Queijadas.
You will also pass by Cabo da Roca to enjoy spectacular views of the Atlantic and head for the famous Pena Palace, where you will have an hour and a half to explore it in depth. Later, on your way back home, you will pass the Estoril Coast.
Why I like this option: for a slightly higher price than other tours, you will have an expert guide and private transport just for you and your companions, which will give you a much more intimate experience and allow you to connect better with the guide, ask more questions, ask for suggestions or recommendations .....
Recommended if... you want to enjoy a more premium experience than large groups can offer but still enjoy the same tour.
---
In summary, we compare the two options
Sintra, Roca Cape and Cascais Private Tour - Full Day
Sintra, Cascais and Cabo de Roca with a guide just for you
If you don't like to join organised group tours but you don't want to give up the comfort and explanations of having a guide, with this option you and your group will go alone.
---
About Sintra
Any guided tour will cover the main points of a visit to Sintra; some will focus more on the historic centre, some on the surroundings and some on the scenery. If you are visiting Sintra individually, here is the list of sites you need to see (I recommend leaving Lisbon early to see them all).
Pena Palace
It is the main attraction of Sintra and the greatest architectural exponent of 19th century romanticism in Portugal. It is located on top of a hill and you will distinguish it by its yellow and pink walls. You can find all the information you need to visit it in this other article about tickets to the Pena Palace.
Sintra National Palace
In addition to the Pena Palace, Sintra has another palace with white walls and orange roofs that is well worth a visit both inside and out. Architecture lovers will be delighted by the medieval, Gothic, Romanesque, Manueline and Renaissance elements on its façade. Although the opening hours change according to the season, you can visit it every day of the year for approximately 10 euros.
Quinta da Regaleira
Palaces are Sintra's main attraction, but this one is different from the rest. The Quinta da Regaleira Palace looks like an enchanted castle with turrets and sculptures adorning its brick-coloured walls. The entrance fee ranges from 8 to 16 euros depending on whether you want to visit with or without a guided tour and the opening hours vary depending on the season (although you can usually visit every day of the week all year round).
The Moorish Castle
On the top of a mountain is this enclave also known as Sintra Castle. To get there you have to climb a flight of stone steps and from the top you'll have breathtaking views of the Atlantic if the day is clear.
Ana's Traveller Tip

If you're a foodie, you'll find chef Sergi Arola's Bristol restaurant in Sintra, but you'll need to book well in advance.
When to go to Sintra
Like Lisbon, Sintra receives tourists all year round. In high season (June to August) you'll find the town more lively, but there will also be longer queues to visit the Pena Palace and higher entrance fees to the sights.
As for the weather, it's good at any time of the year as there are no low temperatures to prevent you from visiting the town and in summer Sintra is always cooler than Lisbon. The ideal month to visit the city is September as the weather will be ideal and you won't find the summer crowds at the tourist attractions.
How to get to Sintra from Lisbon on your own
If you are not a fan of guided tours (although it is something I always recommend when it comes to sightseeing and visiting the most emblematic points of a city) you can also get to Sintra on your own in a quick and easy way.
The train to Sintra departs from Lisbon's Rossio station, located in the city centre between the botanical gardens and the Santa Justa elevator. The journey takes approximately 40 minutes, trains leave every half hour and cost approximately five euros (with the Lisbon Tourist Card you won't pay for the train).
You can also get to Sintra by rental car from Lisbon, but the train works so well that I wouldn't recommend it unless you're going to continue your journey around the capital. Once you get to Sintra, you can either walk around the town or take the 434 bus that connects the historic centre with the Pena Palace.
Ana's Traveller Tip

Ask for queijadas or travesseiros in Sintra's pastry shops; these are the typical sweets of the region.
If you liked the excursion to Sintra, you will also like
Sintra is not the only attractive place you can visit during your trip to Lisbon without having to travel long distances. The surroundings of the Portuguese capital are exciting and if you haven't booked your plane ticket yet, I suggest you add a couple of extra days to your holiday to see them all.
The Algarve, Fátima, Sesimbra, Nazaré, Óbidos, Arrábida, Evora... if you haven't heard of these places after visiting Lisbon, you will have heard of them several times. In this article about Best Tours and Day Trips from Lisbon you will find all the necessary information about what you can see during your trip.
Frequently asked questions
How far is Sintra from Lisbon?

Sintra is 28 km from Lisbon, less than half an hour by car.

Is it worth visiting Sintra from Lisbon?

Yes, it is a very pleasant day trip, perfect for a day trip, as it is very close and you can take the opportunity to visit the famous Pena Palace.

Which is better, Sintra or Cascais?

Both places have their own charm and best of all, if you fancy visiting both, there are organised tours that cover both in the same day.

What will I see on the trip to Sintra and Cascais?

You will see the Pena National Park, the historic centre of Sintra, Cabo da Roca, Guincho Beach, Boca do Inferno, the historic centre of Cascais and the Estoril Casino.