How to Get from Krakow to Wroclaw
If you've already enjoyed historic Kraków, perhaps it's time to do the same for magical Wroclaw. Located on the Oder River in western Poland, it's a little-known Polish treasure that's well worth a visit. I'll tell you all about how to get there.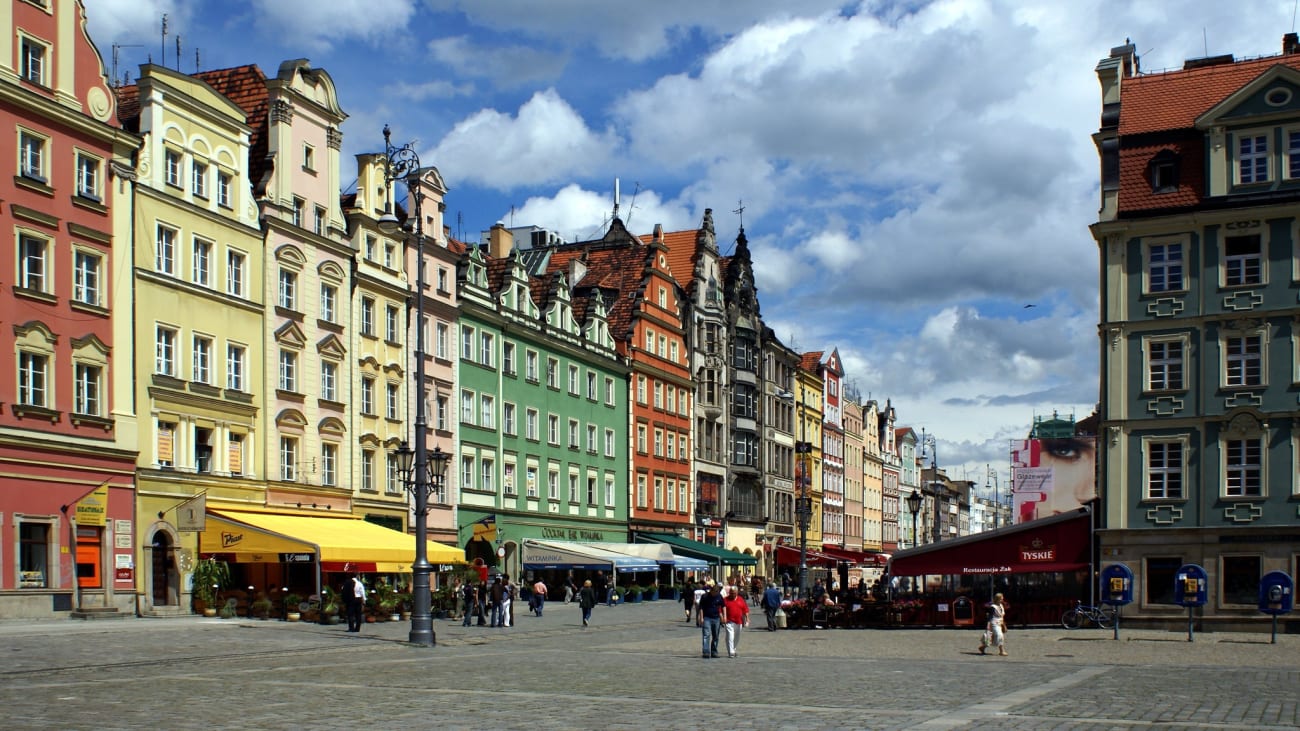 Poland is undoubtedly one of the European countries that must be visited at least once. Its historic cities hold architectural gems, art and culture. I have already told you about what to see and do in Krakow, and if you decide to follow the route, I highly recommend Wroclaw, a city where science and modernity converge and landscapes that, as a curious fact, served as a location for the film The Chronicles of Narnia.
If you've made your decision, take note because in this article I'll tell you what your options are for getting from Krakow to Wroclaw and which I consider to be the most recommendable.
1. The best way to get to Wroclaw: an organised excursion
You will find a variety of options for an organised tour to Wroclaw from Krakow. This type of tour includes, in most cases, transport to and from the accommodation or central meeting point, as well as a private guide and a meal, usually lunch.
Interesting details
Price: approximately €100 to €120 per person.
Duration: can take half a day, approximately 14 hours.
Advantages: transport and logistics are assured, so all you have to worry about is being on time and enjoying the activity. You avoid time-consuming searching and booking, as everything is already included. In addition, the organised excursion also provides you with expert guides who offer relevant and useful information so that you can get to know the place in depth. In many cases you will have access to audio guides in your native language, so you won't miss anything.
Disadvantages: less autonomy to see the destination, as you are very tight on time, according to the logistics of each tour operated. Although most organised tours include transport and entrance fees, you should be aware that many of them do not include food costs, so before booking your tour, be sure to ask what is included and what is not so you can adjust your budget. If you are travelling with pets or children, it is also important to be aware of any restrictions before booking your tour.
2. How to get there by plane
If you're in Krakow and have enjoyed all that the city has to offer, but want to sample more of magical Poland, you can also take a plane from John Paul II Krakow-Balice International Airport, from where flights to Wroclaw depart.
Something very important to bear in mind when choosing your flight option is that there are no direct flights from Krakow to Wroclaw, and you will always have to make a stopover in the city of Warsaw, at Warsaw-Chopin Airport.
Interesting details
Price: You can find flights available from €90. Remember to check travel and baggage policies for any additional charges. In this case I recommend you check low cost options through LOT airline.
Duration: 3 hours.
Advantages: Travelling by plane will always be a comfortable and practical option to connect to a nearby destination. There is on-board service and you can sit back and take a break from the busy travel itinerary while you prepare to enjoy a new place.
Disadvantages: In this case, you'll have to make a connection, as there are no direct flights to Wroclaw from Krakow, so the speed of the air flight loses steam compared to other options, which have the same duration.
Wroclaw airport is approximately 12 kilometres west of the city, and you can be in the city centre in 20 minutes by car.
3. How to get there by car
For lovers of driving, travelling by car is a movie experience. The feeling of being in a road movie and enjoying a relaxed journey, at your own pace and with the possibility of stopping at any time to eat, rest and explore the road. An opportunity that can be a perfect complement to this travelling adventure in Poland.
The driving distance between Krakow and Wroclaw is approximately 270 kilometres. You will drive for about 3 hours and either travel in your own car or a rental car.
Useful details
Price: if you consider the car option and need to hire a car for this journey, you can find different car rental companies with costs starting from €45. Don't forget to include the cost of fuel in your budget.
Duration: 3 hours.
Advantages: you have more autonomy to manage your time, making the stops you consider and need to eat and rest, as well as being able to enjoy the route at your leisure.
Disadvantages: if you are travelling alone, it can be an exhausting and somewhat boring trip. In addition, you will have to take into account aspects such as a technical check of the vehicle, the necessary fuel, and be aware of any restrictions or changes in the route that may affect your travel plan.
In case travelling by car is your choice, here are some car rental companies to consider in your travel plan:
Sixt, which offers vehicles starting at around €45 and can be picked up at Krakow Central Station.
Europcar, which has rental cars available from €55 and can be picked up either at the airport or at specific locations in Krakow city centre.
Rentalcars, a search engine that helps you compare options from different rental companies so you can choose the one that best suits your budget and needs.
Carpooling
I like to include this option because many times we travel alone, we decide to rent a car but something is needed to fully enjoy the trip, yes, a co-driver! Besides, I think it's a good idea to have a driving assistant, to share travel experiences and an alternative to save money and enjoy the Polish roads.
Interesting details
Apps like Blablacar can help you to find travel companions for your Polish getaway.
4. How to get there by bus
An economical option that offers a variety of timetables to suit your budget and travel plans. Krakow' s bus station is known as Krakow Regionalny Dworzec Autobusowy w Krakowie (RDA), and is no more than a 20 minute walk from the city centre.
From this station you can catch a bus to Wroclaw and other destinations in Poland, as well as international connections to Berlin, Cologne and Munich in Germany, Rome, Naples and Milan in Italy and many other European countries.
Interesting details
Price: You can find tickets from as little as €7, depending on the day and time you decide to travel.
Duration: the bus ride from Krakow to Wroclaw takes 3 hours and 40 minutes.
Advantages: without a doubt, the cheapest option, with which you can find many alternatives to suit your travel plan, as the timetables are varied throughout the year.
Disadvantages: It can be an economical alternative but can be tiring. If you are travelling with small children or a lot of luggage, you will have to take more things into account, which can bring unnecessary stress.
My recommendation when you decide to take a bus is to travel very early in the morning or in the evening if the journey is very long. By travelling early, you can get to your destination quicker to make the most of your time. When the distance is longer, it is best to travel in the evening, to avoid spending extra money on accommodation.
5. How to get there by train
I like this option because you can get to Krakow Glowny, Krakow's largest railway station. From there you can take a train to Wrocław Główny in Wrocław, with low costs and varied frequencies. The railway connecting these two Polish cities is about 300 kilometres long.
There's no doubt that a train journey has magic and can be a great way to explore Poland. Be aware that trains are very punctual, so you'll need to check your itinerary carefully to make sure your trip to Wroclaw goes smoothly.
Interesting details
Price: from €16
Duration: The train journey takes 3 to 4 hours.
Advantages: An economical and very comfortable option. Plus, you can enjoy beautiful views along the way.
Disadvantages: Connections and frequencies are usually very punctual, so any change in your plans that affects your punctual arrival at the station will cause you to miss your train.
6. Comparison of the different options to get from Krakow to Wroclaw
Excursions
From £115
Advantages: Transport and entrance fees included.
Disadvantages: Less autonomy to organise the itinerary.
Car
From 45€.
Advantages: Autonomy to make stops and enjoy other places along the way.
Disadvantages: The journey can be tiring.
Train
From 16€.
Advantages: Comfortable and with nice views of the road between the two destinations.
Disadvantages: May have strict timetables that don't fit the itinerary.
Now that you know what your options are, don't miss the opportunity to take your trip to Wroclaw and continue exploring all that Poland has to offer. Have a good trip!