How to Get from Krakow to Warsaw
The transport alternatives that serve as a connection point between the two cities are very diverse. In this article I will explain them in detail so that you can choose the most convenient one according to your requirements.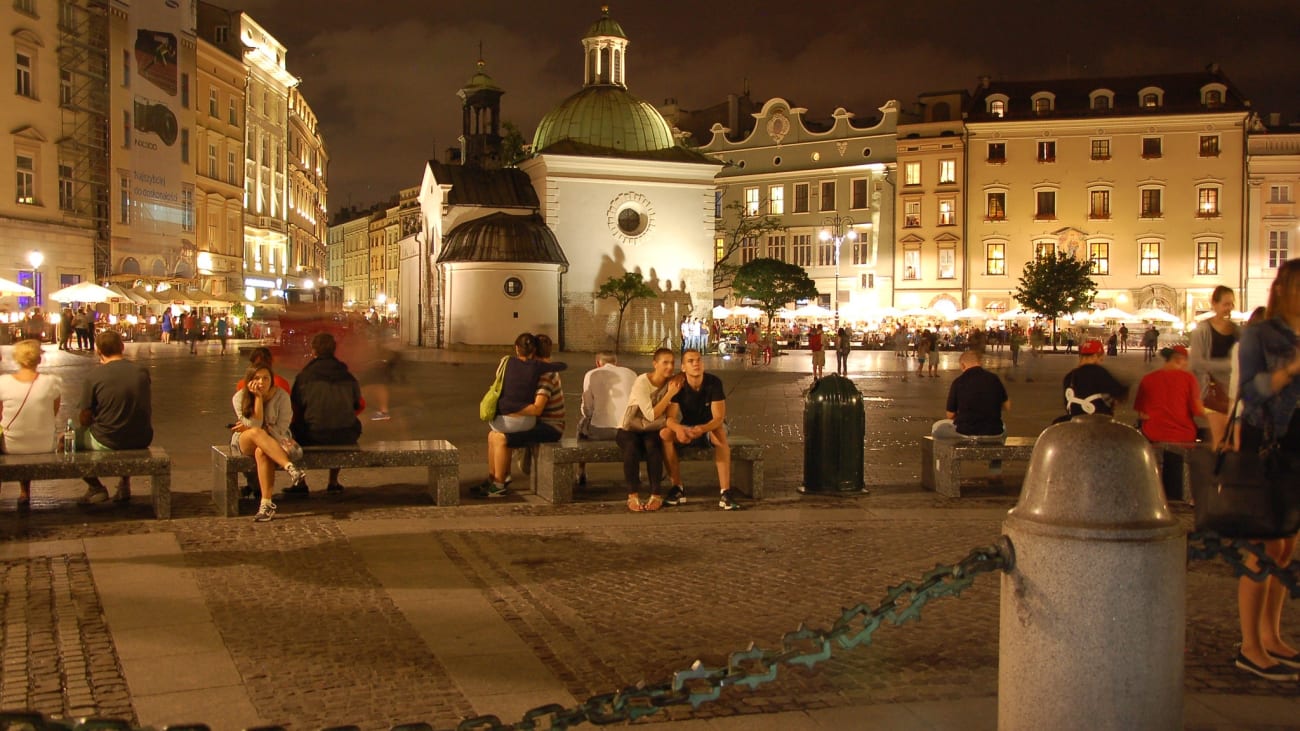 In Poland the two main cities are Krakow and Warsaw; because of this many people ask themselves whetherit is better to visit Krakow or Warsaw, which one they should visit and for how long. For me the answer is very simple: if your travel itinerary allows it, visit both destinations, because in both you will find a lot to see and do.
If your travel plan includes a stop in Krakow for three days or you 'll be in Krakow for four days, I have good news for you: getting to the capital from this historic city is easy: trains, planes, buses and excursions. Here you will find all the available alternatives and in which scenarios you should choose another one. Take note and have an amazing trip!
1. The best way to get there: From Krakow to Warsaw on an organised excursion.
Visiting Krakow from Warsaw on a sightseeing tour is the smartest option if you want to make the most of your time in the Polish capital; the guides are trained to move tourists through the main points of interest. The idea is that at the end of your trip you won't miss anything worth seeing.
Route and types of excursions Krakow - Warsaw
Private tour to Warsaw from Krakow
Private tours mostly include pick-up from your hotel as part of the services added to the experience.
Guided tour of Warsaw from Krakow
Group excursions usually involve transportation only to a common meeting point in a central and easily accessible area. Another common alternative is to travel on your own from Krakow and to meet at the meeting point with a guide in Warsaw.
Both models of excursions include a guide in your own language who accompanies the travellers during the whole trip. These trips include a visit to explore the best of the Polish capital and are sure to include a visit to explore the old town of Warsaw, almost entirely destroyed by bombs and rebuilt in a spectacularway.
Useful information about Krakow - Warsaw
Price: This may vary depending on the type of tour you prefer; an estimated value for group tours is €180, while private tours with pick-up from your hotel in Krakow can easily exceed €400.
Duration of the trip: You will need to reserve a full day of your itinerary for this tour. Organisers of this type of experience usually leave Krakow early in the morning and return to the city in the evening.
Recommended if... You are visiting Poland for the first time and are looking to make the most of your time; it is also an ideal option for those who are not very familiar with the language and prefer to find alternative guides who are able to communicate in their native language.
2. The quickest option: Get from Krakow to Warsaw by train
Visiting the Polish capital from Krakow is part of the regular routine for thousands of Polish citizens, which is why you'll find the transport service between these cities to be efficient, organised and above all punctual, as well as economical considering the valuable time it will save.
The only thing you should be aware of is the language. If you don't speak Polish or English, the best alternative is perhaps an excursion. Otherwise I recommend studying some Polish expressions before you arrive at your destination. If you are contemplating using the train service, take the following points into account.
Routes and companies offering this service
PKP Intercity
Departure from Kraków Central Railway Station in Kraków (Kraków Główny)
Arrival at Warszawa Zachodnia station in Warsaw.
Useful information
Price: A train ticket from Krakow to Warsaw costs on average €17; consider that you will have to pay this amount for both the outward and the return journey.
Journey time: The minimum journey time for this option is approximately three hours on the route alone. You will need to factor in additional waiting time although with the frequency of journeys it is usually a short waiting time.
Recommended if... If you are entirely familiar with Poland, can communicate easily in languages such as Polish and English, this is an excellent alternative. While it is true that not all Poles speak English, a good part of the younger population has English as a second language. Finding people who speak Spanish is a bit more complicated.
3. The cheapest option: Getting from Krakow to Warsaw by bus.
A bus trip from Krakow to Warsaw is a great way to enjoy the sights of Poland while still getting to know the Polish capital on a budget. The Krakow-Warsaw route is one of the most popular routes in the country and you'll find a number of different companies offering connections between the two points and at various timetables.
As a point to consider, you should familiarise yourself with the timetables of the different routes and be on time so you don't miss the bus and disrupt your itinerary; you should also take into account the length of the journey using this means of transport. If your trip to Krakow is short, such as two days in Krakow, this may not be the most convenient alternative.
Routes and companies offering this service
Neobus
Departure from Cracow bus station, Bosacka St 18
Arrival at Warsaw Warszawa-Zachodnia bus station, Al. Jerozolimskie 144
Flixbus
Departure from Lesser Poland Bus Station
Arrival at Warszawa Zachodnia bus station in Warsaw.
Useful information
Price: The ticket price for a bus trip Krakow-Warsaw route usually starts from 9,50€ on average. Please note that you will need to buy a return ticket to get back to the city.
Journey time: This is usually one of the most time-consuming alternatives due to the length of the route and the stops involved. The journey will take 4 to 5 hours, as well as waiting time at the station.
Recommended if... You will be in the city of Krakow for 5 or more days and want to spend at least 2 days of your itinerary getting to know the Polish capital. By shaving almost 10 hours off your return journey, you'll have about a day to enjoy the city's attractions.
4. The most flexible option: Getting from Krakow to Warsaw by car
If you want the opportunity to make a fully personalised trip, it's good to know that you can get from Kraków to Warsaw by car, using any of the three main roads that connect the two points. As a tip, before arriving in the Polish capital, check out the parking options in Warsaw so that you can be sure where to go in terms of the places you're going to visit.
Opt to rent a car in Krakow only if the other options presented don't suit your tastes, as going on your own will require additional planning and hassle. Even if you are travelling to Krakow with children, the other alternatives, such as the train or private tour, may suit your needs.
Routes and companies offering this service
Routes: If you're travelling on your own, you'll find several alternative routes. The S7 motorway is the most popular, but if you want to detour to cities such as Katowice, take the A1 motorway and then connect with the S8.
Car hire: Car rental companies offering this service include: Autoeurope and Polandcar
Useful information about Krakow
Price: Renting a car in Krakow is cheap at an average price of €10 per day, but you'll need to add fuel costs to your transport budget for the journey to Warsaw and back. Depending on the route you choose (there are several routes), tolls may or may not apply.
Travel time: Traveling by car is one of the fastest alternatives, with an average time of 3.5 to 4 hours depending on the route you choose.
Recommended if... You want to make a personalised trip, manage your time as you wish and consider visiting other Polish cities such as Częstochowa. Otherwise, in almost all other scenarios it is best to either take an excursion or take the train to the city.
5. The least convenient option: Getting from Krakow to Warsaw by plane.
As the country's two main cities, both destinations are well connected to the rest of the continent. Kraków has one airport where local and international flights arrive every day, while the capital has two airports that receive both local and international travellers.
The main drawback with this option is that it can be more expensive than the other alternatives listed here, yet require almost the same amount of time and effort: in both cities the airports are a bit far from the city centre and you'll need to arrive well in advance to board the plane in Krakow. Anyway, here is the information you need to fly from Krakow to Warsaw.
Transfer from the city to Krakow Airport
Krakow's John Paul II Airport (KRK) is a small, simple terminal located 13.5 kilometres from the city and divided into two parts. Small commercial flights are constantly arriving, so there are several options for getting into the city. You can take the train, hire a taxi company at the airport, take the bus en route to the city or hire a private transfer to the city centre in advance.
Transfer from the city to Warsaw Airport
In Warsaw you will find two airports: the first is Frederic Chopin Airport (WAW) 10 kilometres from the centre of Warsaw, the second is Modlin Airport (WMI) 40 kilometres from the centre. Transport options available include: train, city bus and private transfer options.
Routes and companies offering this service
LOT
Departure from Krakow-John Paul II Airport (KRK)
Arrival at Warsaw-Chopin Airport (WAW)
Finnair
Departure from Krakow-John Paul II Airport (KRK)
The route with this airline generally includes stopovers.
Useful information
Price: The Krakow-Warsaw flight ticket is quite cheap, with an average cost ranging from €32 to €42 for the cheapest options. To this budget you will have to add the cost of the airport transfer and, if necessary, the return flight ticket to Krakow.
Travel time: The flight from Krakow to Warsaw takes just one hour but you will need to allow for the time before you can board the plane. If you consider these elements you will see that you spend the same amount of time as for example the train journey.
Recommended if... You find a very cheap air ticket on offer to fly between these two cities; you can also consider it if you are on a multi-city tour and Warsaw is your next destination before continuing on to another city or country. Since this is the least convenient and easiest option, I would venture to say that almost any of the other alternatives listed above will be a better alternative for any traveller.