12 Things to Do in Krakow in December
December is one of the most dynamic months in Kraków's city life, largely because of Christmas. Here's what to do in the Polish city this month of the year.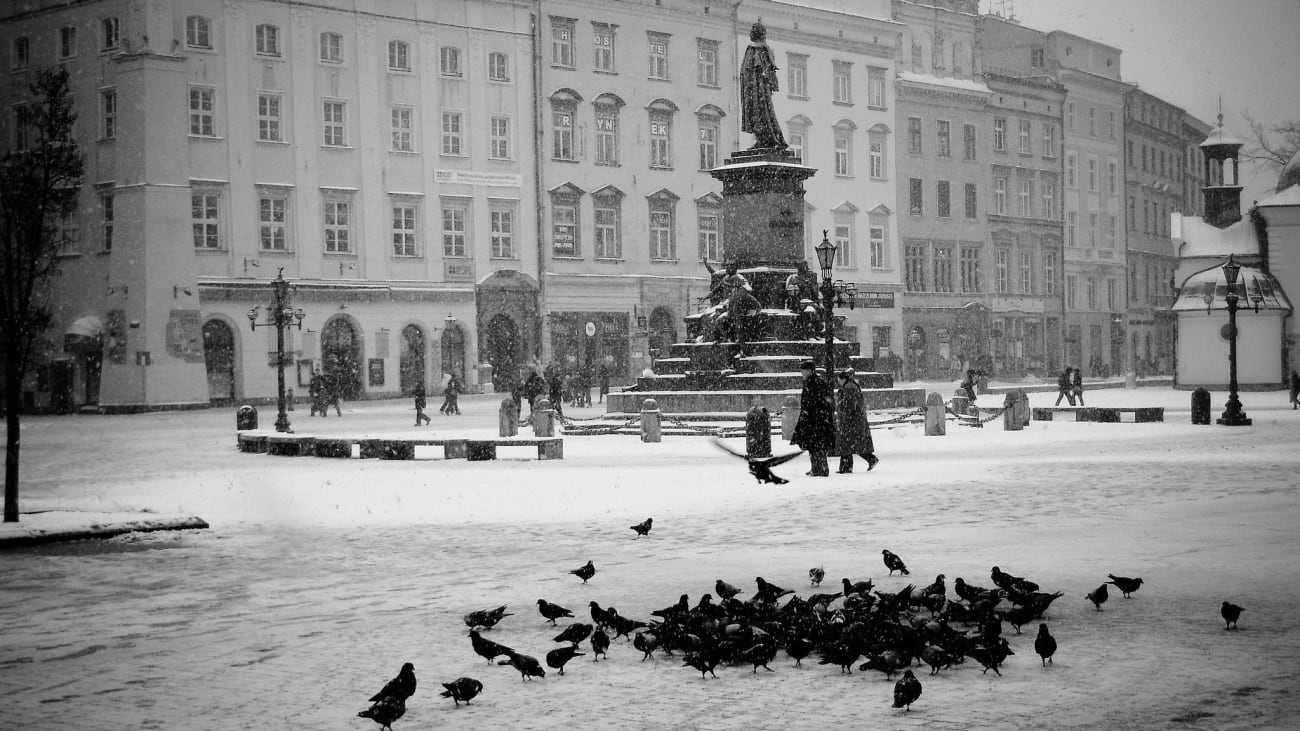 Kraków is a city that has no defined season: its charms can be enjoyed at any time of the year. However, in winter the cold and occasional snowfall can make it difficult to explore in comfort. The good news is that in winter the Polish city has winter-specific attractions that are well worth a visit.
If you've decided to travel in December, you won't be short of things to do in Krakow, especially as Christmas is fast approaching. In other words, many of the things you can't do (or will find it more difficult to do) at any other time of the year. In this article I'll give you some ideas for planning your winter getaway to the Polish city.
1. Christmas markets
As you know, the 40,000-square-metre Market Square is one of Kraków's most important sights. Its size undoubtedly contributes to this, but also the monuments located there: St. Mary's Basilica and the Cloth Market.
Between 27 November and 26 December, the extraordinary Christmas Market takes place. During these dates, the Market Square is filled with Christmas stalls with typical food, crafts, traditional nativity scenes and many other objects. Although the main attraction is the Market Square, I recommend you also visit the Stary Keplarz Market, a market with a more gastronomic and Polish focus.
And, while you're at it, you can take advantage of the Christmas atmosphere to take a tour of Krakow's Old Town and discover its history in an environment with a different atmosphere than at other times of the year.
2. Skiing in Zakopane in December
It's not unusual for a visit to Kraków in December to be accompanied by snow, so why not enjoy it? That's when a trip to the city's surroundings is the best option. If I had to choose one I would immediately say Zakopane, which is located an hour and a quarter's drive from Kraków.
A trip to Zakpane from Kraków means entering a small town of just 30,000 inhabitants with a natural mountainous environment due to its proximity to the Tatra Mountains. There are countless activities available here:
Dog sled rides
Skiing
Snowboarding
Thermal baths
Snowmobile tours
3. Try Polish street food
Alongside the Christmas markets, Kraków is full of street food stalls. There is one Kraków speciality that is practically only served at street food stalls: the maczanka krakowska or "Polish hamburger".
What sets it apart from the conventional hamburger is that the meat is not only fried, but also cooked in a broth with cream. It is usually accompanied by gherkins and some sauce from the cooking process. They are common in Kazimierz, the Jewish quarter, and also in the Market Square. In fact, if you visit Kraków in winter you can do so without much effort, as the Market Square is packed at Christmas time.
And if you decide to try it in Kazimierz, where the food stalls are plentiful, I recommend you take advantage of it and go on a tour of Kraków's Jewish quarter.
4. Warm up with delicious Polish chocolates
Although it may not seem like it, Poland is a country with a strong chocolate tradition. This came from a German chocolatier who gave his name to what is now the country's best-known chocolate, Wedel chocolate, a brand that has been around since 1851, so it's a guarantee of quality.
In December it gets very cold in Kraków, so what could be better than a cup of chocolate and a leisurely stroll? And if you're still hungry for more flavours, you can always go on a gastronomic tour. As far as chocolate is concerned, here are some of the places you can find in the centre:
Karmello: there are several establishments all over the city. The most central one is located in Florianksa.
Wedel: located very close to Florianska is the famous Wedel chocolate shop. The best option if you want something more traditional.
Wawel: also in the historic centre. A high quality firm that has been awarded several times.
5. Immerse yourself in the nightlife on New Year's Eve
If there is one incentive to spend New Year's Eve in another country, it is to experience such a lively night in unfamiliar clubs and streets. Kraków offers a wide range of nightlife. If you need some ideas, here are a few:
Single Scena Music Bar: especially suitable if you want a lively but quiet New Year's Eve. This pub has a bar and table space, as well as a stage to enjoy live music.
Forty Kleparz: perfect if you want to dance but don't feel like something too massive and overpowering.
Frantic Club: the right choice if you are looking for a large club, with several rooms and atmospheres, and a lot of people.
And if you want to get to know more clubs, you can always sign up for a pub crawl around Krakow and keep the party going.
Just a word of advice. In Krakow you are not allowed to drink in the street, so if you are outside with a glass, you can be approached by a policeman. Although it is not always easy to control this aspect, especially if you are used to the permissiveness in Spain on this point, I recommend that you remember this rule. It could save you uncomfortable situations.
6. Ice skating in December
There is no shortage of ice rinks. The most popular is the one located near the Market Square, although there are also other very suitable places to do it. Here are the most important ones:
If you opt for the latter, you can take a guided tour of Nowa Huta, a very special neighbourhood that was created by order of the communist authorities in 1949 as an independent city. As you can imagine, it has a very interesting history.
Interesting information about the ice rinks
Opening hours: usually from 09:00 to 21:00, although this may vary slightly depending on the rink.
Price: from 3 €, a very interesting price.
7. Discover Jewish music
In December in Krakow it's freezing cold and so indoor activities are a favourite with tourists, and locals of course. Because of this, it's the perfect time to do that thing you'd rather do later because you'd rather be outdoors.
I'm talking about a Jewish music concert. Have you ever been to one before? Specifically, in Krakow, you can listen to what is called klezmer music, a type of instrumental music that the Jewish communities of Eastern Europe used to play at weddings and various celebrations.
This type of music is extremely beautiful and intoxicating, being perfect to liven up an afternoon in the city, as the performances usually take place around 16:30. Best of all, the performances take place in a traditional Polish house, so the setting will take you back in time.
8. Visit the Wieliczka Salt Mines
The Wieliczka Salt Mines are one of the most special places in Kraków, without a doubt. They are an attraction that can be visited at any time of the year, as the temperature inside remains constant (around 17 degrees Celsius), but the good thing about the winter season is that there are fewer people and you can visit them more at ease.
Please note that during your visit you will enter an underground place with more than 800 years of history that has a total of 20 underground chambers that reach a depth of 135 metres. Inside you will find sculptures sculpted by the ancient miners and incredible cavities. Don't forget that this spectacular place has been declared a World Heritage Site.
It would be a crime to go to Krakow and not make a stop at these unique mines.
9. See Kraków under the snow in December
You shouldn't be surprised if you come across a winter snowfall in Kraków. Which, on the other hand, wouldn't be a bad thing, given that Kraków is a particularly beautiful city covered in snow. If that happens, make your way to Wawel Hill, where you can look out over the snowy rooftops and the city on both sides of the Vistula.
It might also be a good time to visit Wawel Castle and, if you're travelling to Krakow with children, to visit the Wawel Dragon, a sculpture on the hill depicting a legendary dragon that is thought to have lived in a cave on the hill.
10. Bet on the Kraków Mountain Festival
Between 3 and 5 December, Krakow hosts the Mountain Festival, a film event that brings together hundreds of mountaineers and climbers, as well as visual artists and documentary filmmakers.
It's one of the biggest audiovisual events in Poland and if you're interested in climbing, mountain sports and film, it's an interesting plan. Also, don't worry too much about the language. It is an international festival, so not everything will be in Polish. In fact, there is a specific competition for Polish-language works, so if you want to make sure you understand everything, it's best to attend other competitions in parallel.
11. Get a taste of folk culture with the szopka (Polish nativity scene) competition
Nativity scenes are usually associated with the southernmost European countries (mainly Spain and Italy). However, Poland, true to its strong Catholic tradition, also has its own nativity scenes. They are called szopka and differ from southern nativity scenes in that they usually represent typically Polish architectural elements.
These szopka are, in fact, Intangible Heritage of Humanity by UNESCO and visiting them can be an extraordinary way of getting to know first-hand one of the most important elements of Polish folklore.
It takes place on the first Thursday in December in the Market Square and usually involves between 100 and 200 people. If you want to discover more Christmas plans, here is more information on what to see and do in Krakow at Christmas.
12. Say hello to Mikolajki (Polish St. Nicholas)
If you're travelling with children, it's worth checking out the celebration of Mikolajki, the Polish Saint Nicholas, which takes place on 6 December. The day before, on the 5th, there are celebrations of this special day for the little ones. Children can enjoy seeing "Father Christmas" both on the Market Square and in the shopping centres. Mikolajki is very different from Father Christmas.
All the stalls offer everything from Mikolajki figurines to sweets and products associated with the holiday. These include the following:
Mikolajki-shaped biscuits covered with icing sugar
Red apples
Oranges
What is the weather like in Kraków in December?
December in Krakow is a cold month. The winter weather has high temperatures between 0 and 5 degrees Celsius. The low temperatures are between 0 and minus 5 degrees Celsius.
Snowfalls are not uncommon in winter, as well as rains and winds. I recommend that you spend your winter break exploring the city, a place where you'll have no problems if you're well wrapped up. It's a different story if you want to explore the surrounding area, such as Auschwitz. In this case, bad weather could ruin your experience or make it less satisfactory.
How many visitors come to Krakow in December?
Kraków is, along with Warsaw, one of Poland's most popular tourist destinations. However, you won't find overcrowding or crowds. December does, however, include most of the Christmas festivities, as well as one of the city's biggest attractions: the Christmas Market.
You can expect the city to see an increase in visitors during this month, but not in a way that would detract from your enjoyment. The festive season often attracts a lot of domestic tourism and, although you may find more crowds in the 'hot spots' (such as the Market Square), you'll be able to visit all of Krakow's charms without too much trouble.
What should I pack for my trip to Krakow?
What to pack for your trip to Krakow is determined by the weather in December. I advise you to take warm clothes with you, as you may face temperatures close to or below freezing. So, here's what you should take with you:
A thick coat
Thermal vests
Gloves
Scarves
Beanie
I also recommend that you carry a list of exchange offices in the centre of Krakow in your luggage. Or, alternatively, keep them in your mobile phone. As you know, Poland is not yet in the euro area and its currency is the zloty. One euro is equivalent to approximately 4.50 zloty. This can easily change. I recommend that you check the euro-zloty exchange rate before you leave.
As for where to change money, the commissions at the airport are very high. My advice is to change the essentials for transport there and, once in Krakow, change money at the exchange bureaux that offer the best rates.