10 Best Things to Do on Christmas in Krakow
Krakow is a city with many possibilities if you visit at Christmas. I show you how to make the most of it during this time of year.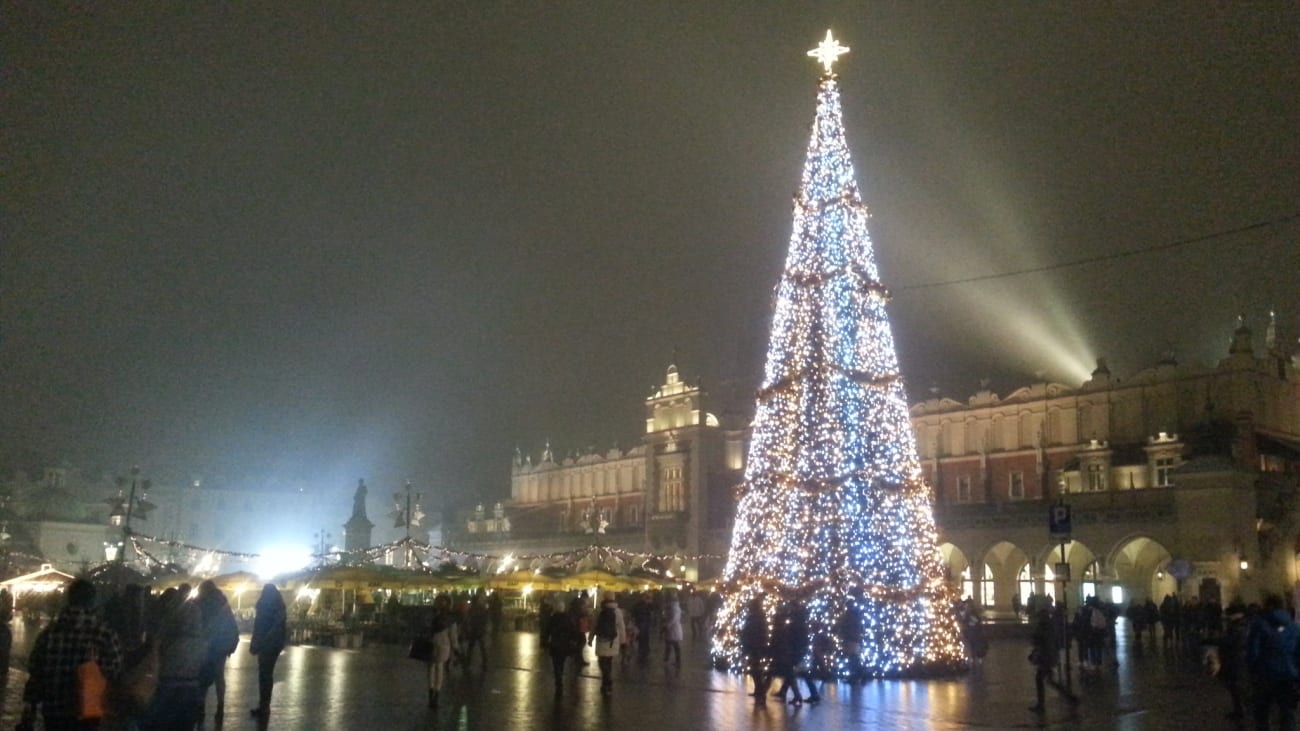 Kraków is a city that is particularly suited to Christmas. First of all because, given its temperatures, seeing snowfall is by no means an impossible mission. Secondly, because at this time of year it is decked out in colourful lights, which will provide us with some beautiful snapshots.
If you are thinking of visiting this Polish city at Christmas, I am going to show you what you can see and do at this time of year. Most of the things to do in Krakow are unique to this time of year, or at least fit in perfectly with what you're looking for in a Christmas getaway. Let's get started!
1. Christmas Market
With its 40,000 square metres, the square that houses the Cloth Market (also called Rynek Glówny) can boast of being one of the largest in Europe. This makes it one of the most impressive places you can see at Christmas. The Christmas lights and the lively atmosphere of the dozens of stalls where you can buy sweets, mulled wine or crafts contribute to this.
This market takes place between 27 November and 26 December. If you don't want to miss it, remember to travel to Poland at this time of year.
2. Shopping
Christmas is the time for presents. If you are also a fan of shopping, Krakow has a lot to offer you. I am going to show you which are the most important shopping places in the Polish city. It can also be an opportunity to buy presents for your family. Krakow is especially famous for its traditional amber products. And also for its wood craftsmanship. Buying one of its classic nativity scenes, declared Intangible Heritage by UNESCO, can also be a great gift idea.
Krakow's shopping streets
I start with the shopping streets because they are almost all in the centre, which is also a guarantee that your stroll will be embellished by Christmas lights and musical strings. There's nothing better in this respect than a stroll along Florianska Street, which connects the Market Square with St. Florian's Gate.
Shopping Centres
Kraków doesn't have huge shopping areas in the style of other cities, but it does have some very worthwhile shopping arcades. They are also located in the city centre, which makes it easy to visit them without having to travel in the winter cold or make bus connections with impossible-to-remember stop names. I would highlight the following:
Galeria Krakowska: Krakow's largest shopping centre, located right in the city centre.
Galeria Kazimierz: Located in the neighbourhood of the same name or, in other words, the Jewish Quarter.
By the way, if you finally drop by Kazimierz, I encourage you to stop by one of the largest Jewish quarters in Europe. Find out more about what to see and do in the Jewish Quarter here.
3. See the Christmas lights
Christmas lights flood Kraków from the end of November. You can enjoy them by simply strolling around the city centre, although perhaps the most striking illumination is the Christmas tree on the Market Square.
Also worth seeing in terms of illumination is the interesting religious monument called the Bishop's Palace. A 17th century clerical residence which, at Christmas, is illuminated with a beautiful Christmas tree.
The lighting takes place a week before the beginning of December. It will therefore be just one of the many things to see and do in Krakow in November.
4. Admire the decoration of St. Mary's Basilica
Poland is still to this day one of the most Catholic countries in Europe. In other words, they take Christmas very, very seriously. That is why the churches are decorated during the Christmas season, not only on the outside but especially on the inside. I recommend you go inside the Basilica of Santa Maria to enjoy these Christmas decorations.
Also, if you love Christmas decorations in churches, you can continue your exploration in the most beautiful churches in Krakow. The only thing I recommend is that you visit them at times that don't coincide with worship. Kraków's churches tend to be very crowded and attitudes that are normal in Western European countries, such as wandering around while mass is taking place or a certain amount of relaxation, can get you some dirty looks in Poland.
5. Take in the snow-covered sights of the city
Kraków can be cold in winter, with temperatures as low as -10 degrees Celsius. This means you'll need to travel with plenty of warm clothes, but it can also provide you with snowy views that are rare in Spain.
If you are lucky enough to get snow during your stay, I recommend a trip to Wawel Hill. It's high enough to give you great panoramic views. And with the Vistula River at your feet, what more could you ask for? Plus, Wawel Castle and the Cathedral are right next to it.
6. Taste Polish Christmas gastronomy
Poland is a very sweet country, as its delicious confectionery specialities prove. Christmas is an ideal time to try it out, as there are many Christmas sweets that fill the shop windows of patisseries. But there are also other non-pastry specialities that are typical of the festive season. Here are some of the most characteristic ones.
Christmas foods
There are several specialities. Many of them can be bought in patisseries or restaurants. To discover the best options, check out the best restaurants in Krakow.
Pierogi: These are dumplings with various fillings (usually potato, cheese or onion), served boiled or fried.
Soups: The best remedy against the cold. Soups are an essential part of Polish cuisine. You will find soups of practically anything, although the most typical one is known as Christmas Eve beetroot soup.
Christmas sweets
Is there a time of year more prone to sweets and even overindulgence? Poland is a very confectionary country, so you'll be spoilt for choice. The ones that most catch my eye are the following:
Obwarzanek: Delicious poppy-seed bread doughnuts.
Chocolate Wedel: Poland is a country with a long tradition of chocolate. Probably one of the most famous chocolates is Wedel, named after the creator of the brand, a German entrepreneur who founded the firm in 1851.
7. Annual Nativity Scene Competition
As well as celebrating the Three Wise Men, Poland also celebrates a tradition that at first glance seems typical of more southern countries: nativity scenes. Indeed, they take them so seriously that their nativity scenes are considered no less than Intangible Heritage by UNESCO.
An annual crib competition is organised by the Historical Museum of the City of Kraków. This institution houses the nativity scenes which, from the first Sunday in December, can be visited without any problem until February.
If you are in Kraków on the first Thursday you will be able to witness the curious ceremonial that accompanies this nativity scene competition. It is essentially as follows:
Participants gather in the morning at the Adam Mickiewicz monument. After the hejnal (the sound of the trumpet from the tower of St. Mary's Basilica), a procession of nativity scenes takes place on the Market Square.
A curious event, to say the least, which you can watch from start to finish. Another interesting plan is to stop at the things to see and do in the Market Square and wait for the procession to appear.
8. Attend a performance of The Nutcracker at the Kraków Opera House
Few things are more typical of the Christmas season than performances of Tchaikovsky's ballet The Nutcracker. It is a widespread tradition, especially in the countries of Central and Eastern Europe and the United States, and Poland is no exception.
In addition, Chopin's homeland could not but be characterised by high quality musical events with the best performers. I suggest you take a look at the programme that the Kraków Opera has prepared for Christmas. You will almost certainly find performances of The Nutcracker.
If you want, you can also attend one of the many music concerts in Krakow. During the festive season, classical music predominates, sometimes taking place inside churches. A good way to enjoy the music and get to know the city's architectural heritage.
9. Watch Christmas baubles being made
A good way to get to know Polish craftsmanship. This is a visit to the ARMAR factory-workshop. It is located 23 km from Krakow, where you can experience first-hand how Christmas ornaments are made. The techniques used are very extensive and include glass blowing.
You will also have the opportunity to take part in a craft workshop, although this will depend on your skill with tongues. Unfortunately, these workshops are not available in Spanish. However, if you have a basic command of English, Italian, French, German or Russian, it should be no problem. The workshops last 2 hours and can be enjoyed from Monday to Friday at 09:00, 11:00, 13:00 and 15:00.
10. A plan for the little ones: the Dragon of Wawel
Christmas is the season of illusion par excellence. Therefore, if you are travelling with children, it is always a good idea to introduce them to the magical, fairytale and fabled elements that Krakow has to offer. One of them is the famous Wawel Dragon, a sculpture that shoots fire out of its mouth every five minutes.
Although it sounds intimidating, you can rest assured that your children will not be harmed, as it is completely safe. The sculpture is located near the Dragon Cave, where one of these creatures was thought to dwell centuries ago. The cave can be visited, but unfortunately only in the summer months. For more family activities, here is more information on what to see in Krakow with kids.
Also, since the famous Wawel Castle is next door, why not visit it? Here is all the information you will need about how to visit the Castle, opening hours and entrance tickets.
These are the most Christmas plans to do in Krakow. Decide which one best suits your tastes or the plan you are thinking of and simply make it happen. Just don't forget a good coat, gloves and a hat!
The number of visitors to Krakow at Christmas time
Kraków is not a city with specific summer attractions. However, it is certainly more pleasant to visit in good weather. That's why it doesn't get as many visitors at Christmas as it does in summer, although the number of visitors is still significant. Especially for the Christmas markets. Therefore, you will find visitors in the city centre. However, attractions such as Auschwitz and the Salt Mines are less crowded at this time of year.
Krakow's Christmas weather
The weather in Kraków at Christmas is basically cold with a chance of snowfall. In fact, the coldest average temperatures tend to be between 0 and 5 degrees Celsius. The coldest temperatures are between 0 and minus 5 degrees Celsius. It is therefore important that you travel to Kraków very, very warmly. However, if the weather is an important criterion for you, you can find out more about the best time to visit Krakow here.
What to pack for your Christmas visit to Krakow
The main thing I recommend is to pack warm clothes to be able to cope with the cold weather and possible snowfalls. Therefore, don't forget to take with you
Scarf
Coat
Thermal vests
Gloves
And another thing I recommend is that you take with you a list of the different money exchange offices, either in a notebook or written down in your mobile phone. Poland is not, for the moment, in the euro zone. Its currency is the zloty. One euro is around 4.5 zloty. This value can change, so I recommend you use this currency converter to check it.
Changing money at the airport is the worst option, as the fees are the highest. It is recommended that you change the minimum amount necessary to get to the city. Once there, in the centre of Krakow, you will find several exchange offices. The best thing to do is to locate them before your trip, so that you know which ones will be most advantageous for you. For more useful information, I recommend this article on tips for travelling to Krakow.