Most beautiful churches in Krakow
If you visit this European city steeped in history, you can't miss a tour of some of its most emblematic churches. Here is my list of 10 favourites for you to include in your trip.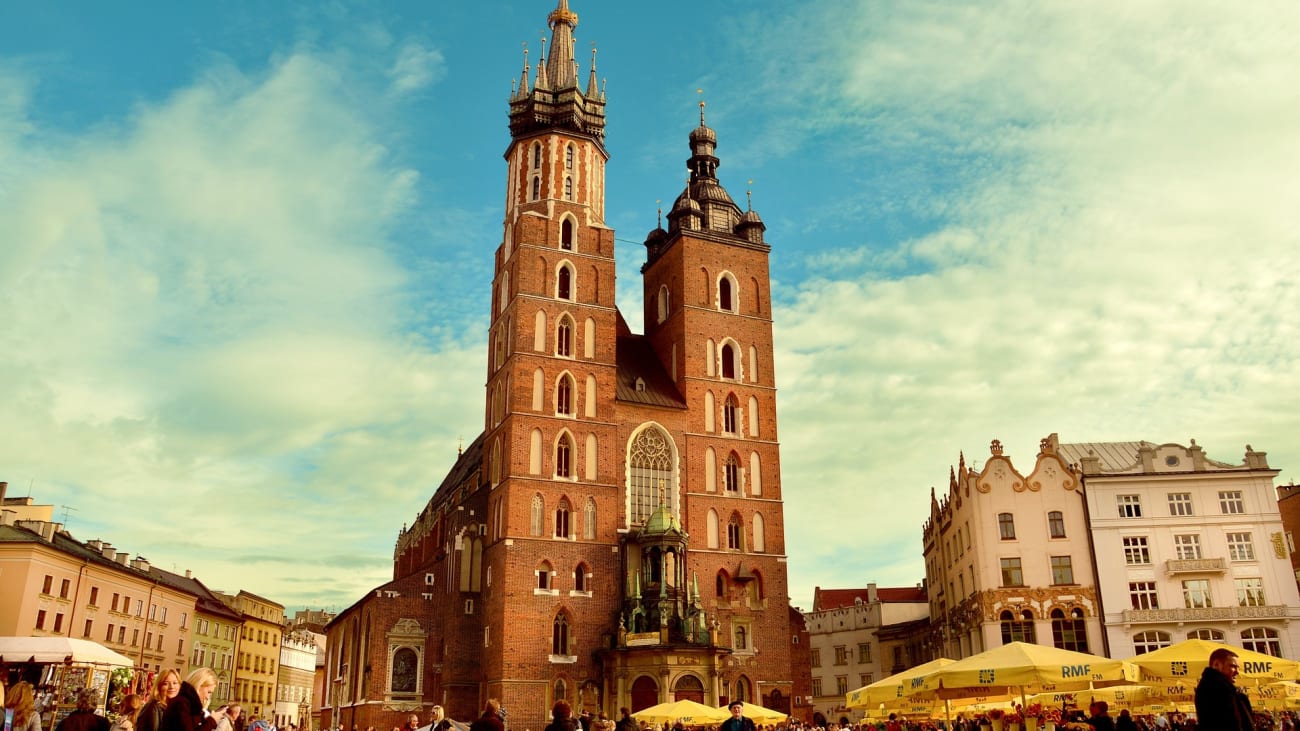 You don't have to be fervently religious to appreciate the beauty, art and history behind the world's oldest churches. Krakow is no exception. As you wander around the city, you'll come across churches with architectural details that will leave you speechless. If you're planning what to see and do in Krakow, I recommend you include some of these 10 sacred sites in your itinerary.
1. Wawel Cathedral
It issituated on Wawel Hill and is home to the patron saint of Poland, St. Stanislaus. Its history goes back more than a millennium and it is a very special place for Poles.
According to historical records, the highest church in Kraków was built some time after the creation of the city's bishopric, around the year 1000. There is more information about the successive Romanesque church from the 11th and 12th centuries, which was built during the reign of Duke Wladyslaw Herman.
Wawel Cathedral will certainly be included in the best tours and excursions from Krakow, so you can't miss to visit its interior, which includes among other things:
The Crypt, a burial place chosen for royalty and some national heroes.
Mausoleum of St. Stanislaus, located in the centre of the nave of the cathedral.
Useful information about Wawel Cathedral
For just over 4.8 euros, equivalent to 22 zlotys (Polish national currency), you can enter the Cathedral.
From April to October, the cathedral is open from Monday to Saturday from 9 a.m. to 5 p.m. and on Sundays from 12:30 p.m. to 5 p.m.
From November to March, the cathedral is open from Monday to Saturday from 9am to 4pm and on Sundays from 12:30pm to 4pm.
Plan your visit and find out more by visiting the official Wawel Cathedral website.
2. St. Adalbert's Church
It is known by this name and also as the Church of St. Wokciechl. Its foundation dates back to the 10th century, making it a historical and architectural gem that you won't want to miss on your visit to Kraków.
Located next to what is now Kraków Market Square, this is one of the oldest churches on the entire European continent.
In the crypt of this church you will find a small museum dedicated to the history of the Market Square. If you are lucky, you may also be able to enjoy some of the classical music concerts that this church usually organises.
useful information
The opening hours may vary, but it is open from Monday to Saturday from 9am to 5pm and on Sundays from 1.30pm to 6pm.
Entrance to the church is free, and to visit the crypt museum you have to pay 2 zlotys.
3. St. Andrew's Church
I love St. Andrew's Church because if you see it at first glance it may not look like much. Its simple exterior is deceptive, and unless you've done some research, you won't realise that it's another of Poland's oldest churches, built in the 11th century. A historic temple that served as a refuge during several of the invasions that Krakow suffered.
During the 18th century, St. Andrew's Church was remodelled in the Baroque style and visitors can appreciate the artistic decoration, where the pulpit in the shape of a ship stands out. Inside the church there is a Foucault Pendulum.
Near this church, you can find the Archdiocesan Museum, the Archaeological Museum of Krakow and the Wawel Castle.
Traveller Tip

Please note that in many churches it is forbidden to take photographs or videos. Out of respect and caution always check the rules of each church before you enter.
4. St. Peter and Paul's Church
Just a few metres from St Andrew's Church, you will come across this other Baroque-style building, built by the Jesuits between 1597 and 1619. With a dazzling façade, it will undoubtedly be an obligatory stop on this tour of Krakow.
On entering the church you will find a simpler design than that of the façade and the door, where you will find detailed sculptures of the twelve apostles. It is located on one of Krakow's main streets, Grodzka Street, a colourful and historic street that takes you on a very pleasant walk from the Market Square to Wawel Castle.
It is definitely one of my favourite churches, both for its beautiful façade and its location. If you are only in Krakow for a few days, I recommend you to visit this area to enjoy this and other churches. Here are some details so that you can organise an itinerary to see Krakow in 3 days.
5. Nowa Huta Church
I include the Church of Nowa Huta in this list, not only because of its abstract architecture, but also because of its history. The Church of Our Lady Queen of Poland, also known as Arka Pana. It is located on the outskirts of the former socialist quarter of Kraków, Nowa Huta.
Its construction involved clashes, as the communist authorities refused to allow the project to go ahead. On the outside you can see a construction covered with more than two million stones, while inside you can see pieces of wood. In the middle of the temple there is a sculpture of the Crucifixion.
At a distance of approximately 6 kilometres you can reach the Oskar Schindler Factory and the Museum of Contemporary Art in Krakow, two very interesting places to include in your tour.
6. St. Mary's Basilica
St. Mary's Basilica was built in the 14th century on one side of the Market Square. It is Gothic in style and is recognised as one of Krakow's most prominent and of course most visited monuments.
The front of the church consists of two towers of different heights. On the highest of these, you can see a golden crown, which is known in Polish as Hejnalica. From there, many years ago, the announcement of the closing of the gates was made, as well as the announcement of danger such as fire or enemy attacks.
If you want to enjoy a spectacular view of Kraków, during the summer you can climb this tower and enjoy the scenery. The Gallery of 19th century Polish Art is just a few metres from this church.
7. Basilica of St. Francis of Assisi
Another of the churches that I recommend on your tour is this one, built in 1269 by Franciscan monks who came from Prague. It was one of the first brick buildings in the city and is one of the oldest in Krakow.
This church has been remodelled as a result of several fires, which is why you can appreciate a mixture of different architectural styles, with Gothic and neo-Gothic details. This church was also one of Karol Wojtyla's favourite places, and you can see a plaque with his name on the place where he used to sit before he became pope.
Itwas declared a Basilica in 1920. An essential place for Catholic believers who want to visit one of the most emblematic and symbolic places in relation to the memory of Pope John Paul II, one of the most charismatic and remembered in history.
8. Basilica of the Holy Trinity
Its history dates back to the 13th century and you can appreciate Gothic, Baroque and Romanesque details. It is also known as the Church of the Dominicans, and was built by Dominican monks after the Tatar invasion.
Inside the church you will be able to appreciate different side chapels that were built during the 17th century by influential families. One of them is the chapel of San Jacinto, one of the founders of the temple, where you will see a beautiful dome.
This and other churches I have mentioned in this list are just a few metres from the area known as Stare Miasto. This is the entire Old Town, from where you can begin your tour of magical Krakow and discover all there is to see in this city.
9. Basilica of Corpus Christi
Built in the 14th century, this brick building is a must-see, as it is located in the Kazimierz quarter , the Jewish quarter of Kraków. It is one of the largest churches in the city and many people consider it to be one of the most aesthetically pleasing.
The church was devastated after the Swedish invasion, which forced a restoration, which today shows architectural details that mix Gothic and Baroque styles. Some of its most outstanding details are the choir stalls, the Renaissance mausoleum of Vladislav II and the pulpit in the shape of a boat. In this church you can also see the largest organ in Kraków.
If you visit this church, I recommend spending a little more time touring the entire Kazimierz district, where you will find 7 synagogues, the Galicia Jewish Museum, the Museum of Urban Engineering and the Ethnographic Museum. Undoubtedly, an area of the city full of history, culture and art.
I recommend you not to miss out on anything, as there is so much to see and do in Krakow's Jewish Quarter.
10. St. Mark's Church
Last but not least on this list, this church is located on Slawkowska Avenue, which connects the train station with the Market Square, and is one of Kraków's most representative churches of Gothic architecture.
The construction of this church began in 1263 as a tribute to St. Mark the Evangelist. Throughout its history it has suffered several fires and has been restored several times. It is included in the city's register of monuments and is part of the Saints' Route in Kraków.
As Krakow has the largest number of churches in Poland, many of these churches have relics of saints who were buried outside the city and the faithful from Poland and all over the world visit the city to visit these holy places. This trail starts at Wawel Castle and along the way you can visit 19 churches.
Holy Week in Krakow
With so many churches in Krakow, you might wonder if the Poles celebrate Easter like other Catholic countries and the answer is yes. If you like this celebration, it might be a good idea to pack your bags for this experience in Krakow, as you'll find the weather is great and you'll be able to connect with the local traditions.
Some activities of interest during Holy Week in Krakow include:
The Good Friday procession starting at the Wawel Cathedral.
You can enjoy the tradition of Easter Eggs, which are easy to find all over the city.
You can try the typical Polish Easter cake called Mazurek.
I hope you enjoy this selection of churches, where you can get close not only to the different architectural styles, but also to the memory of a city that has been rebuilt many times, making it one of the most interesting and attractive European cities to visit.