Things to do in Sorrento with Kids
"Ciao, Sorrento!" is the first thing children will say when they see the spectacular Italian coastline and are dazzled by the beautiful garden city. This is a perfect place for the little ones to have fun and build happy memories with you.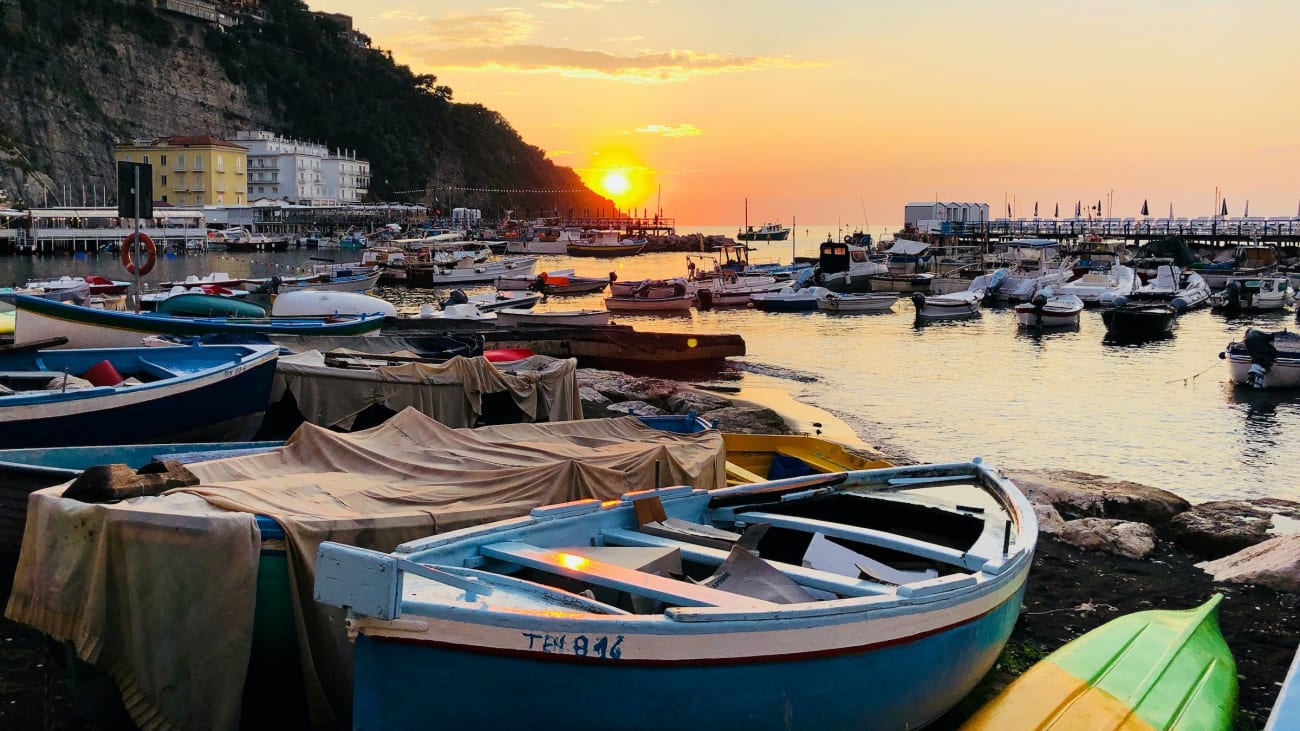 There is no better way to spend your holidays with the kids than in beautiful Sorrento. Beaches, ice cream, pizza: every child's dream. And whether it's winter or summer, there's always something to see and do in Sorrento. It is the perfect town for children to explore new cultures, learn about history, fall in love with art, nourish themselves with other cultures and absorb the Mediterranean flavour and smell.
Sorrento is a peaceful place for you and an oasis of fun for the kids. Make the most of it and don't miss out on the excursions from Sorrento. Keep in mind that children are specialists at moulding themselves and adjusting to wherever they are thrown, but there are still a few things to keep in mind when travelling with them.
Avoid unnecessary stress for your flight with children
It may be obvious, but I have often made the mistake of taking a flight at an airport that is quite far from where I live, in order to save a couple of euros. Adding four hours of travel time to the time it will take to get to Sorrento in Italy will be hell for the little ones: children double the time sensation and will think they are in a frustrating situation as they see you stressing about things they don't understand.
I suggest you prioritise a flight leaving from your city or from the airport closest to your home. I suggest the following: take a direct flight to Naples-Capodichino Airport, rest that night in Naples and if possible, take a day to visit Naples with the children; this way they can rest and get used to the rhythm of the trip. The next day travel to Sorrento.
If there are no direct flights to Naples, then take a flight to Rome's Leonardo da Vinci International Airport and do the same: rest and visit Rome in two days, so that you will be fresh the next day on your way to Naples and then Sorrento.
And this is not only with the flight: when you are in Rome or Naples and you want to go to Sorrento, try to find the best tourist buses in Naples that will make the trip more pleasant and calm with the children.
Booking in advance to avoid long queues
Sorrento is a very touristy place. No matter if it's summer or winter, Sorrento always has crowds of tourists. That just means that, again, planning ahead will be your mantra, so that only family serenity accompanies the trip. There is nothing more stressful than a child waiting in line at a site that may bore and frustrate you because you are missing a day at the beach to go see some ancient ruins with the sun on top of you.
I suggest you do your research, compare offers and check the schedules of the place you are going to. Book tours online that facilitate your needs as a head of household. For example, if you want to plan an excursion to Pompeii with children, I suggest you do it early in the morning to avoid traffic and be among the first to enjoy the ruins.
The most common thing is that unexpected things always happen. No matter how many reservations and precautions you take with your family, a tour may be cancelled or weather conditions may not allow you to enjoy the tour. You may also have a second option to avoid wasting the day, such as going to visit the historic centre or spending an afternoon in the gardens of Sorrento.
Besides, it's not only about avoiding a long queue, but also about adapting the walk to the pace of the little ones. There are walks that can become tiresome if they last too long. For example, if you are planning a tour of the Amalfi Coast from Sorrento, be sure to ask them what timetables they have and if the tour times can be adjusted so that the children don't get bored or get desperate along the way.
3. One attraction at a time, one place at a time
Children's energy is intense, but short-lived, so I suggest you take one day at a time to see every site Sorrento has to offer. You can even plan to visit three sites, but they have to be very close together and short and enjoyable so the kids don't get desperate. You have the option of visiting Piazza Tasso, the Cathedral of Sorrento and a last walk in the Vallone dei Mulini.
I know that time is always short, but remember that children do not go at the same pace as you. They go through peaks of hyperactive euphoria to moments of sleepiness and sheer exhaustion, so make a schedule that suits them. Enjoy and don't rush the journey.
The best thing to do is to intersperse the days: take a day to visit Pompeii on one of the tours from Sorrento with the kids; relax while strolling along Sorrento's beaches or hang out by the hotel pool playing with the little ones. The next day you can go to Naples to visit the Catacombs of San Gennaro to teach them about history or you can also take a boat trip along the Sorrento coast, something the kids will love, especially if the water splashes along the way.
4. Take advantage of reduced fares and discounts for children under 7 years old
There are many places in Sorrento that have special rates for children under 7. Museums even have policies that allow children under the age of three to enter for free. This will help you adjust your budget for the trip. In this way you will be able to save money to include in your trip an excursion to the beautiful island of Capri and the kids will get to know this paradise. Moreover, I can suggest that when you go to Hellotickets to book those places you want to go with your family, you will have the opportunity to choose the age range of your children in the options. They will automatically deduct from the total price what you have for your children. But be careful: include babies in the page once and for all, no matter if it is free, because sometimes babies are not counted in the tours and it creates confusion on the day of the tour. Let's be honest. Italy is a place for family enjoyment, but I'm sure you don't want to go into debt for the rest of the year at the cost of spending a limited amount of time in one place. Reduce the risks with these tips and make the most of your trip with the kids by paying the minimum while travelling with them.
Traveller Tip

Book your museum days on the first Sunday of every month, as it is possible to visit museums for free. This is done in many museums throughout Italy.
5. Bring some snacks in your backpack
It's best to pack something light in your backpack for the kids to eat or nibble on. A good apple; a couple of peaches; accompanied by some dried fruit, these will always be a good source of energy and nutrition. The best thing is that fruits in Italy are extremely sweet and delicious. Let's see: it is obvious that Italy is one of the gastronomic capitals of the world and here you will never be short of a treat when you are strolling along Italian public roads or on excursions, but for children it can't all be ice cream and pizza as much as they want it to be. To this I have to add that they are also in a stage of growth and a healthy and balanced diet is important for their development. Children are extremely unpredictable. Sometimes they will get hungry at odd hours, because of the change in routine, or they are simply saturated with new and exotic flavours on their palate and just want something familiar. Sometimes hunger is a way of saying that they are bored and want to divert their attention to something else, so you can bring something you have made for them to savour the familiarity of homemade flavours.
6. Prams won't be your best ally in Sorrento
Most of the walking you will do in the streets of Sorrento will be on stairs and most of the walkways are not on smooth even ground, but rather on cobblestone walkways. If we add to this the amount of hours walking through the old town and along the coast, then a baby pram is not the most advisable. The best option I can offer you if you are walking with small babies is to opt for baby carriers or slings. You will appreciate the plasticity of this backpack in adapting to all travel environments and you will stop worrying about the stress of walking with the car. If you're travelling with older children, they'll have fun walking around because they're feeding their brains with new experiences. What I suggest you to do with them is to alternate the breaks in some places so that they can be entertained during the breaks and rest. Ah! Another thing I forgot: despite the legislation requiring Child Restraint Systems (CRS), don't expect to rent a car with a car seat, nor ask for a taxi with it: CRS are not frequent in this area, so it is better to take precautions and take one with you to have it handy if you are going to rent a car.
7. Protect them from the sun if you're travelling in summer
July and August are the best months to visit Italy's Mediterranean coasts, but be aware that temperatures in the region during this season are very high and can be unbearable for children. Bear in mind that many of the visits to Sorrento are outdoors and being in the sun can be uncomfortable and irritating for children who are not used to such exposure. Hydration before and during any excursion or walk in and around Sorrento is extremely important. Invest in quality sunscreen before your trip, even if the cost is higher than usual: the sun is unforgiving in Sorrento at this time of year. Remember to wear comfortable shoes, and if possible, sports shoes; as much as they may want to wear their sandals or Crocs, it's best to keep your feet well protected. This applies not only to the kids, but to you as well. The heat is oppressive and even more so if you are not used to such high temperatures. You can, in turn, make the most of the occasion and try to reduce the heat by buying those beautiful hats from the Amalfi coast in one of the chic shops on the Corso Italia or in the trendy Piazza Lauro. If you're up for it, you can book a tour to this coast, very close to Sorrento, where it's also very hot. Of course, a gelato at the end of the tour or a refreshing limoncello is the best palliative for the heat.
8. Beware of low winter temperatures
If, on the other hand, you are travelling in winter to enjoy Christmas with your family in beautiful Christmas Sorrento, then you will need to shelter the children from the cold and icy winds. Sorrento is one of the few places in Europe to offer so many sightseeing and travel options in all months of the year. There is nothing like spending Christmas in Naples and the beautiful Piazza Tasso in Sorrento. Buying waterproof jackets, designed for the winter cold, although a demanding expense, is necessary for children to be able to enjoy the walks in the cold. Boots can work for the topography of the city and the times you will be walking. Finish off the children's outfit with some good hats to protect their ears and never miss a good portion of ice cream so that the body integrates into the external temperature and the fat from the milk warms the inside of the body. The Christmas lights, together with the huge trees in the squares, will make the little ones forget about the cold and warm up with the fun of the trip, playing with the other children in the area.
9. Considerations for staying in Sorrento with children
Ideally, you should get accommodation with a swimming pool and games room where you can share your leisure time with the children. This way, you can have a day of rest in the hotel to recharge your batteries for the next trips and if the hotel has a private beach, then don't think about it too much, all the better! Also, from Sorrento there are many boat trips that will take you to other coasts and earthly paradises. Sorrento, of all the metropolitan area of Naples, is the best value for money town in terms of hotel accommodation for families. It is one of the most centrally located towns and close to all the tourist attractions on the Amalfi and Neapolitan coasts. In other words, it is not far from anything and this means that sightseeing trips will not tire the little ones. Moreover, if you are only staying for 3 days in Sorrento you can also treat yourself to some extra accommodation, as they are some of the cheapest in the region. Book a hotel with breakfast and parking included, if you need it. Also, if possible, book one with an in-house restaurant in case the day's sightseeing takes too long and you miss the chance to dine out in the hustle and bustle of the crowds on the street. Disrupting meal times makes children irritable and throws them off balance. If you plan ahead, you can head to the hotel and dine in peace and quiet, maintaining routine and meal times. The children's development will thank you for it.
Traveller Tip

It is normal in summer for the small beaches in Sorrento to be quite crowded with tourists. I suggest you add an extra expense for the sake of your serenity and hire some chairs with umbrellas on some of the private beaches the city has to offer.
10. Plan your meals with kids in Sorrento
One thing you should always keep in mind is to set up a restaurant layout and meal times for the kids. It's easy to get caught up in the eating disorder when you're travelling and distracted by the charms of Sorrento, but it's a priority to focus on the time and places to eat or else the children and their growth will suffer the most.
If you plan your schedule well, you won't leave anything to chance and you won't be in the situation of running around the city or tourist places looking for a free table for your children, making them dizzy and bothering them even more.
You can eat healthy and tasty if you do any of the gastronomic tours of Naples and Sorrento, so I suggest you sign up for one of them with your whole family. Come on! The Mediterranean is synonymous with freshness and good food. Check the opening hours of the restaurants along the tours and always have a plan B if the first option has no tables available.
11. Check out the children's cultural agenda
Despite the amazing excursions and attractions Sorrento has to offer, I suggest you reserve a space in your itinerary for the kids to enjoy activities designed for them. There is always something on the city' s cultural agenda that can benefit the little ones and of all the options, I recommend Italian circuses such as Circolandia which are known for their fantastic repertoire and multitude of activities for children to let their imaginations run wild. Theatre or reading fairs are always accompanied by a puppet stand, where children can laugh and enjoy Italian traditions. The city has special tours that include pizza-making courses for children. Your child will love nothing more than learning how to prepare their favourite dish: pizza. You can also organise a trip to an ice cream factory so they can learn about the culinary art of ice cream. It' s all a matter of finding out what they might like.
What are the advantages of taking a guided tour with the kids vs. visiting Sorrento on your own?
There is a false belief that if you do and plan your travel independently, without using the guided tours, then you are not travelling. You may be quite organised and be able to design a near-perfect trip for your family, but a person who uses tours for their travel also means that they are organised. Guided tours can make your excursions with the kids easier and take a lot of the burden off your shoulders. In Sorrento, you have the opportunity to save time and money. The guides already know the tricks of the trade, they know how to manage the tour times and they know how long the tour will take. A tour that takes four hours can be reduced to one hour and you will have the chance to do other activities with your children. In addition, the tour package usually includes the entrance fee to the sites, which saves you a significant amount of money. The most important thing is that the guides will make the trip and the story more dynamic and fun. This will be a plus when travelling with children. Not only do they condense the information, but they also propose different ways of narrating the events of the site. This way, the whole family will learn while you relax and connect with Italy.
What are the must-see villages on the Sorrento peninsula?
Sorrento is located on the southern coast of the Sorrento peninsula. It is a municipality in the metropolitan area of Naples, in the Campania region. When you go there, you will realise that it is one of the most beautiful areas in the world. The site is extremely photogenic and children will love to know which films were shot in this region and then watch them with you. You can't miss the opportunity for your children to see the island of Capri or to be amazed by the beautiful lands of Positano. They can also learn about Roman history on excursions to Pompeii and Herculaneum or experience the turquoise beaches of the Amalfi coast, as well as the respect for nature on the slopes of the mighty Vesuvius. And yet all this realm of beauty is just minutes away from the great and historic Naples. Capital of pizza, a classic for children who never miss anything as they learn about the origins of their favourite foods. Neapolitan affection will give them a big warm hug in winter and a refreshing ice-cream in summer.