Best Rome Tours
It is said that Rome is the Eternal City and so it is: in its streets you will find kilometres of art and culture. Don't miss this list of the best tours in English to get to know it and enjoy it to the full.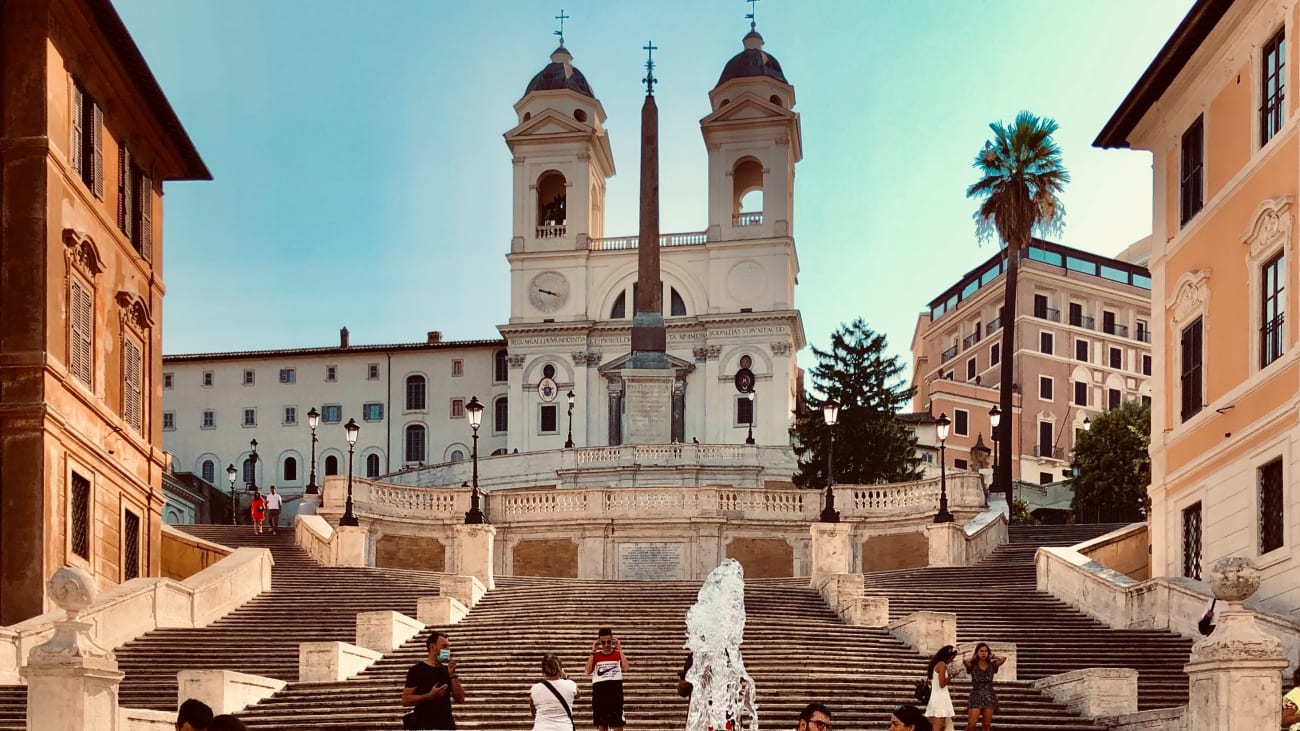 Rome is an open-air museum. In every corner there is a statue, a fountain or a building that exudes history; a history to which we must add the customs of its inhabitants and the exquisiteness of its gastronomy. A guided tour is the best way to get to know the city of Rome and as the wide range of tours on offer can be overwhelming, I'll help you choose the best one.
1. Visit the Vatican and the Sistine Chapel with an expert guide
Leaving Rome without visiting the Sistine Chapel would (almost literally) be a mortal sin. The Chapel's frescoes are undoubtedly the biggest attraction for the millions of tourists who make the pilgrimage here every year, but you also don't want to miss St Peter's Basilica, St Peter's Square and the enormous amount of art you'll find in the Vatican Museums.
Getting to know all this in detail could take days, or you could make the mistake of visiting it on your own without considering its context, its symbolism or the Vatican's best-kept secrets. Touring them with an expert guide is essential to enjoy this area of Rome to the fullest. Plus, you'll skip the queues (something very important considering there are hours of waiting at the ticket offices).
There are several options to choose from: from the most economical to the most premium, accessing the Vatican early in the morning before it opens to the general public so you can enjoy the art in silence, peace and quiet and avoid the crowds. Always book tickets in advance and online to avoid being priced too high and above all to get tickets on the day and at the time you want.
2. The Colosseum and the Roman Forum, best from the inside and with a local guide.
It's probably at the top of your wishlist of places to visit in Rome. And no wonder. What was during Ancient Rome the scene of the most mythical battles between gladiators, has gone down in history for being the emblem, not only of Rome, but of the whole of Italy. If you are fascinated by the outside, you should not miss the inside.
Nowadays it is possible to visit the Colosseum inside and walk around its stands, even enter the arena, just as the gladiators themselves did, and enjoy for a while the sensation of taking a real trip back in time. In addition, next to the Colosseum are the Roman Forum and the Palatine Hill, which are well worth a visit.
It is possible to visit the monument on your own, but you will get much more out of it if a local guide explains what you are seeing, how it was built and what the battles that the Colosseum hosted were about. Rounding off your visit with a guided walk around the Roman Forum and the Palatine Hill is the perfect way to complete your tour of Ancient Rome.
Whichever tour you choose, you'll be able to skip the long lines at the ticket office every day. Here are the best ones:
3. Travel to the centre of the Earth with a guided tour of the Catacombs
Rome's Catacombs are another of its best-kept secrets. A little away from the centre, following the ancient Appian Way, you will reach the Catacombs, an incredibly well-preserved underground crypt where you can visit sarcophagi and tombs of popes and artistic remains more than 1,500 years old.
Although there are more than 19 kilometres of catacomb tunnels, the visit takes less than two hours but you can only enter with a guide, so I recommend you book a guided tour of the Catacombs of St. Callixtus if you feel like immersing yourself in this journey full of legend and mystery.
4. The most comfortable option: tour Rome by bus
Although Rome is a city to walk around, sometimes it is not for everyone, if this is your case you have the option to do it on board of this tourist bus without renouncing to the company of a specialised guide. The area covered by the bus is larger than the walking tours, so I also recommend this option if you have little time during your visit.
Although it may seem like an excursion that detracts from the charm of the city, the tourist bus is a great idea for people with reduced mobility, with little time in the city or simply for visitors who arrive in the city in the middle of summer and are looking for a practical way to get around while escaping the heat.
What's more, you can use it as public transport to move from one place of interest to another, as it has free stops and covers the main points of the city. Check prices, availability and routes here:
5. Discover also the surroundings of Rome
It is clear that Rome is the Eternal City and its name does not deceive: its streets, monuments and museums would allow us to walk and discover new things every day for years. But surely your time in the city won't last forever, and if you feel like taking advantage of your trip to explore Rome' s surroundings and get to know a bit more about Italian culture, you're in luck.
There are plenty of guided tours and excursions you can sign up for if you feel like disconnecting from the chaos of the city and exploring other incredible places like Pompeii, Florence, Naples or even the archaeological remains of Ostia or the Villa dell'Este and Hadrian's Villa.
You will see that there are options for all tastes and budgets, so dive into this list to choose the one that best suits your trip:
6. Enjoy the charm of Rome by bike
Exploring Rome by bike is one of the most fun tours you can do during your holiday in the Eternal City.
It is an activity that will allow you to see many interesting places in Rome in a short time, for example Ancient Rome, Villa Borghese, the city centre or the Colosseum and Trastevere areas, among many other places.
Bike tours in Rome usually last about 3 or 4 hours, but the advantage is that they can be done by any kind of traveller, regardless of their physical condition, as there are classic and electric bikes. In addition, you will be accompanied at all times by a local guide who will take you to the most accessible places and during the route you will be able to stop flexibly to take the photos you want.
7. Learn about Italian food on a gastronomic tour of Rome
When you think of Italy, you also think of its delicious cuisine. A cuisine that has crossed borders and conquered hearts all over the world.
In addition to enjoying its wonderful dishes in Rome's restaurants, during your trip to Rome you will have the opportunity to take a gastronomic tour to discover the best local products in a tour of markets such as Campo de' Fiori and gourmet spaces in neighbourhoods such as Trastevere or the Jewish Quarter.
And best of all: there will be tastings! Pizzas, pasta, ice cream, fried artichokes and many other typical dishes of the city.
The best thing about this kind of tours is that they don't usually focus only on gastronomy, but they also dedicate time to get to know Rome's emblematic places (the Trevi Fountain, the Spanish Steps, Piazza Navona, the Pantheon, Campo de Fiori, etc.) and they will give you the best recommendations for you to eat during your visit to Rome like a local.
If you choose the option, you can even take a tour of Rome that incorporates a cooking class with a professional chef to make an authentic Roman pizza.
8. Explore Rome's bohemian neighbourhood of Trastevere
Trastevere is one of Rome's most charming neighbourhoods. Compared to other areas of the city that are more crowded with tourists, it has a relaxed and bohemian air that is enchanting.
That's why you can't miss a tour of Trastevere during your holiday in Rome. If you have the chance, I advise you to choose a private tour because this way you will be able to enjoy its wonders at your own pace and adapt the route to the places you are most interested in seeing.
Moreover, in the private tours of Trastevere you will create a very close and relaxed atmosphere with the guide, which makes the excursion a very entertaining experience. In fact, you will even be able to ask for personalised restaurant recommendations that will come in handy during your visit if you feel like staying for dinner in Trastevere.
9. Hop on a Vespa to discover Rome
Do you dream of emulating Audrey Hepburn and Gregory Peck in the film "Roman Holiday" and discovering the Eternal City on a Vespa? This is one of the most fun tours of Rome!
The Vespa is one of the most famous symbols of Italian culture due to its numerous film appearances and exploring the country's capital on one of them is an unforgettable experience.
If you don't know how to drive a motorbike, don't worry, because on this tour you will travel as a passenger and during the itinerary you will be accompanied by a private driver who will show you its main monuments and some mind-blowing secret spots. And there will be stops along the way so you can take all the photos you want.
10. Wander the streets of Rome under the stars
I am sure that a night tour of Rome will be one of the experiences that you will enjoy the most during your stay and from which you will take away a very special memory.
It can't be missing on your list of things to do in Rome! The city is enveloped in a romantic and enigmatic atmosphere and strolling through the monumental streets of Rome while watching its churches, palaces and squares shine becomes a very exciting experience.
Also, one of the advantages of taking a night tour of Rome compared to a daytime tour is that at night there are usually fewer crowds in the streets and the walk is much quieter. I recommend you to do it especially during the summer nights - simply magical!
If you want to know more about this kind of activities, don't miss the post Best night tours in Rome where you will find a lot of proposals.
---
Top Rome tour stops
Roughly speaking, the city of Rome can be divided into four tourist areas: Ancient Rome with the Colosseum and the Roman Forum as the main points of interest; the Vatican City State with St. Peter's Square as a landmark; the Trastevere neighbourhood and the centre of Rome with the Trevi Fountain, the Pantheon and Piazza Navona as must-see sights. Unless the tour you book covers a specific neighbourhood or area, they all usually cover the following stops:
Tritone Fountain
Usually the meeting point of the tour, it is located in Piazza Barberini and is a baroque fountain designed by Bernini. As well as telling you about the myth of Triton, the guide is sure to take advantage of this stop to tell you about the journalist Margaret Fuller, as there is a plaque in the square dedicated to her.
Piazza Navona
Rome's largest square with its baroque fountains is one of the areas that most enchants visitors to the eternal city. There are many legends forged around these statues that represent the great rivers of the time when they were built (mid-17th century); the guide will explain several of them and tell you which are the most reliable.
Trevi Fountain
Without a doubt the most representative fountain in Rome as well as the largest. Bring loose change because you will have heard that the tradition is to throw them backwards: one to return to Rome and two to find love.
The Pantheon
Your guide will probably use this stop to tell you about the reunification of Rome, as it is in the Pantheon that the mortal remains of Victor Emmanuel II, the first king of reunified Italy, are laid to rest. Try not to lose the thread of the explanations as you contemplate this marvel of Roman architecture; I warn you that it is not easy. Admission is free.
The Church of St. Ignatius of Loyola
Baroque in style and built between the 17th and 18th centuries, this church houses a model of a temple dedicated to religions from all over the world and a very special optical illusion that your Rome tour guide will be able to reveal to you. Free admission.
Hadrian's Temple
This first-century Corinthian-style temple is the best place to tell you the story of Rome's ancient emperors. Your guide will certainly not miss this opportunity.
Organise your guided tour of Rome
How to get to the meeting point
The meeting points for walking tours in Rome are usually central locations. Triton Fountain, Piazza Trilussa in Trastevere, Piazza del Popolo, Piazza de Campo de Fiori, Via Labicana... I recommend that you take the metro to a central stop and then walk to the meeting point (you can ask your guide for a reference point to locate it when booking the tour).
Timetable
You will usually be able to choose from a number of timetables available when taking the tour of Rome. As for the days of the week, tours are usually available every day, but please note that most of Rome's museums are closed on Mondays, so visitors may want to take the opportunity to do some sightseeing in the city centre. As in any large city, weekends and public holidays are also more crowded in the tourist areas.
Duration of tours
Tours usually last between two and three hours, depending on which option you choose. The walking tours of central Rome are long enough to soak up the history of the most emblematic sites and then walk around them at your leisure, but if you take the Colosseum and Roman Forum walking tour, bear in mind that the time you spend inside the monuments may be short if you want to see them in depth.
Meals
Bring water and something to snack on. Longer tours usually have a 15-minute stop halfway through the tour. Depending on where you end the tour, your guide will probably recommend places to eat or dine away from the general hustle and bustle of the city.
Tours with children
If it's not a long tour, the kids can handle it, as the tours are outdoors and they can run around and play (it's not like a museum where they have to sit still) while the guide shows them the sights. The distances covered on most tours (especially those in the city centre) are quite manageable, but be aware that at most stops there won't be room to sit down.
Ana's Traveller Tip

If you can choose a date for your guided tour, avoid weekends and public holidays, as this is when most tourists tend to be in the centre of Rome.
Tips for travellers interested in taking a tour in Rome
Locating the meeting point, choosing the timetables and packing your backpack is important, but there are other details you'll want to know before you go on a tour of Rome. Here are my top tips:
Check the language. You won't have any problems because these tours are available in several languages (Spanish, Portuguese, English, German and French are the most common), but check availability for your chosen time and language. Another tip is that a city tour is not the time to practice languages, you will enjoy it much more in your native language.
Wear comfortable shoes. You will be walking for several hours and standing for a long time, as sometimes there is no place to sit down during the tour. Make sure your shoes are not new and will not chafe (watch out for summer shoes). Just in case, take some plasters with you.
Ask questions. Ask for recommendations for eating like a local or going out to party and ask for the best viewpoints to take the best photos, for the most original souvenirs you can buy in Rome, for hidden places you can't miss, for excursions to complement your trip... Ask as many questions as you want because you won't always have an expert guide in the city to answer you.
Take notes. OK, maybe it's an exaggeration, but personally more than once I've enjoyed the stories I've been told on walking tours so much that I've found myself taking notes on my mobile phone. Lately I've been taking a notebook and pen with me on walking tours because I don't want to forget anything. It will also be ideal practice if you're going to make a travel notebook later on.
If you are interested in tours of Rome you will also be interested in
If you are someone who enjoys the stories, details and anecdotes behind the main monuments, you cannot leave Rome without taking the two most important guided tours: the Colosseum and the Vatican. Both places are wonderful to walk around and take a thousand pictures, but you don't fully understand them until you take a guided tour. Here are the guides I have written about Best Vatican guided tours and Rome Colosseum Tours in case you are interested in organising your own guided tour.
If you also want to get off the beaten track, I suggest you visit the incredible Borghese Gallery (which is also located in one of the most beautiful parks I have ever seen). This is the article I wrote about it, Borghese Gardens and Gallery Tours & Tickets, which you can read to organise your visit.
Frequently asked questions
How long do city tours usually last?

Most tours of the city last between 1 hour 30 minutes and 3 hours, so plan the rest of your activities with this in mind.

What is the best way to get around Rome?

Most of Rome's monuments are contained in the centre of the historic centre, so walking is usually the best option for getting around Piazza Navona, the Pantheon, the Trevi Fountain and the Spanish Steps. But here's a pro tip: rent or book a bike tour, which will allow you to explore the city's hidden gems and make the most of your time.

What are the most common tourist mistakes to avoid?

The most common and biggest mistake: not buying tickets in advance. Be sure to plan ahead and you'll skip the long waits in the Roman sun. Don't try to hail a taxi in the middle of the street, as there are designated taxi parking spots. As for coffee, note that cappuccinos are usually taken at breakfast, so for the rest of the day you can order a caffè macchiato or caffè.