25 Best Things To Do in Rome
You have to go to Rome at least once in your life. And if you don't want to miss out on anything the city has to offer, take note of all the recommendations on this must-see list.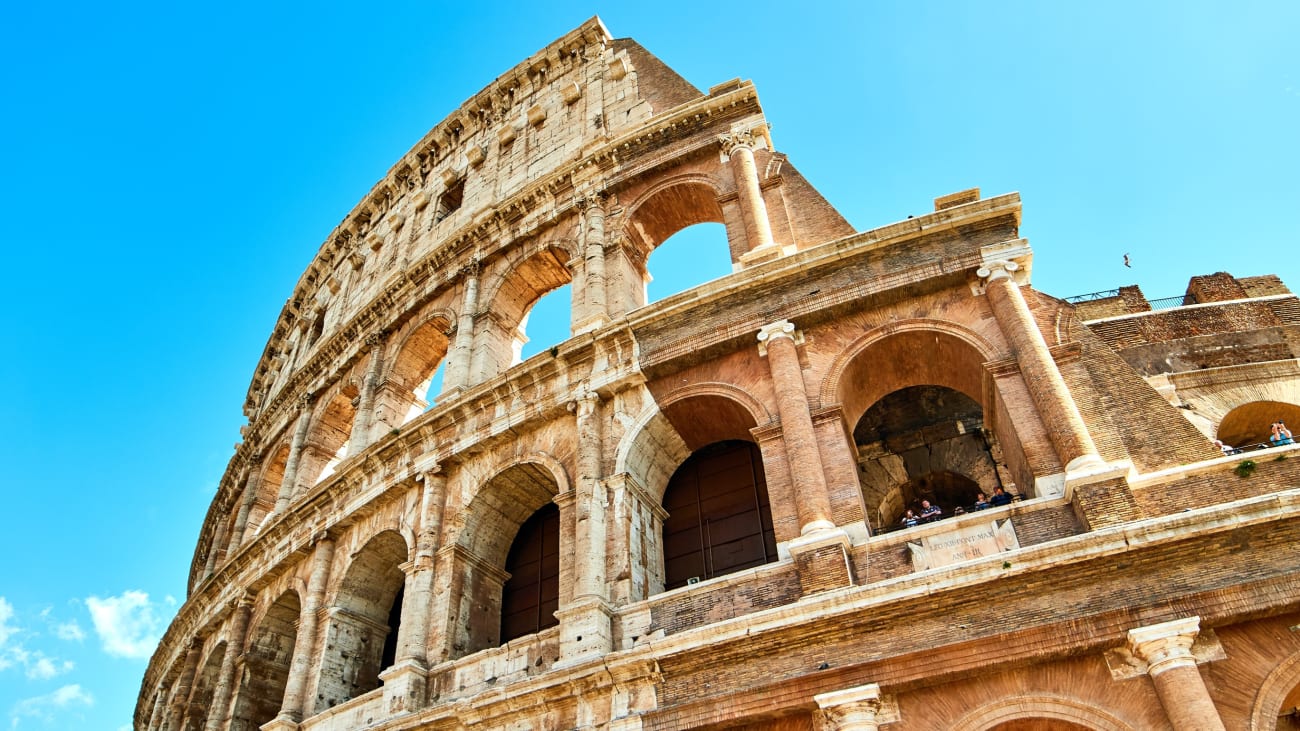 The Eternal City, an open-air museum, the cradle of Western civilisation, the city of seven hills... Rome has been given many nicknames throughout its history, but none of them describe the sensation of walking through its streets, discovering its most romantic corners, enjoying its gastronomy or marvelling at its architecture.
Rome is not only eternal; it is infinite. Every trip leaves you wanting more, because it would be impossible to cover the grandeur and history of Rome in a single visit. That's why this list of the best things to do in Rome is just an inventory of common places to start discovering the city, which you can use as a checklist for your trip.
1. Visit the Colosseum inside
It could be said that this amphitheatre is the guardian of Rome. It is the most visited monument in the city and its internal galleries catch the eye in the same way as its outer walls are drawn by Greek arches and columns. Since it was built in 72 AD, the Colosseum has witnessed countless stories of gladiators and animal fights, but those will be told on one of the many guided tours of the Colosseum.
Arriving at the Colosseumfor the first time is a wonderful feeling, but don't get too intoxicated by the beauty of this enclave and keep in mind these . Like you, there are thousands of tourists who want to visit this monument and if before you start your trip you know where to eat when you finish your visit to the Colosseum or how to get cheap tickets for the Colosseum, the influx of tourists will be much more bearable.
Remember that tickets to the Colosseum are also tickets to the Roman Forum and the Palatine Hill and, therefore, you can also buy them at the ticket offices, although the queues can be endless, so I recommend you to buy them online.
2. Marvel at St. Peter's Square
Vatican City is a must-see in Rome and to talk about the Vatican is to talk about the Sistine Chapel and St. Peter's Square. The Vatican Museums and St. Peter's Basilica that presides over the square are the two landmarks of the world's smallest state.
You've probably seen this oval-shaped square surrounded by two semicircles in more than one aerial photograph; this is the view you get when you climb St Peter's Dome ( entry to St Peter's Basilica is free, but not to the dome).
When visiting the area (see here for information on how to get to the Vatican from the centre of Rome ), keep in mind that it is one of the busiest areas of Rome, so I recommend you make a note of these places to eat near the Vatican so you can book ahead. There are so many things to see and do in the Vatican that after a morning there you'll end up hungry.
Hear the Pope's blessing in St. Peter's Square
An unforgettable experience you must have during your visit to Rome and the Vatican City, whether you are a religious person or not, is to get to know the Vatican and the Holy Father up close during the Wednesday Papal Audience or the Sunday Angelus ceremony.
If you want to know more about how you can hear the Pope's blessing during your trip to Rome, I advise you to read the article Papal Audience in Rome, where you will find all the details and if you are religious, my advice is clear: visit Rome during Holy Week.
Carmen's Traveler Tip

If you are going to see the Pope, remember to take a medal, rosary or holy card with you so that he can bless you.
3. Tour the Roman Forum and Palatine Hill
The Forum was the place where all the judicial, political and commercial life of Ancient Rome was concentrated and today it is an impressive display of archaeological remains through which the essence of that golden age of the city can be glimpsed.
After a guided tour of the Roman Forum, you can visit the nearby Palatine Hill: the most central of Rome' s seven hills from which you can also see extraordinary archaeological remains. Both Colosseum guided tours and Colosseum tickets usually include access to the Colosseum, but if you are planning to visit the Vatican as well, I recommend you explore the option of getting the Vatican and Colosseum tour together: it is well worth it and you will save on entrance fees!
A word of advice: if you're going to Rome in summer, try to get there early in the morning, especially if you're visiting the Roman Forum with children, as the heat can play tricks on you.
4. Soak up tradition and history with a guided tour of the centre
Taking one of the guided tours of Rome's historic centre is one of the best ideas for getting around the city and understanding what you see. This would be the experience I would choose in most of the cities I travel to because, far from the boring tours that overwhelmed you with endless dates and historical facts, today's tours are becoming more authentic and have more variety as is the case of Rome night tours or Rome photo tours.
Especially in Rome, where tradition and art are around every corner, a specialised guide teaches you to appreciate not only the history of the city but also its essence.
5. Have a gelato in front of the Trevi Fountain
Rome is known for its fountains and this is undoubtedly the most emblematic of them all. It will appear by surprise as you turn a corner while strolling through the historic centre of the city and the first thing that will surprise you will be its size. This baroque fountain represents Neptune and two tritons and is known for the legend that if you throw a coin in it you will return to Rome and if you throw two you will find love in Italy.
For me, the most authentic way to enjoy it is to taste a delicious Italian gelato on the steps. I warn you that this will be practically impossible to do during the central hours of the day, but if you accept my advice, do it after dinner, at the end of the day and before going to sleep in your hotel. With almost no tourists and much more space to sit down, it will be much more relaxing and you will remember this moment forever. I'll tell you everything you need to know to get the most out of it here: All you need to know about Fontana di Trevi and I leave you with a list of the best gelato in Rome.
6. Admire the Sistine Chapel in the Vatican Museums
The jewel in the crown for art lovers is in the Vatican Museums. Works by Da Vinci, Titian, Caravaggio and Raphael are just a tiny sample of what you can find in Europe's largest art collection, presided over, of course, by the famous Sistine Chapel.
The essential thing to know before you organise your visit is that you can explore the museums at your own pace, buying skip-the-line tickets for the Vatican Museums or you can take a guided tour of the Vatican Museums.
In any case, I recommend that you book your ticket in advance, to avoid waiting for several hours. And if you are thinking that the price of tickets to the Vatican, tickets to the Sistine Chapel and so many other museums and places of interest may be an expense you didn't count on in your budget, I recommend you to consider getting a Roma Pass or the Omnia Card. These are Rome and Vatican sightseeing cards that will give you access to all the attractions for a better price than buying them separately.
Finally, don't forget to take into account the dress code required to visit these museums. I talk about this and other tips for visiting the Vatican in this article, such as how to avoid the queues to enter the Vatican. Here are also some tips on how to get free or discounted Vatican tickets.
7. Climb the steps of Piazza di Spagna
The enormous steps of Piazza di Spagna are another visual must-see in Rome. These stairs connect the church of Trinità dei Monti with the Fontana della Barcaccia.
While they were once a meeting place for artists, they are now a meeting place for tourists who visit Rome and stop to take in the beauty of this location. It takes its name from the seat of the Spanish embassy and is one of the liveliest places you will see while strolling through the centre of Rome.
My personal advice is not to see the square only from the bottom. Climb the steps (for some time now, groups have not been allowed to sit on them, as the crowds of tourists have been blocking the way for passers-by) and take in the views of Rome from the top. And if you're thinking of exploring the city in depth and getting to know all its magical squares, take a look at this article on Top 10 squares in Rome.
8. Stroll and cross the Piazza Navona
This peculiar oval-shaped square is undoubtedly a favourite of many Romans and tourists. The four fountains you can see in the baroque Piazza Navona represent the main rivers of Rome. At the centre of them all is the gigantic Fountain of the Four Rivers designed by Bernini, a true marvel of architecture.
During the day, the square is full of small groups touring the centre of Rome and stopping to talk about the history of these fountains. During the evening, especially in summer, street performers animate this square which becomes one of the centres of social life in the city centre. If the weather is good, buying a pizza to take away and enjoying it on one of the benches overlooking the fountains is simply a great plan.
Don't miss the details of each of its fountains and sculptures, as well as the imposing façade of the church in the square. Personally, I am a lover of each and every fountain in Rome: in every square, alley or corner there is a work of art in the form of a fountain. That's why I recommend you read this article about the best fountains in Rome, where you'll find the most beautiful ones and where they are located.
9. Discover the Capitoline Museums
Rome's art doesn't end at the Vatican; the Capitoline Museums located in the Campidoglio are another must-see to see must-see and mythical works of art such as the Capitoline She-wolf, the equestrian statue of Marcus Aurelius, Bernini's Medusa, the Colossus of Constantine or the Wounded Galata.
10. Enter the Pantheon to admire its dome
The Pantheon of Agrippa, located in the historic centre of Rome, is one of the finest monuments in all of Rome. It is well worth a visit to what is now a church and in the past was a Roman temple erected during the rule of Aurelius and also to see it illuminated at nightfall. Here is everything you need to know about Rome's Pantheon.
11. Walk through the gardens of Villa Borghese and visit its Gallery
In a privileged location you will find the great hidden treasure of the Roman city: the Borghese Gallery. On this visit you will not only enjoy one of the best art galleries in Rome and classical sculptures of great beauty, but also a walk through the lungs of Rome, the impressive gardens of Villa Borghese, which are undoubtedly one of the best parks in Rome.
12. Enjoy the view from the Gianicolò
Personally, I love to see cities from "above"; an overview of their rooftops and gardens is for me a moment to breathe in the fresh air and think how lucky you are to be there at that very moment enjoying the journey.
Thereare many places in Rome with wonderful views, but I recommend the one you will get from the eighth hill of Rome: the Gianicolo, located above the Trastevere neighbourhood. In addition to the views, you'll enjoy a relaxed atmosphere away from the usual hustle and bustle of Rome, with street performances such as puppet theatres.
13. Taste Roman gastronomy
Local food is an attraction in every country, but more so in Italy than almost anywhere else in Europe. A trip to Rome just for the pizza, pasta and gelato is a trip well spent, so don't forget: eat.
Don't do it in a hurry or in the street while queuing to enter a monument; sit in a restaurant and spend two hours eating, tasting each dish, asking the chef for his specialities and, if you have time, join a gastronomic tour to discover Rome's best pizzas and excellent pastas.
However, if you want to go out on your own to find a good place to eat, here is a list of my favourite places to eat and dine in Rome to encourage you to try some of them and, above all, to avoid falling into the traps that (sometimes) the city has prepared for tourists.
14. Have an aperitivo in Trastevere
A city is also its neighbourhoods, and Trastevere is undoubtedly one of Rome's most charming neighbourhoods (for me it's the best, but there's no accounting for taste...). Stroll through its cobbled streets adorned with ivy, visit its quirky gift shops, dine in one of its restaurants, sit down for an ice cream in its squares and discover some of the best places to have an aperitif in Rome.
Trastevere is a different kind of Rome, and many say the most authentic of them all. The best way to see all it has to offer is to take a guided tour of Trastevere. Also take note of the best places to eat in Trastevere and all that the Trastevere neighbourhood has to offer after dark.
15. Rome by night
When we go on a trip, we often get up early in the morning to make the most of the time; we spend the whole day visiting and when the evening falls we are exhausted and just want to go back to the hotel to rest before facing the next marathon day of sightseeing.
Don't be tempted. Set aside time during your visit not only to see Rome by night, but to enjoy it, walk around and contemplate the illumination of its monuments without the rush or the pressure to take a photograph. It will be worth it.
16. Visit the Catacombs
Speaking of a different Rome, so is the one you can find underground away from tourists and monuments. Beneath the beauty of Rome lies a labyrinth of Roman Catacombs that you can visit with a specialised tour and that, without a doubt, will give you a different feeling.
But don't confuse the Roman Catacombs with a visit to the Vatican Catacombs. They are two different things. If either of these two visits leaves you wanting more, I invite you to consult this article about the Catacombs of St. Callixtus and the Catacombs of the Capuchins.
17. Explore other dreamy Italian enclaves
Rome has a lot to offer the traveller, but it also has a privileged position within the Italian geography. This means that from Rome you can visit other interesting cities, among others, in a comfortable way and without spending a lot of travel time:
Florence
Florence is the capital of art: here you can visit Michelangelo's impressive David and delight in the Uffizi Gallery or the Accademia. The city's Duomo is one of the most spectacular in all of Italy and its streets breathe a medieval and classical air that enchants all visitors. Sound familiar? Read more in this article about the best excursions to Florence from Rome and if you prefer to go on your own, check out the different ways to get from Rome to Florence.
Pompeii and Naples
South of Rome, closer to Naples and at the foot of Vesuvius, lies the city that was once buried by the lava of its neighbouring volcano and is preserved in such a special way that it attracts millions of visitors every year. If you want to take advantage of your trip to Rome to get to know Naples or Pompeii and visit them all in one day, take note of the best excursions to Pompeii and the best excursions to Naples.
Pompeii is a city worth visiting from Rome, but if you want to do it on your own, here is some information on how to get to Pompeii from Rome and how to get to Naples from Rome.
Around Rome
If you fancy a shorter trip outside the city, you can, for example, take a trip to Assisi and Orvieto or to the spectacular Villa dell'Este. I'll tell you about my favourite getaways here: 5 Places to Visit near Rome.
There are even day trips that allow you to get to know these cities and other points of interest near Rome that will complete your travel experience in the eternal city. If you are still not sure which destination to choose, here I help you by listing the most popular ones: Best Day Trips from Rome and three lesser-known recommendations: the Baths of Caracalla, the visit to Ostia Antica and the excursions to Tivoli and Hadrian's Villa from Rome.
18. Unveil all the secrets of Castel Sant'Angelo
Very close to the Vatican, Castel Sant'Angelo overlooks the river from one of the most beautiful bridges in Rome. If you think it's magnificent on the outside, you'll love it even more on the inside: it's super well-preserved and from the rooftop you'll get probably the best views (and the best photo) of both the city and the Vatican.
I think I've already given you enough reasons to go inside its walls, but if you still need more excuses, here's a link to the article on how and why to visit Castel Sant'Angelo.
19. Reach into the Mouth of Truth
For those of you who haven't seen 'Roman Holiday': the Bocca della Verità is a marble mask located in the church of Santa Maria in Cosmedin (near the Circus Maximus) whose legend says that it bit the hand of the one who lied. It may seem a bit touristy to have your photo taken with your hand inside this mask, but the worldwide fame of this ritual is such that it couldn't be left off the list of things to do in Rome.
20. Shop for local produce at the outdoor market in Campo de Fiori
A new opportunity to get to know another side of the eternal city away from the monuments and tourist routes. The open-air market in Campo de Fiori square preserves the bohemian atmosphere of the medieval inns that once surrounded it. As well as mingling with the locals, the Campo de Fiori market offers fresh fruit and vegetables, souvenirs and a few surprises.
21. Look through the keyhole of the Garden of Orange Trees
Looking through a keyhole - is that really something to do in Rome? When you see the beautiful view of St. Peter's Dome from there, you'll understand why. At first, this was a big secret in Rome, but more and more visitors are coming to these gardens to look for the famous keyhole and marvel at the view.
And this is just one of the many secret places that the Eternal City hides and that you will have to discover little by little on your own if you want to fall in love with Rome. I'll help you out a little and leave you with a list of what are, for me, the best-kept secret places in Rome.
22. Tour Rome by sightseeing bus
Put yourself in the situation: your last day in the city and you have a couple of hours to visit what you liked the most and to take a look at your favourite spots. The problem is that in Rome it's so difficult to choose that you'd like to see it all at a glance, to make the whole trip again...
Maybe you can't do the latter (although you can always come back, remember), but the last glimpse is possible to make it more global aboard one of the air-conditioned Rome sightseeing buses that will tour the main points of the city either for you to "say goodbye" to them or for you to have an appetizer of everything you are going to see in the next few days after your arrival in Rome.
It's also a great way to save on transport, as it will help you get from one place to another without having to pay a public transport fare for each trip.
Use the Rome Metro
Wherever your hotel is, you'll probably need to use the metro at some point during your trip. In general, it's very cheap and easy: it has very few lines criss-crossing the city (it seems that digging up Roman soil is tricky, as more and more relics, ruins and important archaeological remains appear every time they drill) and it's quite fast and reliable. You'll want to follow this guide to Rome's underground, so keep it handy!
Other ways to get around Rome
Oh, and speaking of saving money, if you allow me another tip to save time and money on your arrival at Rome airport, I recommend that you consider the option of booking in advance a transfer between Rome airport and the city centre. In addition, I will tell you all the possibilities that exist to get to your hotel in Rome whether you arrive at Ciampino or Fiumicino.
If you are on a Mediterranean cruise and you disembark at the port of Civitavecchia to head to Rome, the fastest and most comfortable option to get to the Italian capital is to book a private or shared transfer. I tell you how in the article Transfers between the Port of Civitavecchia and Rome in Rome!
23. Set off in search of the most beautiful churches of the city
When one begins to imagine a trip to Rome for the first time, one can fall into the trap of thinking that Rome is "all about churches". And it is true that there are many churches in Rome, but spending the whole trip discovering them one by one would certainly not be the best way to make the most of your time in the city.
That's why (and because, man, it's Rome, you 're going to have to see some church) I've put together a list of the most beautiful churches in Rome and another one with the major basilicas in Rome (I'll tell you that one of my favourites is the Basilica of St. John Lateran ). It's that quick and easy: I select the best ones for you so you can play it safe and I tell you why they are worth visiting. You're welcome!
24. Study the nooks and crannies of the Jewish Quarter and Tiber Island
If there is one place that conveys tranquillity, tradition and authenticity, it is Rome's Jewish quarter. You'll find it right in the heart of the city and although it's not very large in size, it's an ideal place to take a stroll, have an ice cream or taste a typical sweet in its local patisseries.
Take the opportunity to cross the bridge to Tiber Island, a beautiful spot to watch the sunset after a long day of strolling around the most beautiful city in the world.
25. Get organised (if only a little) before you arrive
Once you land in Rome there is no time to waste. The city hides millions of places to discover and spending time thinking about what to do the next day is a shame. That's why I'm going to give you some tips on how to organise your trip to Rome:
Choose your travel dates wisely
Are you travelling to Rome in winter, would you prefer to visit Rome in autumn, or are you planning to discover the Eternal City in spring? Any time is a good time to make this trip, but depending on when you do it, the city will have to offer you some things or others, so take note of what is the best time to travel to Rome and what to see and do month by month with this list:
Plan your itinerary in days
Boring, isn't it? Well, I'll do it for you. I'll tell you exactly what you can (or should) do and see when you're in Rome depending on how many days your trip will last. For example:
What if you are travelling with your family?
Well, I'm going to help you too. Here you have an article on what to see and do in Rome with children where you can find out what to do to enjoy the city if you are travelling with your little ones as a family.
What if you go at Christmas?
Well, you're in luck, because Rome at Christmas time is even more special. Even though it may be cold days, the lights, the nativity scenes, the decorated streets and the Christmas markets in Rome will compensate for the low temperatures. Don't miss out on everything you can do in Rome at Christmas.