10 Romantic places in Rome
Rome is a city to fall in love with at first sight. One of the most romantic cities in the world, full of landscapes that will make you fall in love, visit them with your sweetheart and let Cupid do the rest!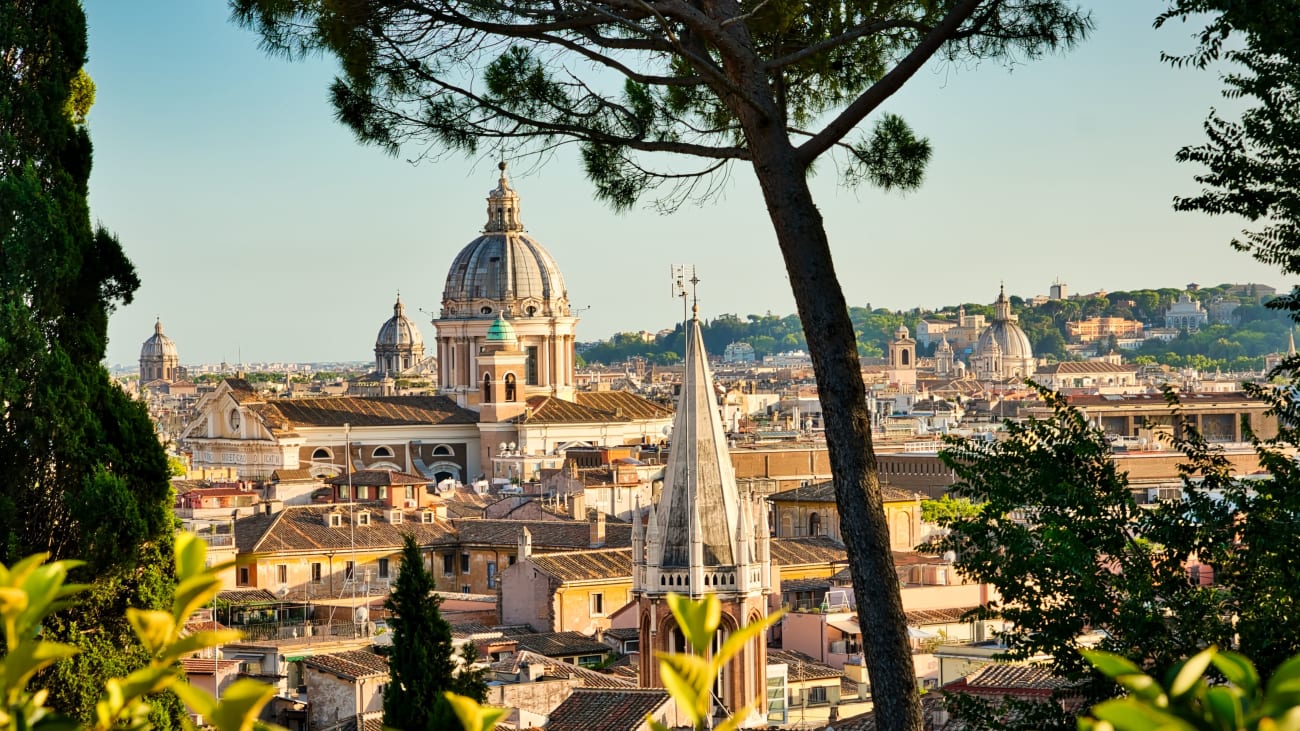 Rome is historic, monumental and tremendously beautiful. It is the perfect place to walk hand in hand with your love and to live together a passionate story to remember and to tell for years to come.
Rome is a city full of secret corners from which you will leave more in love than when you arrived. Would you like to discover 10 romantic places in Rome where you can spend a magical and unforgettable moment with your special someone? Read on!
1. The Trevi Fountain
It is not only the most beautiful fountain in the city, but also one of the most romantic places in Rome and a must on every guided tour of Rome. Tradition has it that if you throw three coins into the water of the Trevi Fountain you will marry the love of your life. But beware! You can't just do it any old way, but you have to do the ritual correctly: with your back to the fountain and throwing the coins with your right hand over your left shoulder.
The Trevi Fountain is one of Rome's most iconic monuments, so you will always see it full of tourists, especially during the summer (the busiest time of the year to travel to the city).
However, there are two times of the day when you can enjoy the grandeur of this fountain and a romantic and intimate moment with your companion: at dawn with the first rays of light or after midnight, while it remains illuminated.
Address: Piazza di Trevi. 00187, Rome.
How to get there: By metro, line A, Barberini station.
2. Sant'Angelo Bridge
Another of Rome's romantic places to visit during your trip is the Sant'Angelo Bridge, one of the most beautiful and ancient bridges in the city that crosses the Tiber River to connect with Hadrian's Mausoleum, an ancient fortress from where you can enjoy some of the best views of Rome.
I recommend visiting the Ponte Sant'Angelo at sunset, a sight to behold! The beauty of this Roman bridge of almost two millennia of history decorated by some beautiful statues
Address: Lungotevere Castello, 50.
How to get there: By bus, lines 23, 34, 49, 64 and 87.
3. The Orange Garden
One of Rome' s most emblematic parks where you can take a romantic stroll is the Orangery, a haven of peace located on the Aventine Hill, a little away from the centre of Rome, where you can enjoy nature and disconnect for a moment from the hustle and bustle of the city.
The Orange Tree Garden is also an ideal place to have a picnic in the shade of its pine trees while listening to the sound of the water from the fountain in the background. Moreover, from its viewpoint there are beautiful panoramic views of the city. From there you can see St. Peter's Basilica, Piazza Venezia, the Trastevere neighbourhood and the rest of Rome at your feet.
If you have the chance, I recommend you visit the Orange Garden at sunset, as contemplating the cityscape while the sun slowly goes down and the lights of Rome's monuments come on is one of the most magical moments you will experience during your holiday.
Address: Piazza Pietro D'Illiria, 00153 Rome RM, Italy
How to get there: By metro, line B, Circo Massimo station.
4. The Cloister of St. John Lateran
During your stay, one of the most romantic places in Rome to visit is the medieval cloister of the Basilica of St. John Lateran. It was the first church to be built in the city in the 4th century and is one of the four major basilicas, that is, the most important temples of Catholicism by papal designation.
The cloister of Saint John Lateran is one of those treasures of medieval Rome that still remain in the city and its charming 19th-century garden of olive trees and palms is a romantic reminder of times gone by. Tickets for the archbasilica can be purchased in advance.
Cosmatesque in style, with its mosaics and spiral columns, it is one of the most beautiful cloisters you will see in the city's churches. You can visit it from 9 AM to 6 PM, every day of the week.
Address: Piazza di San Giovanni in Laterano, 4.
How to get there: By metro, line A, station San Giovanni.
5. The Sisto Bridge
Rome is famous for its beautiful bridges. One of them is the Sisto Bridge, which was built in the 15th century to facilitate the passage of pilgrims to the sacred sites of the city.
Today it is one of Rome's romantic spots to enjoy magnificent views of the Vatican in the distance, as well as the other bridges spanning the Tiber and the picturesque neighbourhood of Trastevere. To start exploring, I recommend crossing the Sisto Bridge.
There is so much to discover in this beautiful area! So get your camera ready because you won't be able to stop taking pictures. Especially at sunset, when it is at its most beautiful.
Address: Piazza Trilussa, 00153 Roma
How to get there: By bus, lines 23, 62, 81, 280 and 492.
6. Trastevere neighbourhood
Trastevere is one of Rome's most charming and romantic neighbourhoods. A place with a bohemian air and narrow cobbled streets where you can go for a pleasant stroll to disconnect from the more touristy side of Rome and transport yourself back in time for a few moments.
Strolling through its streets you will discover little hidden gems, such as some medieval churches like the Basilica of Santa Maria located in the Piazza di Santa Maria in Trastevere or cute shops where you can buy a special gift to surprise your partner.
I recommend that you take advantage of the walk through the Trastevere neighbourhood to get to know the traditional cuisine of Rome and organise a romantic dinner while you're at it. Here there are many restaurants with terraces where you can enjoy a unique evening that will be an unforgettable souvenir of your trip!
Address: On the west bank of the Tiber.
How to get there: By bus, lines 23, 280 and 780.
7. Villa Borghese
Another of Rome's romantic places to visit during your stay, either on foot or by bike, is the Villa Borghese park.
It is located very close to the historic centre of the city, so you'll be there in no time. You'll love it for taking a break from sightseeing and relaxing while looking at nature, as it is a beautiful park where vegetation and art blend harmoniously. Inside you can see beautiful sculptures and fountains surrounded by gardens and trees.
You can also take the opportunity to visit Villa Borghese if you have tickets for the Borghese Gallery, which is inside the park. It is one of the most famous museums in the world and houses important works by artists such as Caravaggio, Titian, Botticelli and Raphael, among others. Double the reason to drop by!
Address: Piazzale Napoleone I, 00197 Roma
How to get there: By metro, line A, station Spagna or Flaminio.
8. The Gianicolo Hill
After lunch or dinner in the Trastevere neighbourhood, if you want to discover another of Rome's romantic places, I suggest you go to Gianicolo Hill, which is considered the eighth hill of the city. It is a very pleasant area to walk around and spend time with your partner.
From its viewpoint you will also have wonderful views of Rome in all its splendour, but you can also take advantage of the visit to see other interesting sites on the top, such as the Fontana dell'Acqua Paola fountain, the church of San Pietro in Montorio and the Manfredi lighthouse. If you do so after dinner, it will probably be dark, so you can take advantage of this to hire a night tour of the city and admire Rome illuminated.
Address: Via Garibaldi, Salita di Sant'Onofrio, 00165 Roma
How to get there: By bus, line 870
9. The Pincio Terrace
After visiting the Borghese Gallery, head west towards Piazza del Popolo. There you will find the Pincio Terrace, one of the most beautiful parks in the centre of Rome from where you will have fabulous views of the Vittoriano, St. Peter's Basilica, Castel Sant'Angelo and Piazza del Popolo itself.
Sunset is a romantic time to stroll along its tree-lined avenues and gardens. In addition, street musicians gather here, whose melodies help to create a relaxed and laid-back atmosphere. Perfect to enjoy after an intense day of sightseeing.
If you want to surprise your partner at the Pincio Terrace, don't forget to buy a bouquet of flowers for your partner from the stalls of the vendors in the park. It will be a beautiful detail that he/she will love!
Address: Salita del Pincio, 00187 Roma
How to get there: By metro, line A Flaminio station.
10. Milvio Bridge
In this list of romantic places in Rome we could not miss the Milvian Bridge, very famous in popular culture and among young people because of the novel Forgive me if I call you love by Federico Moccia for being the place where the main couple swear eternal love by placing a padlock on the bridge and throwing the key into the Tiber.
Since then, many couples from all over the world have wanted to emulate the lovers in the novel by placing their own padlock on the Milvio Bridge to seal their romance in the Eternal City.
How about bringing your own to surprise your partner with a romantic moment on this ancient bridge? It will be a very special moment that you will always remember!
Address: Ponte Milvio, 00196 Rome.
How to get there: By bus, line 32, stop Marshal Diaz - De Bosis.