Naples day trips from Rome
Here's everything you need to know to travel to the pizza capital from Rome and not miss anything.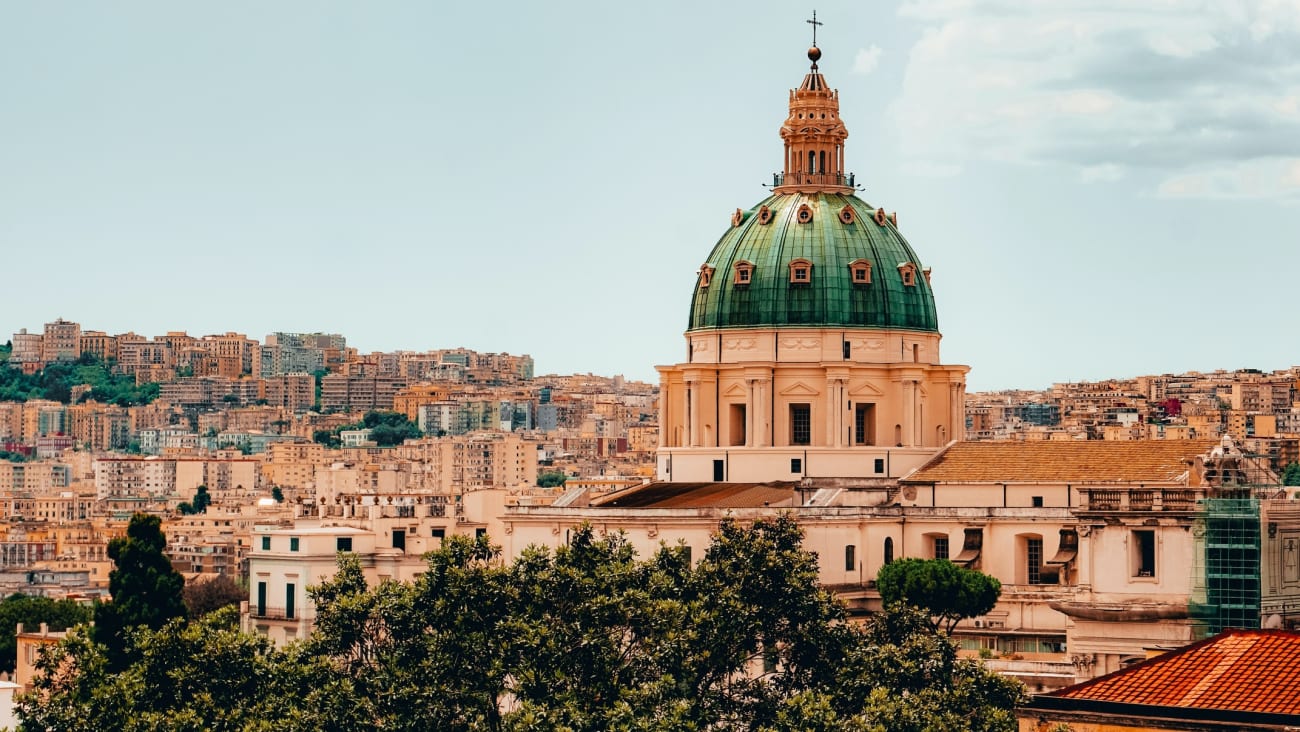 It's easy to fall in love with Naples for its pizza, for its incessant chaos, for its beautiful views of Vesuvius (if you know how to find them), and for many more things that I'll tell you about if you read on. Fancy a trip to Naples from Rome? The following lines are for you.
The best day trip to Naples from Rome (takes you also to Pompeii)
If you decide to leave Rome for a day trip, it has to be well worth it. And visiting Naples and the incredible Pompeii are a great reason to forget the majestic Eternal City for a day. I don't know if it's the same for you, but when I'm travelling I like to let myself go, enjoy myself and not have to worry too much about the logistics of transport, especially if I'm on a tight schedule.
With this all-inclusive day trip to Naples and Pompeii in English, you'll leave early from Rome in a private bus and you'll be accompanied at all times by a professional guide who will put everything you see into context (something I found essential, especially in Pompeii).
The stop in Naples will allow you to get to know the historic centre of the city and its most important points without having to spend too much time moving from one place to another. You will also have time to have lunch and taste one of the famous Neapolitan pizzas. What more could you ask for?
About the visit to Pompeii
You will be touring the ruins of Pompeii for about two hours. Although at first glance it may not seem long, I assure you that it is a reasonable amount of time to see the essential parts of the ruins and understand how life was lived in this impressive city that was petrified by the eruption of Vesuvius.
If you prefer to visit Pompeii with more time, you can dedicate a whole day to it or even combine the excursion with an ascent of Vesuvius. If you want to know all the possibilities, I invite you to read this article on how to visit Pompeii from Rome in one day.
Other options to go to Naples from Rome
By train
The train is a very convenient option for a day trip to Naples from Rome. You won't have to worry about parking, unnecessary detours or stops. The downside compared to other methods of transport can be the price: the fast train ticket, which will get you to Naples in 1 hour 15 minutes, costs between €44 and €60 each way.
There is a slower train, which takes between 2 and 3 hours to get to Naples, which costs between €20 and €27 each way depending on the class. This can be a good option if you're travelling on a tighter budget, and if you catch the train early in the morning you'll have plenty of time to explore the city in a day. Check all timetables and prices on Trenitalia's official website.
Getting to Naples from Rome by bus
Most buses to Naples from the Italian capital are operated by Flixbus, Baltour and BusCenter, and a return ticket usually costs around €20. Buses go direct to Naples, departing from Rome's Autostazione Tiburtina and arriving at Naples' Piazza Garibaldi bus station in about 2.5 hours.
My recommendation is to buy your bus tickets a week in advance, to make sure you have seats available for the day you want to do the tour, so you don't have to worry about getting a return ticket as well.
In any case, to be very honest with you, you can't see the whole of Naples in one day (especially if you add in the waiting times for public transport). The aim of your excursion from Rome will be to enjoy the city and spend a day different from what you would find in the Italian capital. This is the itinerary I took on my visit:
Start with the best breakfast in Naples
I'm not a big fan of coffee, but you have to admit that Neapolitan coffee is something worthy of the most exquisite palates. The first thing I did when I got off the train in Naples was head for the Gran Caffè Gambrinus, a stylish Viennese-style café with marble walls, sculptures on the shelves and chandeliers hanging from the ceiling.
It's probably familiar to you as it's become quite a touristy place, but as a romantic I wasn't going to miss the chance to have an espresso and sfogliatelle for breakfast in one of Oscar Wilde's favourite places in Naples.
Stroll around the Piazza del Plebiscito
The Piazza del Plebiscito is a huge square, the nucleus of Naples' public life and one of its main points of interest. It is named after the plebiscite held during the Italian Unification, which saw Naples become part of the Kingdom of Italy and the House of Savoy.
As if its historical importance were not enough, the square has that Italian essence of grandeur and spectacle, presided over by the immense colonnade of the church of San Francesco di Paola. It is a neoclassical marvel that impresses by day and captivates by night when it is illuminated.
5. Discover the Palazzo Reale
The Royal Palace of Naples is one of the places that best testifies to the importance of the city during the 18th and 19th centuries. The size and splendour of this palace is due to the fact that it served as the residence of the Bourbon dynasty for a century, and later passed into the hands of the Savoy family.
It evolved as it passed from hand to hand, but its halls still retain the extravagance of 18th-century Neapolitan style. Its façade is crowned by eight marble statues of the kings who ruled Naples from the 12th century until Italian Unification.
However, the most impressive part of the Palazzo Reale is inside: you will find a monumental pink and white marble staircase leading up to the Royal Apartments, the Court Theatre, the Throne Room, and the Royal Chapel, all decorated with spectacular paintings and tapestries.
The Palazzo Reale is open every day except Wednesdays, from 09:00 to 20:00, and the entrance fee is 6 €.
Enter the San Carlo Theatre
This is a visit they don't prepare you for: the majesty of the interior of the Teatro San Carlo, when you look up and admire the feeling of infinity of its six floors and the frescoed dome, is something that caught me completely off guard.
For this reason, the Teatro San Carlo is considered one of the most beautiful opera buildings in the world, and it's easy to imagine the hall filled with the aristocrats of the time, debating between a glimpse of the stage, the royal box, or a furtive lover on the other side of the grandstand.
The only way to visit the Teatro San Carlo from the inside is to attend a performance or join one of the guided tours offered by the building's own organisers. The tour lasts about an hour, and I recommend doing it even if you have a little less free time at the end of the itinerary.
Enjoy authentic Neapolitan pizza
I'm pretty sure that if you're taking the train back to Rome and you tell the conductor that you haven't had a pizza during your visit, he'll tear up your ticket and send you to one of his relatives' restaurants.
No, seriously, I don't think you need convincing that Neapolitan pizza is the most authentic example of this world revered food. One of the most recommended restaurants is Gino Sorbillo's pizzeria, but the queues are often enormous. Gorizia 1916 is another of the city's better-named eateries, slightly more expensive but also more elegant, being in Naples' posh area. Finally, the option that many locals will recommend: L'antica Pizzeria da Michele Forcella.
Visit the Umberto I Gallery
The Galleria Umberto I is a typical Italian shopping arcade, where you will find cafes and shops to take a break from sightseeing. For me, the coolness inside and the zodiacal decoration of the floor tiles alone, coupled with the sense of space that opens up under the building's ceilings, make the gallery worth a stop.
If you've been to Milan, the Galleria Umberto I will remind you a lot of the Galleria Vittorio Emanuele II, as it was a direct inspiration for the construction of this Neapolitan building.
In case you opted for another breakfast to start the day, you can find some delicious sfogliatellas and other sweets in the gallery. By then, you will have realised that pastries and sweets are one of Naples' passions.
9. Cross Via Toledo
Via Toledo is one of the few straight streets you will find in Naples. When you reach it, you'll realise that you've been wandering along snake-shaped roads all day. As such, Via Toledo is the city's shopping street, with buildings in many different styles and shops of all kinds.
Alex's Traveller Tip

The Toledo Metro station is, without a doubt, one of the most beautiful I've ever seen - I'd better not give you a description and let you discover it on your own!
Immerse yourself in the Historic Centre of Naples
The heart of the city of Naples is made for getting lost in. Walking through its streets you will find a church on practically every corner, and you can enjoy watching life go by: street musicians, artists' studios, old men watching football on TV in a bar, and shops of all kinds that are hard to describe.
The streets are narrow and offer little privacy to their inhabitants. You only have to look up to see typical Italian family scenes happening in front of you, through the windows of their houses. If you want to soak up the essence of Naples, this is the area where you will be able to breathe the most genuine atmosphere of the city.
Something that will interest you if you like the ancient world is that you can see part of the roadway of the Greco-Roman city of Neapolis. Spaccanapoli, which could be translated as "Short Naples", is a succession of streets that literally splits the city in two: Via Della Anticaglia (Upper Decumanus), Via Dei Tribunali (Decumanus Major) and the street that starts as Via Benedetto Croce and becomes Via San Biagio Dei Librai (Lower Decumanus).
Behold the Cathedral of Naples
Of the five hundred or so churches in Naples, none can match the city's Cathedral: the Duomo di San Gennaro or Duomo di Santa Maria Assunta, as it is known to the locals.
While not as impressive as the Cathedral of Florence or Milan, Naples' Cathedral is a mishmash of Gothic and Baroque styles with an impressive interior decorated with frescoes evoking the image of Paradise.
The best sunset, from Castel Sant'Elmo
The perfect plan to end the day is to take the funicular to Castel Sant'Elmo, a 13th century star-shaped fortress atop the hill of Vomero. There you'll meet locals and tourists alike who have learned their lesson: it's not for nothing that from this top you can enjoy the best 360º views of the city, Vesuvius and the Gulf of Naples.
A perfect way to end your trip to Naples before heading back to Rome.
Getting around Naples in comfort
The best way to get to know Naples is on foot: this is the only way to find the most authentic streets and breathe the essence of the city. However, on a day trip you're usually on a tight schedule, so to get around Naples I recommend taking the metro.
The Naples Metro has two lines, 1 and 6 (it's a mystery what happened to all the others) and covers almost the entire metropolitan area of the city.
If you've opted to drive to Naples, be careful as there are several areas of historical importance where parking is expensive, with fines of up to €90. These areas are called ZTL (Limited Traffic Zone) and the best way to avoid them is to park on the outskirts of the city or check a map of these areas before you park your car.
Tips and tricks for your trip to Naples from Rome
Beware of pickpockets
Naples is a city with a somewhat tarnished reputation for being less than tourist-friendly. Don't worry too much, as long as you watch out for pickpockets and avoid leaving the more central areas you shouldn't have any problems.
Wear comfortable shoes
Since you're going to be walking all day on this tour, remember to be well prepared: you'll want to pack trainers, a backpack with water, a power bank to charge your mobile phone and something warm for the evening if you're travelling in summer. In winter, the best idea is to dress in layers so that you'll be warmer and warmer as the day wears on.
Be prepared with cash
Some shops and restaurants only accept cash, so carry some loose change just in case (my recommendation: take just enough).
If you don't speak Italian, don't worry
If you don't speak Italian, you won't have any problems in Rome as they will more or less be able to understand you in English or even Spanish. But for travelling to Naples, I recommend you to have a translation app installed on your mobile phone as it can make your life easier on some occasions.
Other excursions you may be interested in
If you already know Naples or you are not too interested in visiting this city, maybe Florence is an option that you might like more. Before going from Rome, I recommend you read more about how to prepare for this experience here: Florence Day Trips from Rome. One of the (so many) good things about Rome is its location on the map: besides being in the centre of the Italian peninsula, it has a lot of emblematic places to visit in its surroundings. If you fancy discovering them, here's a list of what I think are the best places to visit near Rome.