Is it Worth Visiting Pompeii from Rome?
Visiting Pompeii is something unique that everyone should do at least once in a lifetime. Its proximity to Rome, moreover, makes it the perfect destination for a day's escape from the Italian capital.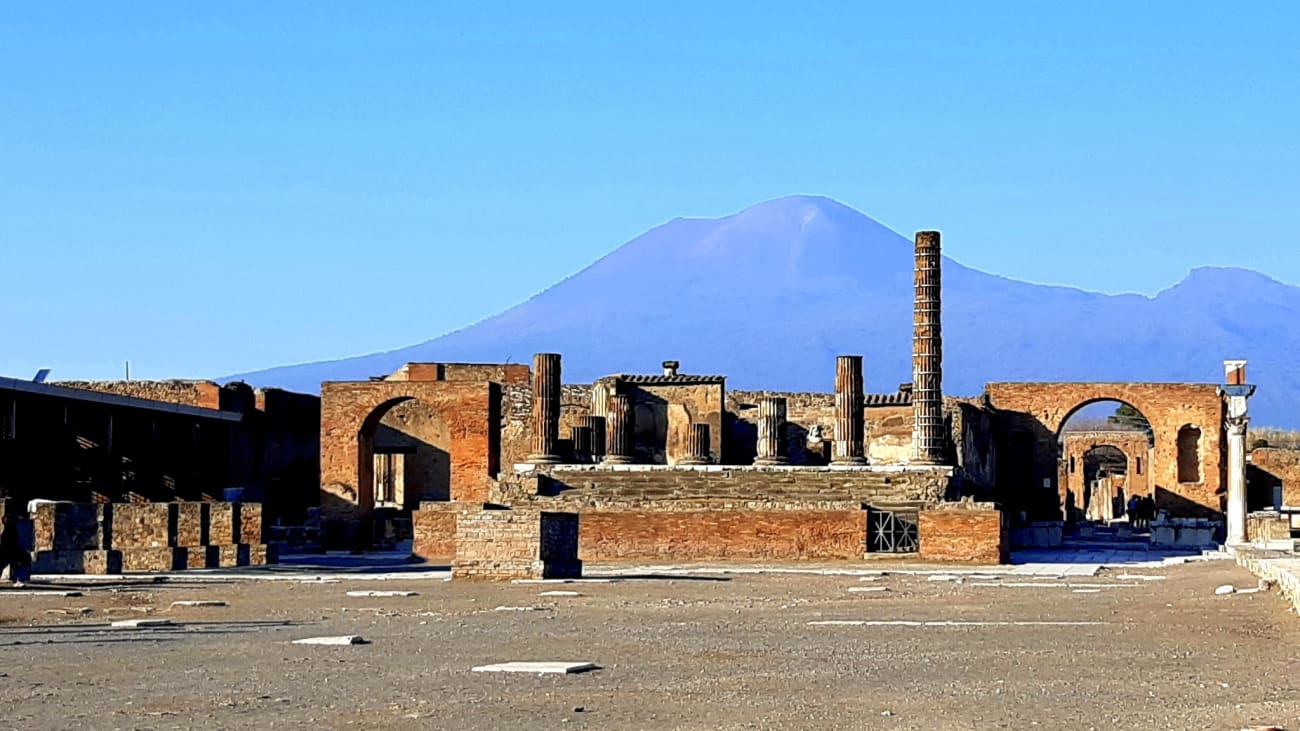 Yes, we have read a thousand times that Rome is the Eternal City, and the truth is that the saying is right: Rome is an open-air museum with endless streets, squares, fountains and corners to discover.
But if you have some time to escape for a day during your trip, Pompeii is the destination par excellence: there are several combinations of already organised excursions that will allow you to visit this unique archaeological jewel in the world without having to worry about anything.
Still not convinced? A trip to Pompeii from Rome will complete your trip: take note of these reasons why visiting Pompeii from Rome is a must.
1. It has one of the best-preserved archaeological remains in the world
The main reason why Pompeii is worth a visit is because it is a city of record. Although it was not the victim of the most powerful volcanic eruption in history, it is one of the first episodes of a volcanic eruption to be narrated and told in the first person.
On the morning of 24 August 1979 (almost 2,000 years ago!) Vesuvius erupted and its lava devastated everything in its path: streets, houses, temples... The inhabitants of the city of Pompeii, who did not even know that the mountain they saw on the horizon was not a mountain but a volcano, barely had time to escape.
The result? A city unique in the world, petrified under lava, of which a large part of the ruins have been preserved in very good condition - despite the circumstances. There is no other place like it on the planet, and its history, its landscape, its ruins and the remains of what was once this ancient Roman city leave no one indifferent.
2. It's a paradise for archaeologists, historians and nature lovers alike
There's no doubt that Pompeii is a Mecca for historians and archaeologists who travel the world to admire the incredibly well-preserved remains of this city that was paralysed under a blanket of lava.
The map of the city is very easy to identify: its cobbled streets have been kept just as they were two thousand years ago, and you will pass temples, houses, palaces... The baths, the forum where the social life of the city took place... have also been preserved... Even what appeared to be a bar!
The archaeological remains of Pompeii have allowed historians from all over the world to study and discover what life was like at the time and to transmit it to us visitors so that we can take part in this interesting adventure. Here is a National Geographic report about it that I recommend you read before going to Pompeii.
You will even have the chance to see the petrified remains of more than 10 citizens (adults and children) who were paralysed by lava while trying to escape from the eruption of Vesuvius. Pompeii is a true open-air museum unlike anywhere else in the world, and you'll see it all in the open air as you stroll around!
3. Touring the ruins with a guided tour is (almost) like travelling back in time!
If touring a historical site with an expert guide is already a plus, if you choose Pompeii for a guided tour, you will have made the right choice. The experience with a professional guide will make you travel back in time: he will immerse you in the life of ancient Pompeii, the routines of its citizens, he will tell you what part of the city each of the houses or temples you see corresponds to...
For a moment you will lose track of time and you will have the feeling of being a citizen of the ancient and dynamic Pompeii. In addition, he will tell you more details about the eruption of Vesuvius, whose lava devastated the whole city in its path.
In short, get ready to immerse yourself in the customs of one of the best preserved historic cities in the world.
4. Climbing Vesuvius is an unparalleled experience
The cause of it all still stands on the horizon, as if guarding the city that was frozen in time. The panoramic view is spectacular and can be appreciated as soon as you arrive in the area, but if you want to give your visit an added bonus, don't hesitate to go as far as Vesuvius and even climb to the top for the most spectacular views of the Bay of Naples and the ruins of Pompeii.
How many times have you had the crater of a volcano in front of you? Probably not many (or even none), so what better way to get your first taste of the experience than by climbing one of the world's most famous volcanoes. I'm not going to kid you, the climb is not overly easy, it 's quite steep and requires a minimum of fitness, but I assure you it's worth it. Now that you've made it this far, how can you miss the jewel in the crown?
Take water (or buy it on the spot), protect yourself from the cold if you go in winter, and don't forget a hat if you go in spring or summer, and make the climb without thinking too much about it. It's worth it!
5. It has frescoes more than 2000 years old.
As you walk through Pompeii's incredible cobblestone streets, you'll notice buildings that were petrified under the lava, but their structure is still in perfect condition. You can even see the details of some of the frescoes that have been preserved despite being over 2000 years old!
Clearly its amphitheatre can't compete with the Roman Colosseum, but its authenticity and setting make it an incredibly authentic place to visit. It won't take you long to imagine the social life that took place in the forum, what life was like inside the houses, the customs in the temples...
6. It offers tranquillity, nature and fresh air
It's true that in Rome you'll spend most of your time wandering the streets and squares and enjoying the terraces (of which there are many!), but you'll still be in a big capital city where traffic, noise and chaos are the order of the day.
To complete your day with a day of peace and quiet, in the open air and surrounded by nature, Pompeii is a very good idea. As soon as you arrive, Vesuvius will greet you from the horizon, you can take a great walk through the archaeological ruins of the city and if you dare, you can complete the day with a climb to the crater of the volcano or a stroll along the Bay of Naples facing the sea. Sounds idyllic, doesn't it?
In my opinion, if you're looking for a real contrast to your visit to Rome, Pompeii is your destination. Other cities like Florence or Pisa or even Tuscany are also potential destinations, but you would need more time to visit them and in one day you wouldn't even get to see the highlights. It would be best to leave them for a future trip where you can dedicate more time exclusively to them and opt for a day in the sun and fresh air in the Pompeii and Naples area.
7. It is possible to include a visit to Naples
Its proximity to Naples means that many of the guided tours to Pompeii from Rome include a stop in the pizza capital for a taste of the real Neapolitan recipe.
For a little more money, you can include this stop on your tour, allowing you to take a lunch break, get a good panoramic view of the city and avoid having to worry about bringing lunch or having to buy something of poorer quality in the vicinity of Pompeii.
Its typical thick-rimmed dough, the deliciousness of its cheeses and the softness of the tomato base will blow your mind even with a simple margherita pizza. And all of this, accompanied by the most authentic Neapolitan atmosphere, is a great way to complete your trip to Rome! Here is a list of the best places to eat during your trip to Pompeii.
8. Organised tours are available from Rome
The demand to visit Pompeii is such that organised group tours depart daily from Rome that include a private transfer to and from the site, skip-the-line entrance to the archaeological park, a guided tour and even lunch. Best of all, the guided tour is in English, so if you don't speak English or Italian, you won't have a problem.
If you also want to take the opportunity to visit other emblematic sites nearby, such as Vesuvius itself or even Naples, there are routes that take you to visit them all in the same day.
You can also choose between completely private excursions, in which only you and your companions take part, or take a more economical option in which you join a larger group of travellers. It all depends on your budget and the time you have available, so don't worry, you 'll be spoilt for choice:
9. It's the perfect distance for a getaway
Pompeii is not, as such, Italy's most popular holiday destination and is usually visited as a side trip during a trip to other popular Italian cities, such as neighbouring Naples or in this case, Rome.
That's why it's a great idea to take advantage of your stay in the Italian capital to discover Pompeii: it takes relatively little time to get there, you'll have enough time in a day to soak up the setting and its history, and it's quite affordable on a budget. In fact, I've put together an article on how to get to Pompeii from Rome that you might be interested in.
In conclusion, Pompeii is a great place to complete your trip to Rome if you have enough time to add it to your travel agenda. Remember that even if you plan to visit other cities in Italy in the future, such as Florence, Venice or Milan, the distances involved make getting there more complicated or even unfeasible if you have just enough time.
10. More than 4 million people a year can't be wrong
I'm not really a fan of mass tourism, but the fact that Pompeii gathers before its archaeological remains more than 4 million visitors who cross the world every year to visit its streets, is a sign that this is a city to put on the map.
And when you get there, you'll see that it's worth it. I don't know anyone who has ever regretted taking time out of their trip to Rome to escape here and discover the scene of one of the most tragic episodes in Italian history.