How to get to Pompeii from Rome
Pompeii is the perfect place to immerse yourself in the past of this city petrified by the lava of the Vestubio. How to get there from Rome? Take note!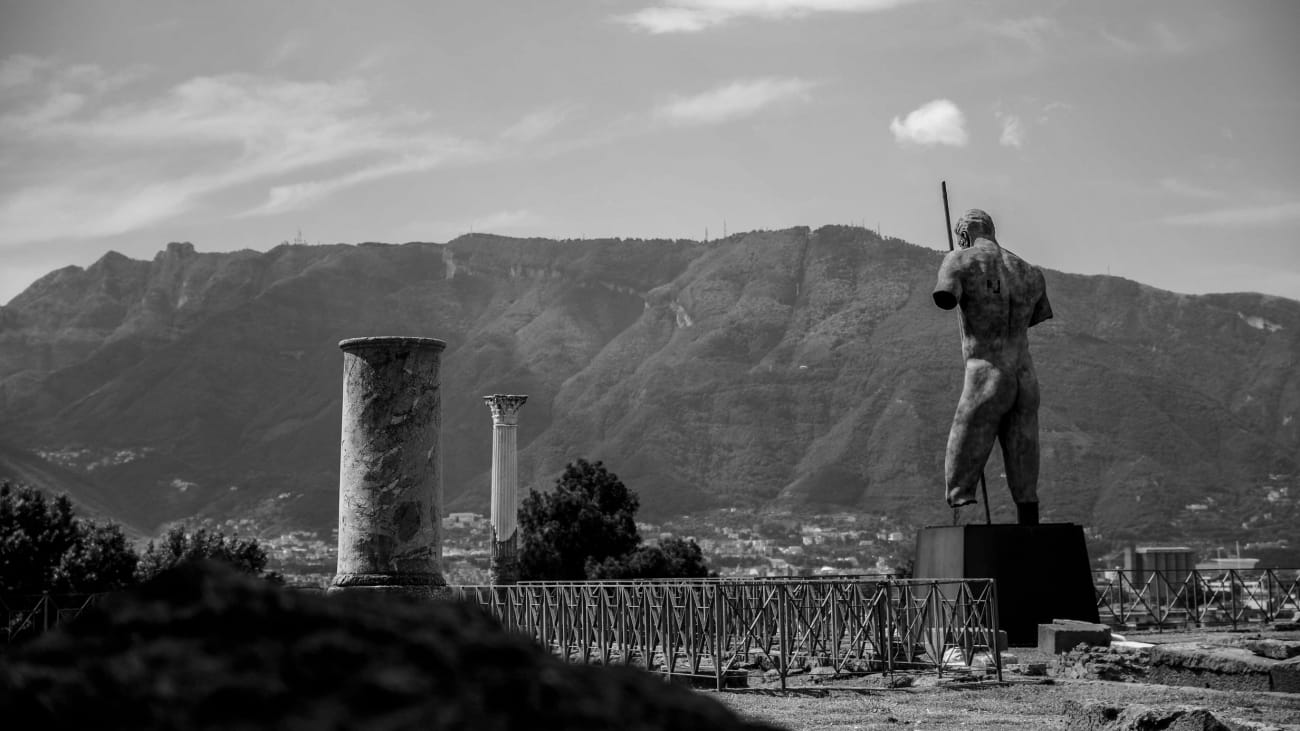 If you're planning a visit to Pompeii from Rome, you've made the right choice. The archaeological site and the Italian capital are less than 250 kilometres apart, which can be covered by car, bus or train.
Want to know the best way to get to Pompeii from Rome, how long it will take and what budget you need? I'll tell you all about it below:
The most convenient: arrive by road on a guided tour from Rome
To visit Pompeii from Rome in one day, the most practical and safest way is to book a Pompeii excursion from Rome where you don't have to worry about a thing: tours to Rome from Pompeii include a private bus or minibus that won't make any stops in between and will drop you off at the gate of Pompeii's archaeological site.
They include skip-the-line entrance tickets and a guided tour conducted by aprofessional tour guide who will accompany you throughout the day. If you prefer, you can also include lunch in the itinerary or even a stop in Naples or Vesuvius.
In short, everything is organised so that you don't have to waste time on transport logistics: once you have booked the tour, you will receive the exact address of the meeting point from where the bus departs (usually somewhere in the centre of Rome) and you will be back the same day a few hours later.
Useful information
From Rome to Pompeii by train
If you don't like tours or simply prefer to see Pompeii on your own, a good way to get there from Rome is by train. Trains leave from Termini Station and arrive in Naples**(there is no train station in Pompeii**), so you'll still be about 23 kilometres from the Pompeii archaeological site and you'll need to take an extra bus there which can take more than half an hour.
Note that there are high-speed trains that will get you there in just over an hour, but prices obviously go up (regional trains, with many stops in between, are the cheapest but take up to an extra hour).
As for frequency, at peak times there can be up to one train every half hour, but my recommendation is to check the official train website to get an idea of the timetable and journey time that suits you best before making your choice.
If you show up at the station without having taken or checked the tickets, you run the risk of having to settle for the fast train (paying a lot) or the slow train (paying a little but losing more time on the journey).
Interesting facts
How to get from Rome to Pompeii by bus
Since going by train would require you to go through Naples first, going directly to Pompeii by bus will save you a transfer. It is true that it is the longest route, as it can take well over three hours, but on the plus side you can save a bit as it is the cheapest mode of transport.
Availability and frequency is more limited than the trains, so I recommend you check the website beforehand to organise your time and make the most of your time in Pompeii. Remember also that if you choose this option, you will have to buy the tickets for Pompeii on your own (and I recommend that you do it online and in advance to avoid long queues and ensure availability).
Useful information
Rent your own car for more freedom
If you're travelling around Italy and you have a rental car, you'll definitely have more flexibility in your schedule and movements, you'll be able to move around whenever you want and even complete your visit with a stop in Naples or Vesuvius.
If you have to rent a car just to go to Pompeii, I don't recommend it at all: taxes, insurance, petrol and parking will make the budget of renting a car skyrocket and it doesn't make much sense.
If you still choose this option, you should know that the roads are in very good condition, that the arrival to Pompeii is very well signposted and that, as always, Google Maps will be a good ally to guide you with the best route, traffic conditions and arrival times. Have a good trip!
Useful information