Best Frascati Day Trips from Rome
Frascati is one of the historic hilltop towns where you can taste the best Italian wines.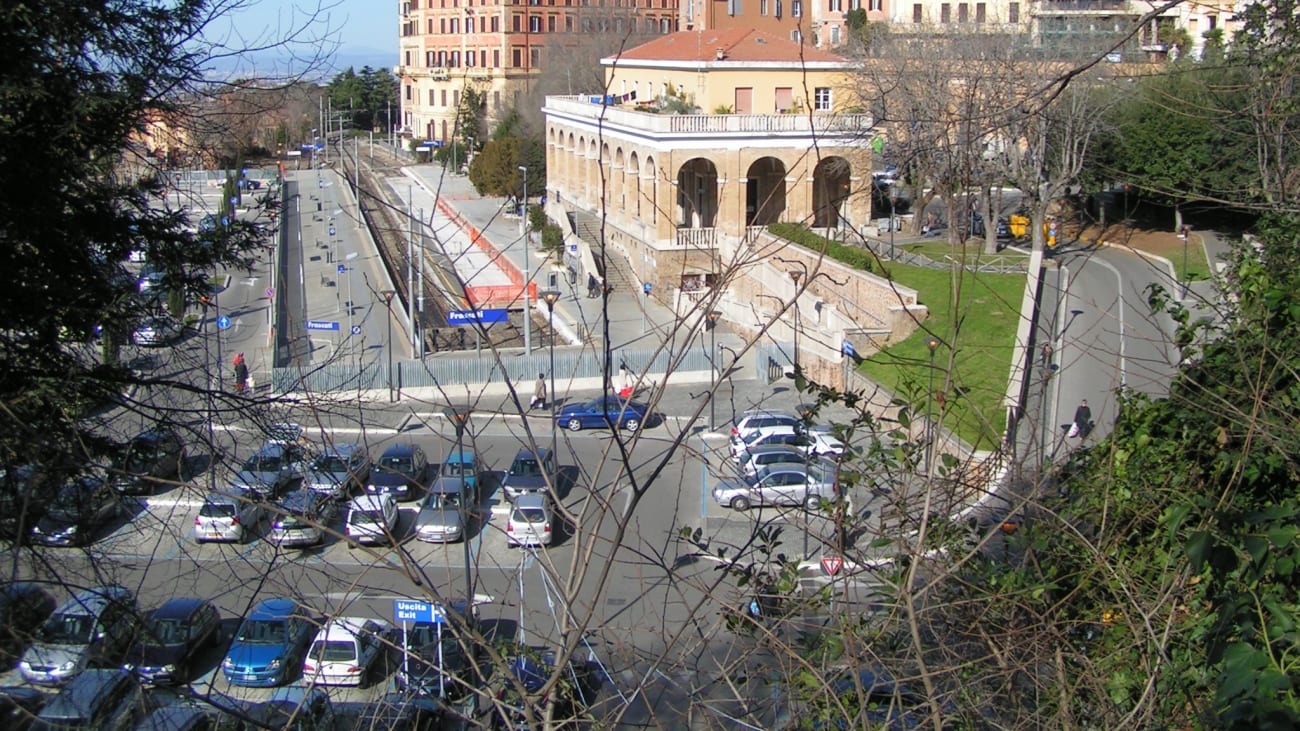 Visiting Frascati means learning more about the history of the 12 noble Tusculan villas, located in the municipalities of Frascati, Monte Porzio Catone and Grottaferrata. Composed of summer villas, it is also an emblem of Italian national wine, so a trip to this enclave is one of the best things to add to your list of things to see and do in Rome.
Are you ready to go on an excursion and enjoy the atmosphere of a small picturesque town?
1. Half day excursion to Frascati by train from Rome
One of the most pleasant ways to get to Frascati is by train. The convenience of this means of transport, which takes about an hour, allows you to take in the beautiful scenery as you approach the town. That's why the guided tour of Frascati by train starts at Roma Termini train station and then you'll get to know the historic centre of the city and its vineyards.
With this half-day excursion you will also get to taste the local wines and the typical food of the area, such as porchetta (roast pork), biscotti and breads with extra virgin olive oil. Of course, all of this is paired with a varied tasting of Italian wines that you will savour as you take a leisurely stroll through the area's vineyards.
During the approximately five and a half hours of the excursion you will be accompanied by a local guide in a group of maximum 15 people. The guide will tell you the historical details of the village and then you will have free time to visit what you liked the most or to go shopping in the local shops.
The tour ends with a rustic Roman lunch, to further delight your palate, and you can say goodbye to the beautiful city to take the train back to Rome.
Details of interest
Price: From 87 €
Duration: About 5 hours and a half
Means of transport: Train
Advantages of this option: It is a very complete visit because it perfectly combines history, Italian gastronomy and the best wines.
Disadvantages of this option: It does not include return trains, which you must book on your own at Roma Termini station
2. Private driving tour to the province of Castelli Romani
Another quicker way to get to Frascati is by car. After a drive of just over 35 minutes, this private driving tour to Castelli Romani allows you to enjoy a wine tasting in the vineyard region with a booking group of your choice.
Frascati is one of the towns that make up this enclave located southeast of Rome among the Alban Hills. This minivan excursion will take you to visit several of the municipalities with a wine-making tradition, to taste, of course, their wines and local products.
During the three and a half hour excursion, including hotel pick-up, you will get to know the castles of the Middle Ages as well as their wine cellars. The remains of the amphitheatre of Tusculum or the towns of Grottaferrata, known for its abbey, or Genzano di Roma, where one of the most beautiful medieval villages of Castelli Romani is located, are some of the historical wonders you can visit.
Details of interest
Price: From 169 euros
Duration: About 3 and a half hours
Means of transport: Car
Advantages of this option: The convenience of being picked up from your hotel means you can forget about searching for and selecting transport to get to the area.
Disadvantages of this option: The time to see the villages in the region is a bit tight but ideal to see the basics of the vineyard region.
3. Other full day tours to Frascati and the Roman countryside
If you have more time to get to know Frascati and its surroundings, you can spend the whole day enjoying a good wine tasting without rushing. With the region so close by, this is a must on your trip to Rome.
There are excursions that include transport by car or minivan, and you can also arrange to be picked up directly from your hotel. On the way, a guide will explain the details of the most touristic places you will visit.
Some of these tours take you to various villages in the Roman countryside such as Castel Gandolfo (the Pope's summer residence), Nemi and Roca di Papa. Of course, once in Frascati, wine tasting is a must, as are the typical aperitifs of the region.
Details of interest
Price: From 200 to 400€, depending on whether you are going to see other towns in the region
Duration: About 8 hours
Means of transport: Car
Advantages of this option: In one day you can see several villages in the Albanian Mountains, a beautiful part of the Roman countryside.
Disadvantages of this option: It can be more expensive as it includes visits to other municipalities and the time to see them all can be tighter.
Duration of the excursions to Frascati
Depending on how much time you have for your trip to Rome, you can choose between a half-day tour or a full-day tour. If you are looking for a two-day or even a three-day break in Rome and you want to visit Frascati, it is better to choose the half-day guided tour of Frascati by train. Even if you want to forget about transport, you also have the possibility to book the half-day tour of Castelli Romani by car.
If, on the other hand, this is not your first time in Rome, you are a wine lover or you want to include this plan in your list of things to see on your four or five-day trip to the Italian capital, you can look into tours that last longer.
Tips for an excursion in Frascati
In any case, whichever tour you choose, it is very important that you take into account some basic recommendations that I detail below:
Make sure you have the means of transport to get there: When selecting the tour, check whether or not it includes transport to Frascati. It is easy to think that it is included and then you find that you should have taken the train, bus or rental car on your own and you don't have time to prepare everything at the moment of starting the excursion.
Clothing: Since you will be spending a few hours walking around the city centre and the vineyards, it is highly recommended that you wear comfortable, cool clothing.
What not to miss in Frascati?
In addition to its majestic wineries, Frascati has a very interesting historic centre and other attractions to add to your city tour.
City of summer villas
Although Frascati is home to many villas, most of them are closed to the public. The most impressive, Villa Aldobrandini, allows access to its majestic gardens, which provide a peaceful glimpse of past glory as well as beautiful panoramic views of Frascati and beyond.
Discover the 16th century St. Peter's Cathedral
The region, like almost every town and village in Italy, has many churches, the most important being the 16th century Cathedral of St. Peter.
The baroque façade is the work of architect Girolamo Fontana and much of the interior was destroyed in World War II but it is still an interesting attraction for a small slice of the history of this town and its ancient inhabitants.
Lose yourself in the ruins of the Tusculum Archaeological Park
Just outside Frascati, about 20 minutes by car, is the ancient city of Tusculum, an important Latin city, pre-dating Rome and located in the Albanian mountains, which according to legend was founded by Telegonus, the son of Odysseus/Ulysses and Circe.
Tusculum was destroyed in the 1191st century by Rome and was abandoned until the early 20th century when excavations began. The park includes the ruins of an ancient theatre, an amphitheatre, a basilica, a forum, a villa, several temples and an acropolis.
Visit the most important museums of the city
There are two interesting museums in Frascati, the first one is the Museo Civico "Tuscolano" which as I told you is located in the Aldobrandini stables and where art exhibitions, workshops and multimedia spaces coexist.
The second is the Ethiopian Museum in honour of Cardinal Guglielmo Massaia, small in size but important as a reminder of Italian colonialism in Africa.
A bit of history
Frascati dates back to around the 7th century BC. The name of the town is said to come from the local tradition of collecting firewood (frasche).
Frascati was only a small town until it increased in size and importance after the nearby city of Tusculum was destroyed in the 12th century and all its surviving inhabitants moved to the town.
Like many other hilltop towns, Frascati has long been a favourite summer getaway for Roman nobles. Imposing summer villas with large gardens and water fountains were built there to escape the punishing heat of Rome.