Best time to travel to Rome
If you have already decided that Rome will be your next getaway, all you need to know is the best time of the year and the advantages of visiting the Eternal City. Read on!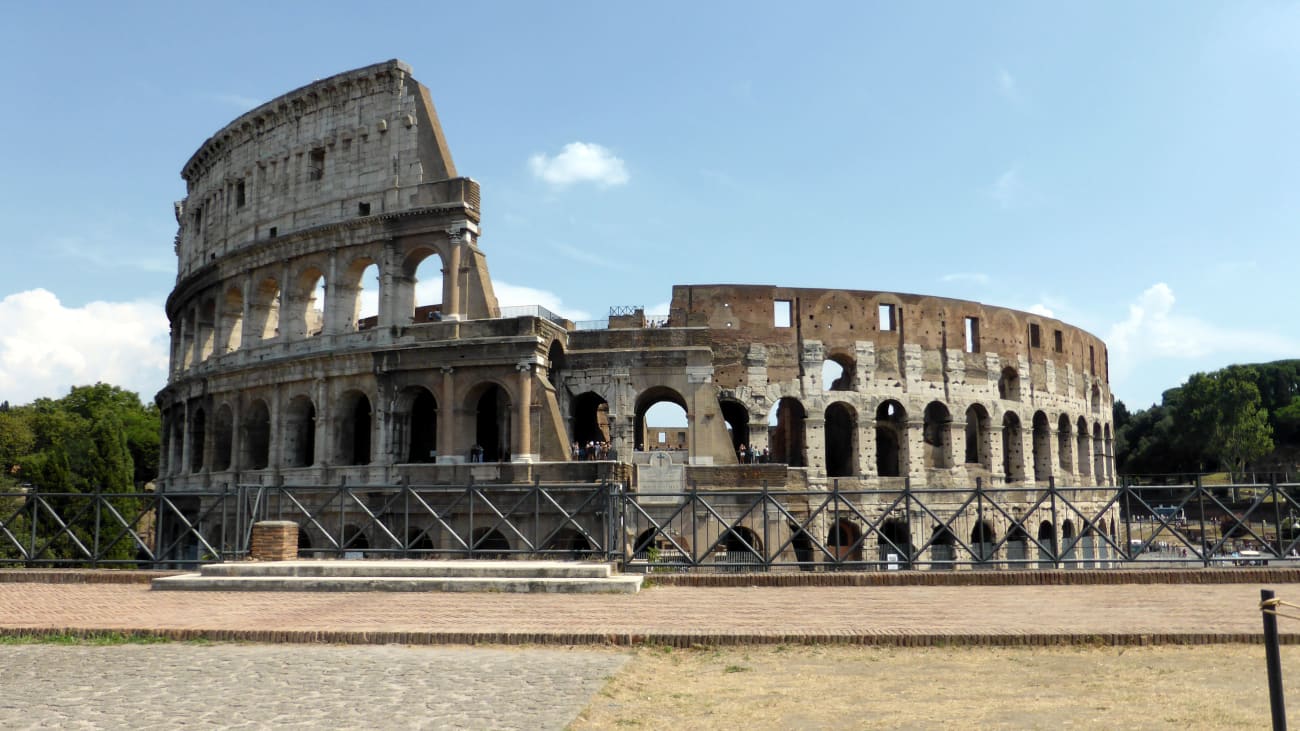 One of the reasons why there are always things to see and do in Rome is because the city has a mild Mediterranean climate, which means that any time of year is a good time to visit the city. However, if you have the chance, choose to visit Rome in spring or visit Rome in autumn as the temperatures are more pleasant.
However, when planning a trip to Rome, other factors such as tourist saturation and prices should be taken into account - don't worry, this post looks at all of these issues so you can get an idea of what to expect in the Italian capital.
1. When is the best time to travel to Rome?
Spring and autumn are the best times to travel to Rome, as both are transitional seasons where it's not too hot and not too cold. The days have more daylight hours but the temperatures are mild, which is perfect for outdoor sightseeing and walking the streets of the city seeing its beautiful and ancient monuments.
So, if you have not yet chosen the time to travel to Rome, I recommend you to choose the months of April and May or September and October for having a mild climate. It's also mid-season, so you'll find good deals on accommodation.
In any case, when you're planning your trip, it's always a good idea to check the average temperatures in Rome so you can choose the right clothes to pack for your trip - it's never a bad idea to bring a warm jacket in case it gets chilly in the spring or autumn evenings!
2. Visiting Rome in spring, mild temperatures and colourful nature
As winter comes to an end, the thermometers start to rise and the temperature is very pleasant. Although the nights in March are still cool in the early spring, the temperatures compensate in the middle of the day when they become milder.
As spring progresses, it gets warmer without being oppressive and there are also more hours of daylight, so the days are longer.
Romans take the opportunity to go for a walk, have an aperitif on the terraces of Rome or do some sport. It is a great time to stroll through Rome' s parks as the vegetation is lush and full of beautiful colours. You can also visit the city's belvederes and enjoy the best views of Rome.
During the spring there may be a rainy day, but nothing that can't be fixed with an umbrella. These days are also charming and you will get some beautiful photos!
Tourist crowds in spring
If you want to explore the streets of Rome for sightseeing, this is a good time to do it. Although the streets are more crowded, they are not as busy as in summer and the main tourist attractions are quieter.
Also, in spring you can travel to Rome for less money. Except at Easter, when the city is crowded with pilgrims and prices go up a little. If you're not travelling to the city for religious reasons, it's best to avoid those dates to enjoy it more peacefully.
In this other post I leave you all the information about what to see and do in Rome in spring.
3. Visiting Rome in autumn, good weather and cultural events
At the beginning of autumn, temperatures are still high in Rome as the sensation of sweltering heat lasts well into October, with an average temperature of around 25°C on the thermometers. However, the nights are gradually getting cooler, which makes it easier to fall asleep in the Italian capital.
Later on, the temperatures become milder and more pleasant, as they do in spring, so many Romans take advantage of the fact that the weather outside is still good during the day to do sport, have a drink on a terrace or take a stroll in Rome's parks. The city shines with a special light and watching the urban nature when the leaves change colour is one of the most romantic things to do in the Eternal City.
However, the days are getting shorter and it gets dark earlier, so you will have to plan some activities earlier, especially those that take place outdoors. It also tends to rain more in autumn, especially in October and November, so you will need to pack a mackintosh.
Tourist crowds in autumn
As in spring, the number of tourists in Rome in autumn is lower than in summer. There are fewer tourists and hotel prices are lower, making it easier to find accommodation for less money.
In addition, queues at tourist attractions such as the Colosseum and St Peter's Basilica are shorter in autumn and it's quieter.
It is also a good time to travel to the city because there are a lot of events such as the Rome Film Festival or the Roma Jazz Festival as well as Italian festivals where you can participate such as All Saints' Day (1 November).
Here's everything you need to know about what to see and do in Rome in autumn.
4. Visiting Rome in the summer, too hot and too crowded
During the summer, Rome gets very hot, very hot! Thermometers can easily rise up to 35ºC and when heat waves occur, temperatures can reach 40ºC. Add to that the humidity of the Tiber River, and unless you can tolerate the heat, strolling the streets of the city can be mission impossible.
That's why I recommend being well prepared for the heat: plenty of cool water, sunscreen, a hat, sunglasses and comfortable shoes. Also, choose light, cool fabrics rather than dark or black clothing.
Daytime temperatures are high and sticky, but fortunately you'll find plenty of fountains scattered throughout Rome's streets and squares where you can cool off and refill your water bottle. I also recommend you take advantage of the high temperatures to, for example, visit the best works of art in the Capitoline Museums to escape the heat. In the evening, the oppressive heat subsides but it is still sometimes difficult to fall asleep so before going to bed, take a stroll around the Trastevere neighbourhood at night, one of the liveliest at this time of year.
This time of year is dry and there are very few rainy days, so bad weather will not spoil your outdoor plans. The days are quite long and it doesn't get dark until after 9 PM, which is ideal for getting the most out of your sightseeing while enjoying some of Rome's best ice cream- it's the best time to go out and have fun!
The summer tourist season
Summer is the ultimate holiday season so it's high season in Rome- the streets and the main attractions are packed with tourists! There is more hustle and bustle around them and the queues at the entrance are longer.
Even if it's hot, summer is a great time to enjoy open-air concerts and markets, summer cinemas, riverside food stalls, a drink in the evening breeze and fireworks.
During the August Fair (15th August) it is customary to go outside the city for the day, so there are fewer people and the streets are a little quieter for strolling.
Hotel availability during this season is lower, so if you want to visit Rome in summer, my advice is to book your accommodation in advance to get better prices as they skyrocket.
Want more details? You can find them in the post about what to see and do in Rome in summer.
5. Visiting Rome in winter, few people and cheap prices
When autumn comes to an end, the thermometers start to drop and it gets really cold (although during the day and in the sunshine, temperatures can be pleasant). This feeling of cold is even more pronounced due to the higher humidity caused by the abundant rainfall at this time of the year, with the coldest months in Rome being January and February.
In addition, the hours of sunshine are shorter and the days are shorter. In this weather you want to spend less time outdoors and more time making plans indoors. Whether it's sipping some Italian sweets and hot chocolate in a café or visiting Rome's monuments, there are fewer people at the entrance to tourist attractions and you can explore them at your leisure.
Tourist crowds in winter
Due to the cold and shorter days, many people are reluctant to travel during the winter, but it is a good time to visit Rome as there is less tourism in the city than during the rest of the year and prices are much cheaper for flights and hotels.
During the winter it is worth going out and spending a little bit of cold weather to enjoy Christmas in Rome, its nativity scenes and its beautiful markets of Christmas crafts and typical food set up in the most important squares. You can take advantage and buy a nice souvenir there! Or if your trip coincides with the end of the year, you can also go out to watch the wonderful fireworks display and see how the Romans celebrate the New Year.
On the other hand, February is one of the coldest months along with January, but you might want to check out the Roman Carnival- it's not as popular as Venice's, but it has its charm too!
If you want to know more, I recommend you take a look at this article on what to see and do in Rome in winter.
---
We compare the different seasons to visit Rome in the table below
Spring
Mild temperatures
Low rainfall
Medium season
Busy tourist attractions
Summer
Warm temperatures
Very low rainfall
High season
Busy tourist attractions
Autumn
Mild temperatures
Occasional rain
Medium season
Busy tourist attractions
Winter
Cold temperatures
Heavy rainfall
Low season
Tourist attractions not very crowded