10 Rome's best pizzas
Do you love pizza? With the exception of Naples, nowhere will you eat better pizza than in Rome - they take it to the max!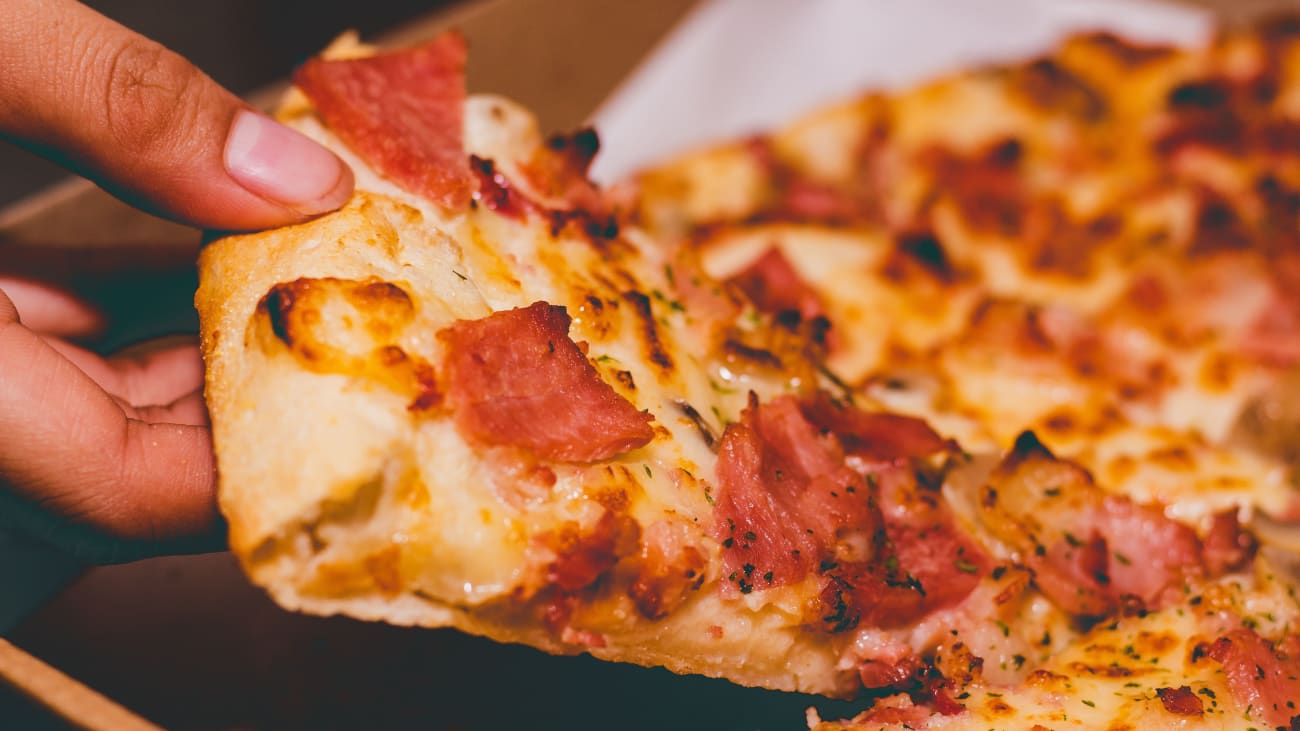 If there is one pizza that can stand shoulder to shoulder with Neapolitan pizza, it is Roman pizza. With its thin, crispy dough, in Rome it is customary to eat it at night and rarely for lunch, although it is such a delicious dish that it is always good at any time of day, and there is no doubt that trying it is one of the things to do in Rome.
When you are in the Eternal City, you will surely ask yourself the million-dollar question: where do you eat the best pizzas in Rome? Take note! Here are the 10 best pizzas in Rome.
1. Pizzeria da Baffetto
The queues that form at the entrance testify that Pizzeria da Baffetto serves some of the best pizza in Rome. You should go early to get a table as the place is small and many people come here for an authentic wood-fired pizza.
Pizzeria da Baffetto 's pizzas are thin crust, crispy and with quality ingredients. The size is substantial, so you won't leave hungry. The service is fast and while you wait to be served you can watch the "pizzaiolos" prepare the pizzas. Watching them looks easy but there is a trick to it!
The pizzeria is located on the outskirts of Piazza Navona.
Address: Via del Governo Vecchio, 114, 00186 Roma
Recommended pizza: Pizza Salami
2. Pizzeria La Montecarlo
Pizza is the signature dish at Pizzeria La Montecarlo. One of the best pizzas in Rome, made in a wood-fired oven with a thin crust and a crispy edge that will make you want to repeat.
They have a wide variety (Neapolitan, spicy salami, marinara, with vegetables...) although at Pizzeria La Montecarlo they also offer other very good Italian specialities such as pasta, salads and crostini.
The service is fast and they attend to you immediately. They also have a terrace which is ideal for enjoying a delicious pizza on summer nights in Rome. The atmosphere is usually quite lively.
This pizzeria is also located near Piazza Navona, not far from Pizzeria da Baffetto.
Address: Vicolo Savelli, 13, 00186 Roma
Pizza recommendation: Pizza Napolitana
3. Sforno
This pizzeria is not very central in the city but in the Subaugusta area but it is worth the trip because Sforno serves one of the best pizzas in Rome and has become a cult restaurant among Romans.
Sforno is run by chef Stefano Callegari, one of the leading names in the pizza world as the creator of the trapizzino, a spectacular pizza filled with the most varied ingredients (meatballs in sauce, aubergine parmesan, cheeses...). When you see them, your mouth will water because they look so good!
The service is attentive and fast. The atmosphere is very good and the prices are reasonable. Although it's a bit off the beaten tourist track, it's well worth a visit.
Address: Via Statilio Ottato 110/116, 00175 Roma
Pizza recommended: Pizza Clemente
4. Il Fiorentino
You will find Pizzeria Il Fiorentino not far from the Basilica of St. John Lateran, in the San Giovanni /Pigneto area. This is a typical Italian pizzeria serving large, homemade, wood-fired pizzas. A perfect place to get your fill of pizza.
The place is small, unpretentious, but quite cosy and the atmosphere is friendly. The service is charming and attentive. They take care of you right away. After ordering the pizzas you can see the ingredients and how they are made in the wood-fired oven in the kitchen.
Il Fiorentino 's pizzas are some of the best in Rome. They are delicious and the prices are very cheap. The owners are also pastry chefs and their sweets are very famous.
The restaurant is only open for dinner after 7 p.m. Keep this in mind if you want to visit them!
Address: Il Fiorentino, Via del Pigneto, 87, 00176 Roma
Recommended pizza: Pizza Margherita
5. Panattoni Ai Marmi
If you're strolling through the Trastevere neighbourhood and suddenly your stomach starts to growl, head to Pizzeria Panattoni Ai Marmi for a quick remedy - they make some of the best pizza in Rome!
It's a busy restaurant, and it's not uncommon to see queues waiting at the entrance to get a table. Although no one likes to wait for a long time, on the bright side it means that the pizzas at Panattoni Ai Marmi are to die for.
In fact, you can watch them being made on the spot as the oven is in full view in the dining room - there's no catch! Although the star dish is the pizzas, this restaurant also prepares other dishes such as suppli al telefono (rice, mozzarella and hard-boiled egg croquettes) or cod fillet.
The atmosphere is young and informal. Very pleasant. They have a terrace to eat there when the weather is nice.
Address: Viale di Trastevere, 53, 00153 Roma RM, Italy
Pizza recommended: Pizza Capricciosa
6. Dar Poeta
Without leaving Trastevere, to eat another of the best pizzas in Rome you have to go to Dar Poeta, a small restaurant located in a small alley in the neighbourhood. The good location of this restaurant will allow you to get there quickly even at rush hour for lunch.
There are sometimes queues at the entrance of the restaurant, so it is advisable to go early or book a table if you are going to be entertained by the Basilica Santa Maria in Trastevere, one of the most beautiful and famous churches in Rome.
In addition to good pizzas, at Dar Poeta you can try other dishes of the best Italian cuisine. We highly recommend the calzone and the pistachio tiramisu, which are out of this world. And to drink, a glass of white wine. If the day is sunny, I recommend eating on the terrace, it's great!
Address: Vicolo del Bologna 45 00153 Roma
Recommended pizza: Pizza Roma
7. Porto Fluviale
If you're looking for a pizzeria off the beaten track in Rome that is frequented by Romans rather than tourists, Porto Fluviale is a very good choice.
Located in the Ostiende neighbourhood, this is a nice, spacious restaurant with a youthful, modern feel. A bit different in its décor from most pizzerias in the city. The service is fast and attentive.
The pizzas are tremendous and Porto Fluviale serves both thin-crust and Neapolitan-style tall and fluffy pizzas. But why choose - it's best to order one of each!
I recommend you book a table in advance, as it is a very popular place with the Romans and gets very crowded, especially on weekends.
Address: Via del Porto Fluviale, 22 - 00154 - Roma
Pizza recommendation: Pizza Napolitana
8. Pizza e Mozzarella
If you've lost count of the sights you've already visited during the day and need to take a break to recharge your batteries, there's nothing better than a good Italian pizza at Pizza e Mozzarella- the name says it all! This pizzeria is Italy at its best.
The pizzas are made with fresh ingredients and the quality is evident in every bite. The dough is just the right amount of salt and thickness, the result is unbeatable!
The place is small, as it is more focused on take-away, but it has a lot of charm. Pizza e Mozzarella is ideal for a quick bite to eat, rest a bit and continue visiting Rome.
The service is very pleasant. To repeat!
Address: Via del Piè di Marmo 32, 00186 Roma Italy
Recommended pizza: Pizza Margherita
9. Trattoria Da Francesco
Close to Piazza Navona, in Piazza del Fico, you will find this typical Italian family-run trattoria where you can taste some of the best pizzas in Rome: Trattoria Da Francesco.
Being in such a central location, you might think that if you go without a reservation the wait for a table will be long, but this is not really the case. Although there can sometimes be queues at the entrance to the restaurant, the service is so fast and efficient that you'll be served in no time at all and you'll be enjoying a huge pizza inside the restaurant.
Trattoria Da Francesco 's pizzas are super thin and crispy, perfect for those who dislike thick dough pizzas. The menu is extensive (capricciosa, four cheese, truffle, sausage, ham and mushroom...) so if you're really hungry I recommend ordering several to try a bit of everything. Or you can accompany your pizza with a plate of pasta or burrata with sundried tomato - it's all delicious!
Address: Piazza del Fico 29, 00186 Roma Italy
Pizza recommendation: Boletus pizza
10. Pizzeria Italia since 1987
If you are planning to take a long walk around Villa Borghese (one of the biggest and most beautiful parks in Rome ) either because you want to visit the Borghese Gallery located inside or just because you feel like enjoying a bit of nature during your trip, I recommend that before or after your visit you make a stop at Pizzeria Italia dal 1987 to recharge your batteries.
It is not a very big place but it is the perfect place to take a break and have a quick and delicious meal. You can even order pizza to go and have a little picnic in the park.
At Pizzeria Italia dal 1987 they have a wide variety of pizza flavours and the owner of the restaurant is super friendly and takes the time to explain the menu to you. If you're attracted to curious flavours, order the Nutella pizza - you'll be in for a treat!
Address: Corso d' Italia 103, 00198 Roma Italy
Pizza recommendation: Sausage and cheese Calzone