10 Rome's best ice creams
Although money can't buy happiness, it can buy Italian ice cream, which is pretty much the same thing!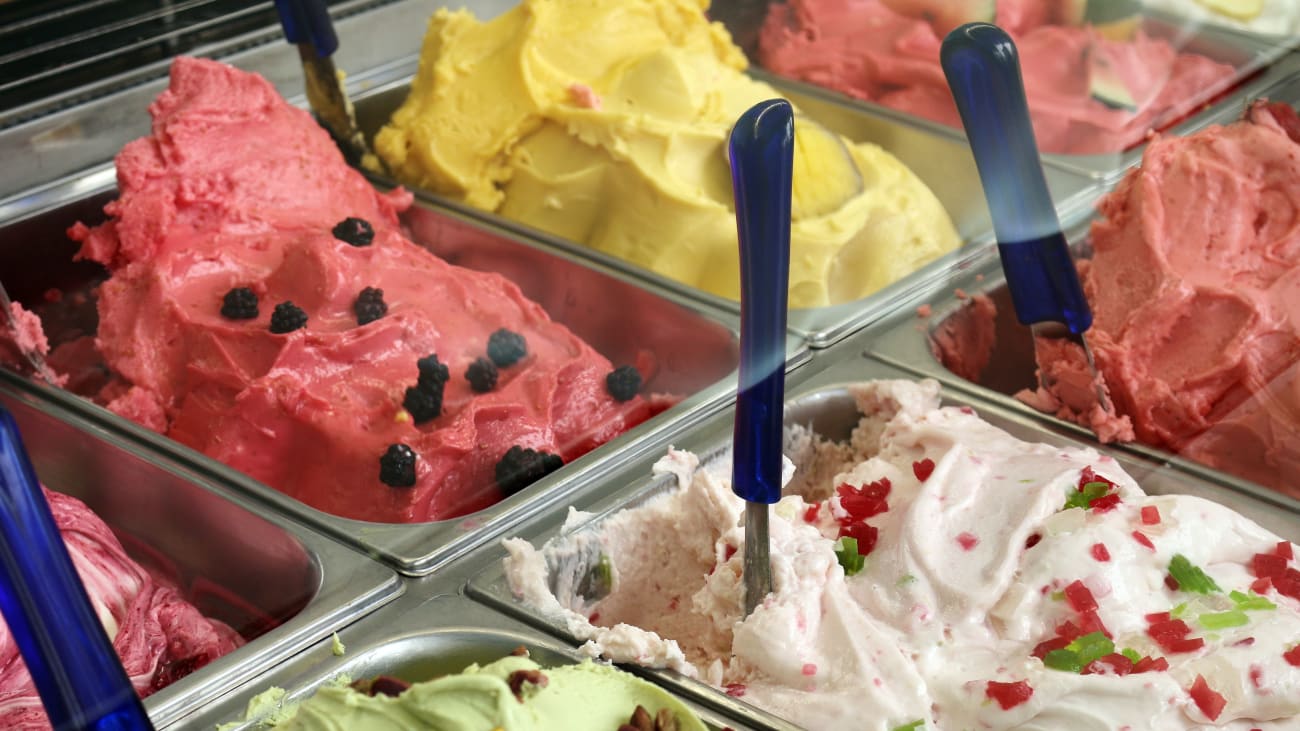 You knew you could find the best pizzas in Rome, but what about gelato? If you're travelling to Rome and you love ice cream, you're in the right place because Italy is the country where this delicacy was invented.
The city is full of ice cream parlours where you can have an authentic "gelato", so you can't leave without trying a few. In the following post I'll show you 10 ice cream parlours in Rome where you can enjoy the best gelato in the city. You'll want to try them again!
1. Giolitti
Before visiting the Pantheon of Agrippa, I recommend you to visit the temple of ice cream in the city: Giolitti. One of the oldest and most popular ice cream parlours in the city. In fact, many consider it to be the best ice cream parlour in Rome.
Since it was founded around 1900, Giolitti has made many generations of Romans happy with its ice cream. Nothing has changed since it opened its doors. Neither the vintage décor (which remains true to its origins) nor the stupendous variety of flavours of its ice creams.
There are chocolate, strawberry, cinnamon, tiramisu, pistachio... and in all its forms. Whether in a cone, tub, cup or biscuit, they are delicious! Now, if you want to put the icing on the cake with your Giolitti ice cream, don't forget to order the delicious doppia panna (double cream), a treat you won't be able to resist!
And if you fancy a sweet treat afterwards, this ice-cream parlour also sells delicious homemade Sicilian desserts. Take advantage and try them!
Address: Via Uffici del Vicario nº40
Recommended ice-cream: Chocolate with doppia panna.
2. Frigidarium Ice Cream Parlour
Another ice cream parlour in Rome that you must visit when you are on your way to see Piazza Navona is Frigidarium. One of the most popular in the city for the quality of its ice creams, which are made with natural ingredients following the traditional method.
In this way, Frigidarium 's ice creams acquire a smooth and natural flavour that will make your mouth water. There are chocolate, hazelnut, pistachio, fiorentina cream, stracciatella, etc. that you can assemble on a normal cone or waffle.
The finishing touch to these ice creams is a delicious coating of white, dark chocolate or cream that adds a more intense and creamy touch.
Address: Via del Governo Vecchio, 112
Recommended ice cream: Hazelnut with chocolate coating.
3. San Crispino Ice Cream Parlour
After visiting the Trevi Fountain, it is time to take a break from your tour of the city and savour one of the delicious ice creams from the San Crispino ice cream parlour.
The secret of their ice creams is that they use only natural ingredients, with no preservatives or colourings that could alter the quality of the product. Nor do they use wafer cones, as the San Crispino ice cream parlour maintains that the biscuit masks the pure flavour of the ice cream. That is why all the ice creams here are served in tubs.
At the San Crispino ice cream parlour, they take the care of the product very seriously. That is why when you enter the establishment you will be surprised to see that, unlike other ice-cream parlours in Rome, the ice-creams are covered to protect their flavour and the specific temperature of each one.
This ice cream parlour has a wide variety of flavours, but I recommend you try the house ice cream: the San Crispino, a cream made with Sardinian strawberry tree honey that will knock your socks off.
Address: Via della Paneteria, 42
Recommended ice cream: The San Crispino
4. Fior di Luna
Cross one of Rome' s bridges that connect to Trastevere to explore this quaint bohemian neighbourhood and have a delicious gelato at Fior di Luna while you're at it.
This gelato parlour is famous for its organic gelato, which is made using only local ingredients (fresh fruit, cocoa, hazelnuts, honey, etc.) and artisanal techniques, and the result couldn't be better. The result couldn't be better - these ice creams are to die for!
At Fior di Luna the variety of flavours is not too extensive, but there are some very original ones, such as the peppered chocolate. The sorbets also deserve a special mention, like the pineapple with ginger, because they are really good. However, this ice cream parlour also offers traditional flavours such as hazelnut, vanilla or pistachio.
Address: Via della Lungareta, 96
Recommended ice cream: Pepper chocolate
5. Fatamorgana
Without leaving the Trastevere district, another of Rome's gelato parlours that you must visit if you want to escape from the routine of chocolate, vanilla or hazelnut flavours is Fatamorgana.
Here you will find very original proposals to surprise your palate, such as wasabi ice cream, karkadé rose ice cream, basil ice cream with pine nuts and honey or liquorice ice cream. Do you dare to try a different flavour?
However, Fatamorgana has also thought of those who particularly like traditional flavours and has a small variety of very good creamy ice creams.
Address: Via Laurina 10 (via del Corso area)
Recommended ice cream: Chestnut and myrtle ice cream.
6. Gelateria del Teatro
Before crossing the Vittorio Emanuele II Bridge to visit the Vatican or Castel Sant'Angelo, take a break and get your strength back by trying Gelateria del Teatro's ice cream.
Located near the beautiful Piazza Navona (where one of Rome' s most beloved Christmas markets is held every Christmas), you'll find this artisan gelateria at the bottom of a medieval staircase where an ancient theatre once stood and from which it takes its name.
The location of Gelateria del Teatro is very charming (in fact, it won the award for the most photogenic ice cream parlour), so while you're queuing for your gelato you can take a few photos for your social media accounts.
Once inside you can choose from a menu of classic flavours (tiramisu, strawberry, pistachio, coffee...) or opt for a more original flavour obtained with the infusion of aromatic herbs such as the white peach and lavender ice cream, the raspberry and sage ice cream or the lemon, honey and rosemary ice cream. All of them are made with fresh, seasonal ingredients, and it shows!
Whichever one you choose, a crunchy cone is a must to complete your ice cream (don't look for the tubs!) as Gelateria del Teatro also won the award for the ice cream parlour with the best biscuit cone.
Address: Via dei Coronari, 65/66, 00186 Roma
Recommended ice cream: White peach and lavender
7. Gelateria dei Gracchi
If you fancy treating yourself to an ice cream while visiting Vatican City, my advice is to avoid the tourist traps around St. Peter's Basilica and go to Gelateria dei Gracchi, a sure hit.
This is one of the most popular gelato shops in Rome for artisan gelato, which is made with seasonal ingredients and fresh milk without adding any preservatives or colourings, something you'll appreciate at first bite because it's delicious!
Gelateria dei Gracchi 's menu offers a wide variety of flavours to choose from. From the classics lemon, dark chocolate, yoghurt or stracciatella to the more original ones such as ricotta and pears, pomegranate, chocolate and rum or eggnog.
Whatever time of year you visit Rome, you're sure to find the perfect gelato for you. A tip? The refreshing mint and apple ice cream for summer and the chocolate rum ice cream for winter.
Address: Via dei Gracchi, 272, 00193 Roma
Recommended ice cream: Pomegranate ice cream
8. Ciampini
If you are looking for ice cream parlours in Rome where you can have a classic Italian ice cream, simple and without frills but full of flavour, you have to go to Ciampini in Piazza San Lorenzo, not far from the Trevi Fountain or the Pantheon of Rome.
Unlike other ice cream parlours in the city, this small but elegant place in Piazza San Lorenzo has no creative flavour combinations that give rise to daring proposals, but rather a delicious creamy ice cream that melts in your mouth with the traditional flavours of a lifetime. What more could you ask for on a hot day in Rome?
I suggest you order some of Ciampini 's most popular ice creams such as chocolate, pistachio or vanilla with pieces of candied fruit for an extra kick.
Address: Piazza di S. Lorenzo in Lucina 29
Recommended ice cream: Pistachio
9. Al Settimo Gelo
Not far from Piazza Mazzini is Al Settimo Gelo, a small gelato parlour that you can reach on a stroll through the Prati area after visiting the Sistine Chapel in the Vatican.
Its artisanal gelato made with top-quality local ingredients promises to take you to seventh heaven. That's why so many Romans often drop by to sample their offerings. Al Settimo Gelo ice cream parlour is a bit far from the centre, but if you are an ice cream lover, it is a must on your list.
They have several flavours, some of them very original, such as chocolate ice cream with chilli, pistachio ice cream with rose water and Iranian saffron or passion fruit with dark chocolate. However, you can also choose more classic flavours such as almond, stracciatella or vanilla.
Address: Via Vodice, 21, 00195 Roma
Recommended ice cream: Pistachio with rose water and Iranian saffron.
10. La Nazionale Gelateria
If you get a craving for a good Italian gelato during your tour of Rome, you don't have to go far from the Colosseum or the Basilica of Santa Maria Maggiore, as you'll find the gelateria La Nazionale Gelateria nearby.
This place is great because you can see how the gelato is prepared on the spot in an artisanal way. They have a wide variety of flavours and the fruit ones (mango, coconut, strawberry...) are so intense that you'll think you're eating a whole piece of fresh fruit.
What's more, if you love frozen yoghurt, La Nazionale Gelateria also has some. The hard part will be choosing the toppings to accompany the tub because they have a lot of them: from fruits, syrups and nuts to cereals and chocolates.
Address: Via Nazionale, 206
Recommended ice cream: Mango