Rome in 7 days: a practical guide to make the most of your week in Rome
The Italian capital is an incredible metropolis with a thousand things to do. So take note of the best plans to get to know the Eternal City like a true Roman.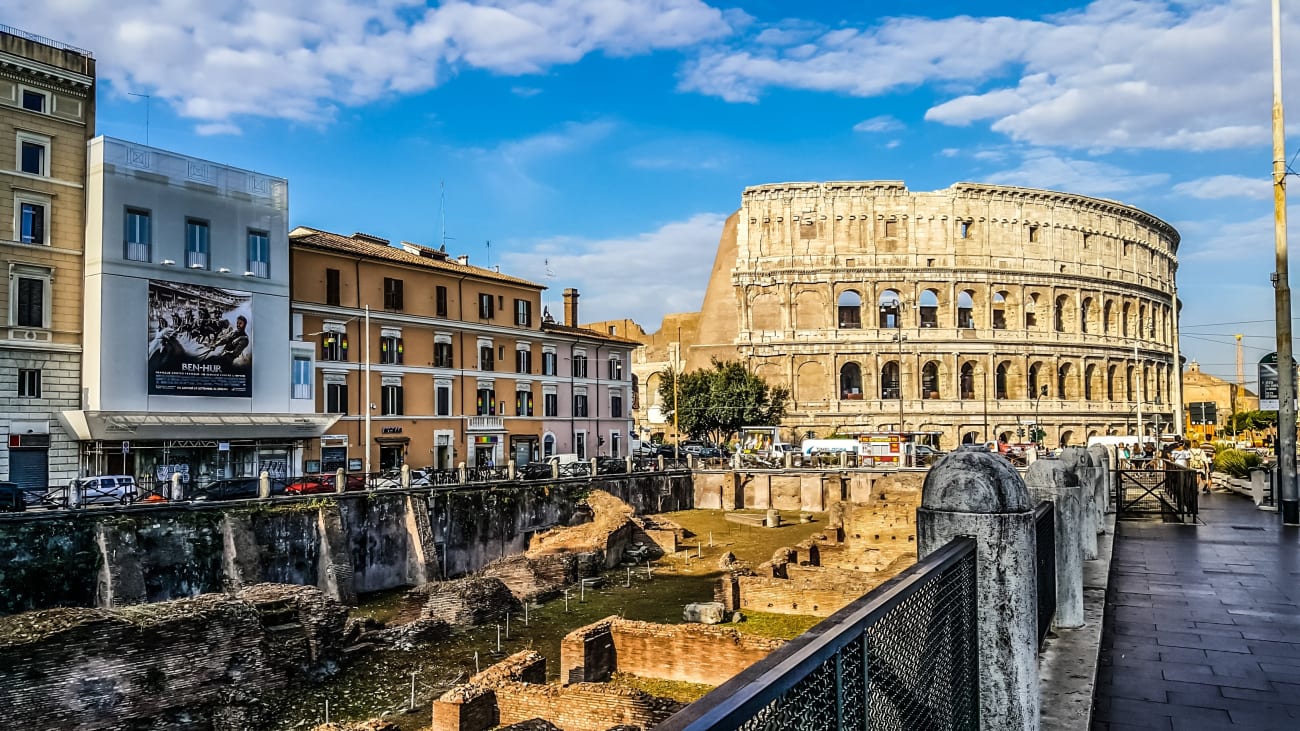 If you're lucky enough to spend seven days in Rome, you'll enjoy the city to the fullest. You'll be able to get to know its secret corners, sink your teeth into its exquisite gastronomy and even take a trip to the outskirts of Rome. In this guide, I'll help you organise your week in the Eternal City so you don't miss a thing.
Day 1: Colosseum and Roman Forum, the best of Ancient Rome
If you want to travel back in time and feel like an emperor, my top tip is to buy your ticket for the Colosseum and the Roman Forum. Get up early on the first day to make the most of the Flavian Amphitheatre, as Rome's Colosseum is popularly known, which is still the main entertainment for tourists in the Eternal City in the 21st century.
Here you can relive and imagine the gladiatorial games, animal fights and bloody amusements that were used to entertain the people of ancient Rome. However, if you are travelling to Rome in summer, I recommend that you protect yourself from the sun: bring water, soft drinks, a hat and sunscreen because there are hardly any shadows or trees. Hydrate yourself as much as you can!
Start your day with energy
Buongiorno Roma! But in order to feel like a gladiator in the Colosseum, you need to recharge your batteries with a good imperial breakfast. One of my favourite cafés near the amphitheatre is La Casetta a Monti, a cute little place whose wall is completely wrapped in a vine.
Here you can find juices, smoothies, coffees, cakes and, for savoury lovers, omelettes and quiches. On the other hand, if you have a sweet tooth I suggest you try the nutella cheesecake and pancakes - they are delicious!
Where: Via della Madonna dei Monti, 62

Prices: cheesecake (5€), pancakes (6€), omelette (7€)...
Discover the Colosseum through an expert's eyes
Visiting the Colosseum and the Roman Forum from the inside is quite a spectacle. In my opinion, the best way to do it is with a guided tour of the Colosseum, the Forum and the Palatine Hill through the eyes of a specialist, who will tell you the history and anecdotes of these jewels in about 1 hour. There are options to suit all budgets, some of which are very affordable and won't break the bank.
In general, most tours include skip-the-line entry to the Colosseum, which will save you a hell of a queue.
Try a delicious pizza!
If after walking around the arena of the Colosseum like a Roman warrior, you've worked up an appetite, I suggest you stop for a refueling stop at Alle Carrette restaurant, where you'll find some of the best pizza in Rome.
In this cosy place located in one of the most beautiful streets of the Monti neighbourhood you'll taste the authentic pizza of the Eternal City: made with a super-thin dough and cooked in a wood-fired oven. Romans flock here on weekends for one simple reason: it's a cheap restaurant with very traditional food. Try the gourmet anchovy and courgette pizza. It's delicious.
Continue on to the majestic Piazza Navona.
To wind down your meal, continue strolling to Piazza Navona, where you can admire the splendid fountain by sculptor and architect Bernini, one of the great geniuses of Italian art.
If you're in Rome in winter, you can also enjoy the magical Christmas market and ice rinks all afternoon. Don't forget to warm up with some chocolate and sweets at one of the stalls!
Day 2: Tour the Vatican and picturesque Trastevere
Did you know that the Vatican is the smallest country in existence? Pope or no Pope, the Vatican Museums are a must-see on your second day. The Sistine Chapel and the art galleries make it one of the most visited cultural treasures on the planet. Are you going to miss it?
Visit the Vatican Museums with a guide
If you wanted to spend several days in the Vatican Museums, you could. However, time is precious during your trip, so I recommend that you hire a guided tour of the Vatican Museums and St. Peter's with an expert guide who will show you the main masterpieces.
Don't forget to pack a pair of long trousers and a jacket to cover your shoulders during the tour. The Vatican is very strict about clothing.
Take a gastronomic break with a river view
If you thought you could only picnic in Central Park in the Big Apple, you were wrong. One of my favourite things to do in the Vatican was to order a takeaway pasta dish from Pastasciutta and eat it on the bridge, with a wonderful view of the river. It tasted great! Here are my five favourite places to eat near the Vatican area.
Enjoy the sunset in Trastevere
If there is a colourful and bohemian neighbourhood par excellence, it is the district of Trastevere. After visiting the Vatican, I advise you to enjoy the afternoon with a tour of Trastevere, where you will walk through the narrow streets of this charming neighbourhood. You can also cross the bridge to Tiber Island, which is very lively and has an open-air cinema in summer. Of course, if you are travelling at this time of year, be sure to check out the article Rome in summer.
End the day in style with a sunset by the river and a romantic dinner in Rome on one of its terraces. It's also a great place for an after-dinner drink with its lively nightlife. If things get too long, you can take the Rome Metro back to your hotel. Don't worry because taxi fares are not outrageous.
Day 3: enjoy a day of flea markets and catacombs
One of my favourite things to do when I'm travelling is to wander around the local markets as if I were a local. I must admit that the market in Rome's Campo dei Fiori is one of the markets that has surprised me the most of all the ones I've been to. It is a festival of smells, colours and flavours impossible to forget. The morning will fly by.
If you go to Rome in autumn you will find many seasonal products such as roasted chestnuts and mushrooms, exquisite delicacies that the Italians make the most of. You can also listen to impromptu concerts thanks to the street musicians who liven up the square. Afterwards, you can take a stroll to the Pantheon of Rome and Castel Sant'Angelo.
Delve into the underground Rome and its catacombs
In the afternoon, after sampling the food from the market stalls of Campo dei Fiori, you can take a guided tour of Rome's catacombs, which are literally a small city beneath another city. Did you know that the catacombs were the ancient underground cemeteries used by the Christian and Hebrew communities in the area of Rome?
The catacombs began to be built in the 2nd century and were not completed until the 5th century. They were used to bury the pagan citizens, Jews and early Christians of Rome. And believe me, whether it's hot or rainy in winter in Rome, you won't be better off anywhere than visiting the bowels of the city under cover.
Toss a coin and take a selfie at the Trevi Fountain
After a full day of walking, it's time to unwind with a night tour of illuminated Rome with an expert guide so you can forget about Google Maps and just enjoy the wonders of the Eternal City.
On this tour you'll see the city's main monuments illuminated. Don't forget to throw the traditional coin and take the obligatory selfie! After all, it's not every day you get to stand in one of the most famous fountains in the world, is it?
Day 4: Dive into Villa Borghese and dine in a convent
The fourth day of your trip promises to be full of adventures and dreamy corners. After a few days of sightseeing in the city, I recommend you get lost in nature. Any ideas? Yes, the gardens of Villa Borghese are a great and very romantic option to do in Rome if you go as a couple.
Breakfast like a marquis
Get your strength up for all the excitement that awaits you with a power breakfast at Le Jardin de Russie, near Villa Borghese. I suggest you take a seat on its wonderful open-air terrace at the foot of Mount Pincio, surrounded by pine trees and citrus blossom - you'll feel like a prince!
Important fact: Le Jardin de Russie restaurant has a smart casual dress code, so don't wear shorts. It will be worth the effort.
Stroll through the gardens of Villa Borghese
After you've filled your stomach, you'll be ready to spend a pleasant morning at Villa Borghese, the green lung of the city and Rome's most iconic urban park filled with greenery, fountains and a gallery with the works of geniuses such as Caravaggio, Raphael and Rubens, among others. You'll be overwhelmed by the beauty!
Because it has become so famous for its combination of art and nature, the park can easily get crowded, so my advice is to visit Villa Borghese first thing in the morning after the delicious breakfast I recommended and take a guided tour of the Borghese Gallery.
If you are itching to know more about these historic gardens, I suggest you read my article on the 10 best sculptures of Villa Borghese.
Address: Piazzale Napoleone I, 00197 Roma

How to get there: by metro, line A, station Spagna or Flaminio.
Discover the unguided Coppedè Quarter
One of Rome' s best secret spots is the Coppedè neighbourhood, a district that despite its beauty is not often depicted on postcards of the Eternal City.
Start the afternoon of your fourth day with a stroll through the area (it's only a 13-minute walk from Villa Borghese). This suburb is made up of 17 villas and 26 palazzos, which are located around Piazza Mincio. It has the feel of a medieval town - it's a fairytale place! And if you want to go further afield, don't hesitate to book a scooter in Rome, the best way to make the most of your time.
End the day with an aperitif in a convent
Finally, you can relax at the Chiostro del Bramante, a former convent converted into a cultural centre and an extraordinary example of Renaissance architecture. It often hosts very interesting exhibitions.
Here, in its cloister, we can try another of Italy's most typical experiences: the aperitivo, a fixed-price buffet where you can eat and drink as much as you want.
Day 5: discover Rome's fairytale landscapes
Take advantage of this day to do something different during your trip to the Italian capital, for example relax in the morning in the Aqueduct Park, one of the best parks in the Eternal City, especially when it is springtime in Rome, a season when you can see the beautiful cherry blossoms.
Inside this esplanade you will find ancient Roman aqueducts that supplied water to the Italian capital. You will take a trip back in time! When you're there, you'll see that these landscapes give off a special charm that you'll want to immortalise with your camera. Don't forget!
You can also choose to take a trip to the outskirts of Rome.
Take a look at the viewpoint with the best panoramic view of Rome
Another of the most beautiful corners of the Eternal City that we can visit in the afternoon is the viewpoint of the Garden of Oranges, which is located in a small nook of the Aventine Hill.
In spring, you can stroll among its orange trees full of white flowers, delight yourself with its fruity aromas and lean out on its spectacular terrace to see the dome of St. Peter's and the Tiber River in the background. I can still remember its delicious smell!
Discover Rome's hidden treasure
What could be the best hidden treasure in the Italian capital: a monument, a church? No, it's a lock! There is a very special and different door in Rome, which hides the best view of the city and is located just a few minutes from the Orange Garden.
If you peek through this unique lock of the door of the Order of the Knights of Malta you can see three countries at the same time: the Vatican, which is the smallest independent state in the world, with St. Peter's Basilica and its dome; Italy and, finally, Malta. You can boast of having seen a lot of the world!
Nuria's Traveller Tip

The panoramic terrace of the Orange Garden surrounded by fruit trees is one of my favourite places to watch the sunset. You'll love it!
Day 6: get out of Rome and explore the famous Florence
While planning your trip to Rome, you probably didn't think to include an excursion from Rome to visit other cities in Italy, full of art, history and magical corners. Doesn't that sound nice? In my opinion, dedicating one day of your holiday to a tour of Florence is a great idea.
Marvel at Florence
So you're in Rome and you want to visit the birthplace of the Italian Renaissance? Don't worry because in this article I'll give you all the details on how to get to Florence from the Italian capital so you can choose the best option for you.
Normally, the minimum duration of excursions to Florence from Rome is approximately 12 hours including the return trip. So you'll get a full day out of your trip.
Practical information about the tours
On these tours you'll cross the iconic Ponte Vecchio bridge, gawk at the marvellous dome of Santa Maria di Fiori cathedral and cross Michelangelo's famous David off your must-see list.
All accompanied by a guide who will give you a thorough introduction to the city, its neighbourhoods and its cultures. In my opinion, this is a fantastic option for first-time travellers, as it is a very interesting first contact with the city.
Price: from 113€.

Total duration: about 12 hours.
If you like the idea, here is an article about the best excursions from Rome to Florence so you can choose the one you like best. I'm sure you won't regret a trip to Florence and even Pisa!
Day 7: Say goodbye to the Eternal City in style - Arrivederci Roma!
If you haven't stayed up all night or been caught up in the Roman festivities, a great plan for Sunday is the Porta Portese open-air flea market, which runs from 8am to 2pm and hosts over 4,000 stalls in the Trastevere neighbourhood. You can find all kinds of bargains: second-hand clothes, antiques and books while listening to live concerts. Be sure to try some of the food stalls!
Indulge yourself with modern gastronomy
On the other hand, if you're not into these hippie plans, you can say goodbye to Rome in a cooler way by walking around and eating at Rome's Central Market at Termini Station. This space (which has almost 2,000 square metres) offers you the most cutting-edge gastronomic proposals in the city, but without breaking the bank. Even so, I recommend you take a look at the post of 10 places to eat in Rome to make a list before your trip and, of course, to book a gastronomic tour of Rome.
See you next time in Rome!
Like all good things, this trip comes to an end, but don't worry because if you've tossed a coin in the Trevi Fountain, I'm sure you'll be back in the Eternal City. So, don't worry, be happy, because as a wise man once said: "as long as the Colosseum stands, Rome stands".